Let's make some delicious and easy butternut squash soup in the Ninja Foodi. Butternut squash is a healthy and tasty soup that warms you up on a cool Fall day. This butternut squash soup cooks up in about 15 minutes in the Ninja Foodi which makes it a great 'go-to' for whenever. It is also gluten free and dairy free for those following these lifestyles like myself.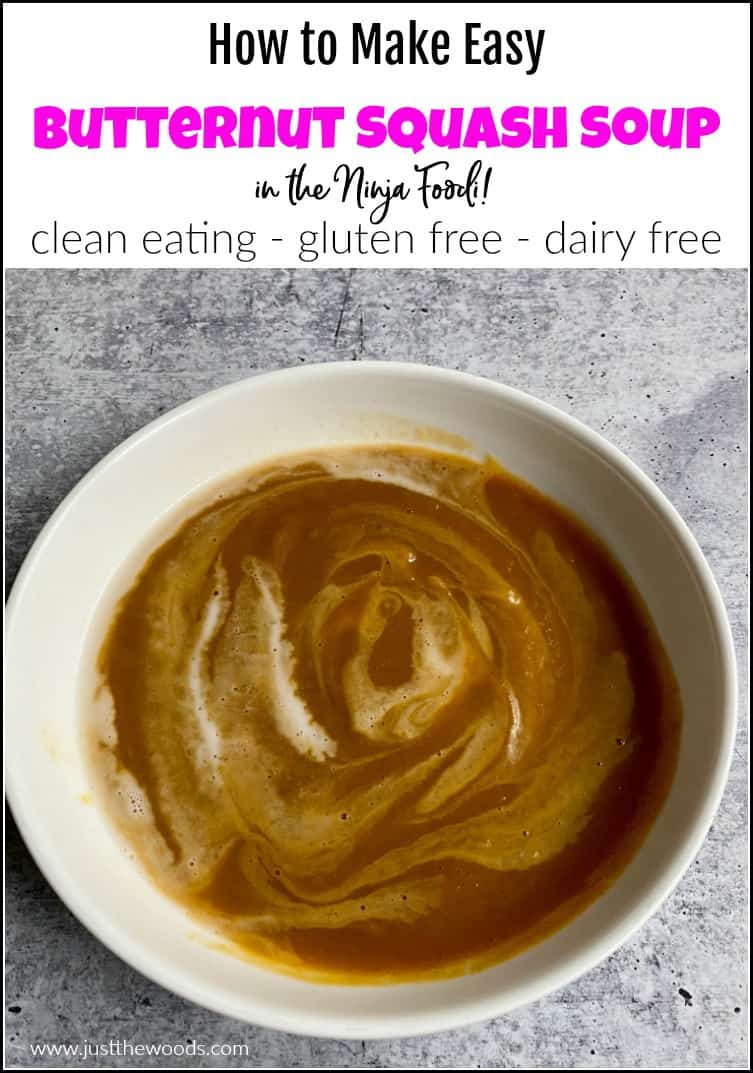 Disclosure: This healthy butternut squash soup in the Ninja Foodi recipe post contains affiliate links for your convenience. Click here for my full disclosure policy.

Quick and Easy Butternut Squash Soup Recipe (in the Ninja Foodi)
What You Will Need (Full Printable Recipe Available Below)
Ingredients:
butternut squash
apple
yellow onion
vegetable broth
cinnamon
all spice
coconut milk or cream
Getting Personal
Along with eating clean and trying to keep my family eating healthy I also see a nutritionist. To make a long story short he runs a full blood panel and can see where my body is lacking things or has an abundance etc. Then we take this info and use food as a sort of medicine to address any issues. For example, my thyroid is a mess, my glutamine is extremely low, and my hormones are a mess. To keep it simple, my current diet now includes more cashews and less almonds. More pork, and less chicken. I've learned that zucchini and squash are loaded with glutamine, which is why you may find many zucchini recipes on my site.
Clean Eating Basic
I like to mention that this is a clean eating recipe because I am all about eating healthy and clean eating. If you are new to a clean eating way of life then you need to check out Everything You Need to Know about a Clean Eating Diet. You can also see how I lost 50 lbs and am keeping it off by following a clean eating diet here: How I Lost 50 Lbs Clean Eating. I tend to try different things and mix different flavors to keep meals healthy and tasty.
How to Make Butternut Squash Soup in the Ninja Foodi
As always, let's start by gathering our ingredients. In this case our ingredients are so simple. All you need for this healthy butternut squash soup is a butternut squash (obviously), two apples, I like Granny Smith apples for this butternut squash and apple soup. You also need a yellow onion, vegetable broth, cinnamon and all spice.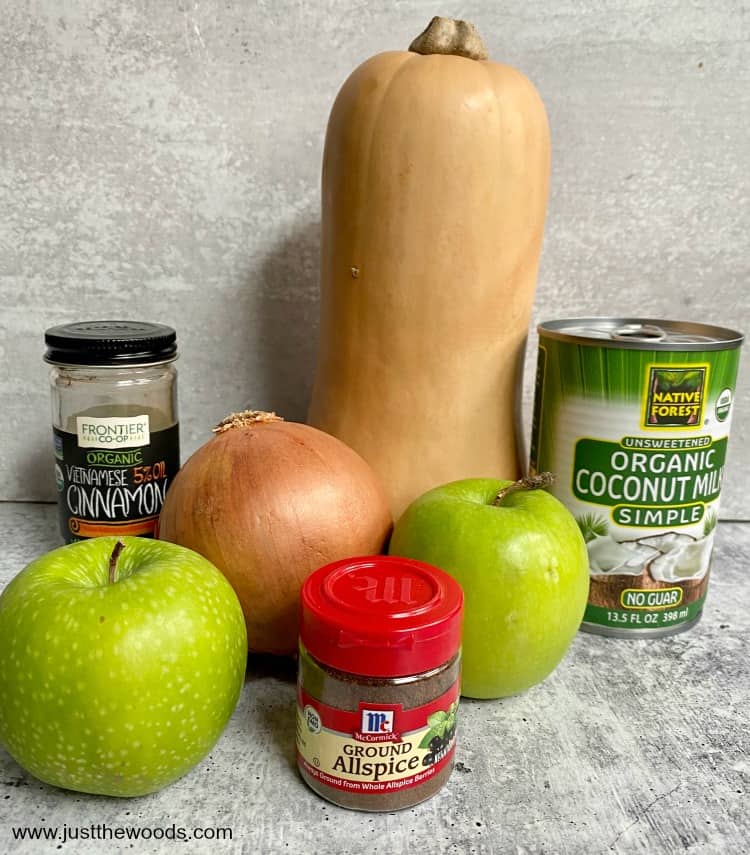 If you don't have your own homemade vegetable stock, or if you prefer not to open a large container for a small amount I like to 'cheat' sometimes and use this. It's an easy way to add a little vegetable broth without being wasteful. You can find it online here: vegetable broth.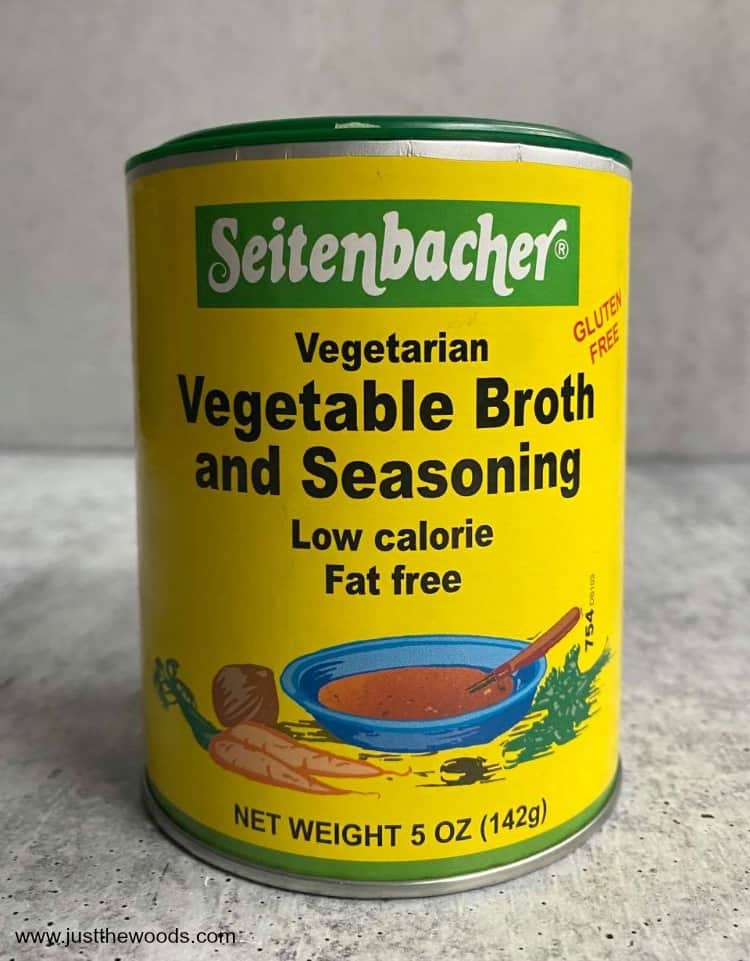 Now it's time to break out the Ninja Foodi. This thing is amazing! It is a pressure cooker, slow cooker, air fryer, dehydrator, and more all in one. It makes meal prep a breeze and last minute cooking ideas easy. If you don't have one yet you can get it online here: Ninja Foodi. There is also a video review of the Foodi at the bottom of this pulled pork recipe.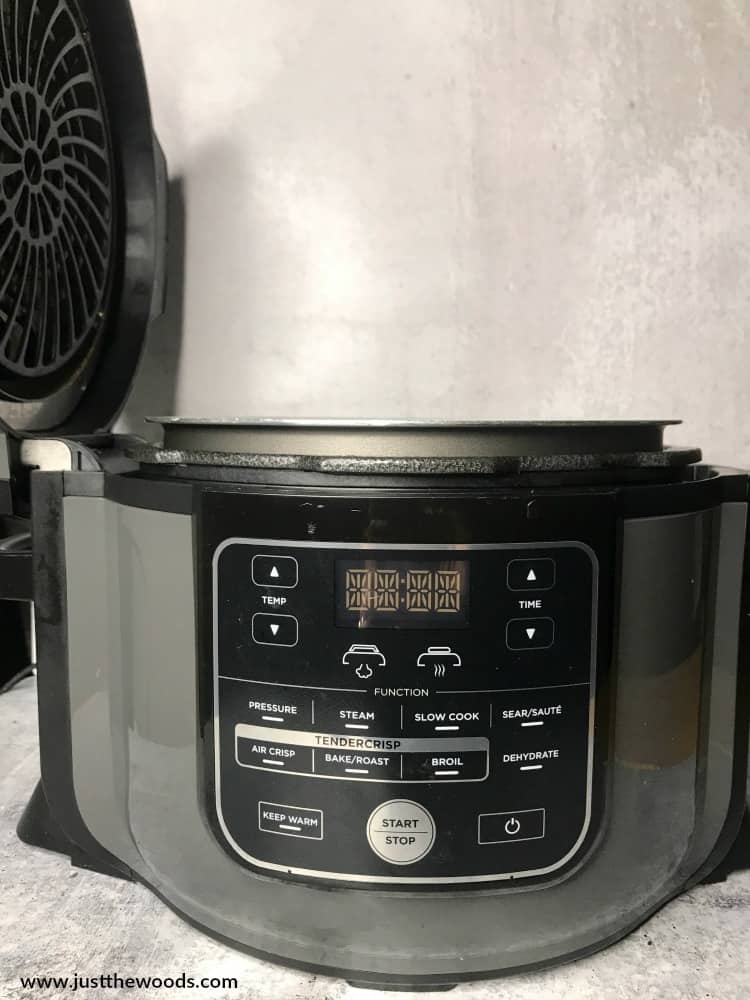 Making Butternut Squash Soup
First, you will need to prep your veggies and apple.
Go ahead and peel, remove the seeds and cube your squash.
Also peel and chop the apple and slice the onion.
Place these ingredients into the bowl of the Foodi with 1 tsp cinnamon, 1/4 tsp allspice and two cups of vegetable broth (or 2 cups water and 2 tsp vegetable broth seasoning).
Do not add the coconut milk yet.
Secure the pressure cook lid to the Foodi and select the pressure button.
Select 'Hi' and set the time to 10 minutes.
Press Start.
The Ninja Foodi will come to pressure and then the clock will start. After 10 minutes you can quick release the pressure and when safe, you may remove the lid.
Next, we will need an immersion blender to make this creamy butternut soup. This is the one that I have. It's simple and gets the job done. You can find it online here: immersion blender.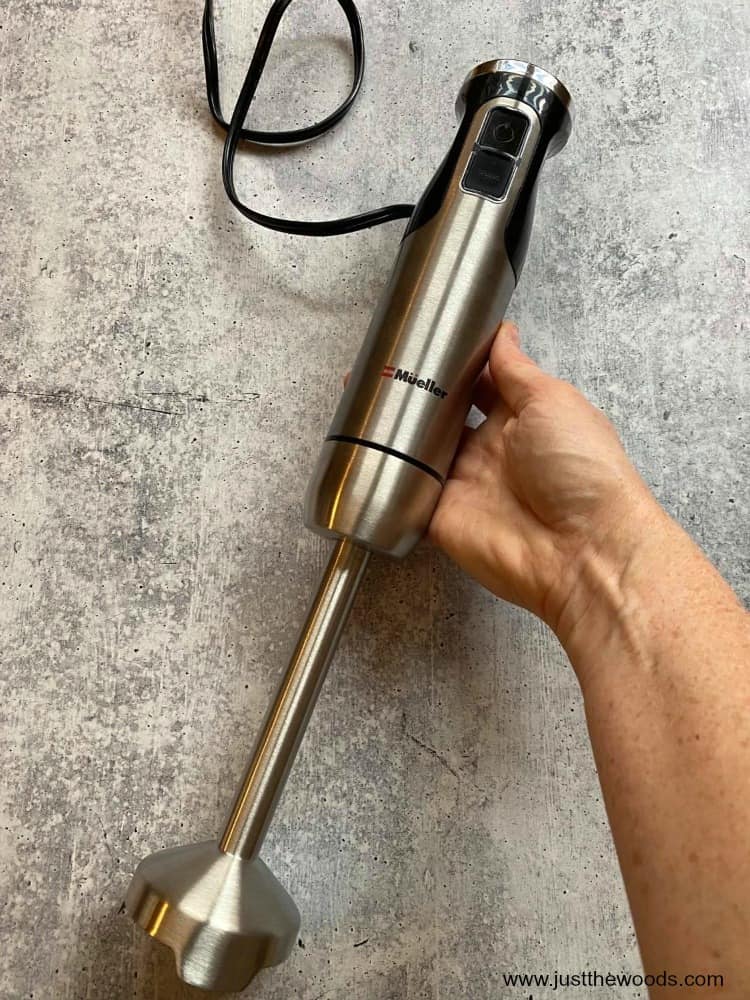 Since I do not want to damage the Ninja Foodi pot, I only use the immersion blender a little bit in the pot to gently mash up the squash, onion, and apples. Next, transfer your butternut squash with apple soup to a smaller container and use the immersion blender to fully blend until smooth.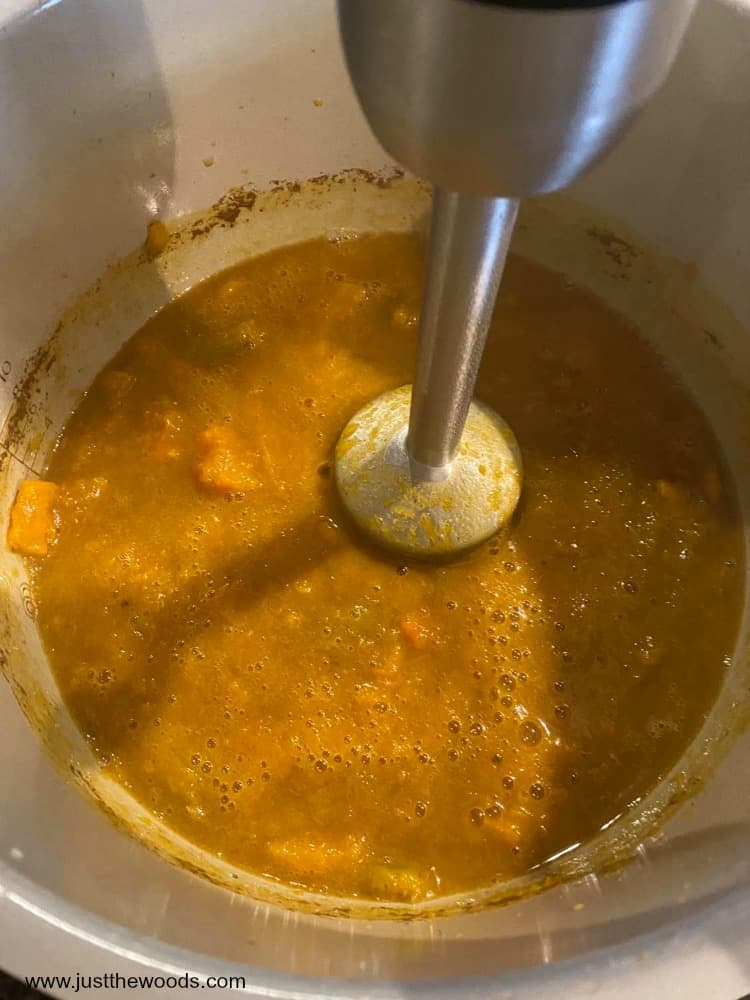 At this point, you can opt to add coconut milk to the entire batch. But I prefer to spoon a bit directly into my bowl for each individual serving. You can use either coconut milk or coconut cream. The cream is thicker, so it is completely up to you. Both are delicious in this dairy free butternut squash coconut soup.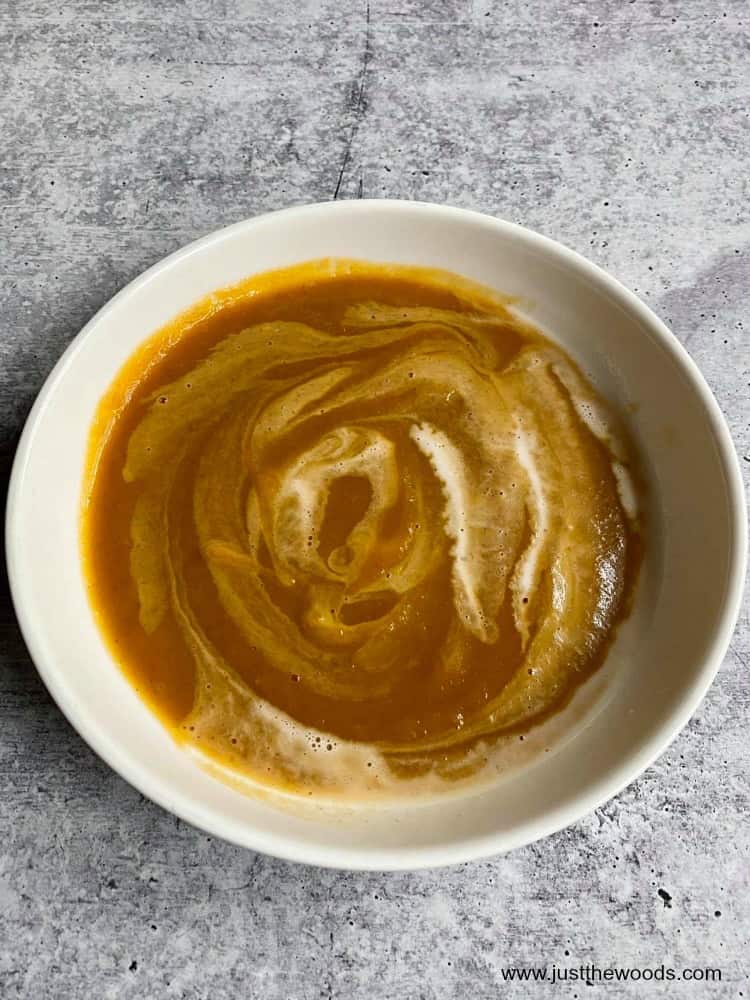 Ninja Foodie Review
For a quick video showing a basic Ninja Foodi review and rundown of its functions, parts and simple cleaning you can find it at the bottom of this Ninja Foodi pulled pork recipe post.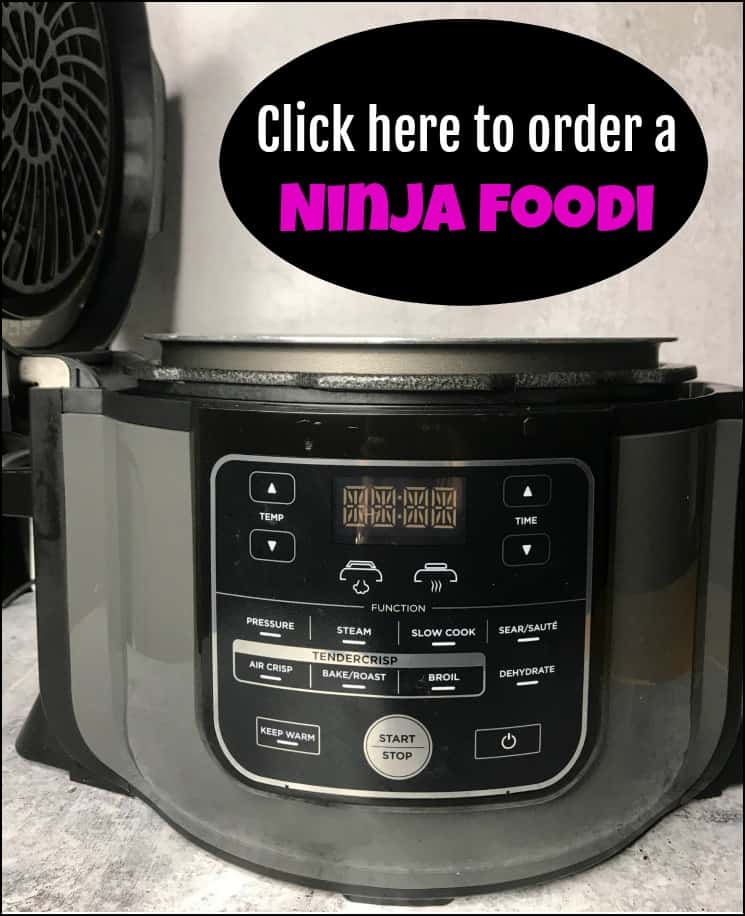 Printable Recipe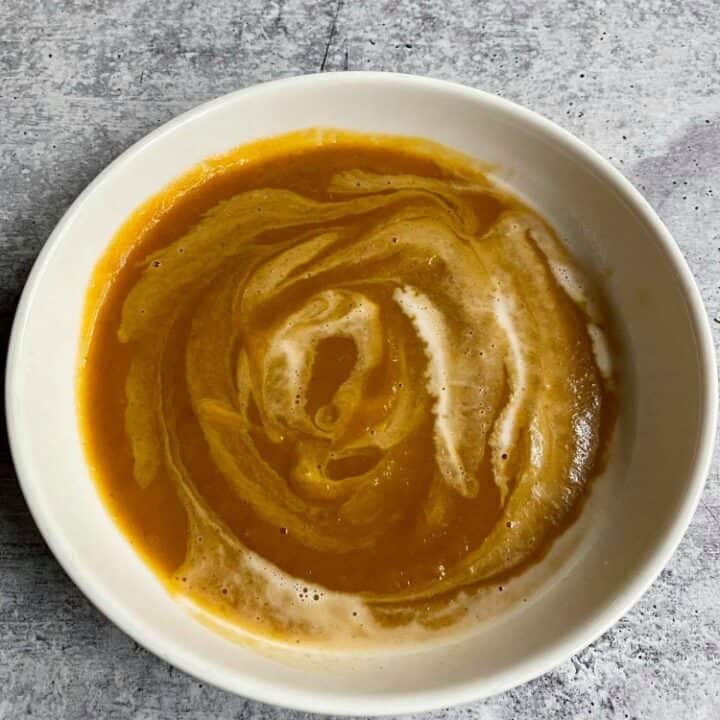 How to Make Easy Butternut Squash Soup in the Ninja Foodi
Additional Time:
5 minutes
This easy butternut squash soup recipe is healthy and delicious. See how to make creamy butternut squash soup with apple and coconut. Dairy Free, Gluten Free.
Ingredients
1 butternut squash, peeled, deseeded and cubed
2 apples, peeled, cored and chopped
1 yellow onion, sliced
1 tsp cinnamon
1/4 tsp allspice
coconut milk or cream as desired
Instructions
Peel, core, deseed and chop the squash, apple and onion.
Combine squash, apple, onion, cinnamon, allspice and vegetable broth in the Ninja Foodi.
Pressure cook on HIGH for 10 minutes
Quick release when finished
Use an immersion blender to combine ingredients until smooth and creamy
Add coconut milk or coconut cream as desired.
Recommended Products
As an Amazon Associate and member of other affiliate programs, I earn from qualifying purchases.
For more healthy clean eating recipes make sure to follow my clean eating Pinterest board here:
Clean Eating
.


Don't Forget – Follow Just the Woods and Share this post to Inspire others:
FACEBOOK * INSTAGRAM * PINTEREST * RECIPES