This homemade dairy free eggnog recipe is a great substitute for your favorite holiday drink. This creamy eggnog is made with all the holiday cheer and spices of Christmas time but without the egg yolks or heavy cream that is in traditional regular eggnog. Instead, this delicious festive drink is made with simple ingredients like full-fat canned coconut milk, and homemade cashew milk and is naturally sweetened with maple syrup.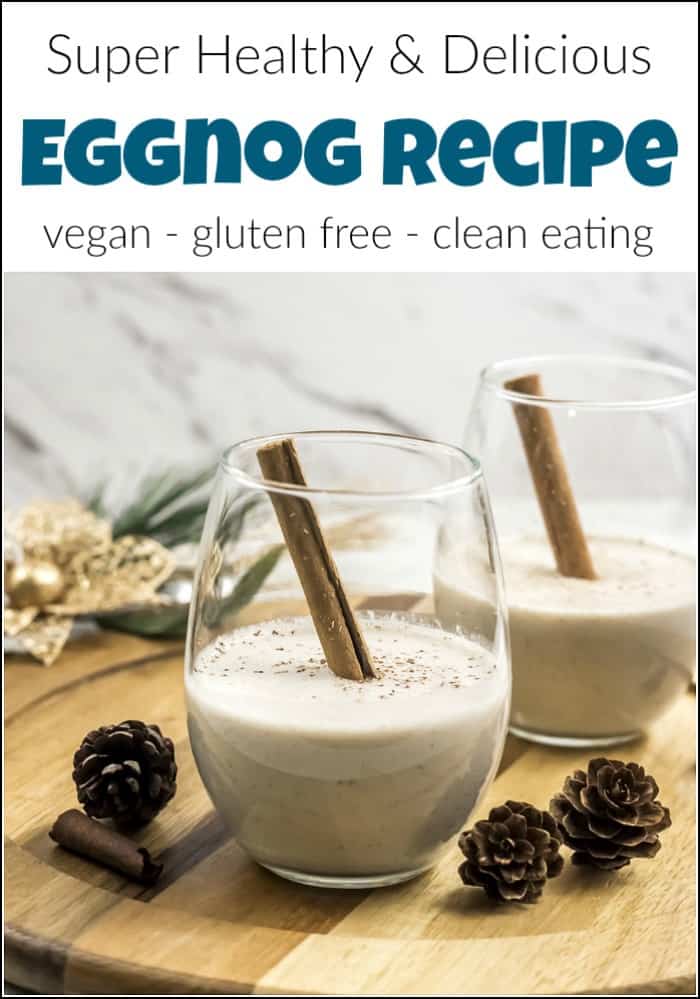 Disclosure: This vegan eggnog recipe contains affiliate links for your convenience. Click here for my full disclosure policy.

Healthy Homemade Dairy-Free Eggnog Recipe (Vegan Egg Nog)
What You Will Need (Full Printable Recipe Available Below)
(Makes 4 servings)
Eggnog Ingredients: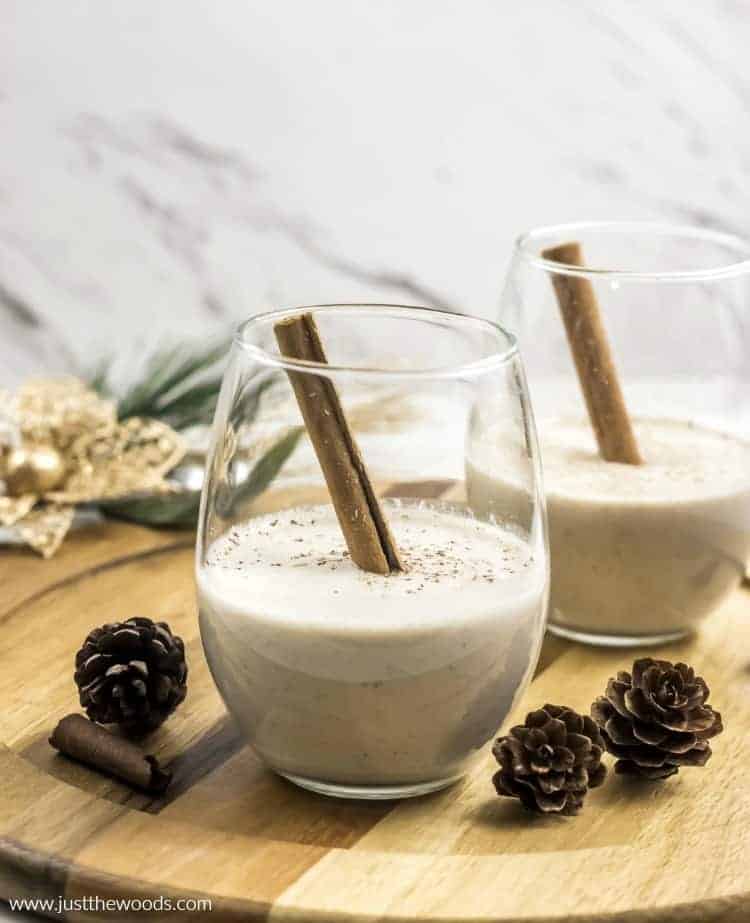 If you are loving the holiday season and all the treats that come with it but want to keep your splurging to a minimum then you will love this vegan eggnog recipe. Not only is this eggnog recipe vegan, but it is also very easy to make. I have always loved the traditional sweet eggnog whether premade and bought in the store or of course, homemade eggnog. But now that I live a healthier lifestyle and follow a clean eating diet I need to know how to make eggnog with all the taste but none of the guilt. This homemade eggnog recipe is perfect.
How to Make Homemade Eggnog
The first question you may have is what is eggnog made of? There are actually numerous different ways to make your own eggnog. But when keeping things healthy we need to know how do you make eggnog without the raw eggs to keep it an actual vegan eggnog. Well, we are about to do just that. Let's start by gathering our dairy free eggnog ingredients, which can easily be found in the grocery store.

Instructions to Make Vegan Dairy Free Eggnog
The first step in making our non-alcoholic eggnog recipe is to soak your cashews in water, overnight. If you don't have that kind of patience you can soak them in boiling water for 1 hour to get the same result. Blending raw cashews will give this dairy-free eggnog recipe the smooth creaminess that you know and love in this creamy drink
Make sure to drain the cashews.

Next, combine your ingredients in a blender.
Add the softened cashews, maple syrup, pure vanilla extract, cinnamon, allspice, nutmeg, and coconut milk. For an even thicker creamy drink, you can use coconut cream instead. Or, if you aren't a fan of coconut milk, you can always swap it out for almond milk, oat milk, or another dairy-free milk of choice.
Blend the vegan eggnog recipe with coconut milk until smooth.
Let your easy eggnog recipe chill in the fridge for 2 hours.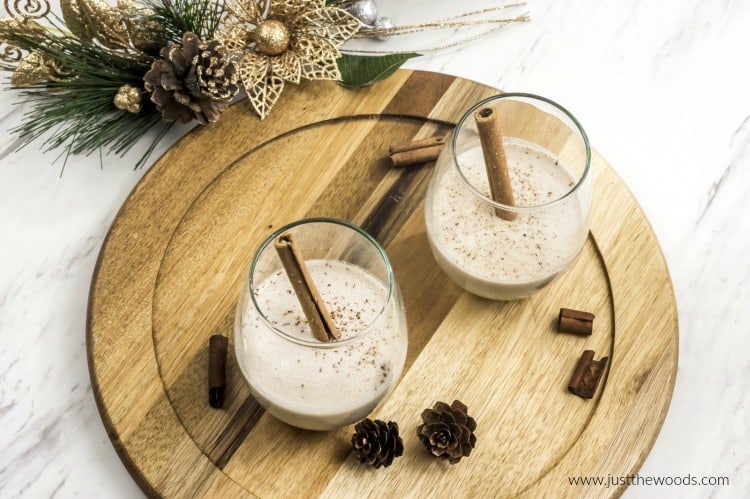 Pour into a glass or large mason jar and enjoy. Serve your homemade eggnog with a sprinkle of grated fresh nutmeg (ground nutmeg works too) and a cinnamon stick.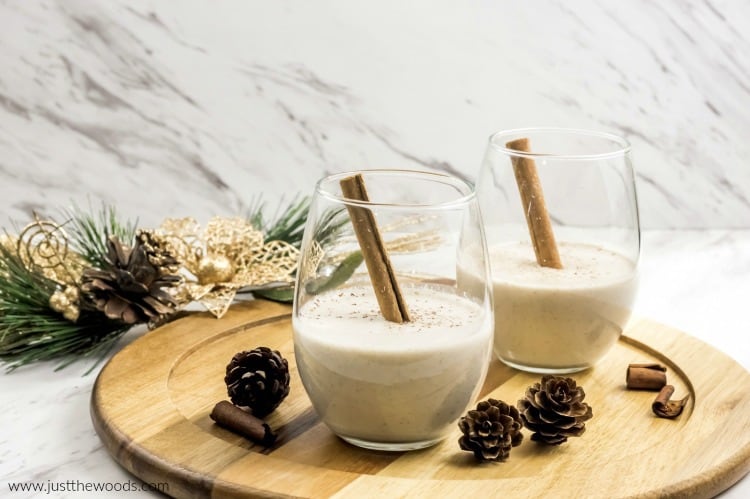 This dairy-free eggnog recipe can be enjoyed as a creamer for your morning coffee or as a dessert with a scoop of dairy-free ice cream. It is also perfect for making a vegan eggnog latte.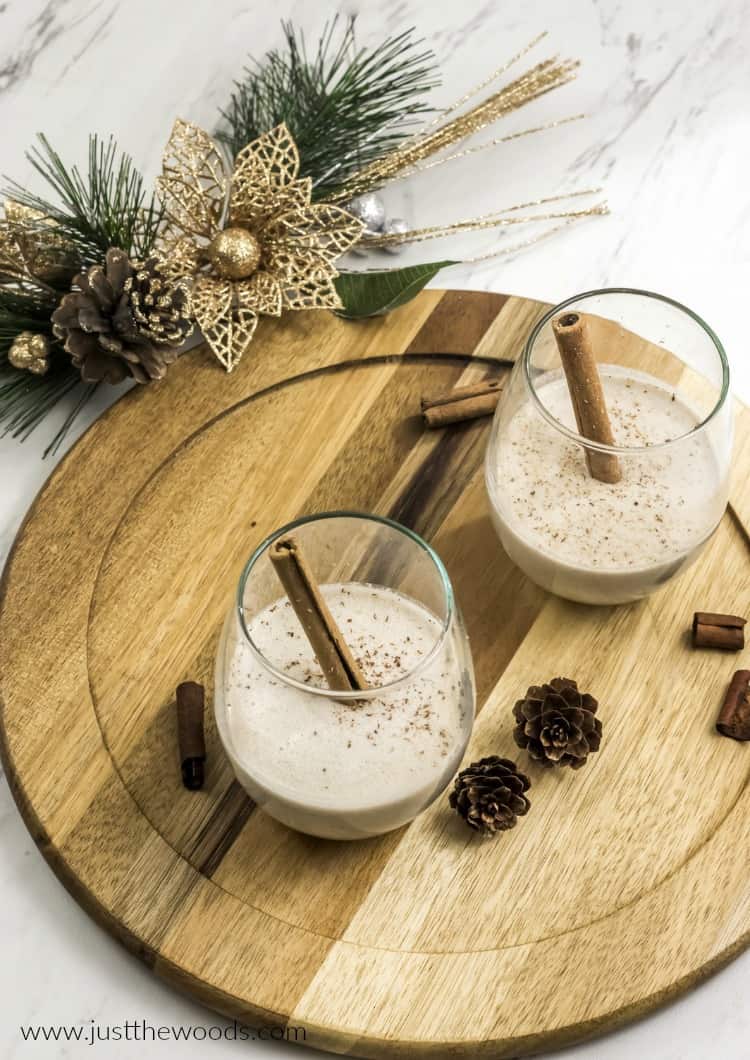 Healthy Vegan Dairy Free Eggnog Recipe (Printable Version)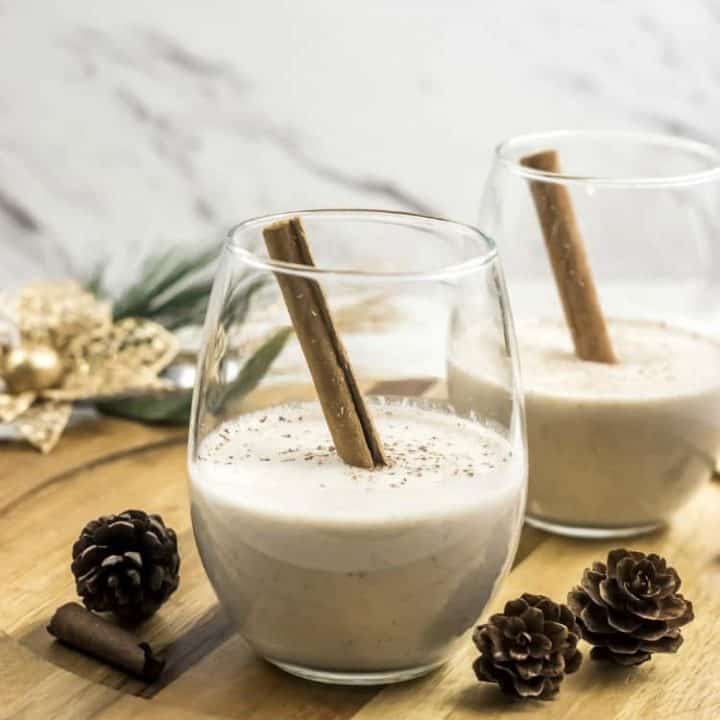 Vegan Eggnog Recipe
Vegan eggnog recipe that you will love. This homemade eggnog is healthy and delicious made with coconut milk and plenty of flavor. See how to make eggnog at home without all the added sugar
Ingredients
1/2 cup raw cashews
2 cups full fat coconut milk
1/4 cup pure maple syrup
1/2 tsp ground nutmeg
1 tsp ground cinnamon
1/4 tsp ground allspice
1 tsp vanilla extract
Instructions
soak your cashews in water, overnight. or soak them in boiling water for 1 hour to get the same result
Make sure to drain the cashews.
Next, combine your ingredients in a blender.
Add the cashews, maple syrup, vanilla extract, cinnamon, allspice, nutmeg, and coconut milk.
Blend until smooth
Chill for 2 hours
Enjoy
Nutrition Information:
Yield:

4
Serving Size:

4 Servings
Amount Per Serving:
Calories:

371
Total Fat:

31g
Saturated Fat:

23g
Trans Fat:

0g
Unsaturated Fat:

6g
Cholesterol:

0mg
Sodium:

19mg
Carbohydrates:

23g
Fiber:

1g
Sugar:

13g
Protein:

5g
nutritional values may vary

For more healthy clean eating recipes make sure to follow my clean eating Pinterest board here: Clean Eating.

Don't Forget – Follow Just the Woods and Share this post to Inspire others:
FACEBOOK * INSTAGRAM * PINTEREST * RECIPES