Last minute Christmas gift ideas can leave us stressed and scouring the internet. But it doesn't have to. We've all been there. We think we're finished Christmas shopping, and then we remember there's one last person we forgot to put on our list. If you're searching for a simple, last minute Christmas gift idea, I have you covered! This adorable (and easy) blanket gift is the perfect last-minute gift idea for anyone on your holiday shopping list.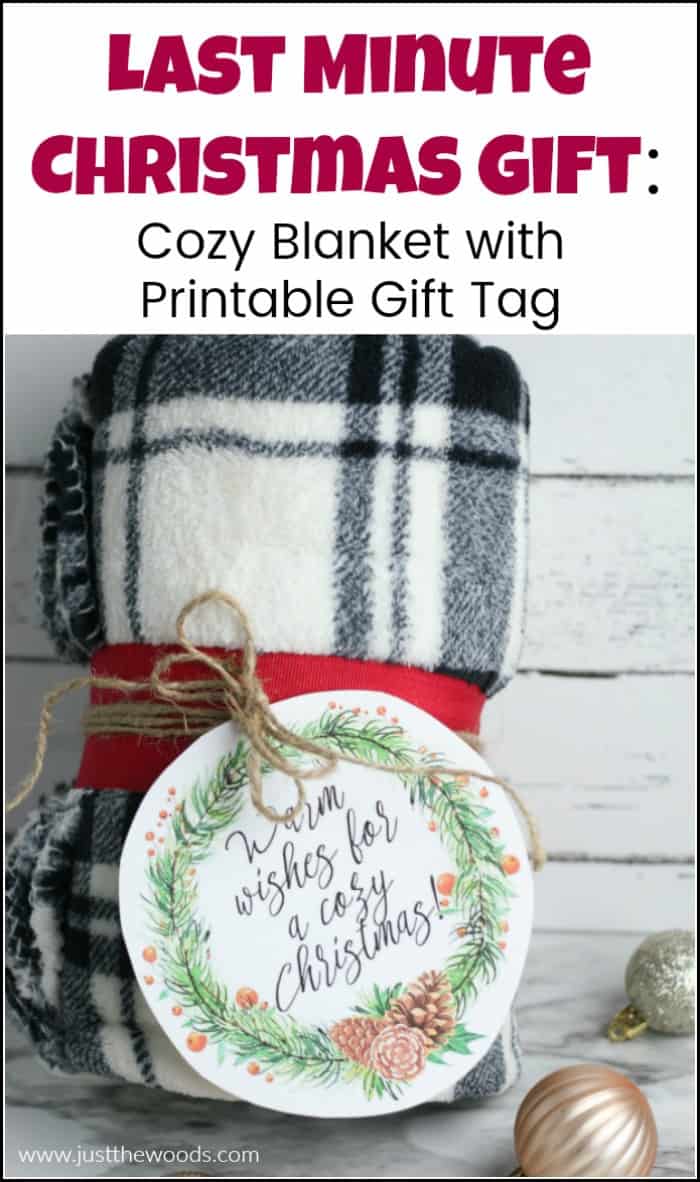 Disclosure: This last minute Christmas gift idea post contains affiliate links for your convenience. I may be compensated if you make a purchase after clicking on my links. Click here for my full disclosure policy.

Supply List for This Great Last Minute Christmas Gift
What You Will Need
Makes 6 homemade Christmas ornaments
a cozy blanket (find some online

HERE

)
ribbon
printable gift tag
How to Make This Last Minute DIY Christmas Gift
While you may be tempted to put some cash in a Christmas card or grab a gift card on your way to the party, stop yourself! You can make a pretty, thoughtful last-minute gift in a matter of minutes. And this gift is so versatile that anyone will love it.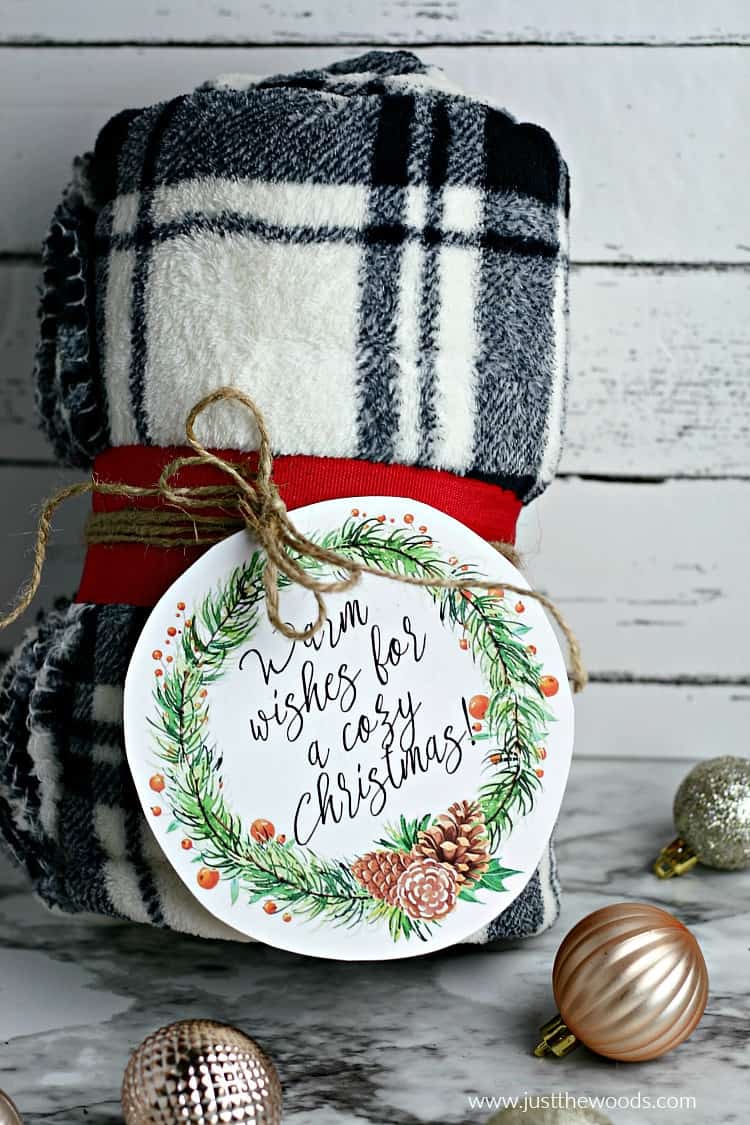 All you need to put this simple Christmas gift together is a blanket, ribbon, and my printable gift tag. You can save the image right from here or download further down below.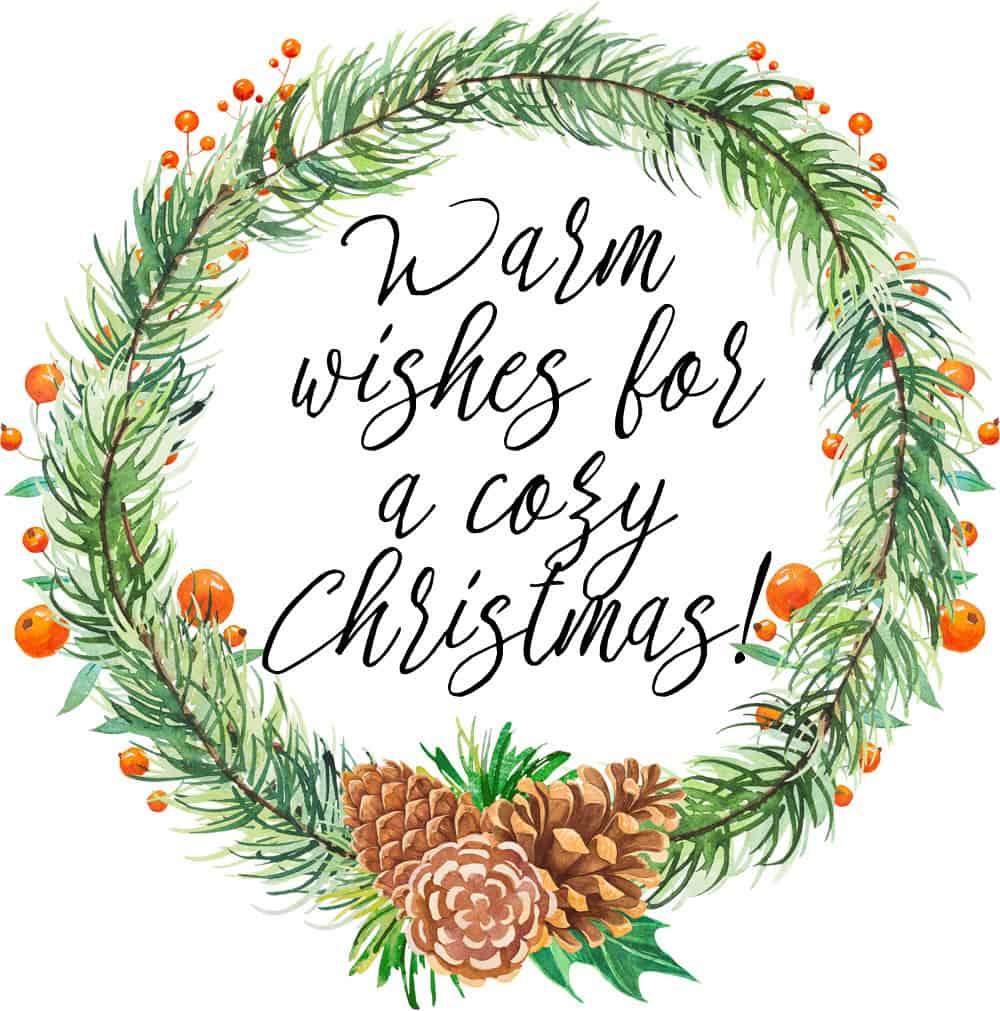 Start by printing the tag and cutting it out. I chose to cut it into a circle shape, but it would also work well as a square tag. As an option, you can cut the tag slightly larger than the image. Then be sure to use the blank space on the tag to add the name of your gift recipient and your signature (so they'll know who to thank for this thoughtful gift).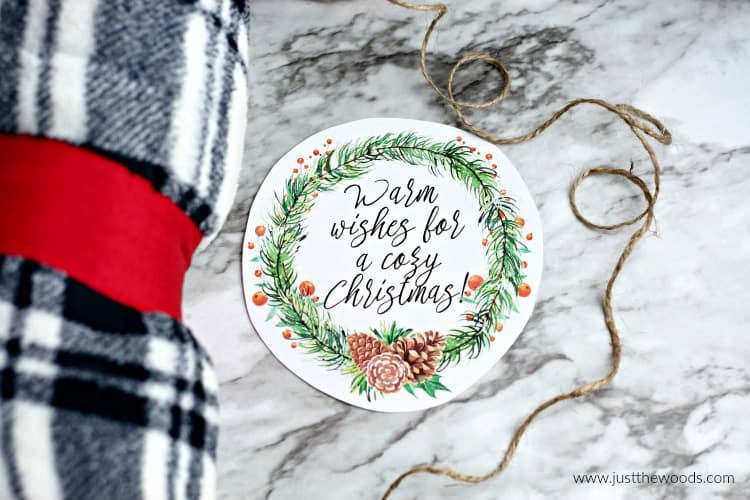 Using a hole punch, punch a small hole in the top of the gift tag so you can slide your ribbon or twine through. This will make attaching your card to the blanket so much easier. After you have the hole punched in the top of the card, set it aside while you get your blanket ready.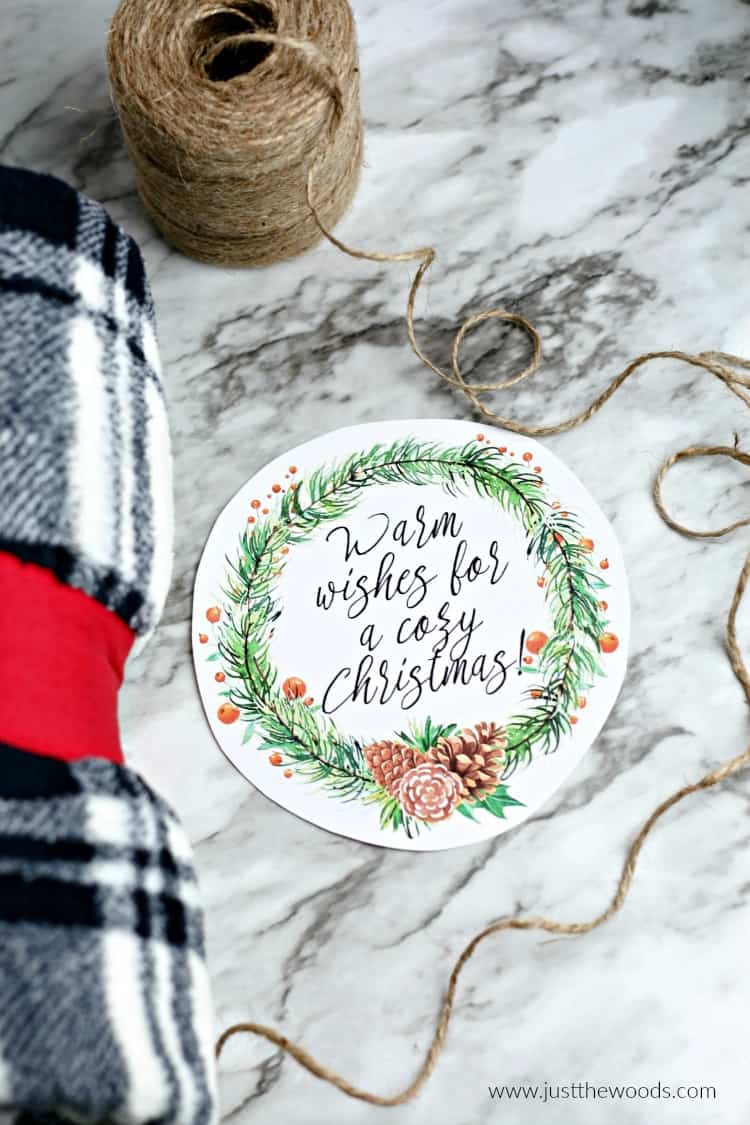 Make sure your blanket is rolled up as tightly as possible before you add the ribbon. Tying the ribbon around the rolled-up blanket is probably the hardest part of this easy DIY gift! Holding the end of the blanket tight, wrap your ribbon around the blanket and tie a tight knot. This will keep your blanket from unrolling before you give your gift.
Click here to Pin this post for later.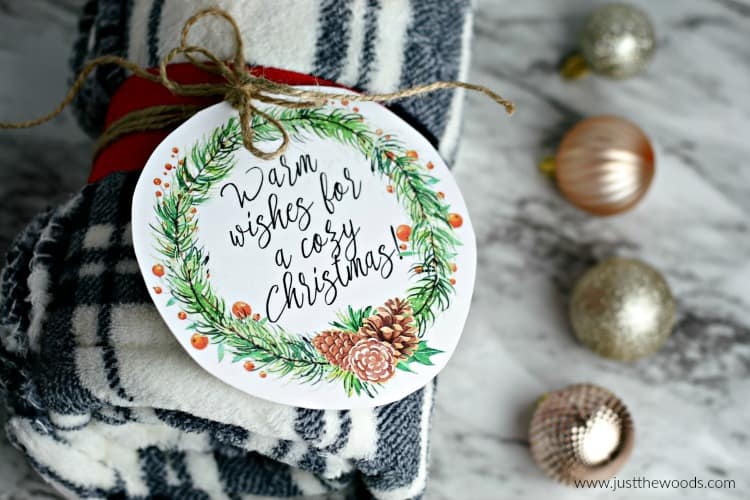 To finish the gift, I decided to tie the card on with a piece of twine to add some contrast to the presentation. To do this, simply wrap a piece of twine around the blanket (on top of your ribbon) twice, then add your tag. Run the twine through the hole you punched at the top of your printable gift card. Then, tie a bow to secure the tag to the blanket.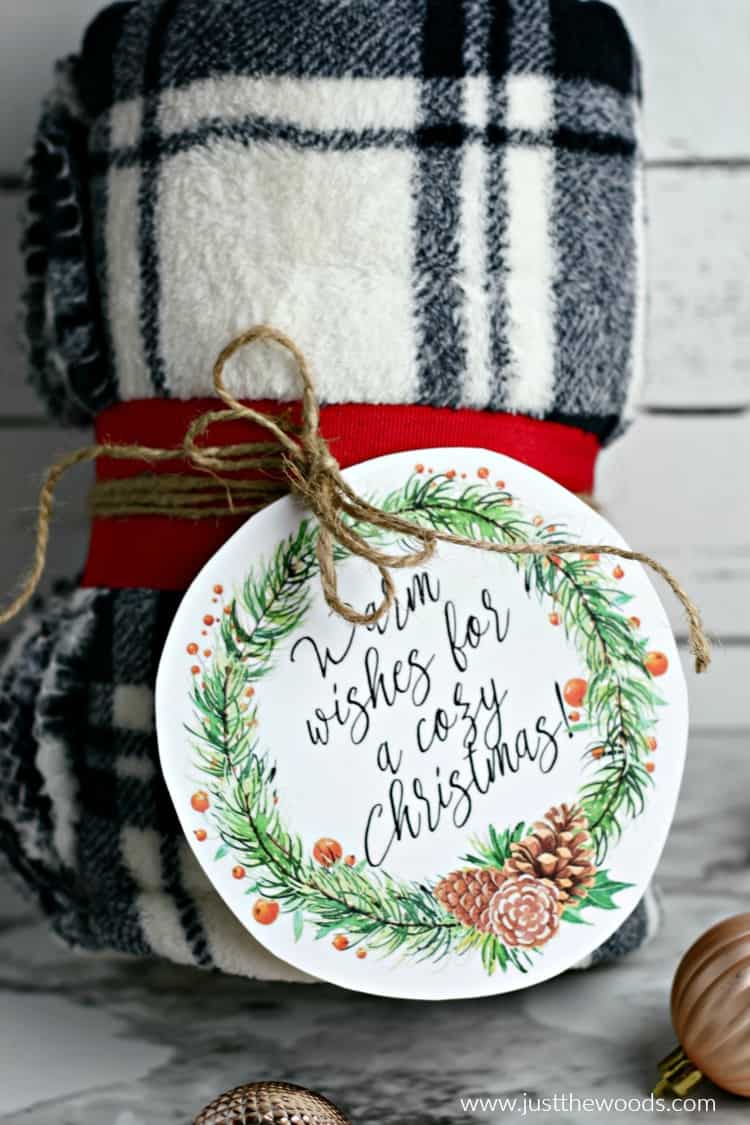 And that's all there is to it! This simple gift is so easy to make but really makes a big impact. Your loved one will never know this was a last-minute Christmas gift idea because it looks like you put a ton of thought into creating it just for them!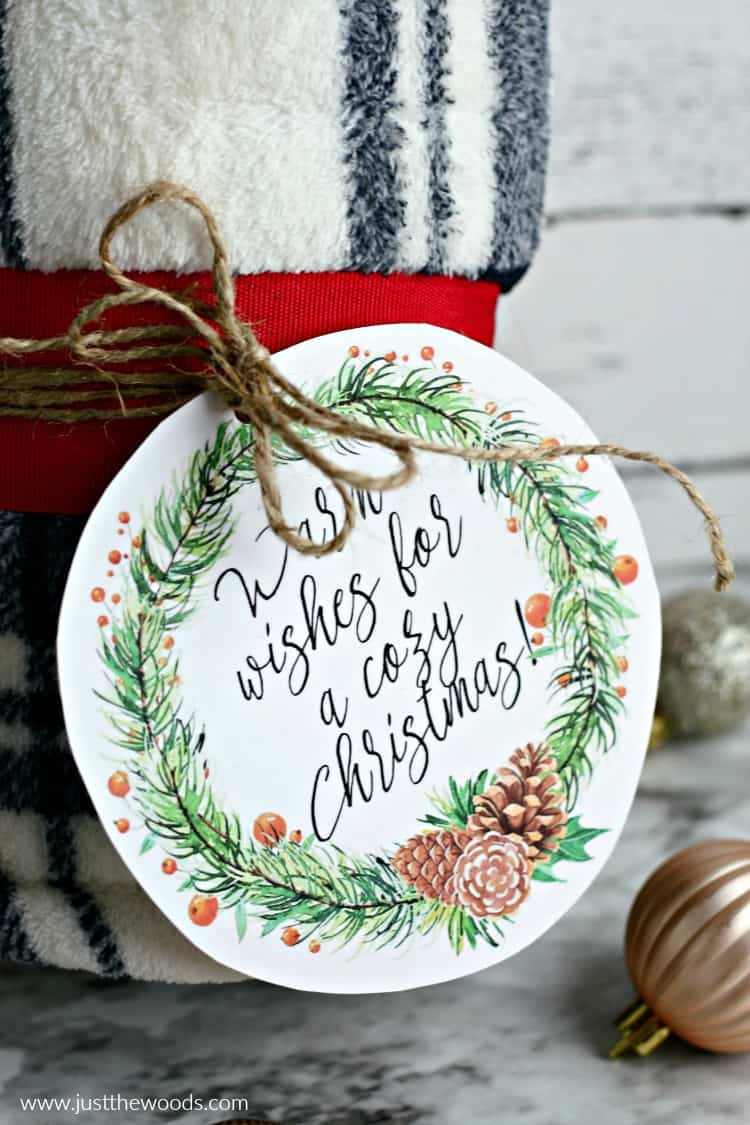 Click here to Pin this post for later.
Click to download the printable Christmas gift tag in pdf format HERE.
Don't Forget – Follow Just the Woods and Share this post to Inspire others:
FACEBOOK * INSTAGRAM * PINTEREST

Stay connected! For more tips and tricks sign up here :

Click here to Pin this post for later.