Affordable Area Rugs Under $100
I have to admit that we are planning to completely redecorate our living room in the upcoming months. Originally the plan was the winter, then the spring, now it's back to the winter. I can only hope that it will be soon. Our living room space is, for the most part, neutral browns, greens and I suppose you could say the 'colors of Autumn'. The main source of color in the room, aside from toys would have to be the artwork on the wall.  Our chunky brown sofa is too large for the room. We do have great wood floors hiding underneath that oversized area rug.  The plan is to, hopefully after the new year, get a smaller sofa that doesn't take up the entire room as well as change things up in the ways of paint, furniture, etc.  That project is still to come. So for the time being this is my living room.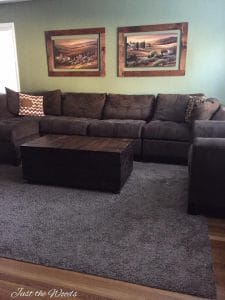 I made sure to remove all of the toys from view for the photo. Off to the side is the kids' toy box as well as a tall bookcase.  The large brown area rug has reached its life limit so to speak and needs to go.  I posted to Facebook and asked opinions on whether we should get a new area rug or keep the wood floors naked or not. Everyone almost unanimously voted for a new area rug, something smaller and with color.  I agree. These are the results of my affordable area rug search. Most are in the 5 x 7 size range, and under $100 price range.  Each area rug is linked in bold for you if you'd like more info on them.
Disclosure: This affordable area rugs post contains affiliate links for your convenience.
Blue and Cream Area Rug – this area rug caught my eye because I'm already thinking ahead and it will be perfect for when we redesign the room.  

Modern Colorful Abstract Area Rug – My eyes are constantly drawn to the gorgeous colors. 3. Bold and Fun Area Rug – I think after having a plain solid brown rug for so long I'm now looking in the completely opposite direction with color, bold and fun.  4. Vintage Hazy Blue Area Rug– I love the soft appearance of this rug. 

More Affordable Area Rugs
For a wider selection of affordable area rugs under $100 click (HERE)

For more colorful and affordable area rugs available online, click (here)

Decisions Decisions
After searching and contemplating the colors in the room now, and the kids and their messes I decided to buy the Modern Colorful Abstract Area Rug. It's very different from what we had, and it's taking me a minute to get used to the change but I love the added color to the room along with the smaller size rug.  Our next sofa will be purple and the entire room will be different but I am very happy with this new look for the time being before the major project.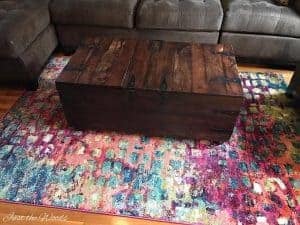 *Prices may adjust based on sales, all prices in this affordable area rugs post are under $100 at the time of post.
Love unique home decor but don't feel like spending hours scouring the internet? Let me do the work for you. Click to be added to the exclusive Home Decor & Fabulous Finds.

Make sure to check out my entire Living Room Makeover to see what other fun pops of color were added!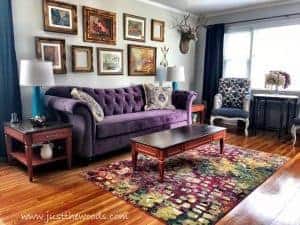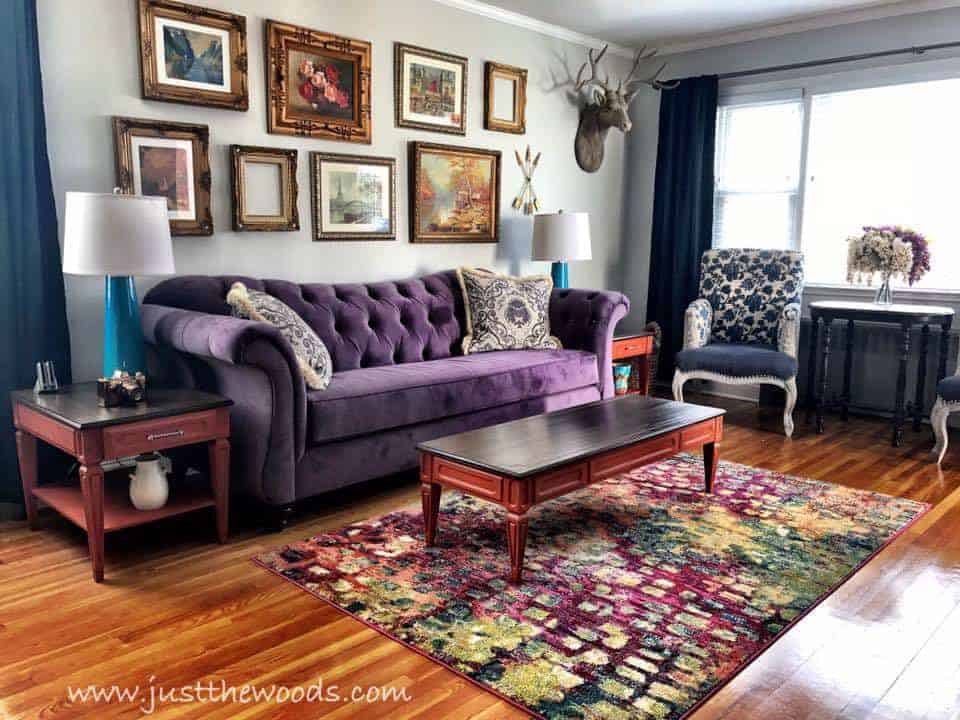 I'll be sharing this post at these fabulous link parties.
Don't Forget – Follow Just the Woods and Share this post to Inspire others:
FACEBOOK  *  INSTAGRAM  *  PINTEREST
Subscribe to our mailing list here:
PINTEREST PIN READY TO BE SHARED