An antique handmade storage chest has been transformed it into a functional custom toy box with chalk type paint and a decoupaged fabric drawer.
When I bought this storage chest I was told that it was over 100 years old and handmade. I decided that with a little work I could turn it into a toy box for my little ones. Their current toy storage area is a complete eyesore and this would also open up the opportunity to purge some of the plastic "crap" that has accumulated over time. I'm sure any mom of little kids can relate!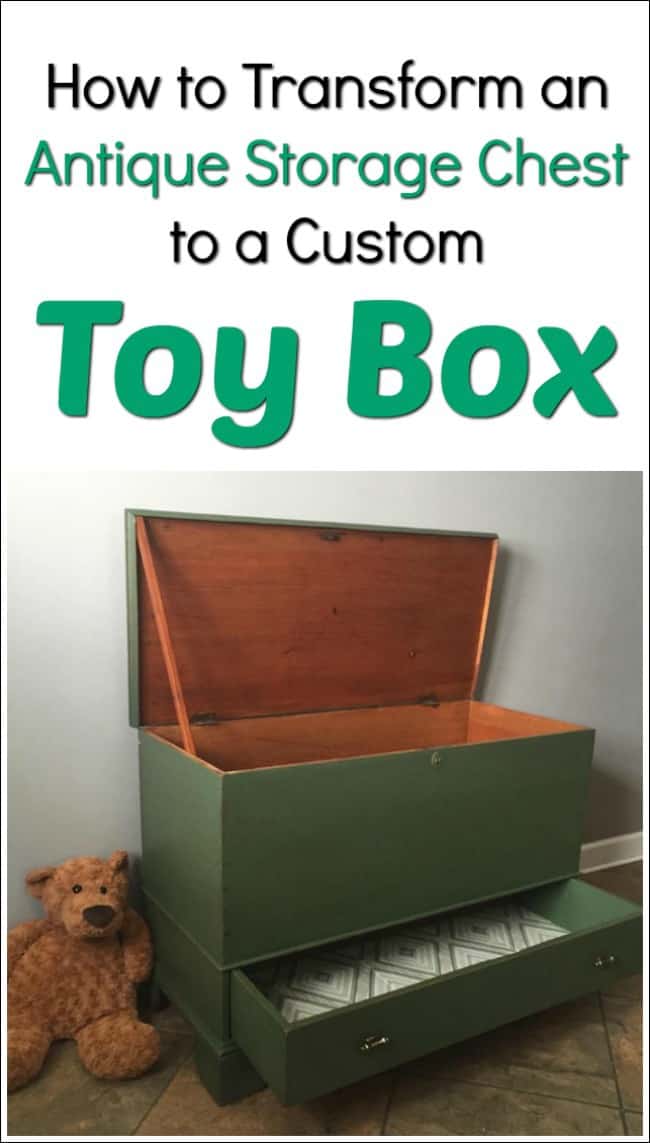 Disclosure: This post contains affiliate links for your convenience. Click here for my full disclosure policy.
Transform an Antique Storage Chest To Custom Toy Box
Materials Needed/ Source List:
The 'Before" Situation of the Toy Area
As you can see, this is an eye-sore.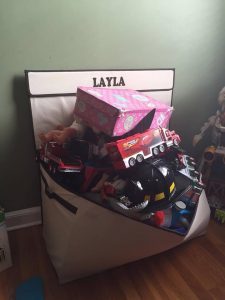 The Antique Toy Chest Before it Became a Toy Chest
This antique storage chest needed work and it is definitely an "embrace the age and imperfections" kind of piece, which I also think is perfect since the kids will bang their toys in the chest and I won't have to worry about them messing it up.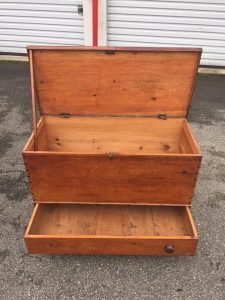 I love that you can see the way the chest was made, the planked drawer, dovetail joints and hammered nails.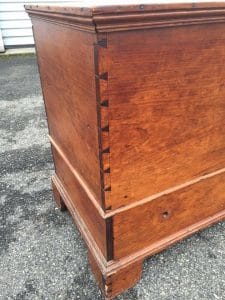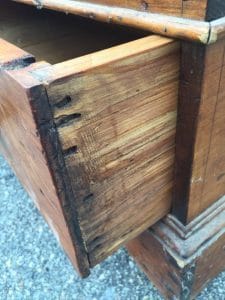 The Reality of an Antique Storage trunk
To say that this antique wood chest needs work puts it mildly. One base leg is falling off, the trim needs to be re-secured and numerous areas need glue and new nails.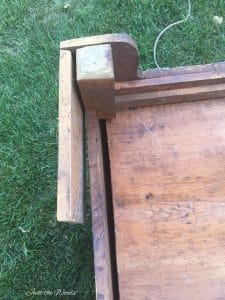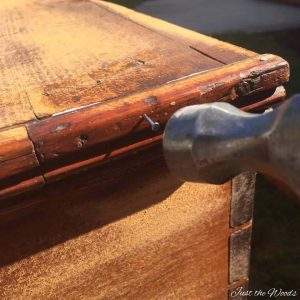 For the hard to reach spaces I use my glue syringe to get glue inside without having much access. These things are fantastic! If you don't have any yet, you can find them (HERE)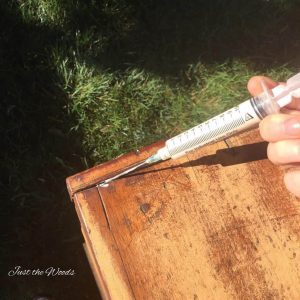 The holes from the old hardware were gigantic so I decided to fill those in as well. I covered the inside with painters tape to prevent the filler from falling through the hole and inside the drawer.
Once the wood filler dries, you can remove the tape from the hole.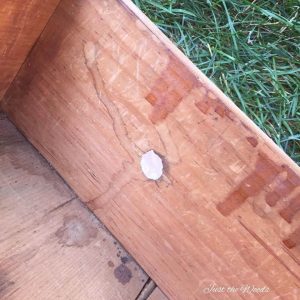 I also decided to give the entire chest a quick sanding outside before bringing it in. Once it was thoroughly cleaned I brought it in to get started. Click here to see How I Prep Painted Furniture. New to painting furniture and not sure where to start? Start at the beginning with How to Paint Furniture – a Beginners Guide.

Adding Decoupage to The Drawer
I decided to line the inside of the lower drawer with this gorgeous ikat fabric from Minted. Since the drawer is planked and will be filled with toys the fabric will give it a solid clean bottom for all those little toys that eventually end up all over the house. 😉 You can also find amazing deals on a wide variety of fabric for decoupage or any projects (HERE)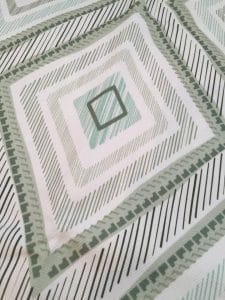 Pulling from the dark green in the fabric I painted the chest in a dark green chalk type paint. You can find great quality furniture paint and stain online HERE. An added bonus, when painting furniture, you want to make sure to use a quality non-toxic furniture paint.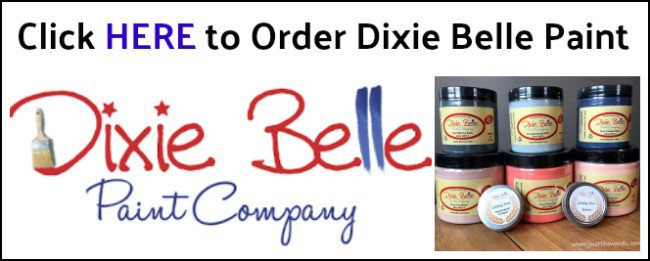 Dark green is somehow the perfect neutral but not neutral color.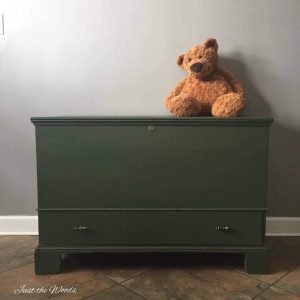 I also freshened up the inside of the chest with a brown wood stain.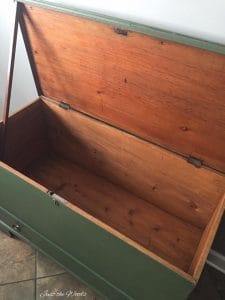 Once I finished painting the chest I distressed it on all the edges as well as lightly sanded the entire piece to intentionally capture any imperfections that come with a 100-year-old antique chest.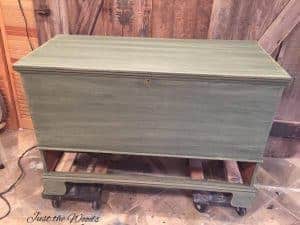 The entire chest was sealed for protection with a clear sealer.
Looking for a toy box and prefer not to tackle a DIY project? Click here for toy boxes for sale online: (here)

Antique Trunk Hardware
Remember I plugged up the hardware holes? I decided to go to my closet stash behind my shop door to find new pulls. Anytime I take the hardware off of an old piece I save them here, as well as leftover hardware when I purchase new. Keeping them in this over the door shoe storage is the perfect way to keep them out of my way but accessible at the same time.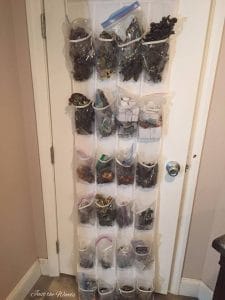 I chose a pair of pulls that are both unique and functional for small hands to grab. I simply cleaned them with a toothbrush and left them in their original condition. I measured where I wanted to place my new pulls and drilled new holes.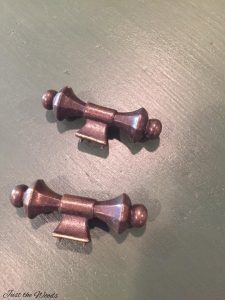 The hardware screws were just a bit too long when attaching them to the drawer. With the help of these finishing washers to make up the extra space they now they fit perfectly.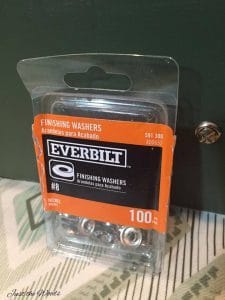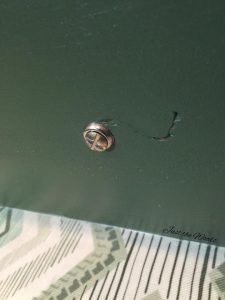 The Result of Transforming an Antique Storage Chest To Custom Toy Box
I love that the chest is functional to be a toy box now and later down the road when the kids no longer need a toy trunk it can be used for blankets and such.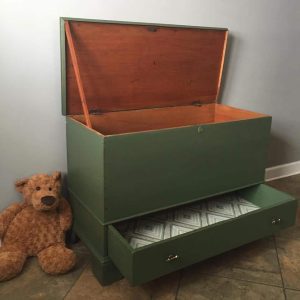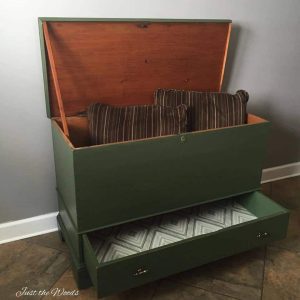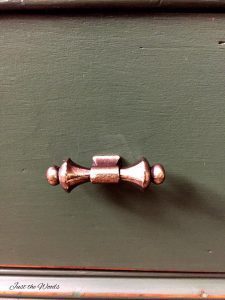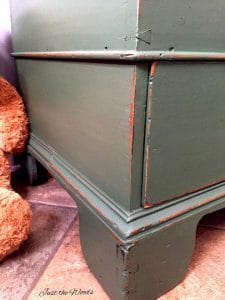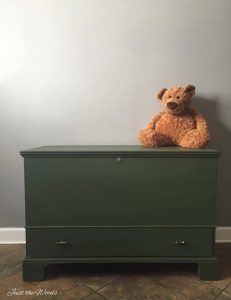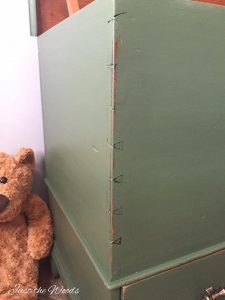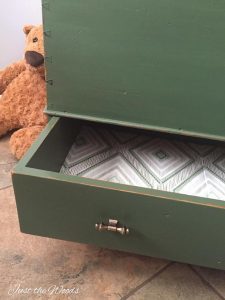 If you prefer a restoration over painted furniture then make sure to check out How to Restore an Antique Steamer Trunk.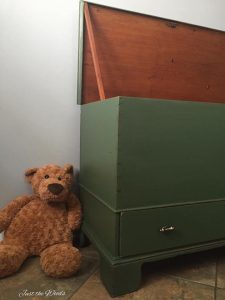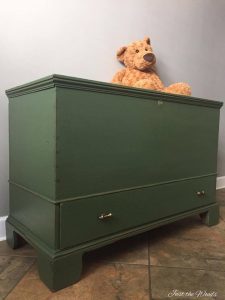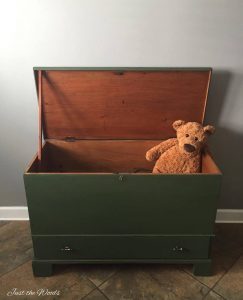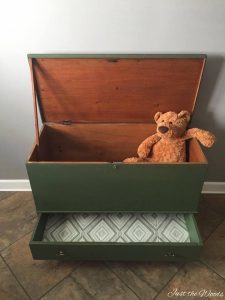 My Reality
Can I get an Amen for purging old toys?
It didn't take long for the kids to fill this right up.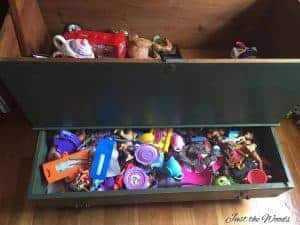 Love unique home decor but don't feel like spending hours scouring the internet? Let me do the work for you. Click to be added to the exclusive Home Decor & Fabulous Finds.

Don't Forget – Follow Just the Woods :
FACEBOOK * INSTAGRAM * PINTEREST
Subscribe to our mailing list here:
PINTEREST PIN READY TO BE SHARED