Antique Parlor Table Makeover
Do you remember that barn in the Catskills? I saved a few items from this old barn. This antique parlor table is one, along with a few other amazing pieces, including a vintage desk that can be seen here – Desk Rescue in Memphis Blue.  But let's get back to this parlor table.
Disclosure: This post contains affiliate links for your convenience. Click here for my full disclosure policy.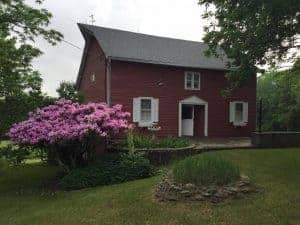 Eggplant Painted Parlor Table
Materials Needed / Source List:
Staging / Home Decor
Books & gold angel- antique shop
The Before – Antique Parlor Table
This antique parlor table was not in the best of shape. The top had some damage, but aside from that it's in great structural shape and has great details. Just look at the amazing wood pattern hiding underneath that imperfect top! I could see how someone may overlook how pretty this table really is.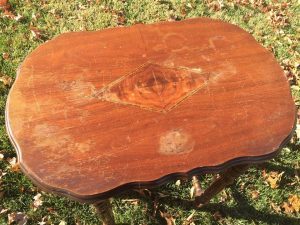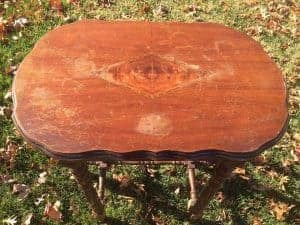 The Table Top
Naturally, the first thing to do was to sand the top down with my electric sander. Low and behold there was an amazing wood grain under there just waiting to shine again!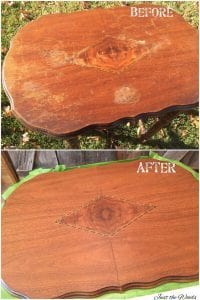 To freshen up the top I applied Kristi Kuehl Pure Home Paint Sable protective glaze. I wanted to make sure to preserve that gorgeous pattern in the wood and not go too dark with a stain. Sable was perfect!
The Legs
A custom mixed dark eggplant was mixed for the legs. This was done with equal parts of Sailor and Cranberry Bliss.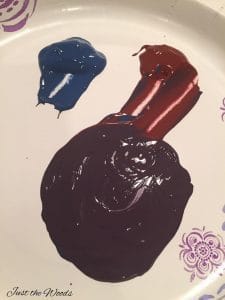 The legs were painted in this gorgeous deep purple eggplant but needed a little something more. The details on the table legs are amazing and I want to make sure that the end result reflects such.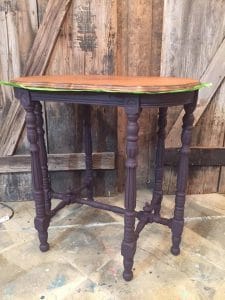 I decided to add a glaze, but not in the traditional sense that one would think. I grabbed my Vibrant Splatter gel stain in purple and glazed the entire base of the table.  One thing for sure is that a little goes a long way!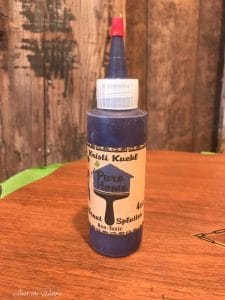 The vibrant splatter gave just the extra touch of purple without overpowering the piece. The base was then sealed using Ebony tinted glaze and protective finish.  I also decided to go back lightly sand the top to a super smooth finish and add our VOC free Gloss Varnish on the table top for added protection.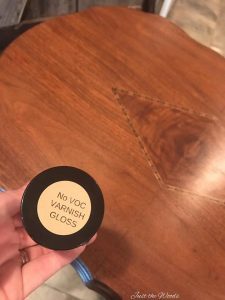 The Result – Eggplant Painted Parlor Table
This eggplant purple painted parlor table now sits in our living room and was part of our living room makeover.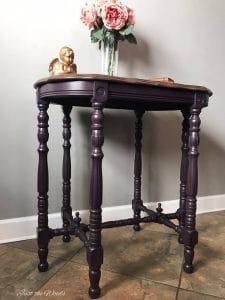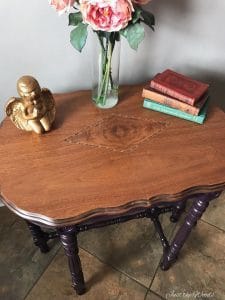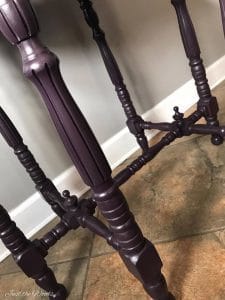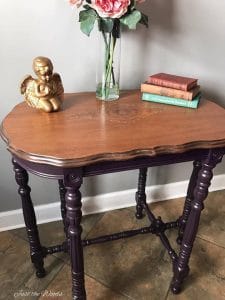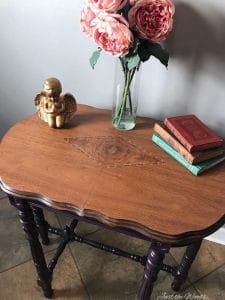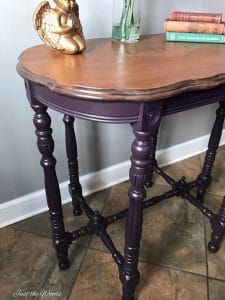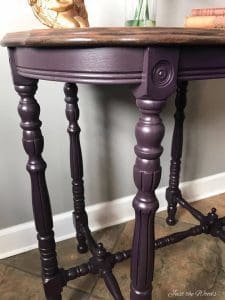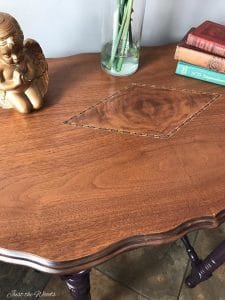 For another gorgeous eggplant purple makeover click here: Eggplant Purple Cabinet with New Top
I'll be sharing this post at these fabulous link parties.
Don't Forget – Follow Just the Woods and Share this post to Inspire others:
FACEBOOK  *  INSTAGRAM  *  PINTEREST
Subscribe to our mailing list here:
PINTEREST PIN READY TO BE SHARED