Gray Painted Desk with Espresso Stain Top Vintage. Give your vintage desk a classy furniture makeover. This painted desk is looking like new with a neutral gray chalk paint and dark stain. Painted furniture takes your old desk and makes it new again.
I adore a vintage desk makeover. Of all the painted furniture projects that I work on, I think that a painted desk makeover is up there in my top 5. But they don't come without challenges. This vintage desk, for example, has a very scratched up top and is not in the best of shape.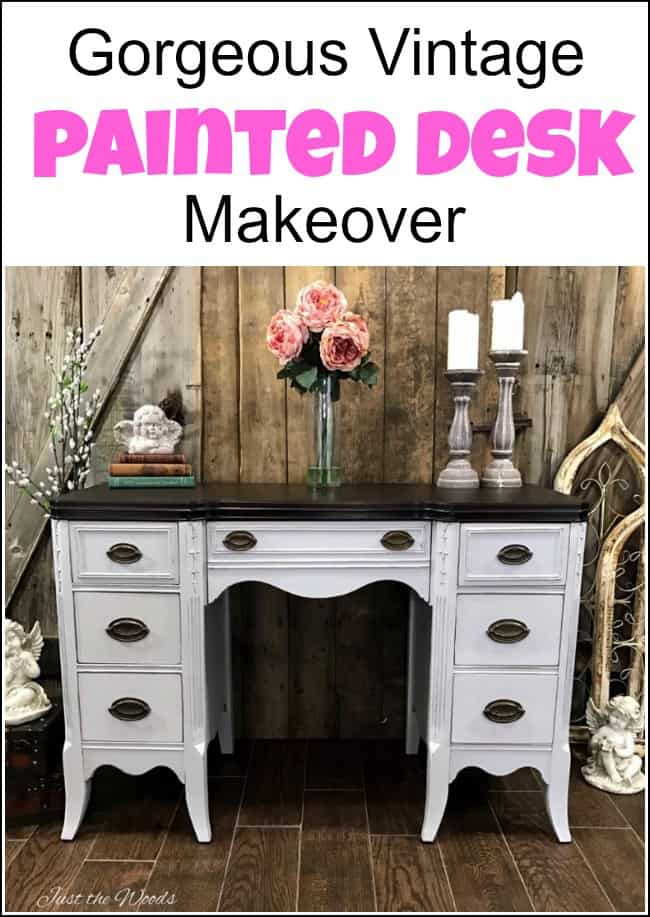 Materials Needed / Source List:
Disclosure: This painted desk post contains affiliate links for your convenience. Click here for my full disclosure policy.
Staging / Home Decor
Books & cathedral windows- antique shop
The Before – Unfinished Vintage Desk
This desk was brought in by my customer for a makeover. It is a great looking desk but definitely needs a little cosmetic work due to wear and age. It's older than me, and I'm sure I could use a little cosmetic work myself ;).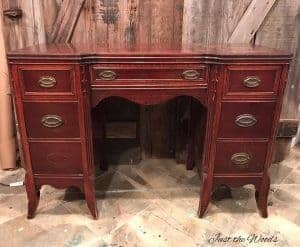 The top of this desk is pretty scratched up, but that's nothing a little sunshine and my favorite electric sander can't handle.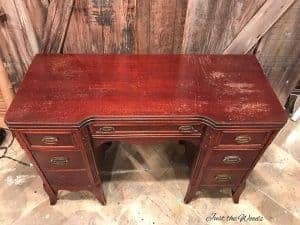 Using an electric sander rather than a sanding block or paper sanding by hand makes all the difference in the world when you have extensive scratches or damage like this.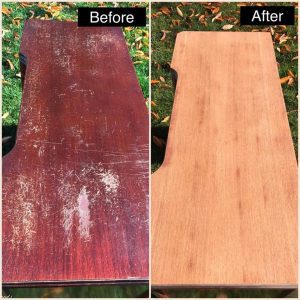 The rest of the piece prepped for paint by hand sanding and cleaning. This is my process for How To Prep Painted Furniture. The hardware is simply cleaned with a little soapy water and an old toothbrush. Doing this gets the dust bunnies off while preserving the natural patina on the original hardware.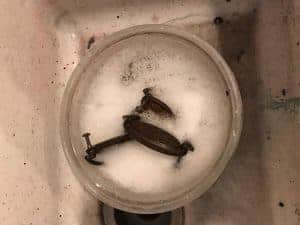 The Process – Painting a Vintage Desk
A rich espresso stain is added to the top of the desk. This is after one coat. Click here to find a detailed tutorial on How to Apply Wood Stain to furniture.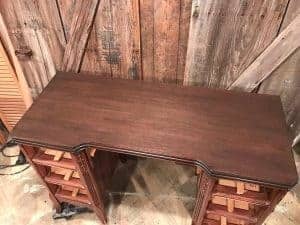 After the second coat of wood stain is applied the bottom of the desk along with the drawers are hand painted in a soft cloudy gray paint. You can find great paint and stain options online HERE.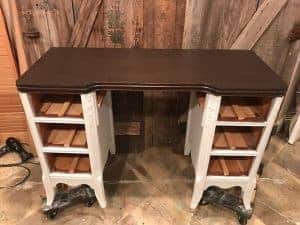 Once complete, this gray-painted desk is distressed to perfection to bring just enough attention to the details. Lastly, the top is given added protection with a clear satin protective sealer. The rest of the painted gray body was sealed with both matte and satin clear protective sealer (for no particular reason).

The Result – Gray Painted Desk
This once scratched desk has been given a second chance and is looking gorgeous.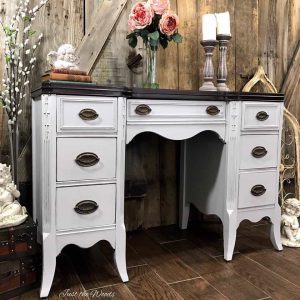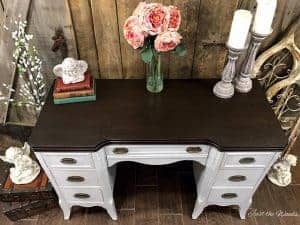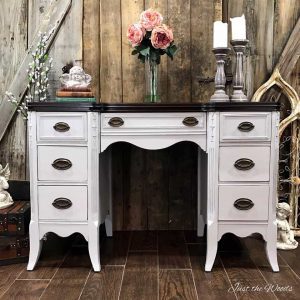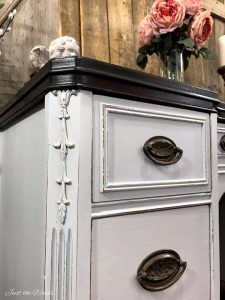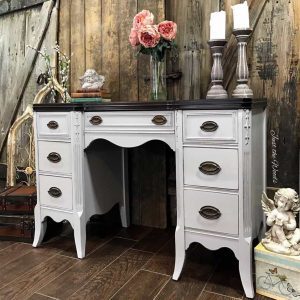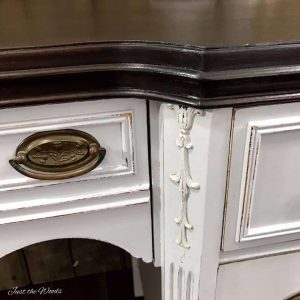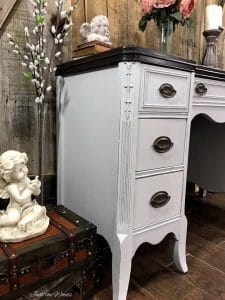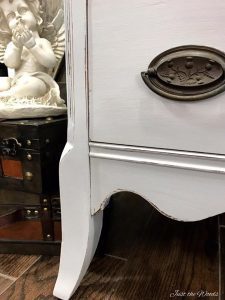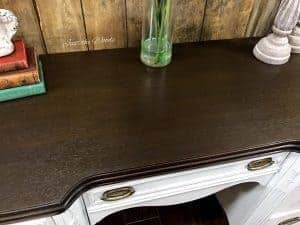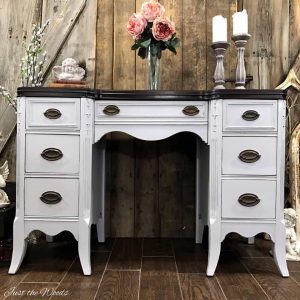 For more fabulous desk makeovers make sure to check out Ten Amazing Vintage Desk Makeovers.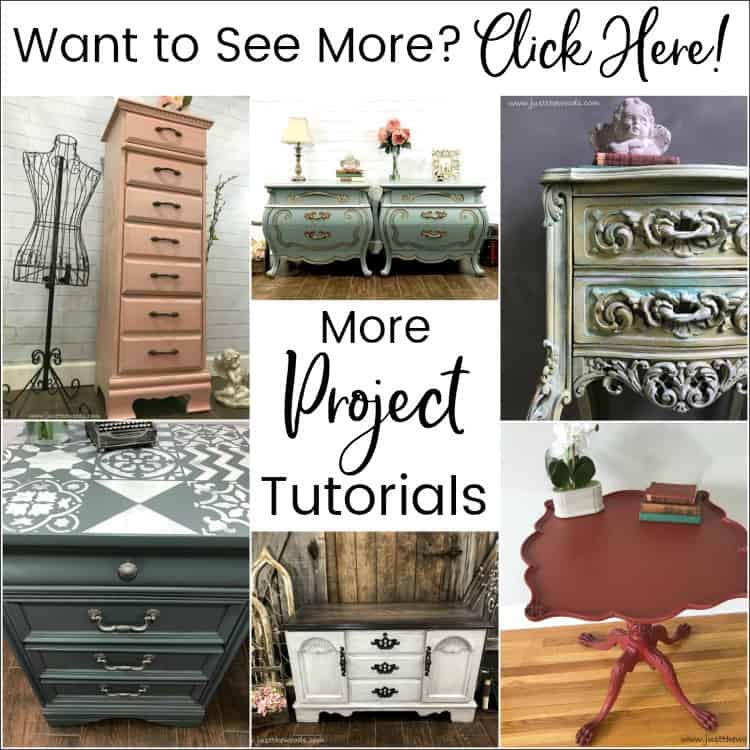 Don't Forget – Follow Just the Woods :
FACEBOOK * INSTAGRAM * PINTEREST
Subscribe to our mailing list here:
PINTEREST PIN READY TO SHARE