Bathroom cleaning is a dirty job, but someone has to do it. Hopefully, with these bathroom cleaning tips, the chore won't be such a chore.
No one like to talk much about bathroom cleaning or how annoying it is to clean the bathroom. But like so many other things in life, it is a necessary evil. Anyone with boys in the house knows just how necessary it is, especially cleaning the toilet. I'd like to somehow hang a bullseye with a down arrow over the toilet bowl. But I doubt that would even help. My 7-year-old seems to think that he knows what he's doing and doesn't need to pay attention to where he points that thing. Sigh. Bathroom cleaning. I'm sharing a few bathroom cleaning tips and hacks that make life easier.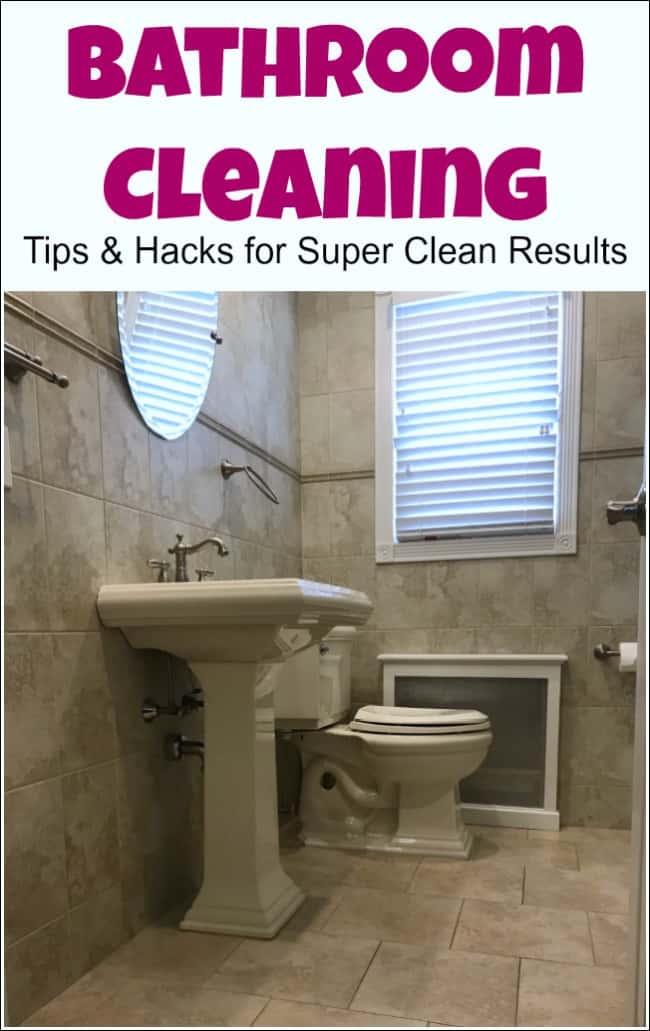 Disclosure: This bathroom cleaning post is sponsored by HomeRight. This post contains affiliate links for your convenience and I may be compensated if you make a purchase after clicking on my links. Click here for my full disclosure policy. 

Bathroom Cleaning Tools
Materials Needed / Source List
Reasons for My Dirty Bathroom
It just so happens that spring cleaning in our home started a bit early. There was actually an 'incident' to be honest. While working on our bedroom small closet makeover we had a plumbing emergency. How a closet project is interrupted by a plumbing issue is beyond me, but this is how things go around here. Our bathroom sink has been slow to drain for as long as I can remember. No matter how many times we tried liquid plumber it never cleared. The sink finally decided that its had enough and stop draining completely. The water backed up requiring Brian to snake the drain. But while snaking the drain, the snake went right through the trap causing water to leak all over the bathroom floor. This wasn't even clean water, it was gunky with whatever had built up over time causing the initial clog. After an abundance of towels to sop up the water and a new drain trap the sink is fixed. But the bathroom, um yuck. Time to break out my beloved HomeRight steam machine.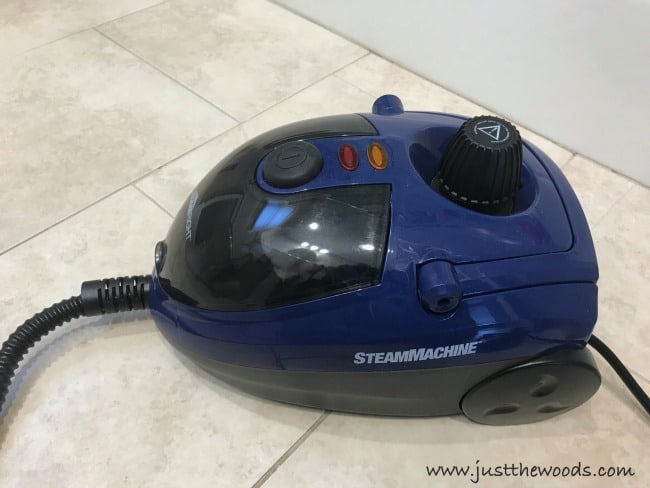 Cleaning the Bathroom After a Water Leak
First and foremost everything is removed from the bathroom. I literally pull everything, from the hamper to the scale out into the hall leaving nothing but a bare bathroom to clean.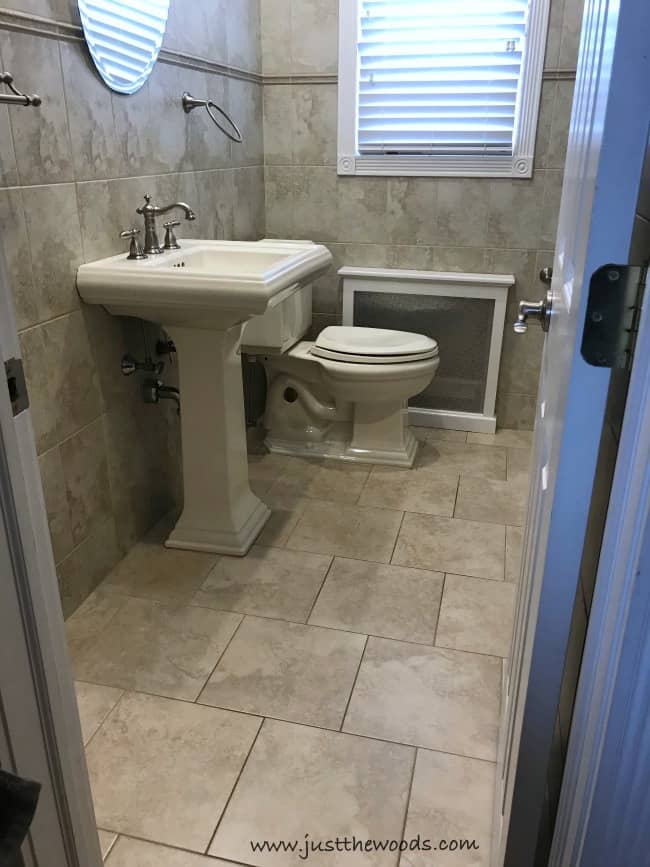 Next, I grab my HomeRight steam machine. The steam machine has multiple attachments as you can see here. It's like having all of your bathroom cleaning tools in one handy machine.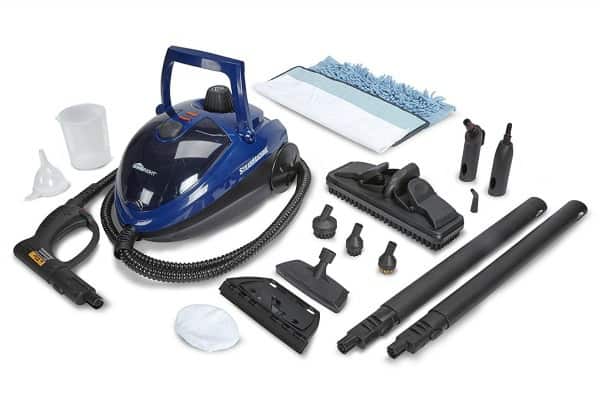 Setting Up the Steam Machine
The steam machine is easy to set up and use. Fill the water reservoir using the cup and funnel provided.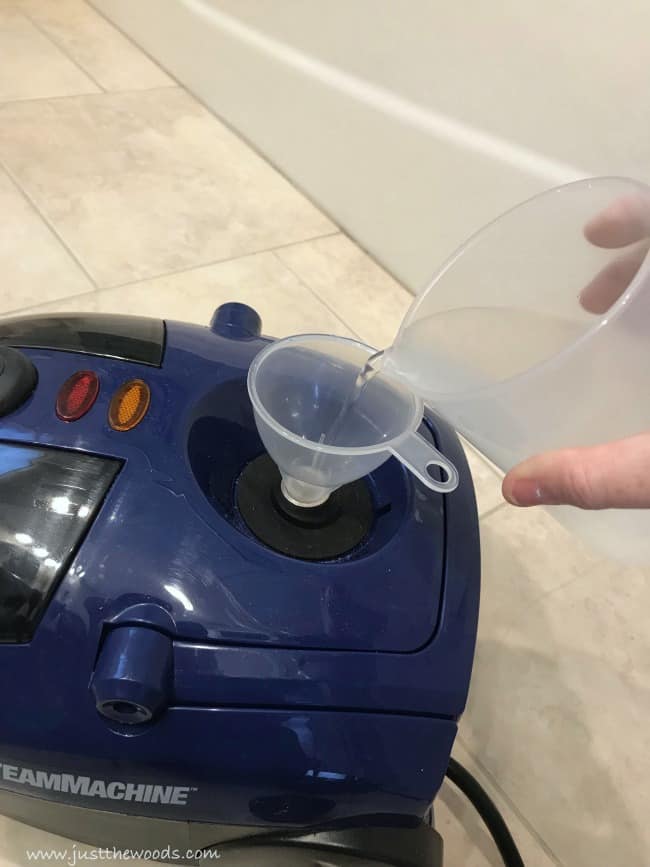 Though not necessarily recommended, I like to add a little essential oil to the water for an extra fresh scent. Find the essential oils HERE. If you decide to do this, do it at your own risk and make sure to thoroughly rinse the water tank when finished. Do not let the water and oil remain in the steam machine once you're finished using it. 
I shared this same power button image in my How to Clean a Kitchen in half the time post. You can see that it's pretty self-explanatory.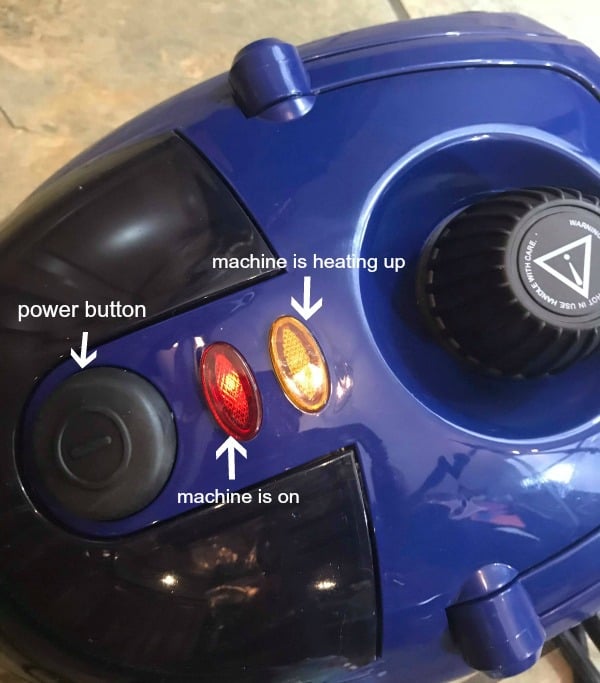 Next, I choose my attachment. I'm using the small nylon brush attachment.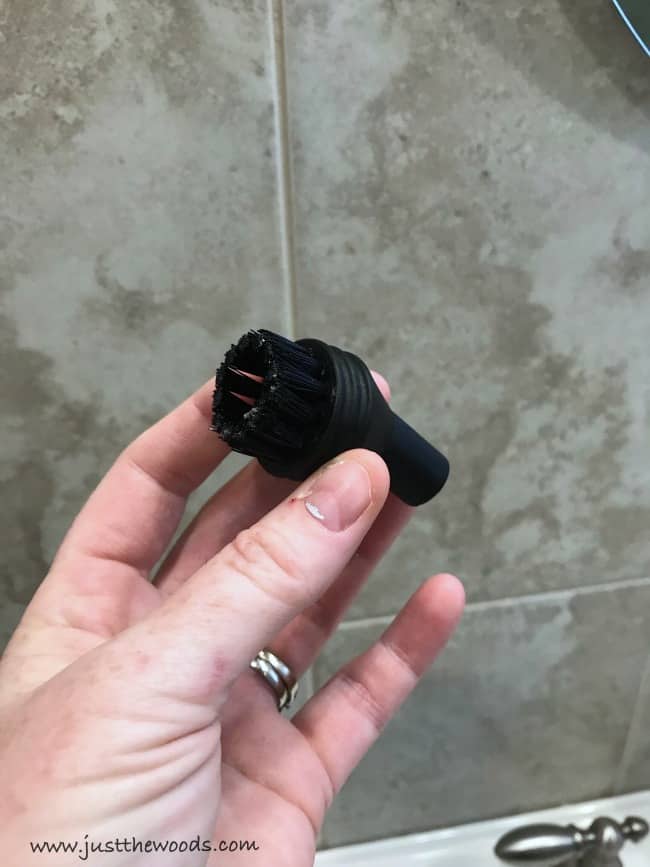 The small nylon scrub brush is perfect for this bathroom cleaning job. Just pop it on to the adapter and we are ready to tackle the bathroom.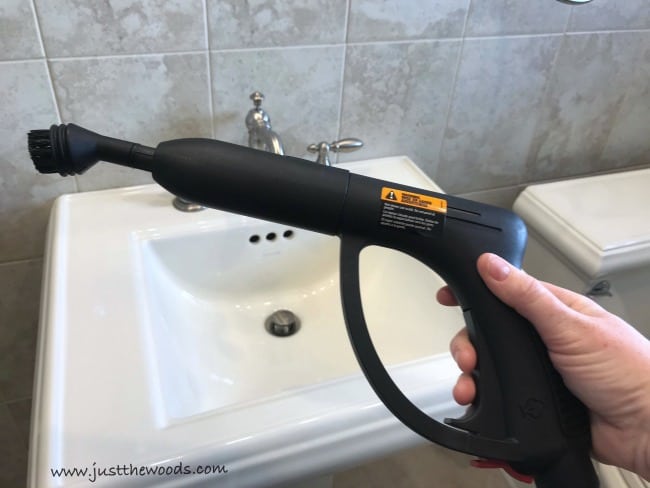 How to Clean the Bathroom Sink with Steam
Using this one attachment and steam I am able to clean the bathroom sink.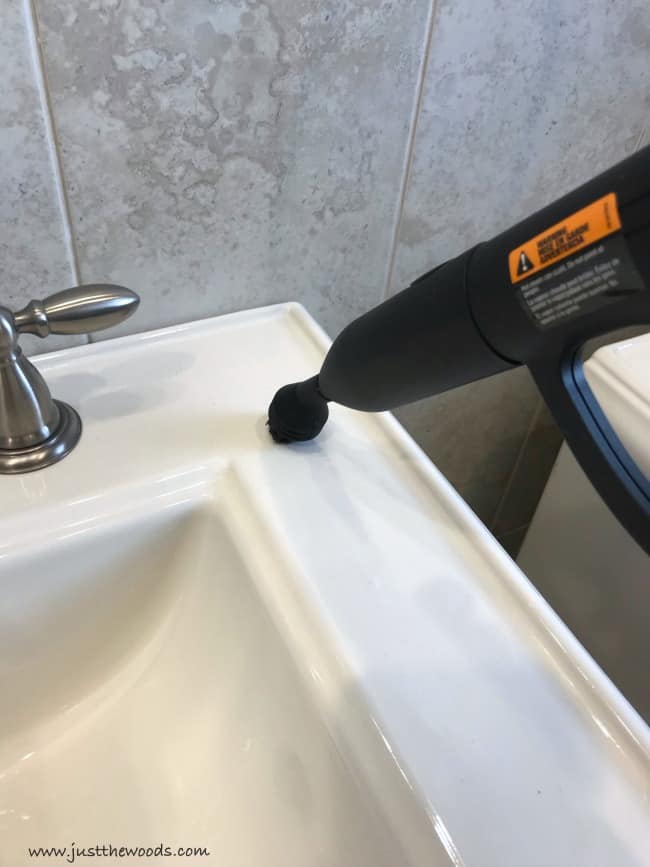 Including the faucet.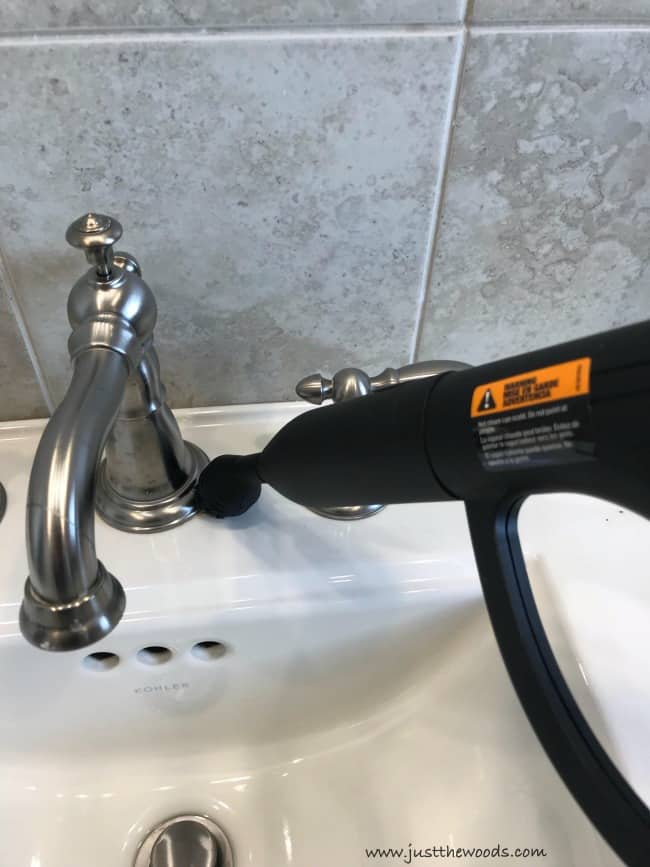 I even use it to clean the bathroom sink drain.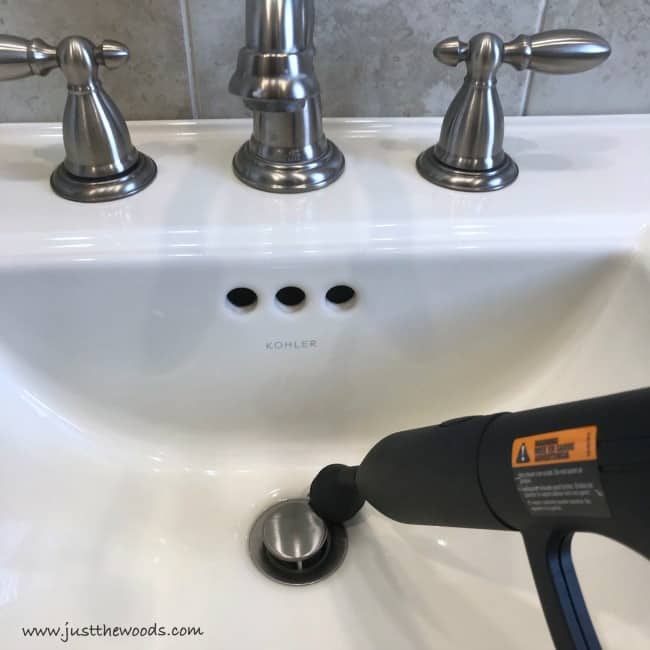 Next, I move right up and clean the wall tile over the sink. This works great for cleaning bathroom tile as well as grout.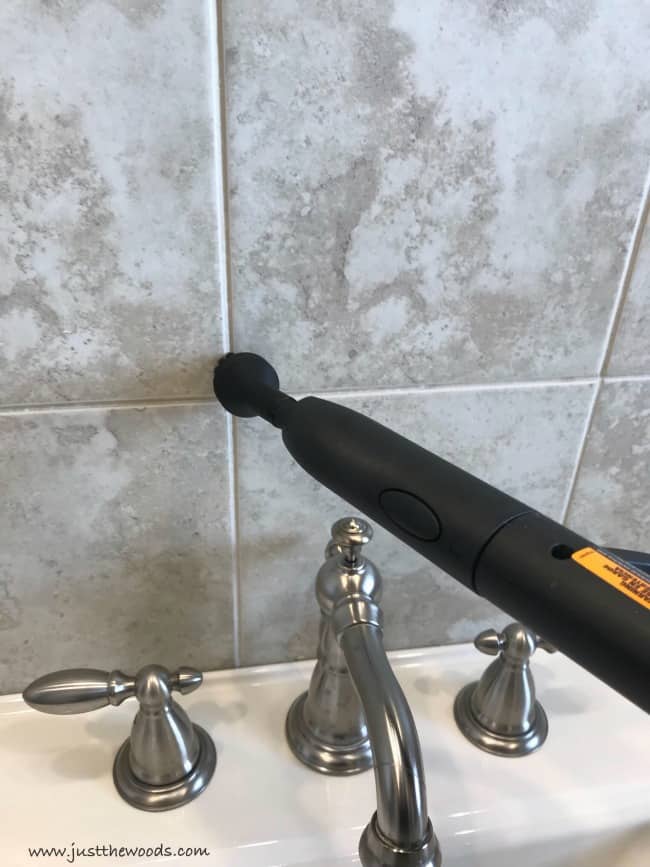 Cleaning the Bathroom on Hands & Knees
Since the entire bathroom is a bit of a mess, I move right down to clean the base of the sink.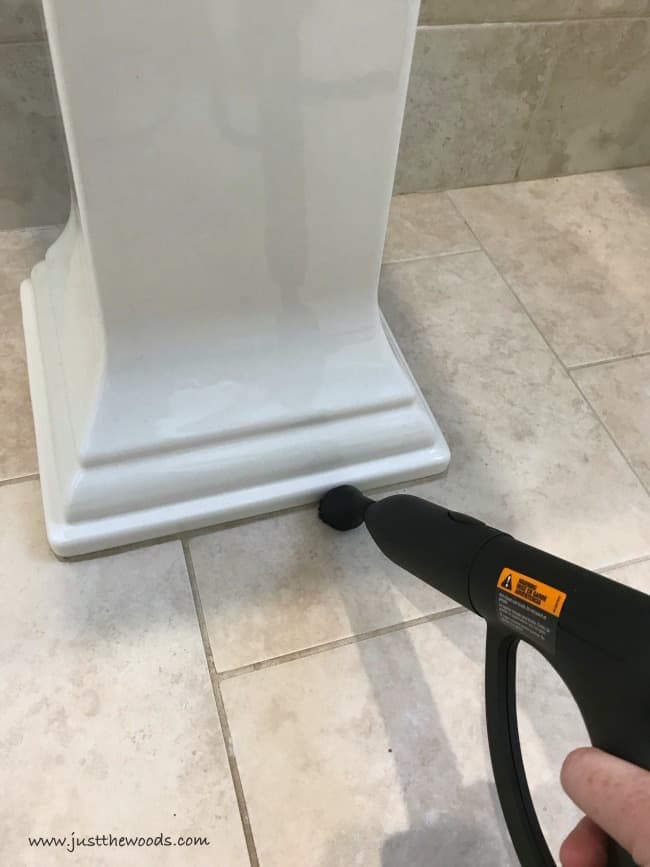 From here, I move over and get that pesky toilet base too.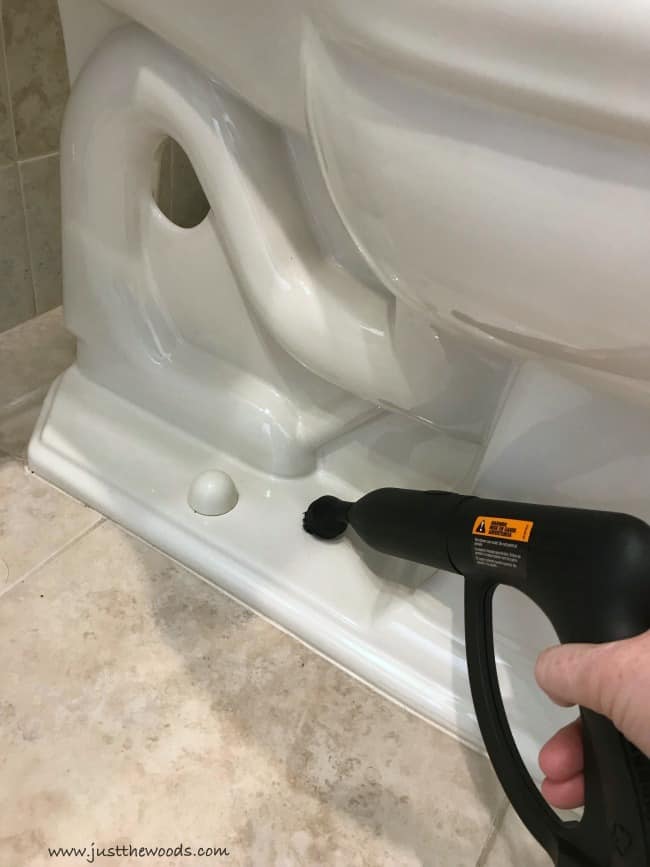 And the front, where the most boy accidents tend to happen.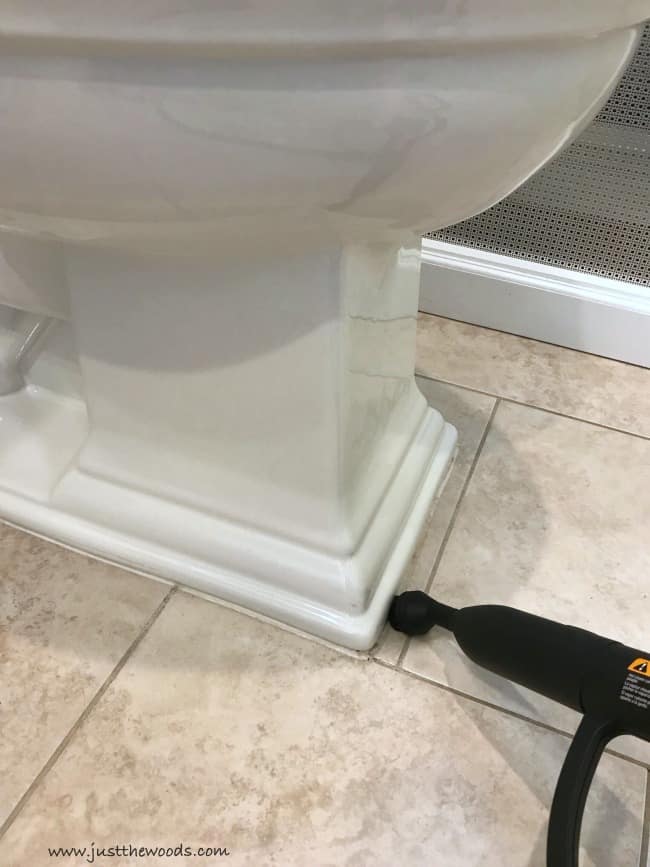 How to Clean a Bathroom Quick Video
Here is a quick video showing the HomeRight steam machine in action as I zip through cleaning the bathroom.
Once I finish steam cleaning all areas of the bathroom, I go back and give a quick wipe down with a dry cloth.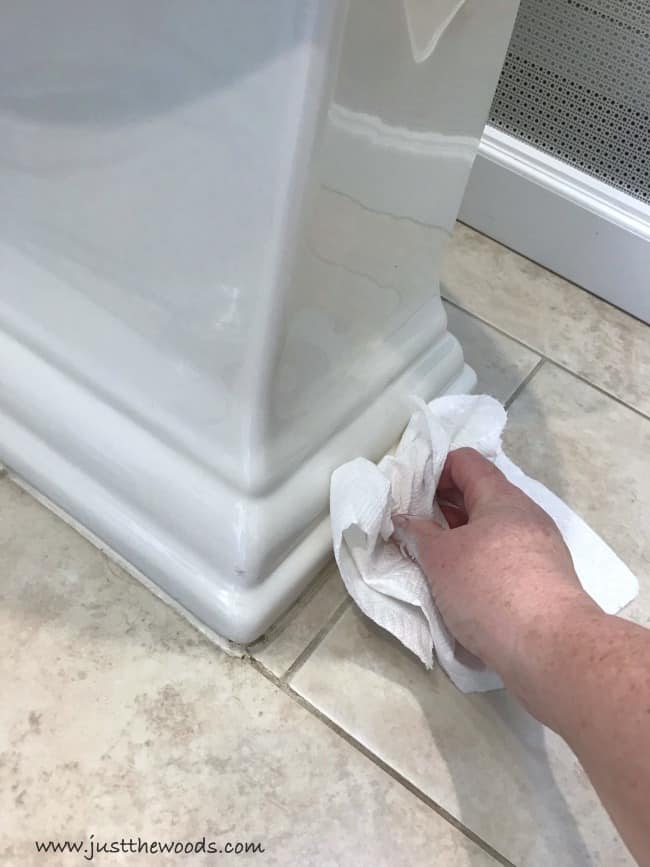 Cleaning the Bathroom Floor
Don't think I forgot about that dirty floor! Once the scrub work is finished using the small brush I swap out my attachment for the microfiber mop pad and floor brush/mop attachment to give the entire tile floor a good cleaning.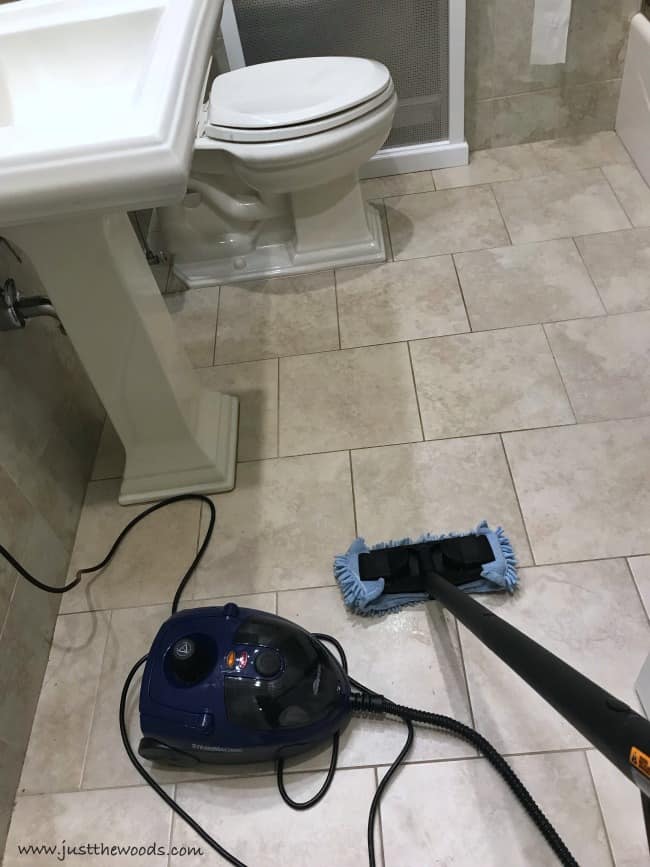 Quick Tips for Using the HomeRight Steam Machine
the small attachments are easily stored in the storage compartment of the steamer
safety first! be careful not to burn yourself, steam is HOT
switch the nozzle to LOCK when changing attachments while the machine ON
note: the knob to add water locks when in use. If you try to open to add more water while the machine is on and hot, the knob will spin and NOT open until the machine has cooled for safety reasons.
once finished, make sure to empty the water from the machine. do not store with water inside
Are you ready to get your hands on this fantastic all in one steam machine to tackle your next bathroom cleaning and spring cleaning projects?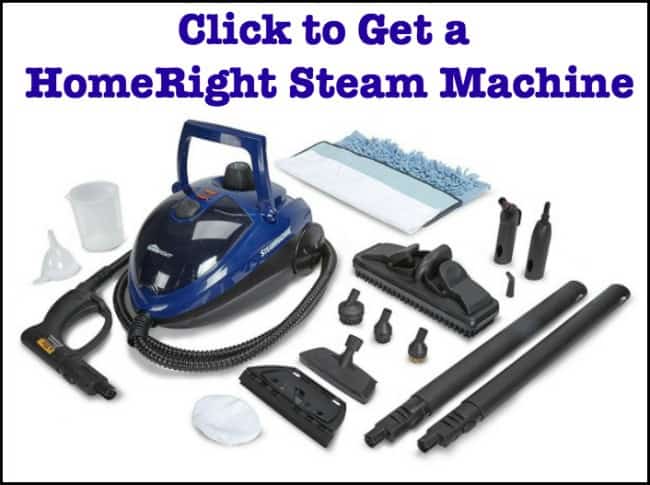 If you don't yet have a HomeRight steam machine, or while you wait for it to arrive how about a few bathroom cleaning hacks to make your life easier?
5 Bathroom Cleaning Hacks That Make Life Easier
Cleaning the bathroom is a dirty job but somebody has to do it. With that being said, there's no reason to spend hours cleaning that bathroom. If you're looking for some bathroom cleaning hacks that make life easier then you've come to the right place.
No more trying to wipe that shower curtain clean or take off that water residue or mildew that appears. Take your shower curtain off the rod, place in the washer with a ½ cup of baking soda or regular laundry detergent, add two bath towels and let the washer run. The towels will naturally scrub at the curtain while the rinse cycle runs. Hang the curtain to dry and it's a miracle, good-bye dirty shower curtain!
You can clean any of the chrome faucets in your bathroom easily using shaving cream. Simply take that shaving cream out, place it all around your chrome faucets, let sit for about five minutes and then wipe it off with a damp cloth. You will see that your chrome faucets are shiny again and look absolutely clean without having to scrub them down.
Place 1 cup of water with 1 cup of vinegar into a plastic bag, then place it over your shower head using rubber bands. Let this solution sit for about 30 minutes so that it soaks up all that grime from your shower head. Be sure that the shower head is submerged in the solution for this to work effectively. Once done, run a hot water shower to rinse off the shower head.
Those air vents in your bathroom really enjoy collecting dust and water residue from time to time. Purchase a can of air, you know that stuff you can use to clean out your computer keyboard? Use the can of air to spray out dust and spray off water residue from your air vents in the bathroom. So much easier of a process than trying to stand on a step stool to scrub it clean!
Clean That Grime Off Shower
If you find that the shower wall is covered in grime and other mildew looking stuff, then you must try this bathroom cleaning hack. Mix bleach with baking soda so that it's a pasty texture. Place this paste on your shower walls and let sit overnight. Rinse the paste off the next day and use a brush to quickly scrub anything left on the shower wall.
There you are, 5 bathroom cleaning hacks that make life easier. Each of these tips should save you some time as well as energy when it comes to keeping that bathroom clean and tidy.  
Bathroom Printables
If you love printables and want to remind your loved ones to follow these few habits you can print these bathroom reminder signs for free HERE.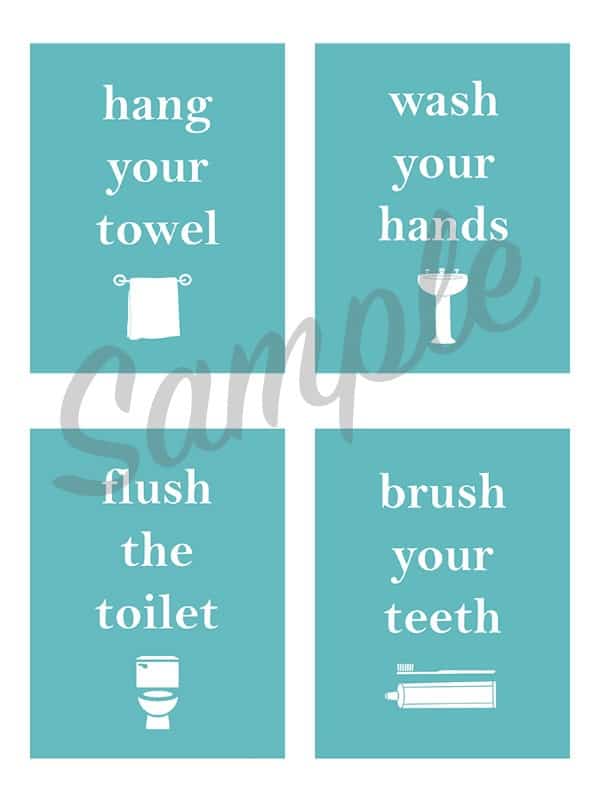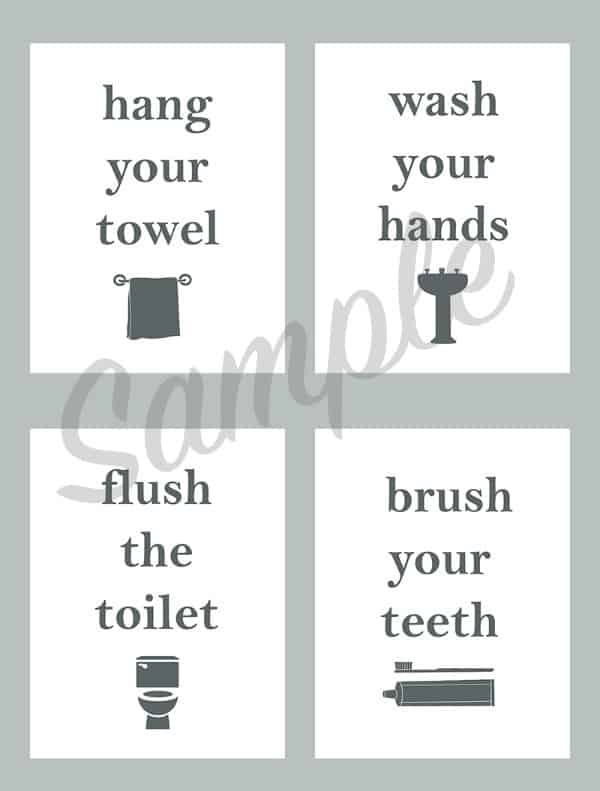 Make sure to check out other HomeRight projects here: HomeRight 

Don't Forget – Follow Just the Woods and Share this post to Inspire others:
FACEBOOK  *  INSTAGRAM  *  PINTEREST
 Stay connected! For more tips and tricks sign up here : 
Pin it!