What's in my kitchen? Here is a kitchen essentials list of items that your kitchen needs when preparing healthy clean foods. Ideal for on the go, meal prep, and easy cooking.
Now that I'm sharing more recipes, and sharing my journey of weight loss with clean eating I think its time. I'd like to share what's in my kitchen and what I consider kitchen necessities. This list of kitchen essentials may not be for every kitchen but they are without a doubt my go-to kitchen items.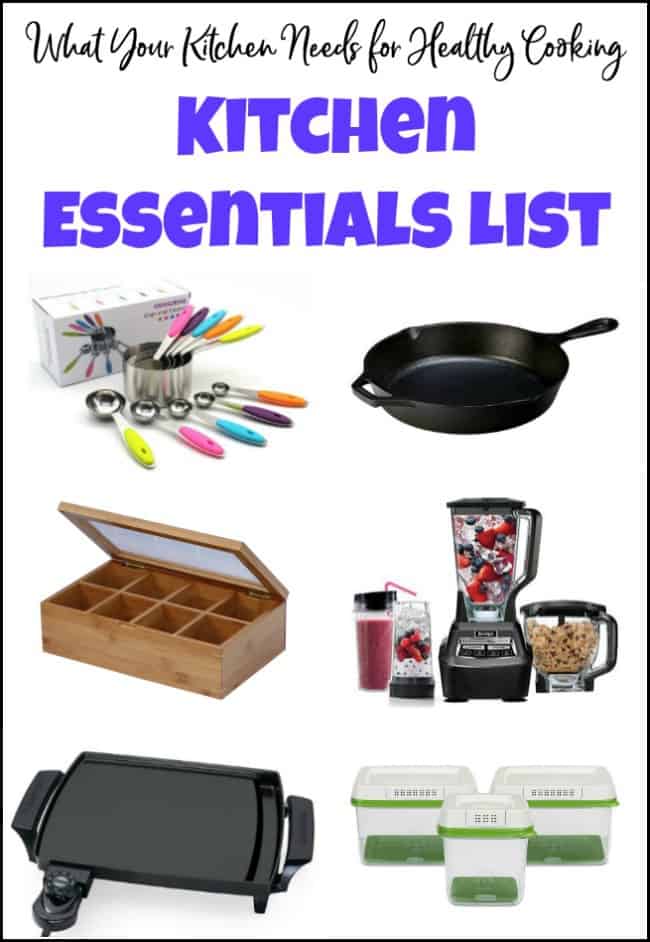 Disclosure: This kitchen essentials list post contains affiliate links for your convenience. Click here for my full disclosure policy. 

Kitchen Essentials List and Must have Kitchen Items
Blender. I don't know about you, but my blender gets used every single day! This makes it my number 1 must have kitchen item. Whether I'm making a

smoothie

for a snack or an on the go meal I think it may be the most used tool in my kitchen. This is the blender that I have

HERE

, you can find a wide variety of different range and style blenders HERE. 
Food Processor. Many recipes require mixing your food, but not necessarily blending. Like in my

Avocado Chocolate Pudding recipe

for example. A simple food processor is always an item that makes the kitchen essentials list to have on hand in the kitchen. You can find some HERE 
Blender Food Processor Combo. In hindsight, I admit that I wish I combined the above two kitchen tools and had the combo unit. These would replace the need for the two separate kitchen essentials and knock it down to one. This makes more sense for a kitchen with less space, or a person who prefers less clutter (hehe like me) This is the one I hope to get HERE. But you can find more HERE. 
Yeti tumbler. Have you ever made a smoothie and waited too long and it melted to liquid? Or a hot cup of coffee or tea and before you know it, its cold? This tumbler is amazing and keeps drinks hot or cold for hours! Literally, I made a cup of tea and forgot about it. When I grabbed my Yeti 4 hours later my tea was still hot! Anytime I leave the house with a drink it goes in my Yeti! Find them HERE 
I even have the other lid attachment with the straw, which is ideal for your cold drinks. (HERE) 
Measuring cups and spoons are next on my kitchen essentials list. I found this great set and they stay out on my counter because they are literally used every day as well. Get these HERE 
Food Scale. Many of the clean eating meals that I prepare call for a 3oz of chicken for example. My food scale comes in handy when I am trying to maintain a certain level of portion control. This is the scale that I have, but you can find any scale that suits you HERE 
Cooking Essentials
The Little Griddle. Now that I make sure to eat breakfast every day I find myself eating a lot of eggs or gluten-free pancakes. We used to have a large griddle, but it took up too much space. Now I use and love the little griddle. This compact electric griddle is ideal for smaller meals and takes up much less space. This is the one that I have and you can find it HERE 
Lodge Pan. When I'm not making breakfast on my little griddle, I'm making eggs in my Lodge cast iron skillet. This is great for making eggs with spinach and onions. I always use a wooden spoon with my cast iron skillet rather than a metal spatula. You can find the skillet here HERE  If you are a fellow cast iron fan, we also have and love the Lodge cast iron dutch oven. My husband loves this for preparing larger meals. You can find it

HERE 

 
Muffin pan. The standard muffin pan is a kitchen essential because its great for food prep. When Im feeling super motivated I will spend some time baking a few batches of muffins, like blueberry or apple cinnamon as well as egg and kale muffins to freeze and store for later. These make a great grab and go food for when you don't have the time to cook. Lately, I grab a blueberry muffin from the freezer, pop it in the microwave and enjoy one with my nightly tea. I use the metal muffin pan and have considered the silicone but I'm still on the fence. Find them HERE 
Kitchen Organization Essentials
Tea organizer. Since trading in my nightly glass of wine for a relaxing cup of tea I've decided I need to organize my growing tea collection. This tea box is perfect! You can find it HERE  Looking for tasty teas? Here are the tea flavors in my tea box:
Produce organizers. This may be the uber-organizer in me shining through. But I have organized my refrigerator using these food storage containers and love them. They have become one of my necessary kitchen items for sure. You can find them HERE And these too! (HERE) 
Mason jars make the kitchen essentials list for two reasons. First, they are perfect for making overnight oats. Second, if you are like me and prefer not to have food in bags (like almond flour, stevia, cacao etc) you can transfer them all to mason jars. I got tired of the bags and moved the majority of the powder type ingredients into mason jars and simply labeled each jar with what it inside. Find a variety of jar sizes HERE 
Kitchen Essentials List for Preparing Clean Foods
Here are a few of the items and ingredients that I keep in my kitchen at all times. Along with fresh fruits and vegetables, fresh herbs, almond milk, and raw nuts, these kitchen essentials are used in many of my meals.
I can not go a single day without using Cacao powder. Did you know that it's considered a superfood? Check out my Avocado Chocolate Pudding Recipe for a quick healthy treat using cacao. And you can find some for yourself HERE 
As well as cacao powder, I also use cacao nibs! These go in smoothies and are used in baking as well. Find cacao nibs:

HERE

 
Apple cider vinegar! I start each and every day with a teaspoon (or more) of raw unfiltered apple cider vinegar followed by fresh squeezed lemon and water. This is the Apple cider vinegar that I use: HERE 
Since starting clean eating and unintentionally going 'gluten free' I also replaced most of my flour recipes with Almond Flour and Almond meal. Find gluten-free HERE 
In addition to almond flour, I find so many uses for Almond Butter. I replace any prior peanut butter with almond butter. I add it to smoothies and use it in baking as well. Almond butter is absolutely a kitchen essential for eating healthy in this house. Get some

HERE

 
Raw Unfiltered Honey. You won't believe how much honey can be used for. I use it when baking as well as drizzle it over a little fruit and ricotta cheese for an afternoon snack. Get it HERE 
When I'm not using raw honey as a sweetener I also use pure maple syrup or organic Stevia. This is the stevia that I use:

HERE

 
Don't Forget – Follow Just the Woods and Share this post to Inspire others:
FACEBOOK  *  INSTAGRAM  *  PINTEREST * RECIPES