Cottage chic painted dresser with soft sage floral stencil design. Give your painted furniture a cottage chic makeover with floral stencil drawers
Cottage Chic Painted Dresser with Stenciled Drawers
Have you heard of cottage chic style? If you are unsure and want to know what does cottage chic mean or what is cottage style furniture. I think that it is very similar to shabby chic but with a bit more color. Take shabby chic and add in soft pastels, floral design, possibly stripes or patterns and that gives you cottage chic style. Or at least that's my take on it.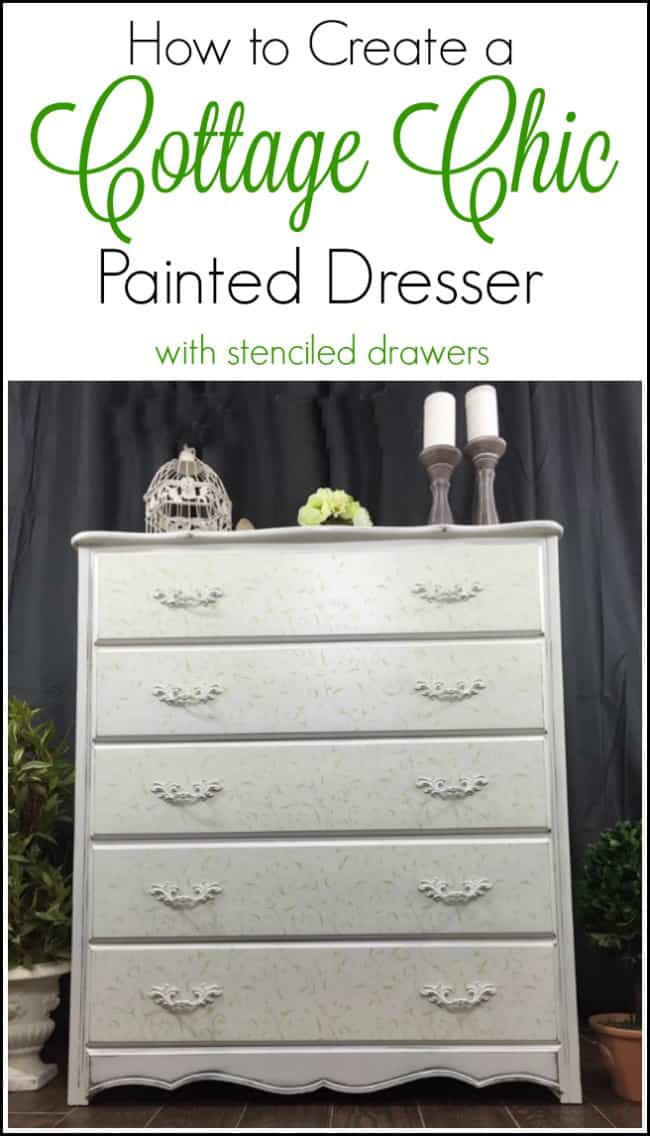 Disclosure: This cottage chic painted dresser post contains affiliate links.  This post also contains sponsored links from Cutting Edge Stencils, All opinions are 100% my own. Click here for my full disclosure policy. 
Unfinished Vintage Dresser
This vintage dresser was scooped up somewhere in Brooklyn. It has the most delicate curves. I've done shabby chic so this time I plan to attempt cottage chic. What better way to update it then with a stencil?

Cottage Chic Lily Scroll Stencil
I have been lucky enough to be asked by Cutting Edge Stencils to do a product review.  I first had to decide which piece I wanted to use and which stencil to choose. That was the hardest part since they have so many!  I absolutely love their wall stencils.   I decided to use the solid maple 5 drawer dresser from my inventory and the lily scroll craft stencil.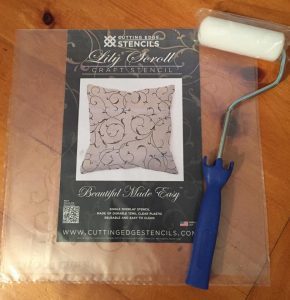 The original plan was to apply the stencil pattern down the sides of the dresser which is why I chose the smaller stencil but there was a last minute decision to bring them out front so they could be more visible.  As they should be! After that change in plans, I secretly kicked myself for not choosing an all over / wall stencil.  Once my stencil arrived I was ready to get started.  An awesome foam roller came with the stencil too. Lucky me!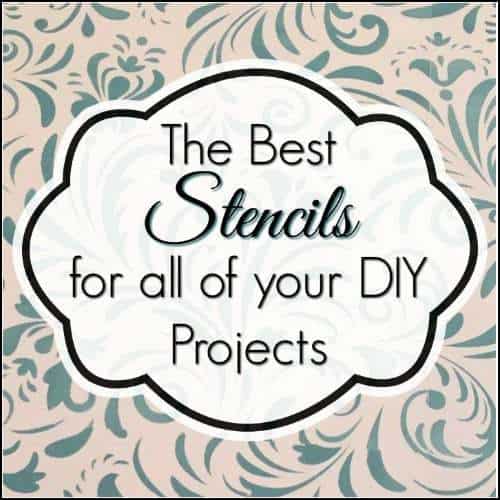 Choosing Cottage Chic Paint Colors
The dresser is thoroughly cleaned and prepped like I always Prep Painted Furniture. Next, the dresser is painted in a soft white and then a custom mixed a light green for the stencil design.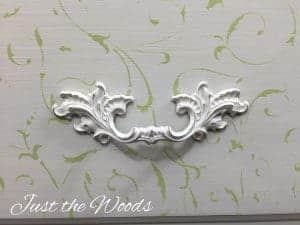 The original hardware is cleaned, painted white, distressed and sealed. I have an entire process for how to clean and paint hardware, that process can be found here: How to Clean, Prep & Paint Hardware. I'm a huge advocate of keeping vintage hardware when possible. Once the years of grime are removed they are often quite beautiful and worth saving.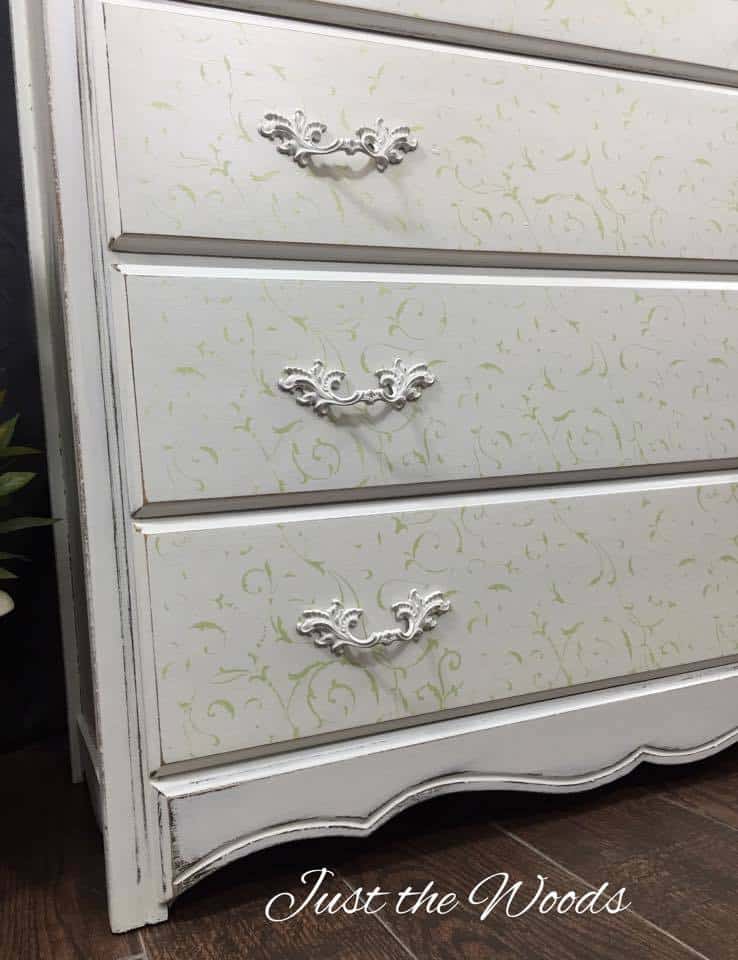 Once I finished the drawers, which came out beautifully, the entire piece is distressed along the edge which pairs perfectly with the freshness of the light green.
Painted Cottage Chic Stenciled Dresser
Whether you'd call this cottage chic, shabby chic or garden chic – its delicate design and subtle curves remind me of something that belongs in a bed and breakfast with a lush green garden outside.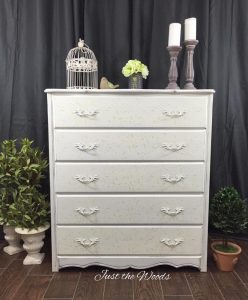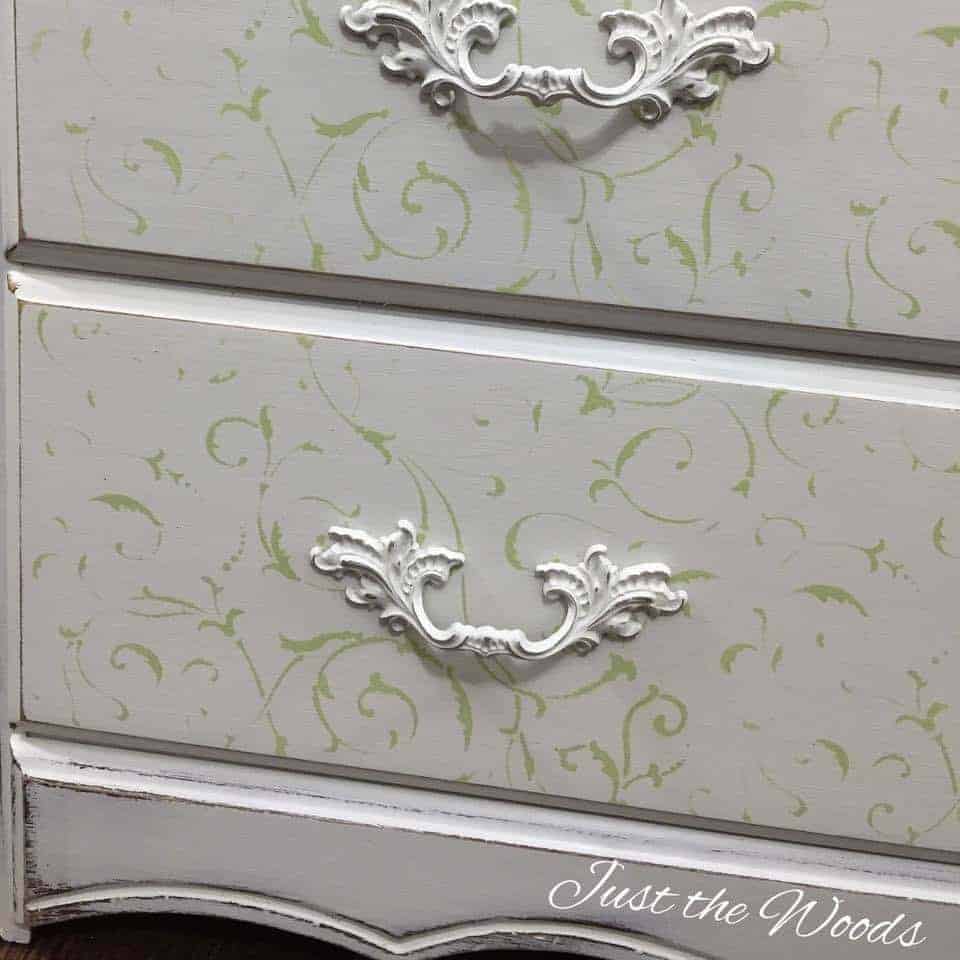 The stencil and the foam roller were both easy to use and easy to clean.  The clean up is just as important, if not more since it's imperative to care for your stencils so that they are just as easy to use the next time around.
For more stenciled makeovers:

I'll be sharing this post at these fabulous link parties.
Don't Forget – Follow Just the Woods :
FACEBOOK  *  INSTAGRAM  *  PINTEREST
Let's stay in touch – Subscribe to our mailing list here: