How to clean, prep and paint hardware. | how to paint hardware | vintage hardware | how to clean old hardware | clean hardware | boil hardware | remove dirt from hardware | can i paint hardware | what paint to use on hardware
Keep that Vintage Hardware
I've been working on a custom Thomasville piece for the past two weeks and the last step of the makeover was to paint the hardware.  We (my customer and myself) decided it was best to keep the original vintage hardware to the piece,  and why not? The old hardware is more often than not made very well, has great details, and often suits the piece perfectly.  Understandably there are cases where a piece requires new knobs and pulls and that's ok too, but I am a huge fan of holding on to original hardware when possible.  I decided to do a step by step on my process. See all the projects with painted hardware here to see how often and easy it is, as well as different finishes that can be achieved on old hardware: Painted hardware
The Before
Here is a glimpse of the hardware taken right off the piece.  It has many years of dirt and grime but they are solid quality pulls.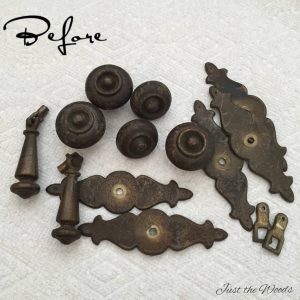 As you can see in the zoomed in photo, this hardware was pretty 'icky' BUT completely savable! With just a few simple steps you can prep and paint hardware and make it pretty again.

Cleaning
This next step hasn't failed me yet when it comes to cleaning the layers of gunk off of old hardware.  All you need is a large pot, stove, and good old-fashioned baking soda.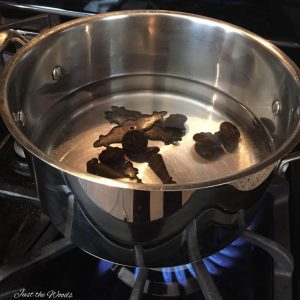 Drop your dirty hardware in a pot, heat it up and add some baking soda.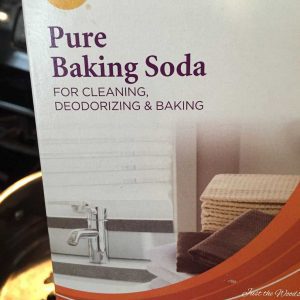 I don't even measure how much I use..  I just dump some in..  If I had to guess it's maybe around a half of a cup.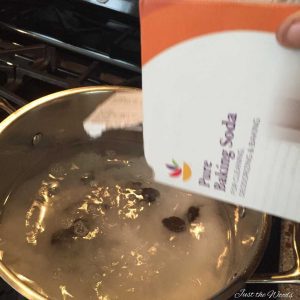 I would suggest keeping an eye on the pot to make sure the bubbles don't boil over.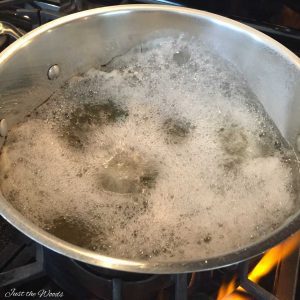 After around fifteen minutes you can drain the water, don't be surprised by the nasty brown color it turns. 
Then with an old toothbrush, I give the hardware a scrub and rinse with clean water to remove the baking soda residue.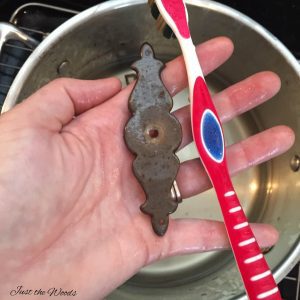 Once rinsed your hardware should be clean of the grime.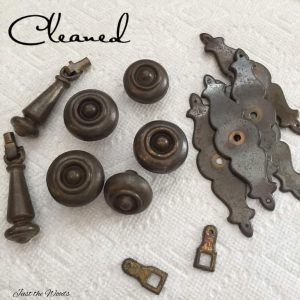 I should also mention that the top of your stove will have splatter marks that turn white when dry, so please make sure to clean the stove when finished.  My husband wants to kill me if I clean hardware and forget to wipe off the splatter. Since we have a black stove a simple wipe down can save a marriage.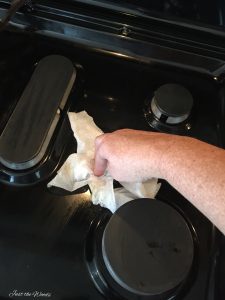 Prep
Next, I like to take a piece of sandpaper and scuff up the hardware.  By scuffing you will give the hardware a bit of tooth for the paint to grab a hold of.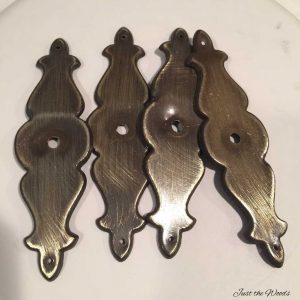 Make sure to wipe away any dust left on the hardware as a result of scuffing.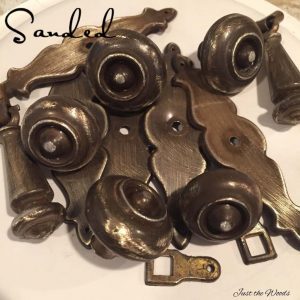 Paint
Once your hardware is all ready you can paint.  For this project, in particular, we are making the hardware a matte black, so I started with Kristi Kuehl Pure Home Paint in Derby which is a true black.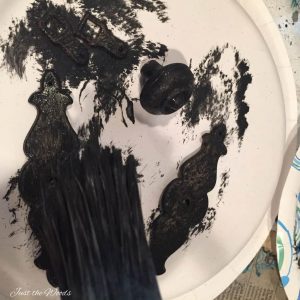 You don't have to worry about being super tidy with this step as you can see.  I probably got the same amount of paint on the paper plate as I did on the hardware.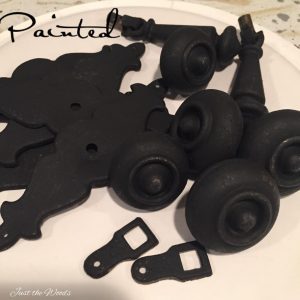 Seal
Lastly, the hardware is sealed for protection. If you are going for the metallic look that one would normally think of when it comes to hardware you would follow up with one of the hardware opulence colors and then seal.  Since we are going for a matte finish I decided to seal with our protective wood stain in Jett.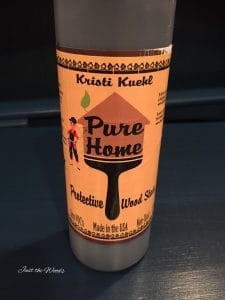 Yes, you read correctly..  our protective wood stain can also be used as a tinted sealer, and jett is a black sealer.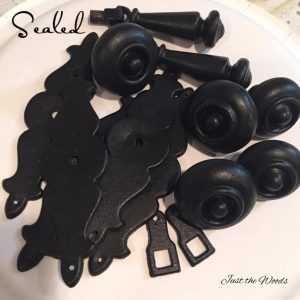 Once I finish taking photos of the piece in its entirety I will be sure to come back and add them here.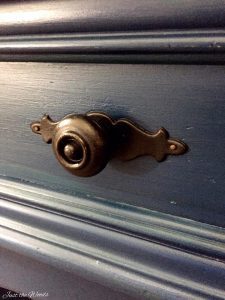 Here is the post for the full makeover of the blue piece above – HERE.
I'll be sharing this post at these fabulous link parties.
Don't Forget – Follow Just the Woods:
FACEBOOK  *  INSTAGRAM  *  PINTEREST
Subscribe to our mailing list here:
PINTEREST PIN READY TO SHARE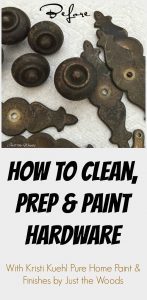 Disclosure: This how to paint hardware post contains affiliate links.