This
DIY lotion bar recipe
is not only easy and natural but adorable too! Once you learn how easy it is to
make your own lotion bars
you won't need to spend money on pricey
lotion
that leaves you will greasy or dry skin anymore. Some lotions lead you on with empty promises while others leave your skin feeling gross. This
DIY lotion bar recipe
is natural and you can make it yourself. When you know
how to make lotion bars
you will want to make them for yourself, loved ones, family, and friends. Making
homemade lotion bars
also allows you to be in control of what ingredients you use.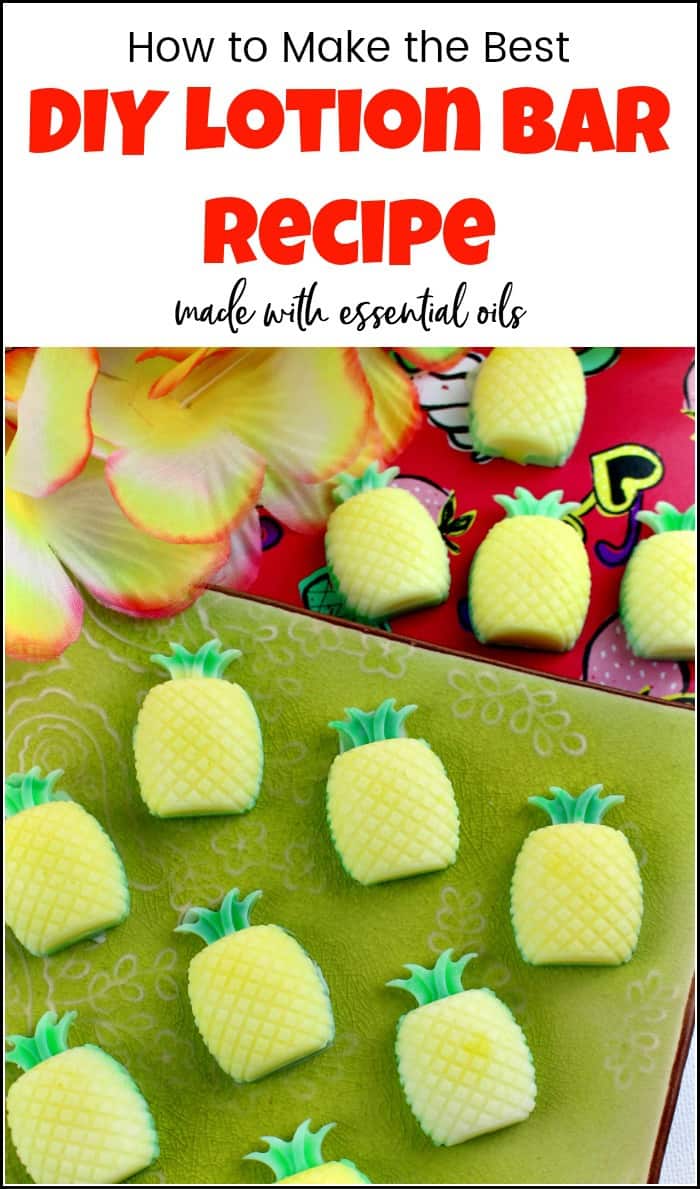 Disclosure: This lotion bar recipe post contains affiliate links for your convenience and I may be compensated if you make a purchase after clicking on my links. Click here for my full disclosure policy. 

Supply List for Pina Colada Lotion Bar Recipe
Materials Needed / Source List
(Makes 12 Lotion Bars)
DIY Lotion Bar Recipe
DIRECTIONS
Gather your
DIY lotion bar
ingredients. I try to use as many natural and organic products as possible. The pineapple mold is absolutely adorable and perfect for making pina colada
homemade lotion bars
. Find the pineapple mold along with a few other great options for
lotion bar molds

HERE
.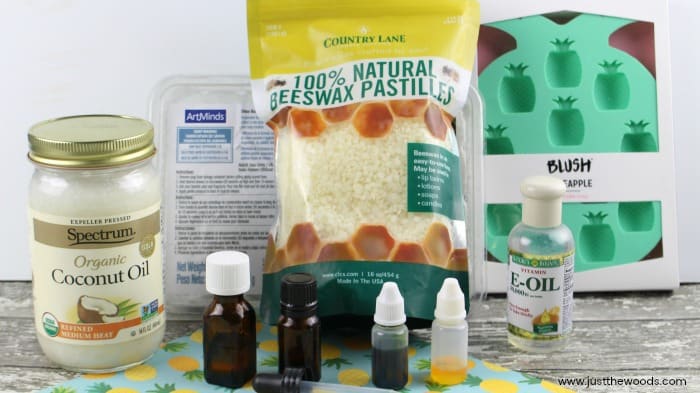 The first step in making
lotion bars
is to cut up 4 blocks of shea butter into smaller pieces. This should equal appx 1/2 cup once cut up.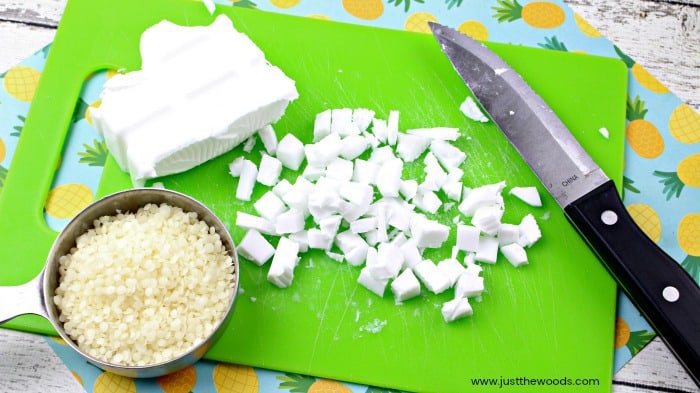 Next, add the coconut oil (1/2 cup) and beeswax pellets (1/2 cup) to the bowl.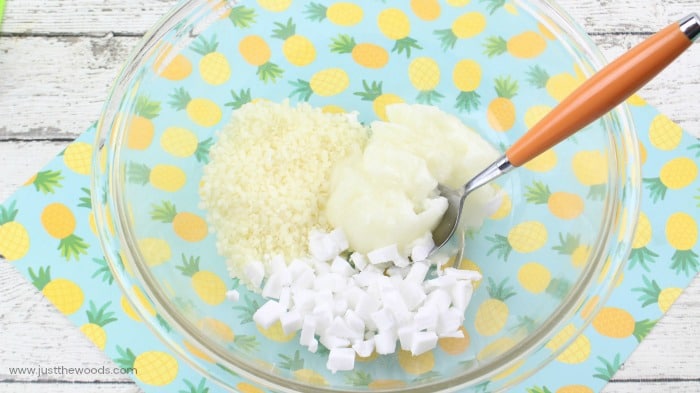 Place all of your ingredients into a double boiler pan. If you don't have a double boiler you can find one
HERE
. Don't melt your ingredients without the double boiler! Melt over medium heat, stirring occasionally.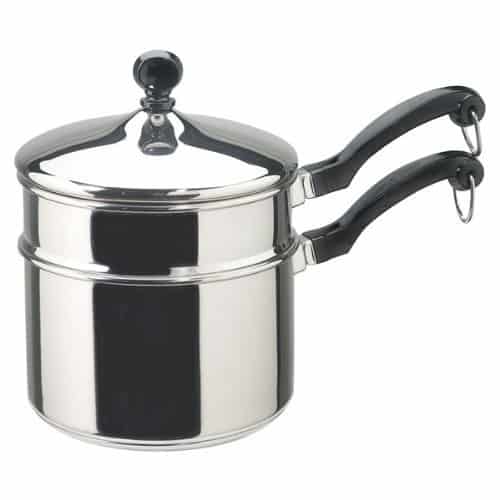 Remove your mixture from the heat. Add the yellow soap colorant (
HERE
) and stir well to distribute the color. This will be the yellow for the pineapple section of your
homemade lotion bars
. 
Adding Essential Oils to Lotion
Next, we are
adding essential oils
to the
lotion bar recipe
. Add both the pineapple essential oil and coconut essential oil. (Apps 10-12 drops each) as well as the vitamin E oil (5-6 drops). Stir well. If you are new to essential oils I can tell you that I am by no means an expert on them. To be honest, I just like the way they smell for the most part and I like being able to use natural products. I do have some more info that you can find here for the
Benefits of Using Natural Essential Oils
.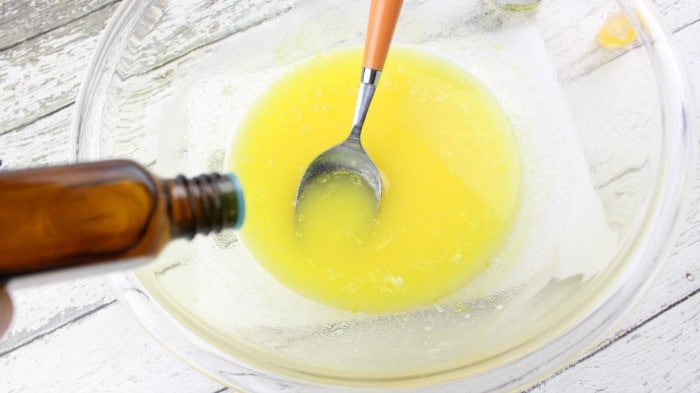 Filling Lotion Bar Molds
Take your time when filling your
lotion bar molds
. Make sure to spoon the melted mixture into the pineapple base of the pineapple molds. Try not to get any lotion in the leafy part of the mold. Place the
lotion mold
in the refrigerator and chill for 30 minutes. Set aside the remaining melted
beeswax lotion
for later use. Don't worry if the extra lotion mixture hardens.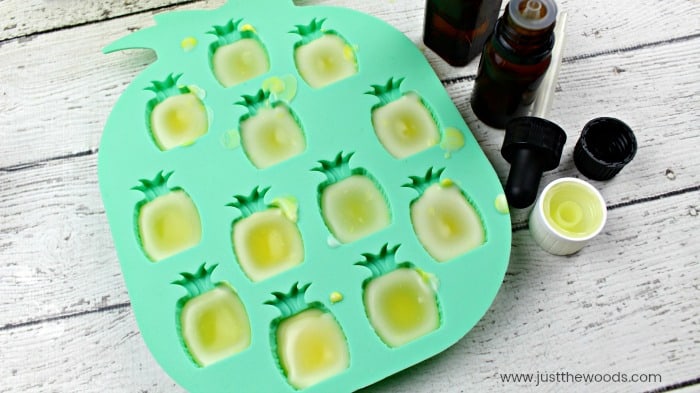 After 30 minutes remove the silicone lotion mold from the refrigerator. Melt the remaining hardened lotion that we set aside again in a double boiler. Once completely melted, add the green food colorant to the liquid.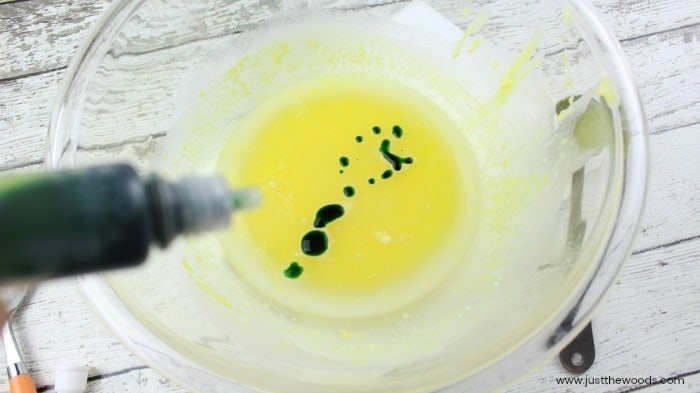 Stir well and add more green colorant until you have a shade of green that you love. This is the green for the pineapple leaves section of your
DIY lotion bar
.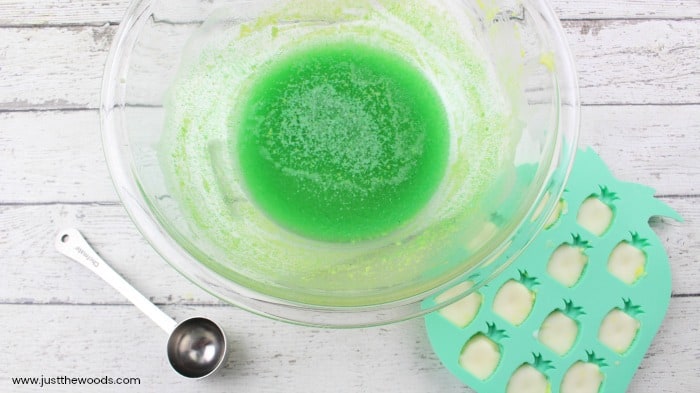 Next, pour the melted green lotion on top of the hardened yellow lotion of the pineapple and into the leaf part of each mold. Make sure to fill each mold to the top. Chill again for 30 minutes to allow the
lotion bars
to completely harden.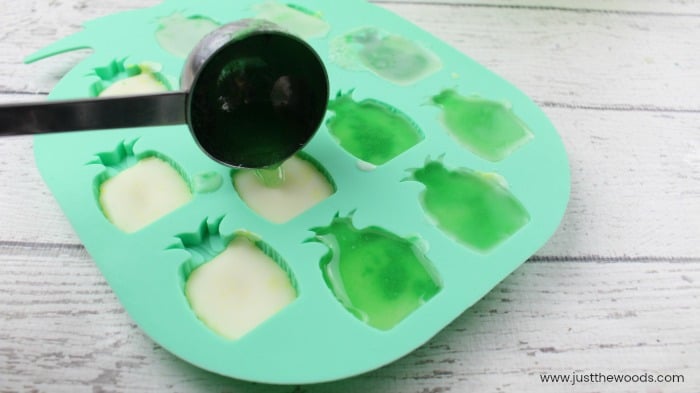 Finished Pina Colada Lotion Bars
Once the
lotion bar recipe
has fully hardened in the mold you can gently pop out each pina colada
lotion bar
from the pineapple molds and store in a cool and dry place.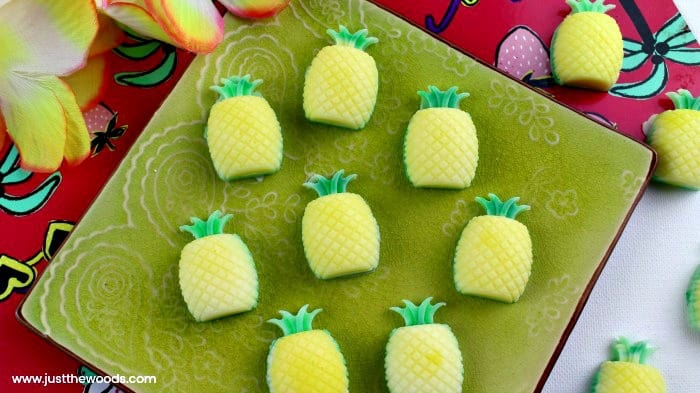 Essential Oil Lotion Bar Recipe You Will Love
Aren't these adorable
lotion bars?
 You can make a few batches to share and gift to friends. The pina colada scent is perfect for summer after a day at the beach or maybe in the winter when you are craving that warm weather.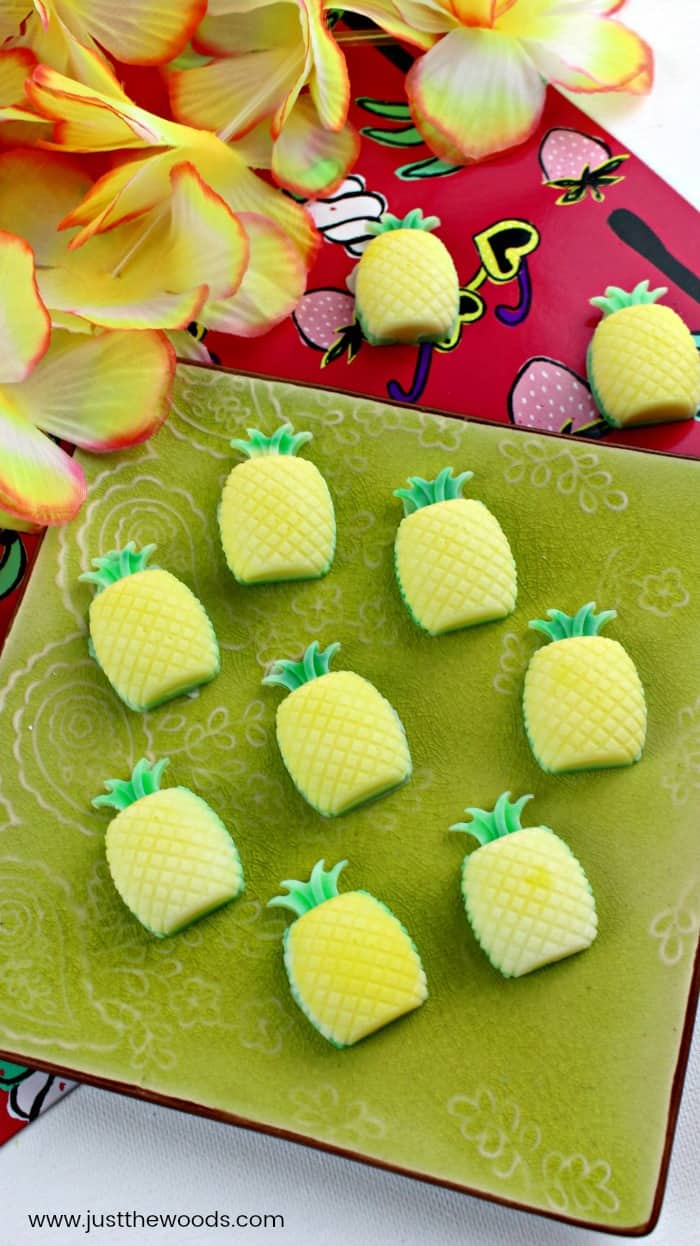 Don't Forget – Follow Just the Woods and Share this post to Inspire others:
FACEBOOK  *  INSTAGRAM  *  PINTEREST
 Stay connected! For more tips and tricks sign up here :