Since starting clean eating, working out and living a more healthy lifestyle I have discovered the beauty and benefits of using natural essential oils. It is possible that you may not yet know what to do with essential oils or what do essential oils do. In addition to lovely aromas, there are so many amazing benefits to using all natural essential oils. I'm sharing a few of the amazing essential oil benefits along with some great DIY essential oil recipes for things you can make at home.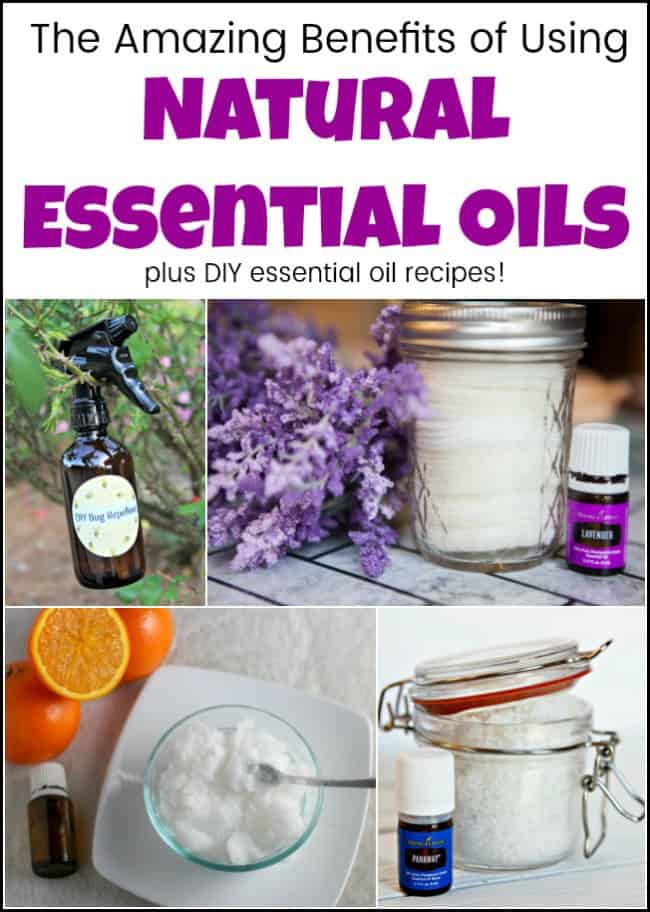 Disclosure: This natural essential oils post contains affiliate links for your convenience. Click here for my full disclosure policy. 

Amazing Benefits of Natural Essential Oils
Natural essential oils can help with some of the common illnesses or other issues, even with the challenging aspects of pregnancy, such as morning sickness, stretch marks, backache, swollen ankles and fluctuating emotions. According to The Aromatherapy Bible, some essential oils are tried and tested and considered safe for use even during pregnancy. These include frankincense, ginger, mandarin, myrtle, neroli, petitgrain, sandalwood, and vetiver. But essential oils are great for anyone at any stage of life, certainly not only during pregnancy. I don't know about you, but the baby store is closed over here ;P If you want to know what are essential oils used for here are just a few examples.
Frankincense Essential Oil
Frankincense essential oil is steam-distilled from the hardened resin of the frankincense tree (Boswellia). It has a fresh, warm, citrus smell, blending well with vetiver and most floral, wood, spice and citrus essential oils. Frankincense is calming, revitalizing and uplifting and good for use in massage, bathing, and inhalation. It slows and deepens the breathing and helps relieve anxiety, fear, and stress. Frankincense may help treat bronchitis, asthma, colds, coughs and sore throats. It can also provide relief from cystitis when used in a local wash or hot compress.
Ginger Essential Oil
Ginger essential oil, steam-distilled from the dried root of the ginger herb (Zingiber), has a sharp, spicy, woody smell. It blends well with frankincense, sandalwood, vetiver, neroli and other citrus essential oils. Ginger is warming, comforting and stimulating, useful in baths for encouraging circulation and in massage to relieve tired and aching muscles. Sniffing a few drops of ginger essential oil on a tissue or inhaling it straight from the bottle helps relieve morning sickness. Used in steam inhalation, this oil may also be helpful for colds, sore throats, and congestion.
Mandarin Essential Oil
Mandarin essential oil, expressed from the peel of fruit from the mandarin tree (Citrus), is among the safest essential oils and is often cited as helpful during pregnancy. It has a sweet, citrus, uplifting aroma, blending well with sandalwood, neroli, petitgrain and other citrus and spicy essential oils. When blended in a massage oil and massaged into the abdomen, thighs, breasts, and buttocks, mandarin oil helps prevent stretch marks. It may also relieve fluid retention when massaged into legs and ankles. Mandarin is soothing and helpful for relaxation and relieving insomnia.
Myrtle Essential Oil
Myrtle essential oil is steam-distilled from the leaves, twigs, and flowers of the myrtle shrub (Myrtus) and has a fresh, floral fragrance. It blends well with neroli and spicy essential oils. The soothing, calming, mild sedative effects of myrtle oil make it suitable for use in relaxing massages and baths. Myrtle helps relieve coughing when used in steam inhalation. It is an astringent and can be blended into an ointment to treat hemorrhoids.
Neroli Essential Oil
Neroli, also known as orange-flower blossom, is an expensive oil, steam-distilled from the flowers of the bitter orange tree (Citrus). It has a fresh, floral fragrance and blends well with frankincense and most other essential oils. Neroli essential oil is uplifting, calming and relaxing and good for massage. A few drops in the bath helps relieve insomnia, calm the nerves and soothe strong emotions. Neroli is useful for treating anxiety, palpitations, panic attacks, stress, and shock. It helps prevent stretch marks during pregnancy and rejuvenates the skin, encouraging the regeneration of new skin cells.
Petitgrain Essential Oil
Steam-distilled from the leaves and twigs of the bitter orange tree (Citrus), petitgrain essential oil has a refreshing, floral, citrus fragrance similar to neroli. It mixes well with other floral and citrus essential oils. Petitgrain is revitalizing, balancing and relaxing and helps soothe anxiety, depression and troubled emotions. A few drops of petitgrain oil in the bath can help promote restful sleep. Petitgrain has a toning effect on the skin, helping to treat blemishes and control excess oil production.
Sandalwood Essential Oil
Sandalwood essential oil is steam- or water-distilled from the heartwood or roots of the sandalwood tree (Santalum). It's woody, spicy, long-lasting aroma blends well with vetiver and floral fragrances. Sandalwood is uplifting, calming and relaxing and is useful for treating nervous tension, stress, and depression and for easing frustration and quieting the mind. Used in bathing and massage, it can help relieve insomnia and prevent headaches. Sandalwood natural essential oils is also helpful for treating cystitis during pregnancy.
Vetiver Essential Oil
Also known as moth root, vetiver essential oil is steam-distilled from the roots of vetiver grass (Vetiveria). It has a smoky, earthy, sweet fragrance and mixes well with neroli and sandalwood. Vetiver has regenerating, stabilizing, relaxing and restorative properties and is helpful for nervous exhaustion, anxiety, depression, fatigue, and insomnia. This natural essential oil is an immunostimulant, ideal for use in a relaxing bath or massage when the body is stressed and overworked.
Safety Guidelines When Using Aromatherapy for Labor
Be sure to follow these safety guidelines before using any essential oils during pregnancy or labor:
If you plan to give birth in the tub (waterbirth), do not put any essential oil in the tub since it can get into the baby's eyes. Essential oils can be used in the tub or shower in early labor if desired.
Do not put undiluted essential oils directly on the skin or in the mouth.
Be sure to read ingredient labels on the bottles of essential oils or carrier oils if you have allergies to fragrances or oils of any type.
Follow specific recipe guidelines for aromatherapy or consult with a qualified aromatherapist with any questions.
Recipes Using Natural Essential Oils
Now that you know some of the benefits of using natural essential oils here are a few DIY recipes to make your own natural beauty and health products like a sugar scrub, bug repellent, bath soak, etc. using your own therapeutic essential oils.
You may also like:
Love natural homemade DIY beauty products? If you like this then you may also like more natural DIY posts and recipes using natural essential oils here: natural DIY

For when you just don't have the time or desire to DIY here are some great products that you may love available online for easy ordering:
Makeup Remover & Facial Wipes
Sugar Scrubs
Coconut Oil Sugar Scrub can be found HERE 
Coconut Lime Sugar Scrub can be found HERE 
Pure Brown Sugar Scrub can be found HERE 
Exfoliating Organic Body Scrub found HERE 
Raspberry Lemon Sugar Scrub found HERE 
Italian Mocha Firming Sugar Scrub found HERE 
Charcoal Salt & Sugar Scrub found HERE 
Himilayan Scrub found HERE 
Stress Relief Eucalyptus Spearmint Sugar Scrub found HERE 
Vegan Coconut Lip Scrub found HERE 
Arabica Coffee Scrub found HERE 
Pomegranate Sugar Scrub found HERE 
Muscle Relief & Bath Soaks
xDon't Forget – Follow Just the Woods and Share this post to Inspire others:
FACEBOOK  *  INSTAGRAM  *  PINTEREST
 Stay connected! For more tips and tricks sign up here :