How to Get Crisp Paint Lines
By now I'm guessing or hoping that you guys have seen a few of the thin blue line pieces that I've done. This is another, but rather than focus on the thin blue line aspect I'd like to focus on something else.  If you don't yet know the meaning behind the thin blue line you can read about it in a past post here. I'd like to talk about tape, and crisp paint lines and maybe a little about a smooth finish as well. Let's go!
The Before
I actually bought this desk with the hutch but my customer only wanted the desk portion. I figured it was not a problem, sometime down the road I can build a base for the hutch and turn it into a bookcase of some sorts.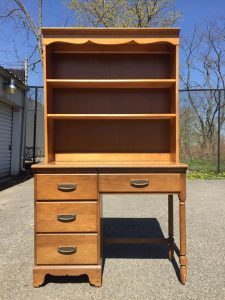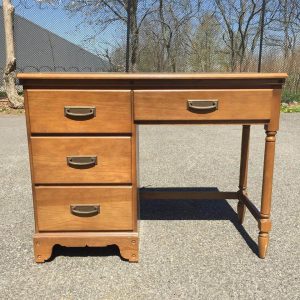 The Project
Disclosure: This crisp paint lines post contains affiliate links. 
The bottom half came to the shop for a makeover and I have to tell you that I love these handles! The desk is all wood except for the laminate top which required a little extra prep but no worries. The desk was painted pure matte black, slightly distressed and sealed for protection.  Then to add the thin blue line – normally I use my trusty green frog tape because it always gives a crisp clean line but a friend of mine had turned me on to another type of tape.  He told me about this super thin tape used on model airplanes, cars, boats, etc.  You can find it here. The reason for this is because once the tape is pulled off there is a bit of an edge to the line.  Using this thin tape leaves less of a raised edge. (I don't think it's completely possible to have zero edge whatsoever)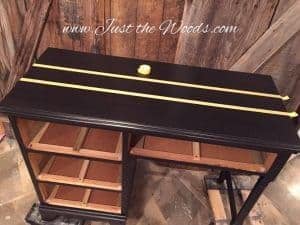 The Thin Blue Line
First, I measured to find the exact center and then spaced out where I wanted the line to go.  I marked with plain chalk and put down the tape making sure to smooth the edges. As you can see the tape is also very narrow, which simply won't work for me because I'm quite messy when I work.  So next I added my trusty green frog tape just to give me more coverage in case I painted too far over the taped area.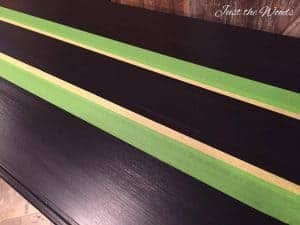 I was able to easily paint my blue line followed by my metallic blue and seal it before removing the tape.  Removing the tape always feels like a mini reveal.

Once the tape was removed I wanted to smooth the edge just a bit without damaging the work that was just done.  So I grabbed my newly discovered and amazing, flexible, rubber based sand paper, lightly spritzed it with water and gave a quick sanding over the top of the desk.  This gave the entire top a super smooth finish, like a baby's bottom.  I then added one last coat of clear sealer to finish it up. Voila!
The Result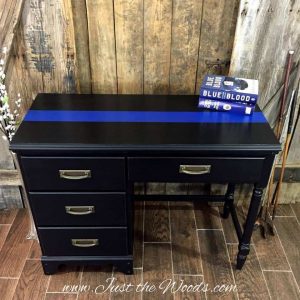 The original hardware was cleaned and put right back on – there was no reason to do anything to them since they are already awesome!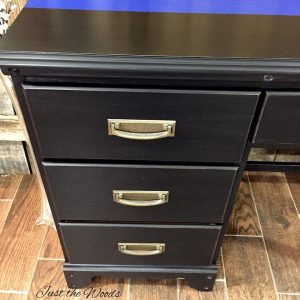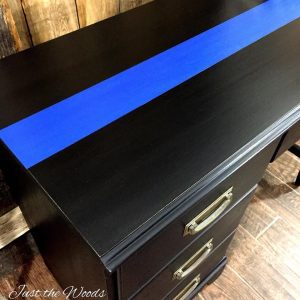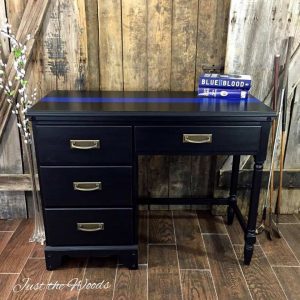 You can give your own furniture a thin blue line makeover with Derby and Sailor!
I'll be sharing this post at these fabulous link parties.
Don't Forget – Follow Just the Woods :
FACEBOOK  *  INSTAGRAM  *  PINTEREST
Subscribe to our mailing list here:
PINTEREST PIN READY TO BE SHARED