Thin Blue Line Painted Furniture Makeovers and Inspiration
Over time I've completed many thin blue line painted furniture projects. Including end tables, desks, and accent tables. I've decided to create a round-up of all of these thin blue line makeovers in one place for those looking for inspiration. Generally, there isn't much to the project itself but the more in the meaning. The simple-looking emblem has multiple meanings, all arising from the same concept: police officers stand as the thin line that protects society from good and evil, chaos and order.   To some, the thin blue line emblem simply means a show of support for police, acknowledging the role they play in society. To others, it represents the solidarity and brotherhood that police officers share as fellow professionals.  Each photo is linked to the featured project.
Disclosure: This post contains affiliate links for your convenience. Click here for my full disclosure policy. 
1 Thin Blue Line Painted Tables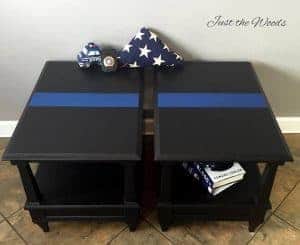 2. Thin Blue Line Painted Desk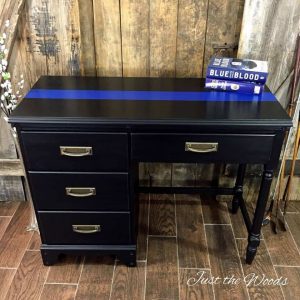 3. Thin Blue Line Painted End Tables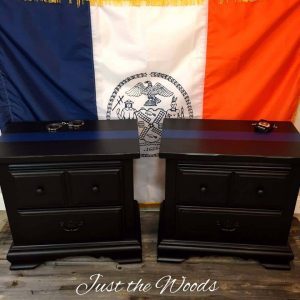 4. Thin Blue Line Accent Tables (no links)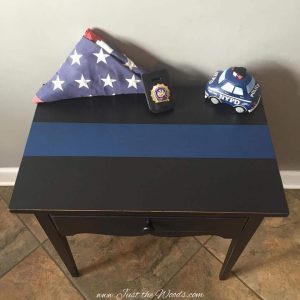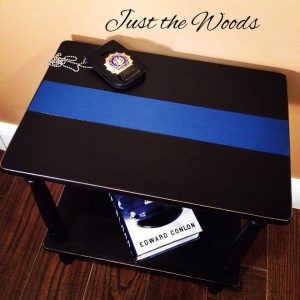 *most of these were either gifted, donated or the proceeds were donated. Click here to see all of my projects that have been donated to support local fundraisers, schools, and charities: Donation Projects.
Don't Forget – Follow Just the Woods :
FACEBOOK  *  INSTAGRAM  *  PINTEREST
Subscribe to our mailing list here:
PINTEREST PIN READY TO BE SHARED