Homemade soap is a fun and easy thing to do while we are in a polar vortex and in no mood to paint furniture. Soap making doesn't even have to be complicated since you can easily make your own soap without lye.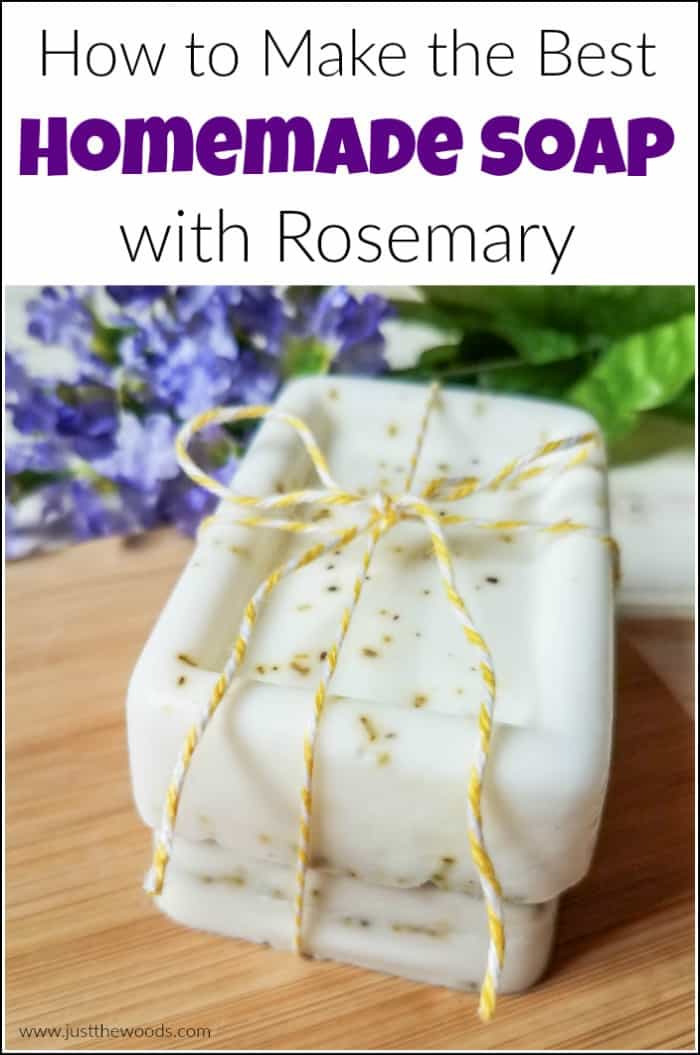 Disclosure: This homemade soap post contains affiliate links for your convenience and I may be compensated if you make a purchase after clicking on my links. Click here for my full disclosure policy.

Supply List for How to Make Soap at Home
Materials Needed / Source List
*You should be able to find all of these soap making supplies at Michaels. Prefer to shop from home? You can also find similar products on Amazon
¾ lb Shea Butter melt and pour soap base in white

(You can find it here

)

1 tablespoon dried Rosemary (You can find it here)
Small glass bowl or Large measuring cup (Pyrex is great- here)

Spoon or wooden popsicle stick

Rectangular soap molds (3) (find them

here

)
Spray bottle (

here

) of rubbing alcohol
Find all of my favorite tools and products on my Amazon Page here
Rosemary Homemade Soap Recipe
Lately, due to the cold temperatures, I find myself doing smaller projects like making natural handmade soap and cooking healthy food. I'll get back to more painted furniture projects when the temps break a little. Recently, I shared this super easy lavender vanilla soap recipe. Today's rosemary homemade soap recipe is quite similar but without using essential oils. I think that is the best part of learning how to make your own soap – once you have the basics down you can play around with aroma and scents and the possibilities are endless.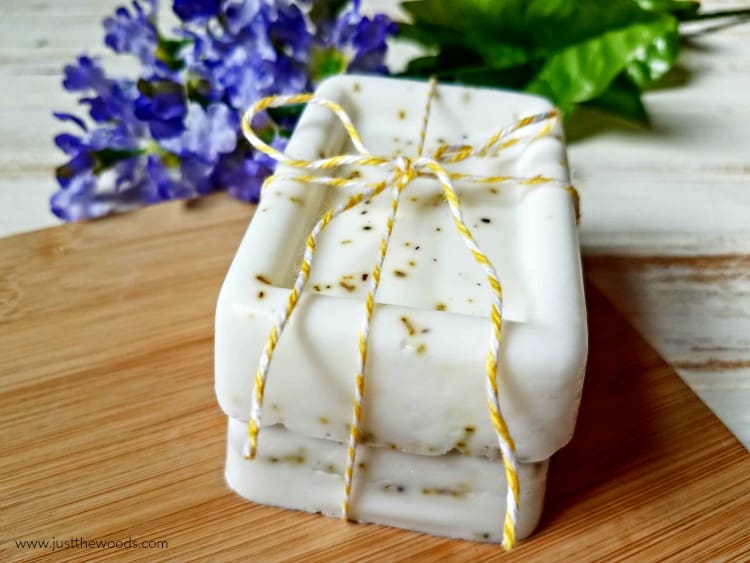 Directions for how to make bar soap:
Gather your soap ingredients from the supply list above for making DIY soap. Just like the lavender vanilla handmade soap recipe, we are again making soap without lye. I like to keep things as simple as possible. 😉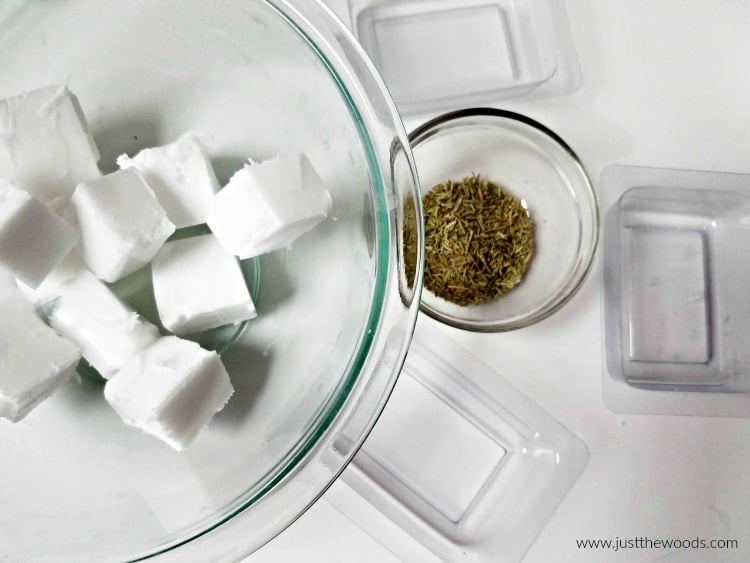 Step 1. Cut your soap base into cubes, and place in your glass bowl or measuring cup. The soap base should cut easily with a butter knife. Next, microwave the cubes for 30 seconds to soften and melt. Stir very well and if not completely melted, repeat in 10-second intervals, stirring thoroughly each time.
Click here to Pin this post for later.
Step 2. Once the soap base is completely melted stir the dried rosemary into the bowl.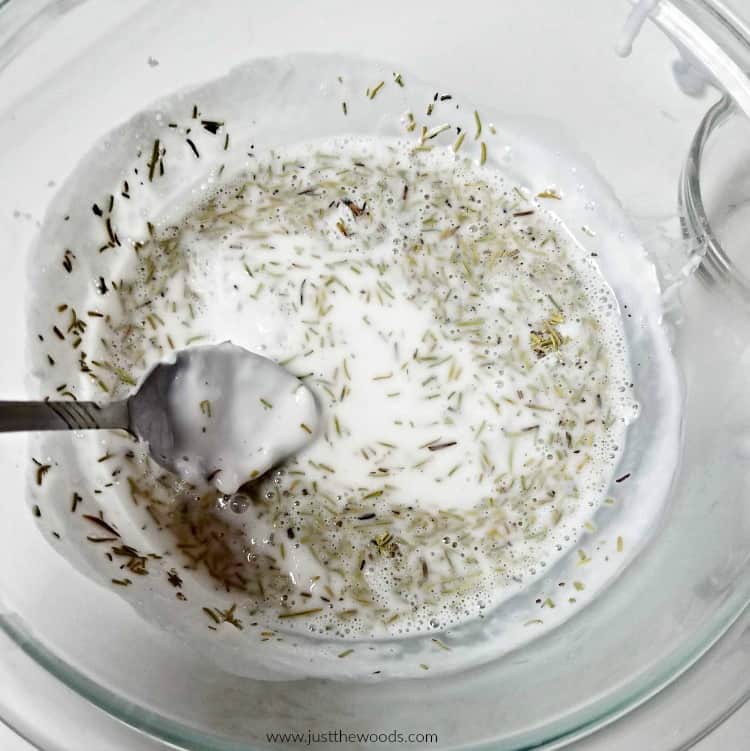 Step 3. Spoon your DIY soap mixture into the soap molds.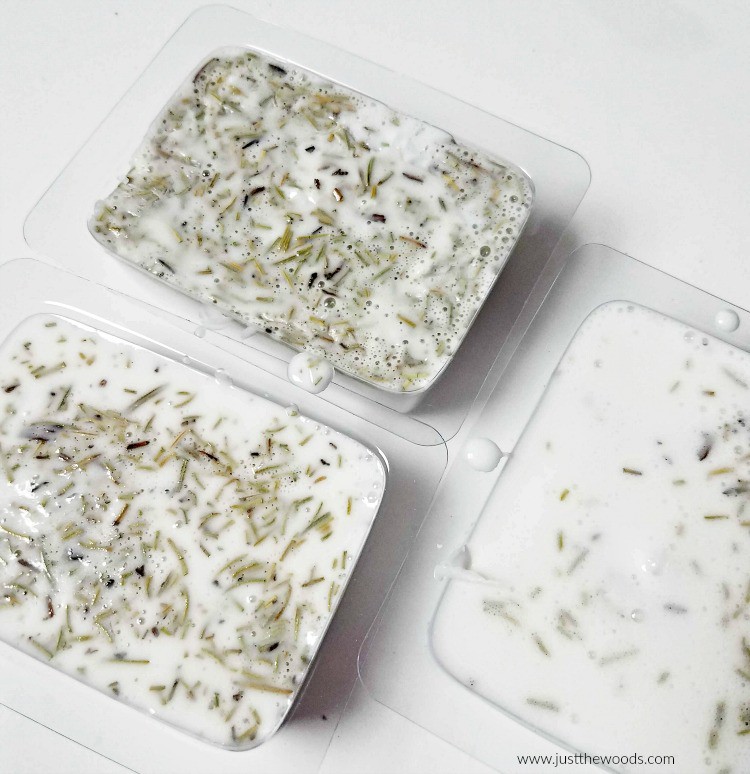 Step 4. You may want to lightly spray the homemade soap mixture with rubbing alcohol. This will help to prevent bubbles.
Step 5. Allow your handmade soap to set for approximately 30-60 minutes before you remove them from the mold.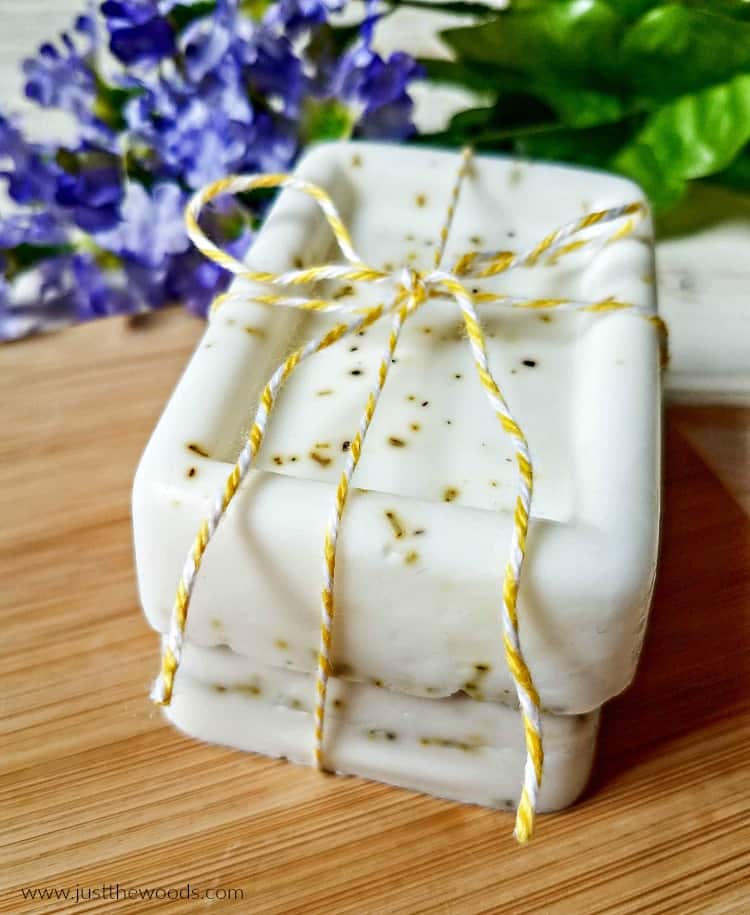 Click here to Pin this post for later.
Easy Rosemary DIY Soap
This homemade soap recipe not only smells amazing but the little bits of dried rosemary act as exfoliants as you wash. Now that you know how to make bar soap you can easily make extra, tie them with a string and gift them to family and friends. But if you are not in the mood to make your own DIY soap you can easily grab some natural rosemary soap online HERE.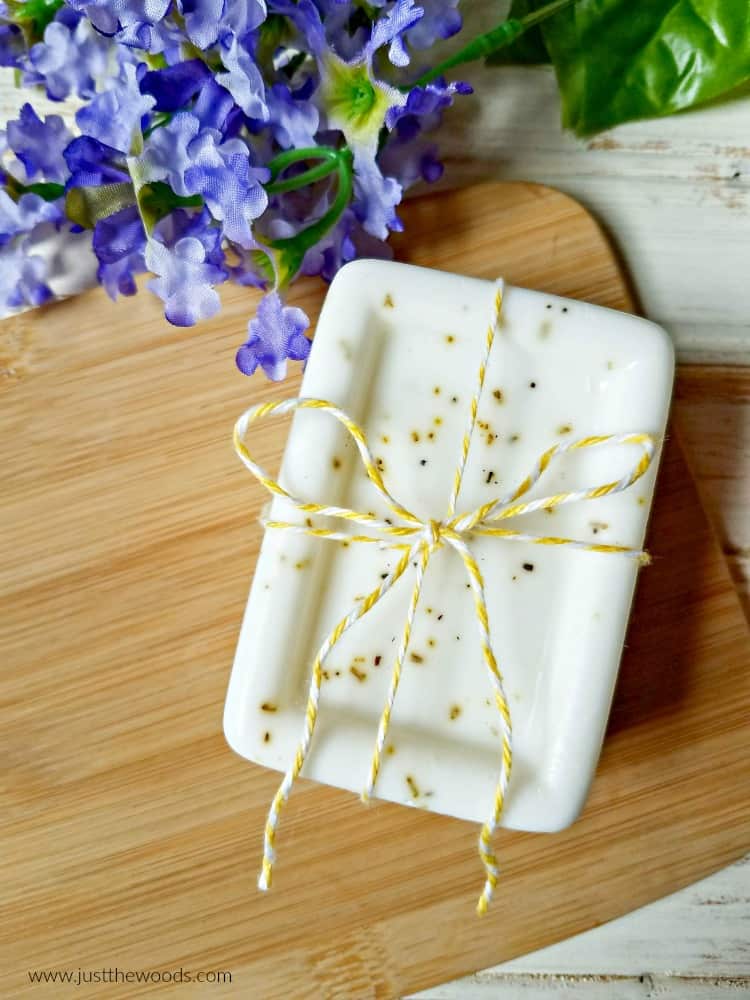 If you like this then you may also like more natural DIY posts and recipes here: natural DIY

I'd love for you to join me for more painted furniture makeovers, DIY projects & Healthy Recipes! Make sure to Share this post to Inspire others:
FACEBOOK * INSTAGRAM * PINTEREST

Stay connected! For more tips and tricks sign up here :

Click here to Pin this post for later.