Healthy beef stew is on the menu this week with temperatures in the single digits and below. But you won't hear me complaining, the gym is open the food is healthy and the kids are happy. That's all that really matters in life – the simple things. If you don't know how to make beef stew keep in mind there are so many variations, you can almost never go wrong.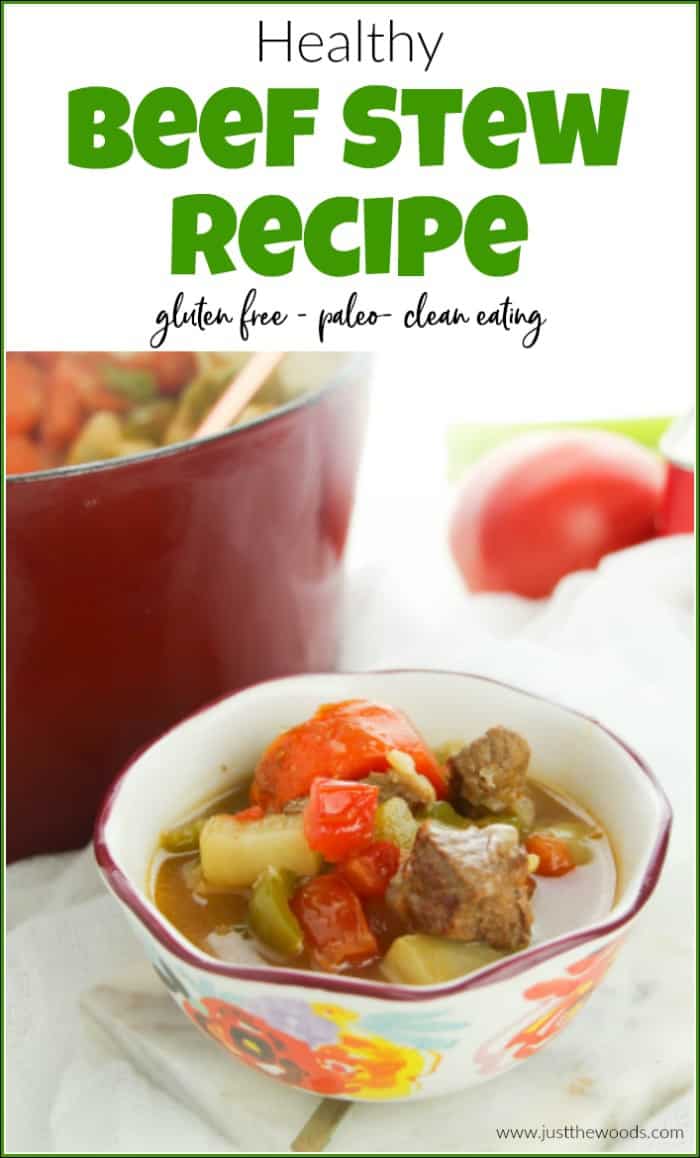 Disclosure: This healthy beef stew recipe post contains affiliate links for your convenience. Click here for my full disclosure policy.

Healthy Beef Stew Recipe
What You Will Need (Full Printable Recipe Available Below)
Ingredients
1 lb beef, cubed

2 Tablespoon olive oil

2 Tablespoons paprika

4 garlic cloves, sliced

2 bay leaves

2 carrots, chopped

1 parsnip, chopped

2 celery stalks, chopped

2 onions, sliced

4 potatoes, chopped

3 tomatoes, chopped

2 bell peppers, chopped

salt & pepper to taste
arrowroot powder (optional) – find it here
How to Make Easy Beef Stew
This easy beef stew recipe is delicious, gluten-free and 'clean' for those following a healthy lifestyle. If you are new to a clean eating way of life then you need to check out Everything You Need to Know about a Clean Eating Diet.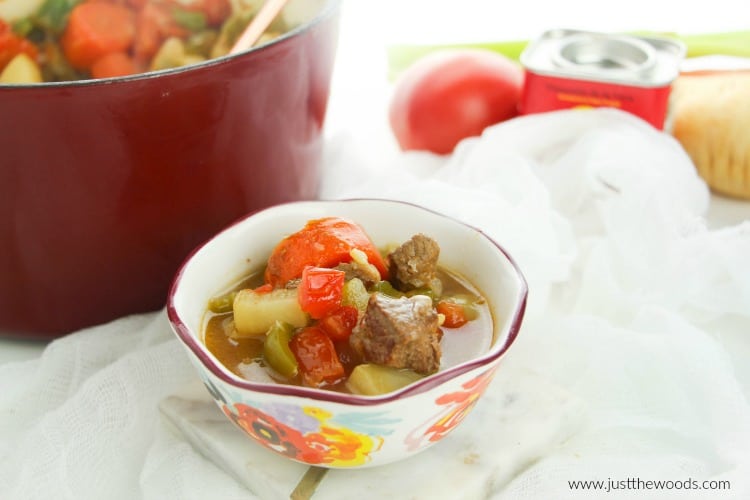 Tips for Choosing Beef Stew Ingredients
When choosing your beef stew meat try to get grass-fed, lean beef. I mention in the clean eating diet post that we source our beef from a local farm which is amazing. They even package the stew meat and label it for us. I know not everyone is able to do this, but I would certainly look into it in your area if your family eats a lot of beef. Also, aim for organic vegetables when possible as well. We always opt for organic as often as possible, and if certain foods are out of season I will grab frozen organic as a second option.
Choosing Your Healthy Beef Stew Pot
Where some prefer a crock pot beef stew or an instant pot, at the end of the day you probably can't go wrong with any method of making beef stew. But this homemade beef stew will be made right on the stovetop. You can use a standard Lodge dutch oven (here) or an enameled cast iron dutch oven. (here). You just want to make sure to use a heavy-bottomed pan and heat over medium heat for this dutch oven beef stew recipe.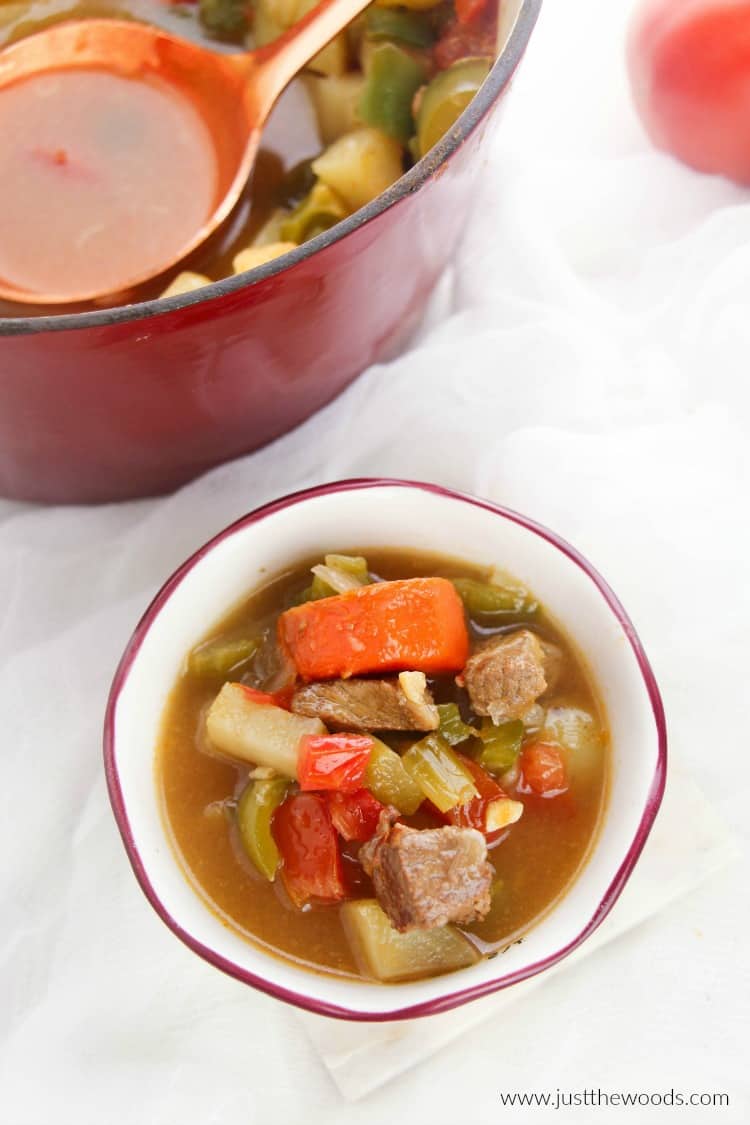 Directions for Easy Beef Stew
Add the olive oil into your pot and heat over medium heat. Another healthy oil option is avocado oil. You can use either one.
Season the beef stew meat with salt and pepper and add to the hot oil.
Sear the stew meat on all sides, about 3-4 minutes. You just want to brown the meat all around. Once the meat is browned remove and add the onions.
Cook the onions until golden brown, about 10 minutes. Do not rush this step as it builds fantastic flavor.

Add the beef stew spices: garlic and paprika.

Add the

stew meat

back to the pot and cook for 2 more minutes.

Next, add the bay leaves, carrots, parsnips, and celery.
Add just enough water to cover the mixture.

Bring your simple beef stew to a boil and then reduce to a simmer and cover for 45 minutes.

Remove any grease that has accumulated on top. Add the potatoes and let cook for another 20 minutes.

Remove grease, add tomatoes and peppers, cook for 5 minutes.

Season again with additional salt, pepper, and paprika as needed.

*Optional – if you would like to thicken your

healthy beef stew

you can add arrowroot powder. Arrowroot powder works the same as traditional flour to thicken but is gluten-free. This is the one that I use and can be found online

HERE

.

Serve & Enjoy
Homemade Healthy Beef Stew Recipe (Printable Version)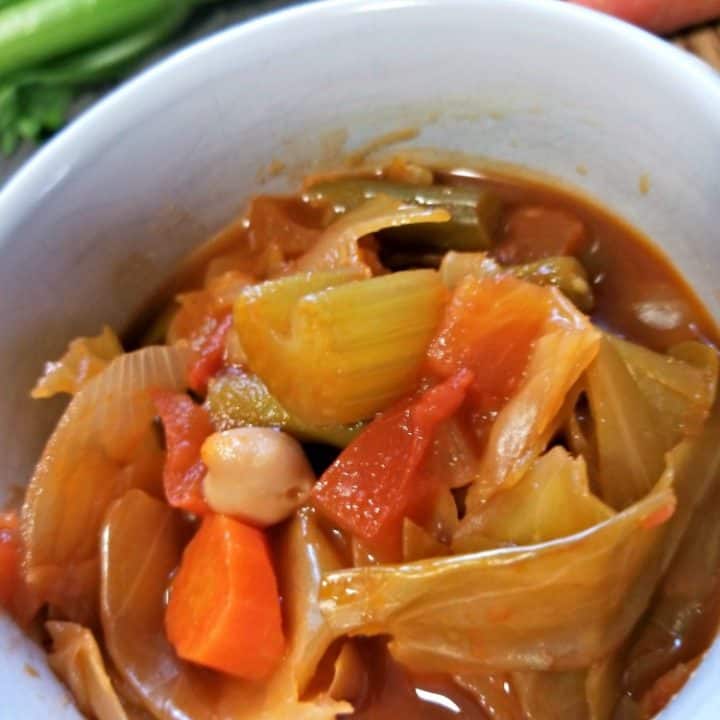 Homemade Vegetable Soup
Homemade vegetable soup with cabbage. You will love this healthy vegetable soup recipe. It is gluten-free, vegan and a clean eating soup recipe too
Ingredients
64 oz spicy tomato juice
3 stalks celery, chopped
5 roma tomatoes, chopped
3 large carrots, chopped
2 cups green beans, ends removed and chopped
1 head cabbage, core removed and chopped
15 oz garbanzo beans , aka chickpeas
4 cups water
3 cloves garlic, chopped
1 Tbsp olive oil
salt & pepper to taste
Instructions
In a large (8qt) stock pot, heat olive oil and add carrots, onions, and celery.
Cook for a few minutes until fragrant
Add water, juice, garlic, tomatoes, green beans, cabbage, and garbanzo beans.
Add Salt and pepper to taste
Bring to a boil, stir and simmer covered for about 1-2 hours
*tips- to reduce simmer time, chop veggies and cabbage into smaller pieces
For more healthy clean eating recipes make sure to follow my clean eating Pinterest board here: Clean Eating.


Don't Forget – Follow Just the Woods and Share this post to Inspire others:
FACEBOOK * INSTAGRAM * PINTEREST * RECIPES