There's nothing quite like a perfectly seasoned steak, and with this homemade steak seasoning, you can achieve that delicious flavor every time. Garlic, thyme, and sea salt give the meat a savory taste, while the paprika adds gorgeous color and presentation. Just sprinkle it on before cooking, and you'll be sure to impress your friends and family. Looking to give it a try? Fire up the grill or air fryer and keep reading for this simple, clean eating recipe. You won't be disappointed!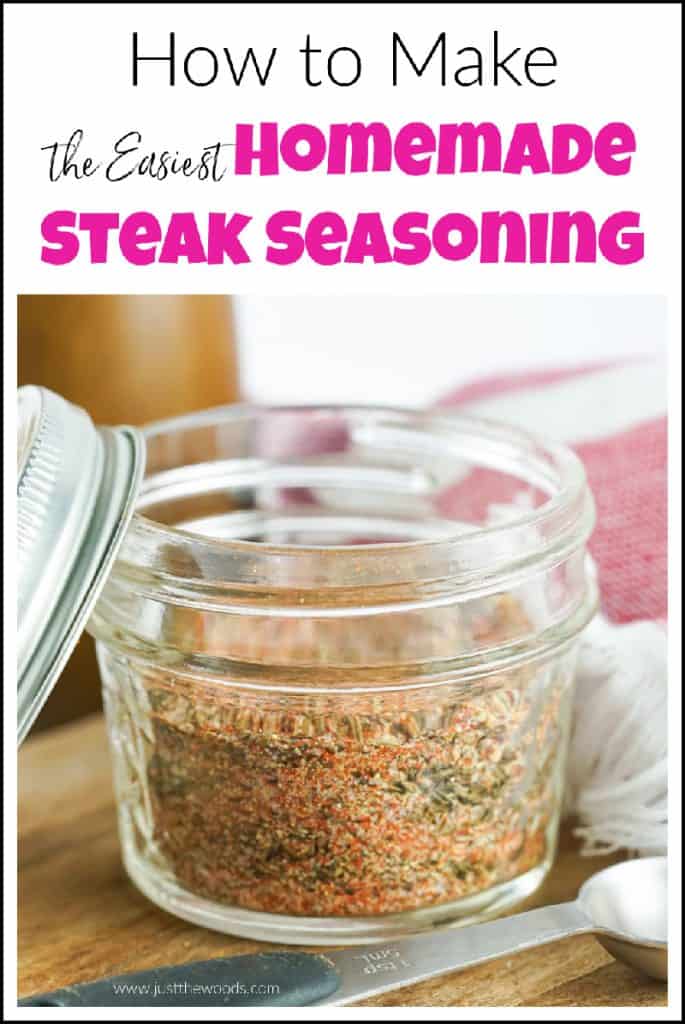 Disclosure: This homemade steak seasoning post contains affiliate links for your convenience. Click here for my full disclosure policy.
Paleo-Friendly, Homemade Steak Seasoning: Skip The Fillers For Clean Eating
When you're consciously trying to eat healthier, it can be easy to get bogged down in all the details. What kind of flour should you use? Are all carbs bad? Is dairy really that bad for you? It can be overwhelming, but the good news is that there are some general principles that can help simplify things. The paleo diet is one such principle. The basic idea is to eat whole, unprocessed foods that are as close to their natural state as possible. This includes everything from the meat and produce you buy at the grocery store to the spices you use to season your food.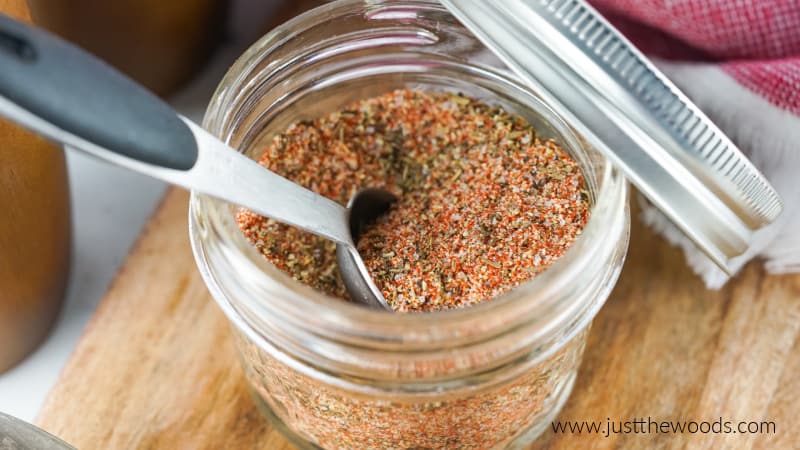 One area where many people trip up is with the spices they use. A lot of commercial spice blends contain fillers and other additives that can offset the benefits of eating clean. That's why taking the time to make your own spice blends at home is so important. With a few simple ingredients, you can create a healthy and flavorful seasoning that will complement any dish. Plus, making your own spice blend is a great way to add some personal flair to your cooking. So next time you're in the kitchen, don't be afraid to experiment with this homemade steak seasoning–it's super simple and only requires a few common spices that you likely already have on hand. Give it a try the next time you're in the mood for steak!
Ingredients:
1 Tbsp sea salt
1 Tbsp cracked black pepper
1 Tbsp granulated garlic
1 Tbsp Paprika
1 Tbsp Thyme
Clean Eating Basics
I like to mention that this is a clean eating recipe because I am all about eating healthy and clean eating. If you are new to a clean eating way of life then you need to check out Everything You Need to Know about a Clean Eating Diet. You can also see how I lost 50 lbs and am keeping it off by following a clean eating diet here: How I Lost 50 Lbs Clean Eating. I tend to try different things and mix different flavors to keep meals healthy and tasty.
How To Make Homemade Steak Rub
Before we begin, let's go over the simple ingredients needed for this healthy steak seasoning. These simple ingredients are easy to get your hands on in any grocery store, making for an affordable, flavor-packed seasoning you'll love! And if you don't feel like leaving the house you can also get them online here: Seasonings.
Ingredients
To make this delicious homemade seasoning, you're going to need 1 Tablespoon Sea Salt and 1 Tablespoon Cracked Black Pepper. Personally, I like to use a high quality, low micro plastic sea salt like this one: sea salt. This will provide your seasoning with a familiar and well-rounded base. You'll also be adding 1 Tablespoon Granulated Garlic to add an herbaceous, pungent flavor. Next, you'll grab 1 Tablespoon Paprika to add a beautiful color to your steak and 1 Tablespoon Thyme for an earthy flavor with hints of mint and lemon.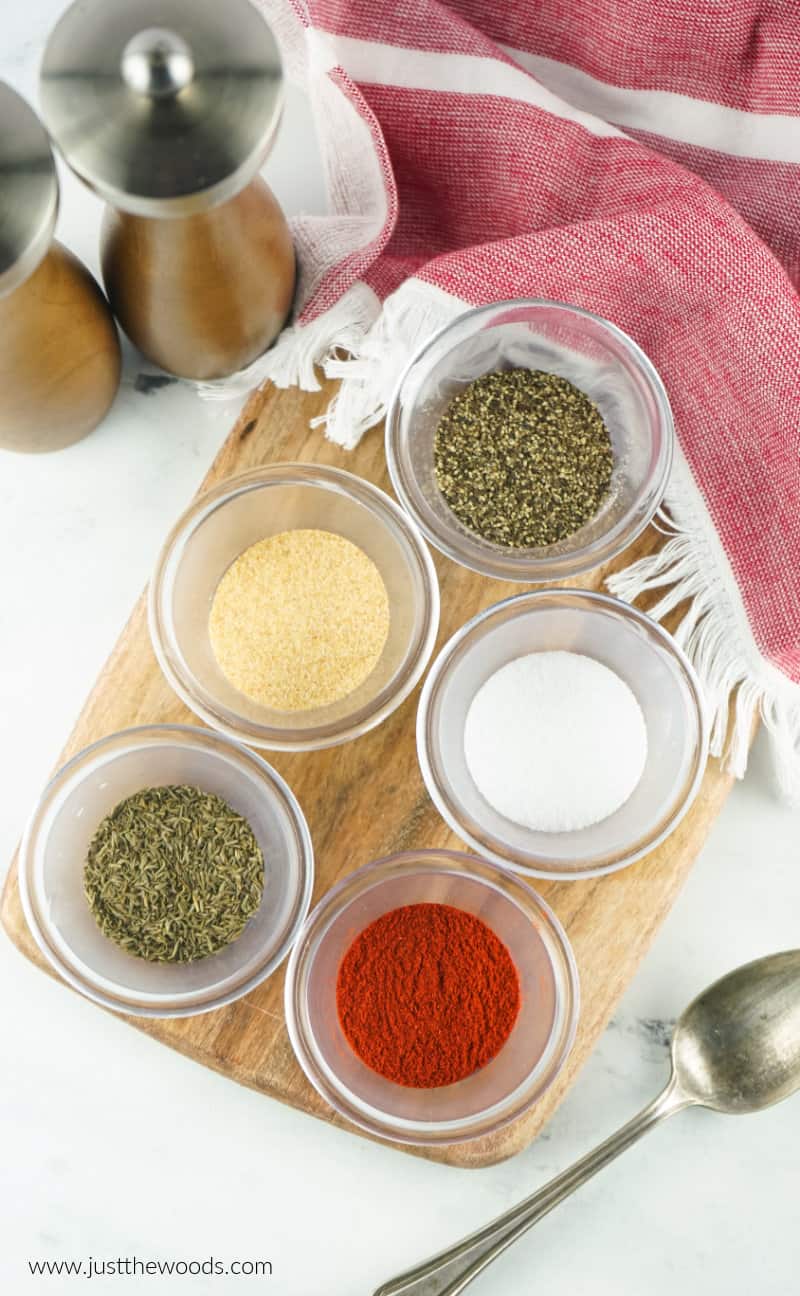 Directions
Making this homemade steak seasoning is so simple. Once you have all your ingredients, combine all spices in a small bowl and mix until fully combined. Doesn't get much easier than that.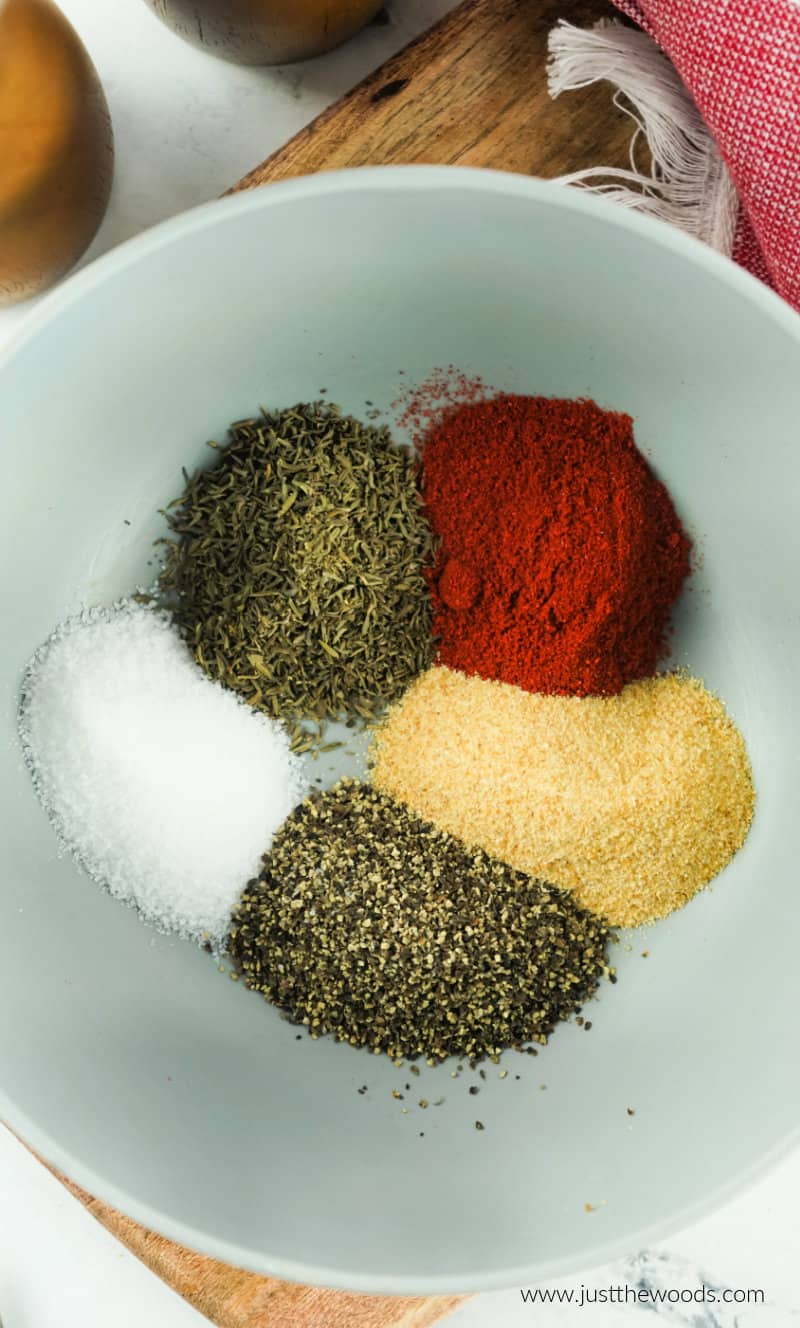 Homemade Seasoning Best Practices
Looking to make the most of your homemade steak seasoning recipe or any other homemade seasonings you're inspired to create? Here are some helpful tips to follow to get you delicious seasonings that are full of flavor.
If you want even more flavor, you can add a tablespoon of onion powder or dried onion. Adding onion to seasoning provides a subtle sweetness that can enhance the flavors of the other spices. It also adds a bit of savoriness, rounding out the taste of the seasoning blend. If you find that your steak seasoning is too salty, adding a bit of onion powder can help to balance out the flavor (or simply reduce the amount of salt).

If you don't have paprika, you can skip it as it's mostly for color more than anything. If you would like to add flavor with your paprika, use smoked paprika instead.

Store your seasoning in a sealed container in the pantry for up to a month. Do not freeze–when exposed to extreme temperatures, the essential oils in spices break down, resulting in duller, less potent flavors. Glass is the preferred choice for DIY spice storage, like these here:

spice jars

.
If you like the herby vibe with your steak, add a tablespoon of dried rosemary to the mix as well. Rosemary is a herb with a full, distinct flavor that can really add something special to a steak dish. The herby taste of rosemary pairs well with the rich flavor of steak, and it can also help to tenderize the meat.
FAQs
Have some questions? No worries! Here are some of the most commonly asked questions about this homemade steak seasoning recipe.
What should I season my steak with?
In this simple steak seasoning recipe you can use sea salt, pepper, granulated garlic, paprika, and thyme to season your steak. For added flavor, you can add in some onion powder, dried onion or rosemary.
What spices go well with beef steak?
Some of the most common seasonings recommended for cooking steak are your herbs, like basil, bay leaf, oregano, sage, rosemary, and thyme. You can also explore other seasonings, like salt, black pepper, cumin, garlic, and onion.
What is the best way to season and cook a steak?
When it comes to seasoning steak, there is no one-size-fits-all approach. It really is up to the pallet of the consumer. With that said, this homemade steak seasoning recipe offers a beautiful blend of flavors you can give a try. An all time favorite cooking method for steak is on the grill. But believe it or not, you can air fry your steak too and it comes out perfectly! Check out my Perfect Air Fryer Ninja Foodi Steak recipe.
What herbs are good to season steak?
Herbs are extremely common for seasoning steaks. They add well-rounded, earthy notes to steak that really enhances the flavor. Some of the most commonly used herbs in steak are: basil, bay leaf, oregano, sage, rosemary, and thyme. However, do not be afraid to explore other herbs and see what works for you!
What's the best way to store homemade seasoning?
To store homemade seasoning, you can explore more long term storage solutions like reusable seasoning containers. There's no need to refrigerate or freeze your seasoning–simply place it on the counter, or spice rack and use it whenever you're ready.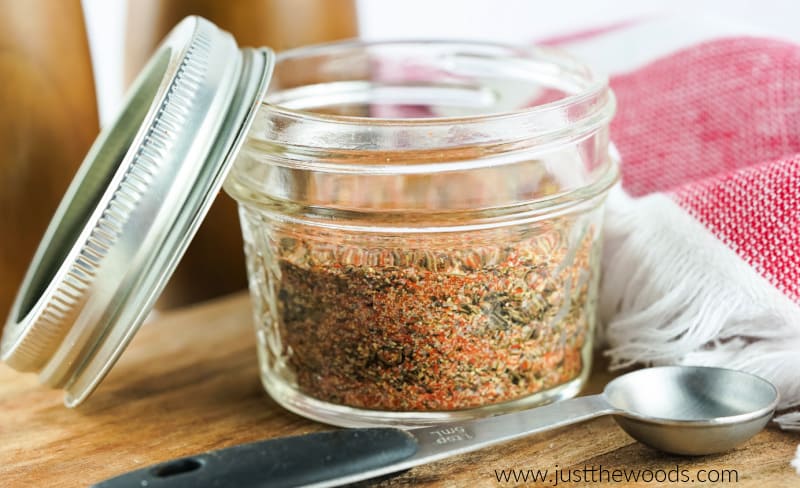 Printable Recipe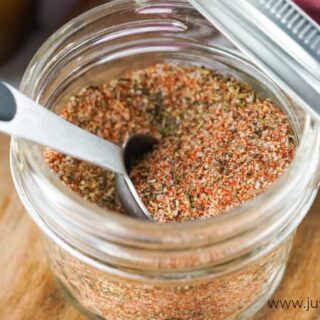 How to Make the Easiest Homemade Steak Seasoning
Homemade steak seasoning is easy to make. Keep the sodium low and flavor high with your own homemade steak rub.
Ingredients
1 Tbsp Cracked Black Pepper
1 Tbsp Granulated Garlic
1 Tbsp Paprika
1 Tbsp Thyme
Instructions
Combine spices in a small bowl
Store in a glass spice jar
Recommended Products
As an Amazon Associate and member of other affiliate programs, I earn from qualifying purchases.
Make sure to check out
How to Cook the Perfect Air fryer Steak in the Ninja Foodi
.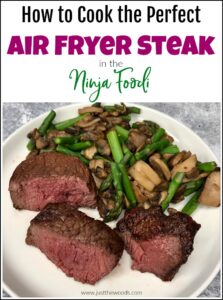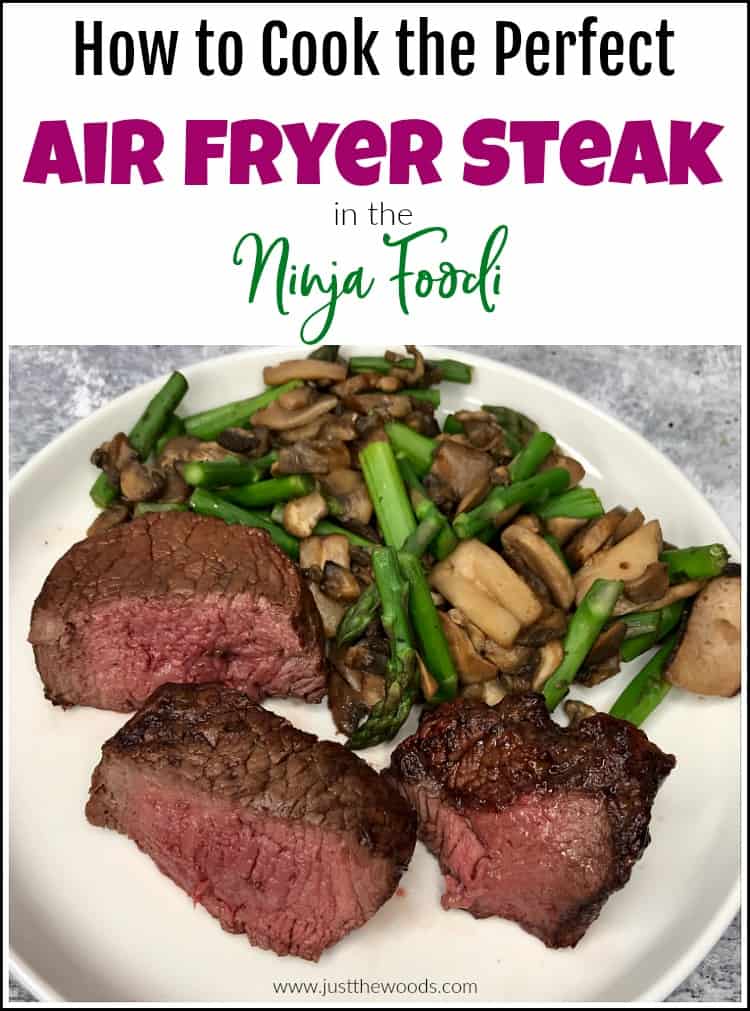 For more healthy clean eating recipes make sure to follow my clean eating Pinterest board here:
Clean Eating
.


Don't Forget – Follow Just the Woods and Share this post to Inspire others:
FACEBOOK * INSTAGRAM * PINTEREST * RECIPES