Spruce Up the Garden with Stenciled Garden Beds
In our home, we do more than just paint.  We compost our food scraps and use it in our garden.  In our garden, we grow strawberries and tomatoes as well as many other things. With our tomatoes, for example, we make our own sauce.  We also home brew beer and make wine.  These are just some things that we enjoy.  This weekend was geared towards taking care of the yard and garden by building raised garden beds.
Materials Needed:
Disclosure: This garden post contains affiliate links as well as sponsored links from Cutting Edge Stencils. All opinions are 100% my own. 
Time to Spruce up That Garden
We have one raised garden bed on the small side yard but we also have some wasted space in between the patio and the fence that we plan to take advantage of and make useful.  See that area behind the patio? Wasted and unattractive!!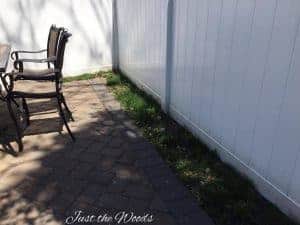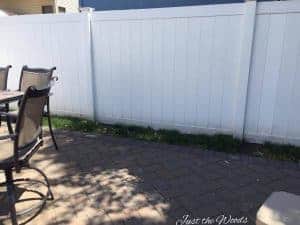 We started off by taking a trip to the big store with the wood and all the garden goodies! You know the one.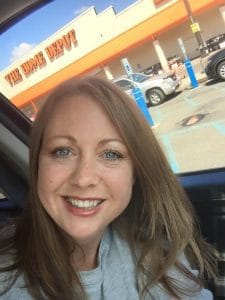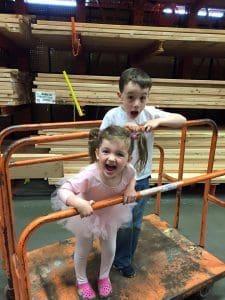 We picked up some lumber (2 by 10's and 1 x 3's) and a few terra cotta pots, mulch, and soil.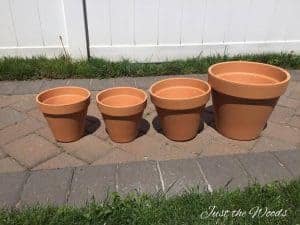 Stacked Strawberry Planters
First, the terra cotta pots were painted and sealed in a slight teal ombre.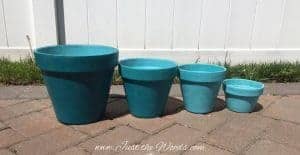 Starting with the largest pot we added potting soil, then another pot, then soil, then a pot etc.  Once they were all full we planted the strawberry plants around them for a stacked strawberry garden. The rod down the center prevents the stack from falling over. This will go right in the corner of the yard.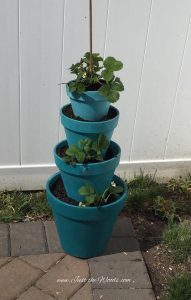 It's a Family Affair
My daughter wanted to paint too, so I set her up on the side with plastic garden pots, a brush, and cup of paint and let her make a mess..  and she sure did make a mess.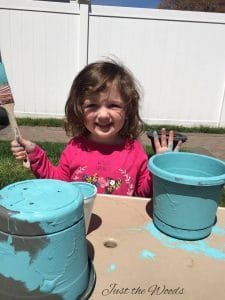 Which was perfectly fine, since I also made the kids clean up! This kept them busy for a while since the paint has great "sticking power" even with soapy water and scrubby sponges they couldn't get it all off.  Is it mean that I found this part amusing?  🙂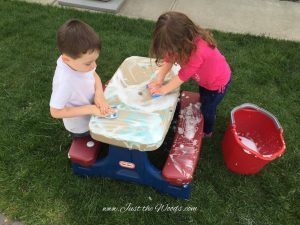 Pedestal Planters
We also picked up two pedestal style planting pots, but they were a cream color.  I figured cream would blend right in with the white fence so to darken them up I painted and sealed them in black.  Since the pots had texture to them, I made sure not to fully cover them with the paint leaving a stone like appearance.  These were then filled with soil and little sprouts that will bloom into colorful decorative flowers.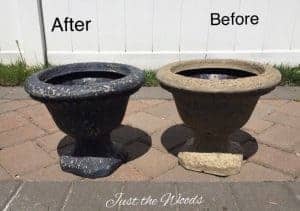 I also took a few smaller sized terra cotta pots and painted and sealed them in a softer blue for the herbs – oregano, basil, parsley, and cilantro.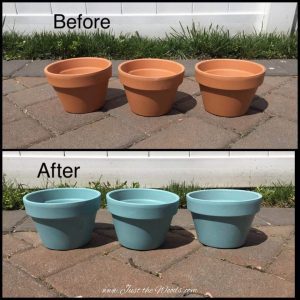 Raised Garden Beds
While I worked on getting the painting done my husband was busy building the raised garden beds.  He wasn't satisfied with plain boxes so he added a small trim along the tops.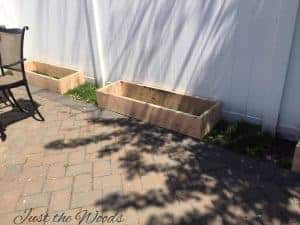 Once the beds were built I painted them in a neutral gray, since we already had enough blue.  I then added the Victoria Scroll all over stencil design from Cutting Edge Stencils across the fronts in black to compliment the stone pedestal pots that will be placed in between them. The idea was brought up to do the stencil in white, but knowing that this is a garden, in the yard and outside I opted to avoid white in fear of it becoming dingy looking over time.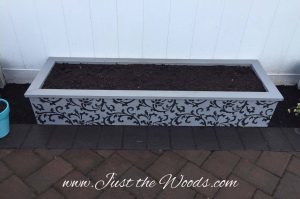 Once all were finished we added potting soil inside them and mulch on the sides of them. Everything was put in its place ready for seeds and plants to be added.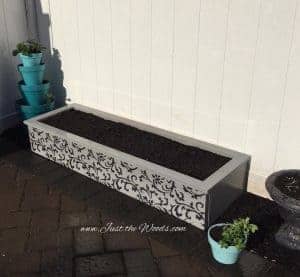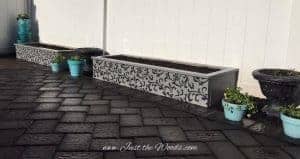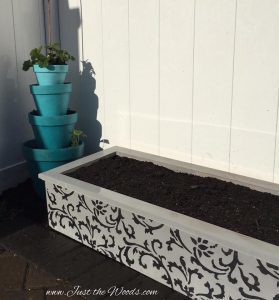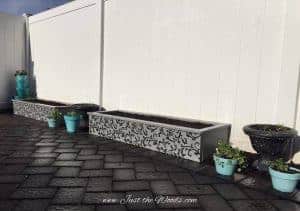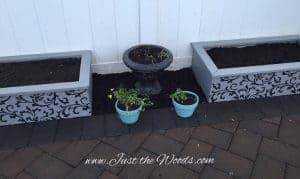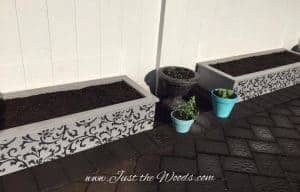 The raised garden beds will be filled with tomato plants as well as peppers, while the small pots are filled with herbs.  We had 65 lbs of tomatoes last year with just the side garden, we now hope to get 100 lbs for sauce making later in the year!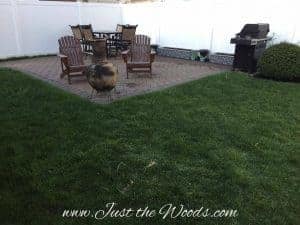 *Update*
**Approximately ONE month later our garden has gotten a lot of spring rain, we have some sprouting and the garden beds are looking great!**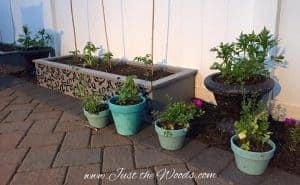 *We have Peppers*
Now that we are into the summer and crops are bursting we have a great bed of peppers.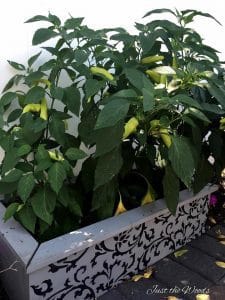 We will soon be preparing for sauce making.  As expected we have harvested approximately 100 lbs of tomatoes from the yard.  This photo is just an example of the first batch brought inside.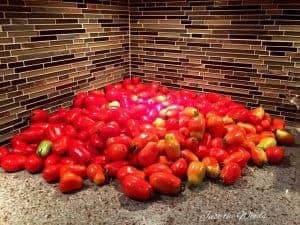 Make sure to check out how we compost to feed our garden with Coffee Grind Compost
You can find this stencil as well as many others at 

You can find our post on the Cutting Edge Stencils Blog here.
If you like these paint colors you can DIY and get the look here with Stone, Derby, and Jade. Make sure to seal them against the elements with a protective finish.
I'll be sharing this post at these fabulous link parties.
Don't Forget – Follow Just the Woods and Share this post to Inspire others:
FACEBOOK  *  INSTAGRAM  *  PINTEREST
Subscribe to our mailing list here:
Feel Free to Pin!