These thin blue line painted tables are the perfect tables for a police household or LEO family. Supporting police and law enforcement with thin blue line painted furniture.
The Thin Blue Line
I am pleased to say that I've completed another set of custom thin blue line tables. I've explained in a previous post the significance of the thin blue line and its meaning.  You can find that info here.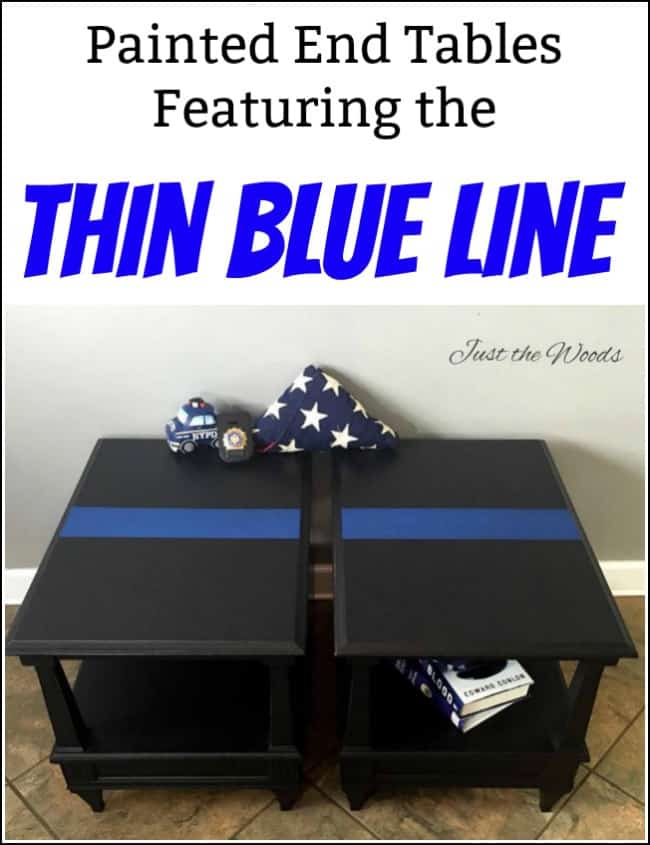 Disclosure: This post contains affiliate links for your convenience. Click here for my full disclosure policy. 
Vintage End Tables
These tables have actually been in my inventory for quite some time, they are solid wood, originally made by Brandt with the markings and label still visible on the underside. They were also pretty beaten up, which is most likely why no one has claimed them until now.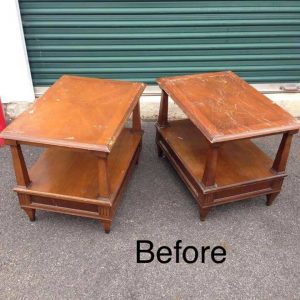 The Project
I always sand my pieces before I work on them, but normally I only break out the electric sander and sand to bare wood when I plan to stain.  Since the tops of these were so badly scratched I decided that I should give them a good sanding which will also provide me with a better surface to work with, so that's exactly what I did.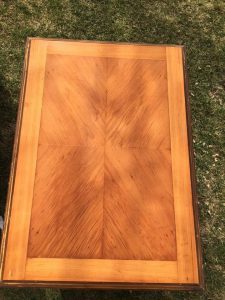 Once they are sanded, cleaned and prepped I flip them over to paint the undersides of the tables.  I only painted the mid underside and not the bottom (I hope that makes sense).  Reason being is I do not like to cover up original markings, and I wanted to preserve the original Brandt label.  I suppose that is personal preference, but the preserver in me constantly battles with the painter in me. *wink*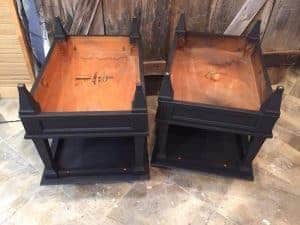 Once I had full coverage underneath I was able to flip them back over and complete the rest.  They were hand painted in a pure matte black and slightly distressed.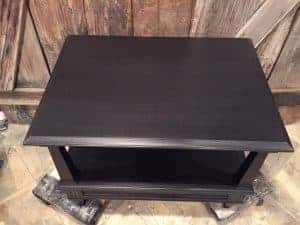 Lastly, I measured and marked the exact center and taped off where I planned to add the thin blue line. The blue was done in a royal blue and then a metallic blue over it before being sealed.   I am always thankful for my trusty green frog tape to give me clean crisp lines!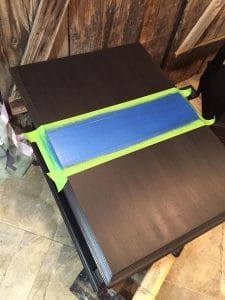 The Result
Voila!  That simple blue line means so much to so many!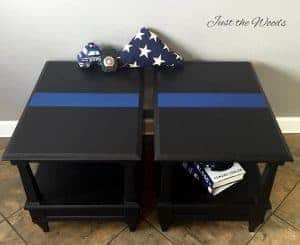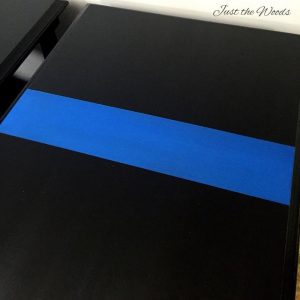 Click here for more: Thin Blue Line Painted Furniture Makeovers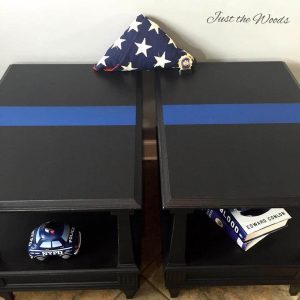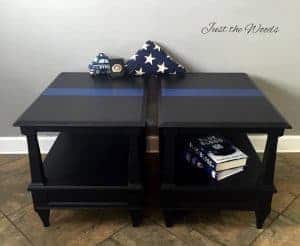 The proceeds from the sale of these tables are being donated to the Brotherhood for the Fallen, NYC Chapter and if interested you can read more about them and what they do here.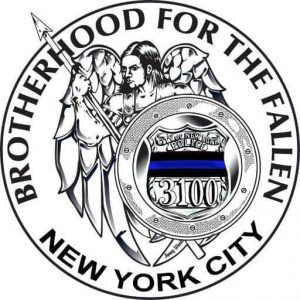 I'll be sharing this post at these fabulous link parties.
Don't Forget – Follow Just the Woods :
FACEBOOK  *  INSTAGRAM  *  PINTEREST
Subscribe to our mailing list here:
PINTEREST PIN READY TO BE SHARED