Darling Damask Stenciled Dining Set
Would you ever stencil your table top? When my customer dropped off her kitchen table and chairs they were, for lack of a better word, basic.  We've all seen the light wood dining sets, they're actually pretty common and nothing spectacular.  They do the job necessary as a place to sit, eat, chat, etc, but she wanted something MORE. A damask stenciled dining set was in order!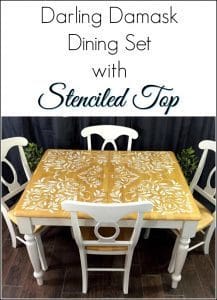 Materials Needed / Source List:
Disclosure: This damask dining set post may contain affiliate links for your convenience.
Adding Stencil to a Dining Table
The dining set was rather country in style and we intend to give it a bit more personality while still keeping it neutral in color.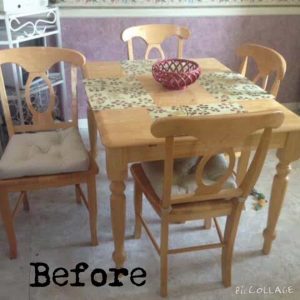 I started with the table, and since we were leaving the top with the original wood finish I prepped and cleaned, then I immediately got to work like a measuring machine!  I broke out every ruler, measuring tape and tool needed to accurately mark where to place the stencil.   Each placement needed to be precise and symmetrical, which is easier said than done.
Once I had all of my markings in place I was able to start placing the stencil. I found this pretty, leafy, damask stencil online and I started with the corners and worked from there.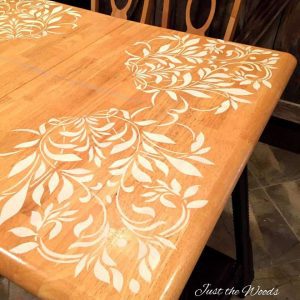 Painting Dining Chairs
Once the table was finished, including the center leaf I moved on to the chairs.  Since we were leaving the seats natural I removed all of the seats from the chairs to avoid getting any paint on them.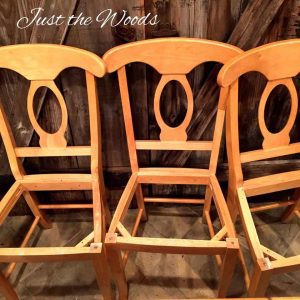 The frames of the dining chairs were fully prepped for paint. This is my process for How to Prep Painted Furniture. They were then painted in a creamy off white and once finished the chairs were reassembled and they look brand new!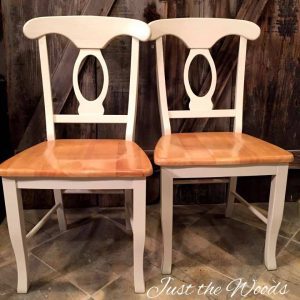 The Result – Damask Stenciled Dining Set
This plain pine dining set turned damask stenciled dining set is just darling now.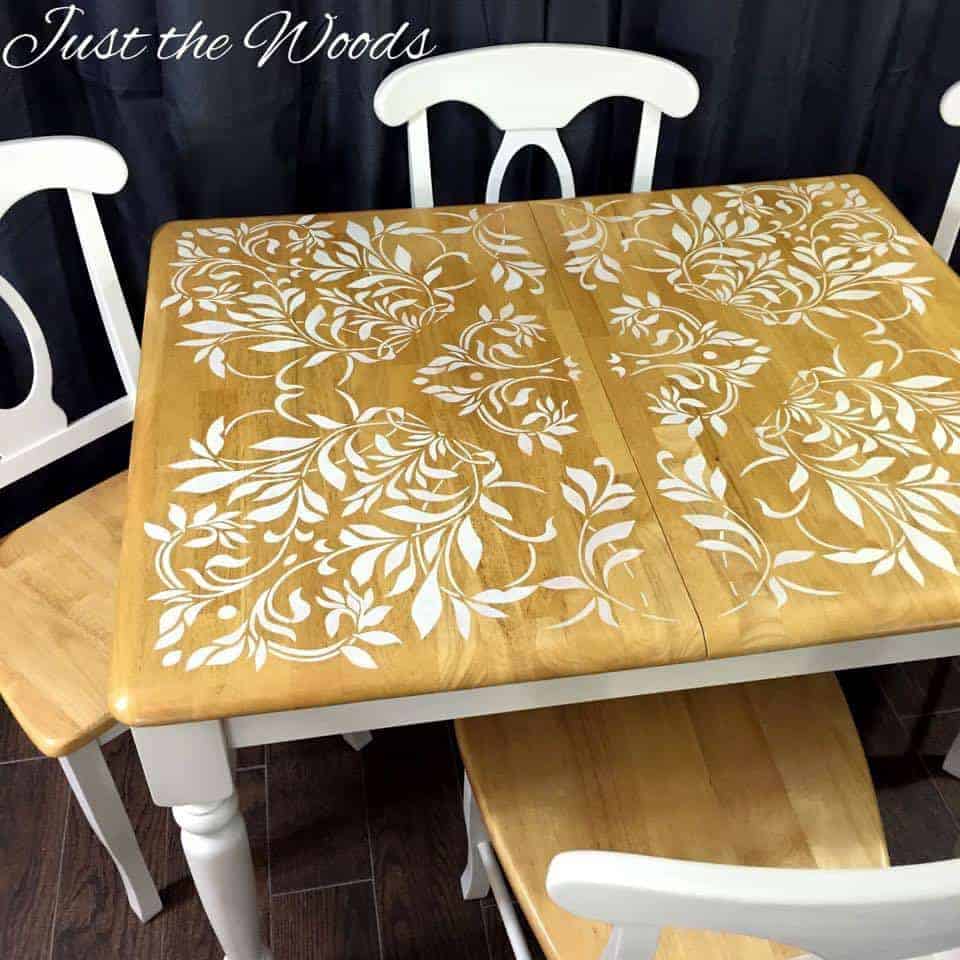 The white backs, bases, and frames look great with the natural wood tops and stencil. They all seem to work together beautifully!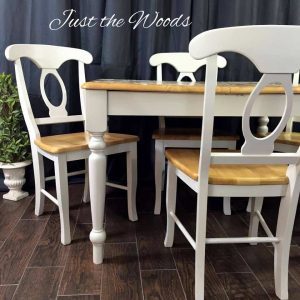 Did I mention that the table has a leaf!  I made sure to stencil the leaf without going overboard.  I needed to make sure that the top looks just as nice with the table open as when it's closed and I needed to ensure that no part of the design lined up awkwardly.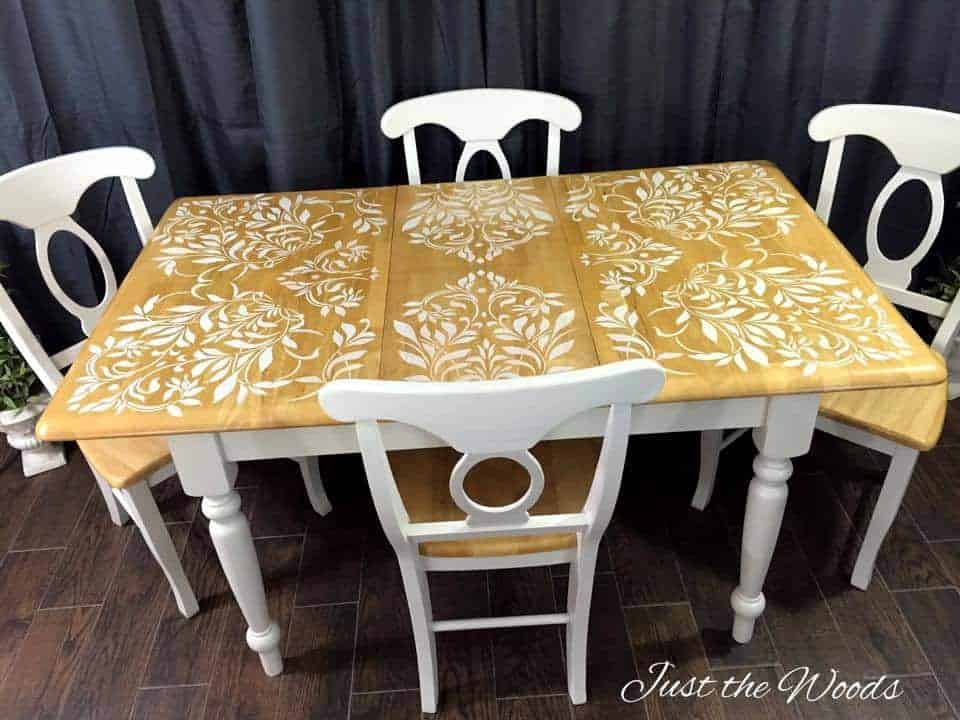 Who wouldn't want to sit around this darling damask dining set?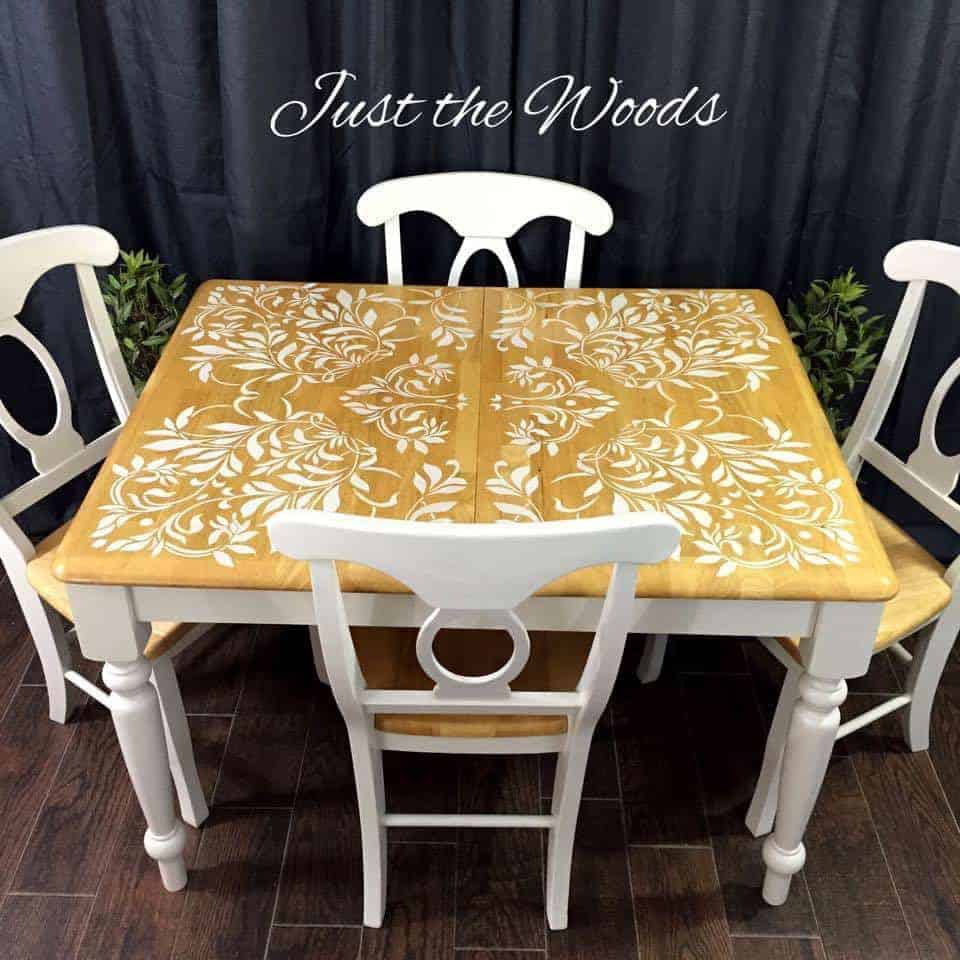 I'll be sharing this post at these fabulous link parties.
Don't Forget – Follow Just the Woods :
FACEBOOK  *  INSTAGRAM  *  PINTEREST
Subscribe to our mailing list here:
You can get this neutral white by using Kristi Kuehl Pure Home Paint Vintage Lace. You can see more projects in this color by checking out Farmhouse Painted Bench with Storage.
PINTEREST PIN READY TO SHARE