A Modern Desk Makeover
"I absolutely love my desk, but I hate the color" were the first words the owner of this desk said to me when we discussed his desk makeover. He explained that he bought it years ago and loves how functional it is, but a love hate relationship, even with furniture can never work.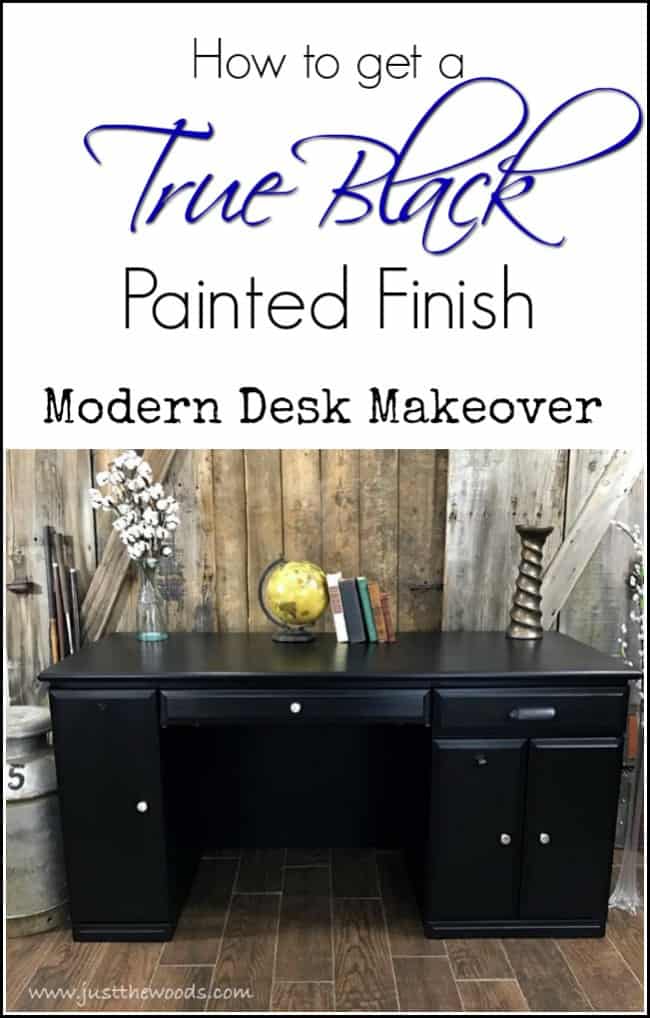 Disclosure: This post contains affiliate links for your convenience. Click here for my full disclosure policy.
The Unfinished Wooden Desk
This wood computer desk is large, heavy, with just the right amount of storage and compartments for all the things a 'computer guy' would need. A spot for the computer tower and a slide out keyboard drawer that hides behind a flip down door when not in use, in other words, an IT's dream desk. But the dated color of the wood is lacking in visual appeal. No problem! In addition to the color, this desk makeover had a few 'issues' to start. None that should have been a big deal, but a few none the less.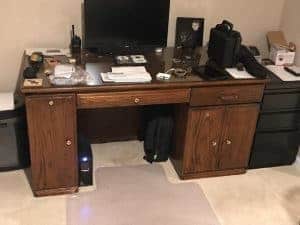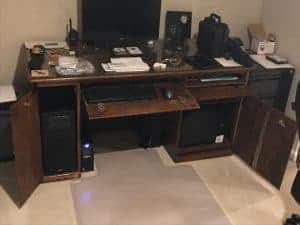 Like I mentioned this desk is large, so large that I had to measure to make sure it would fit in my shop.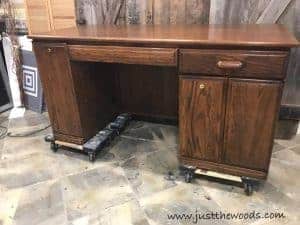 As a matter of fact, it did fit BUT not without incident. The door to my shop is about a half of an inch shy of the necessary space to fit this desk.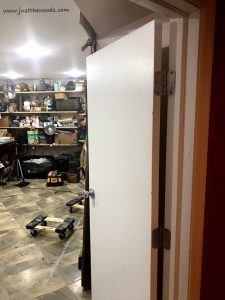 To get the beast of a desk inside the door had to be removed. This is NOT something that I do on a regular basis!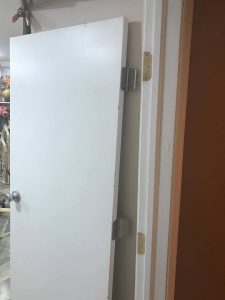 To make sure the screws to the door are kept safe I placed them all in the magnetic tray to keep them from disappearing on me. Once the desk is finished that door is going right back on. But in the meantime, the magnetic tray to hold the screws will act as my best friend.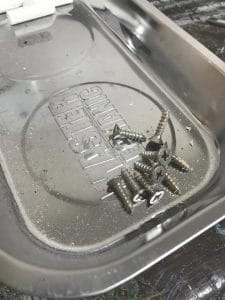 Obstacle one complete and on to the next.
A Desk Makeover
Materials Needed / Source List
Preparing the Desk for its Makeover
The desk was placed up onto my furniture dollies so that I could easily maneuver around it. Or rather maneuver it around me because the back of the desk, as well as the front, will be getting painted. After a thorough sanding and prep, in the manner that I normally Prep Painted Furniture, the desk was also taken apart.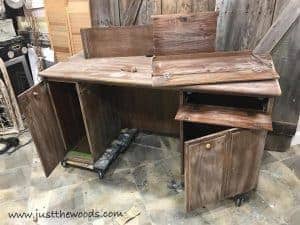 The hardware and chunky drawer handle were removed, the slide out drawer for the keyboard tray removed as well as the upper slide out tray. This process always makes me nervous, because it's often easy to take things apart, but it's the putting back together that can pose a problem. But what is a desk makeover without a few obstacles right?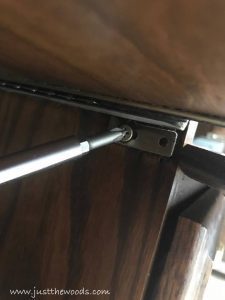 Painting a Large Desk
This desk makeover was supposed to be simple, painted black for a handsome new look. The removed parts were all painted black.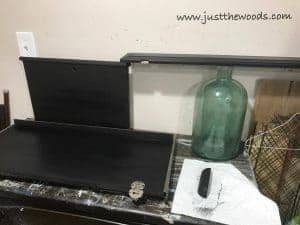 This desk makeover is a tad bit different from the other black painted furniture makeovers that I've done in the past because it is not being distressed, at all. The owner wants a clean, simple black finish with no distressing. One good thing about an all-black makeover is that I get to seal it with a black protective finish. Black paint and black sealer for the win. You can find great quality furniture paint online HERE.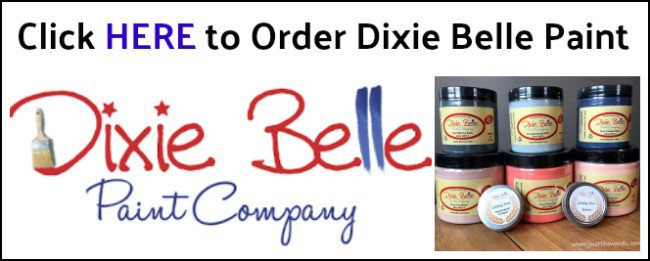 If you are feeling overwhelmed or just starting out you can always start at the beginning with How to Paint Furniture – a Beginners Guide.

Reattaching the Drawers and Hardware to the Desk
Remember I mentioned a few obstacles. Well, here is the next obstacle. When reassembling the desk after its makeover I made sure to use all the same holes and line things up properly. Seems simple enough, right?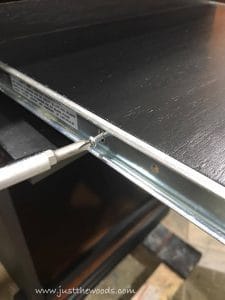 Especially considering I took a few photos when taking the hardware off to remind me of how to put it back together if I needed a little assistance. It always helps to have a visual reference to look back to. Old drawer hardware visual: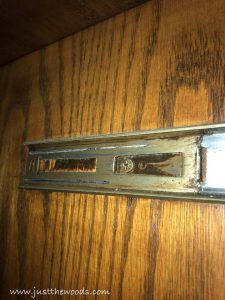 But even a visual reference and lining things up perfectly aren't always enough. Check out obstacle number two in this super short video. Can you hear the panic concern in my voice?
What's a girl to do?
Take a Trip to the Local Hardware Store
I diligently measured the length and wide of the existing drawer slides, making a note of every little detail I could think of and jumped in my truck. First stop was the local hardware store, but unfortunately, they didn't have the size that I was looking for. I need 14″ ball bearing, full extension drawer slides. Second stop proved to be a success. Sometimes, it's just easier to replace than try to figure out what went wrong with the original.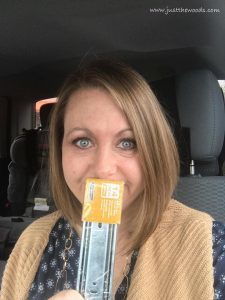 I swear the woman in the store must've thought I had lost my mind as I rambled on about what I needed. I hurried off with my new slides and headed back to remove the old and replace with the new.
Installing New Drawer Slides
This time I was extra careful to remove one side at a time and I even used the directions to make sure that the new slides were installed correctly.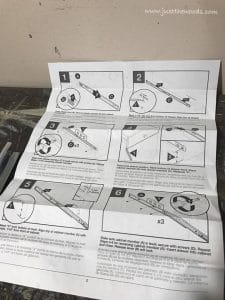 Using a level, I made sure that the slides were well, level.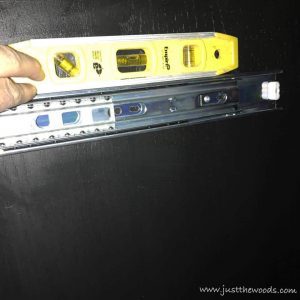 Once the new drawer slides were installed I could breathe a sigh of relief.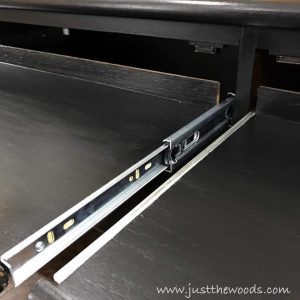 What a difference the new slides make. Here is my 'round two' video showing how smooooooothly the new slides operate.
What's a Desk Makeover without New Hardware
Thanks to D. Lawless Hardware we were able to replace the old gold knobs with stylish yet simple silver knobs. My mail lady knew I was waiting patiently for these, so she made a special delivery to drop them off first thing in the morning when she saw them on her truck. Good thing, because I was about to stalk her for them again if she didn't have them 😛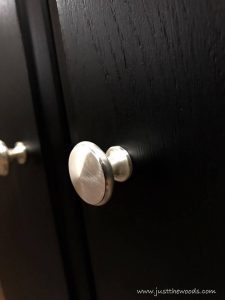 For a newer makeover using the best black furniture paint with black wood stain make sure to click here: Black Furniture Paint and Black Stain Table Makeover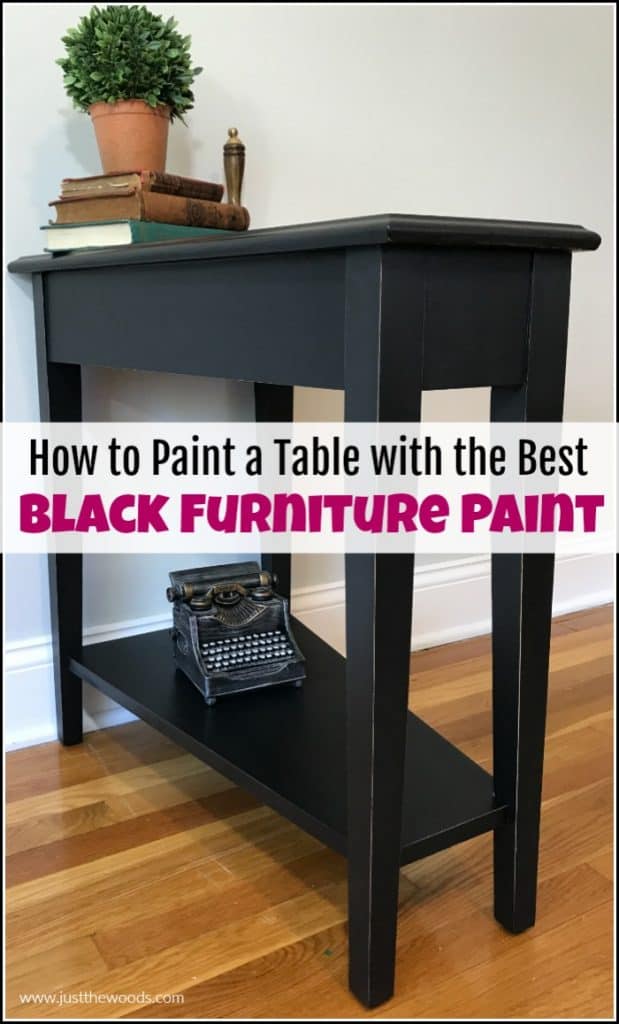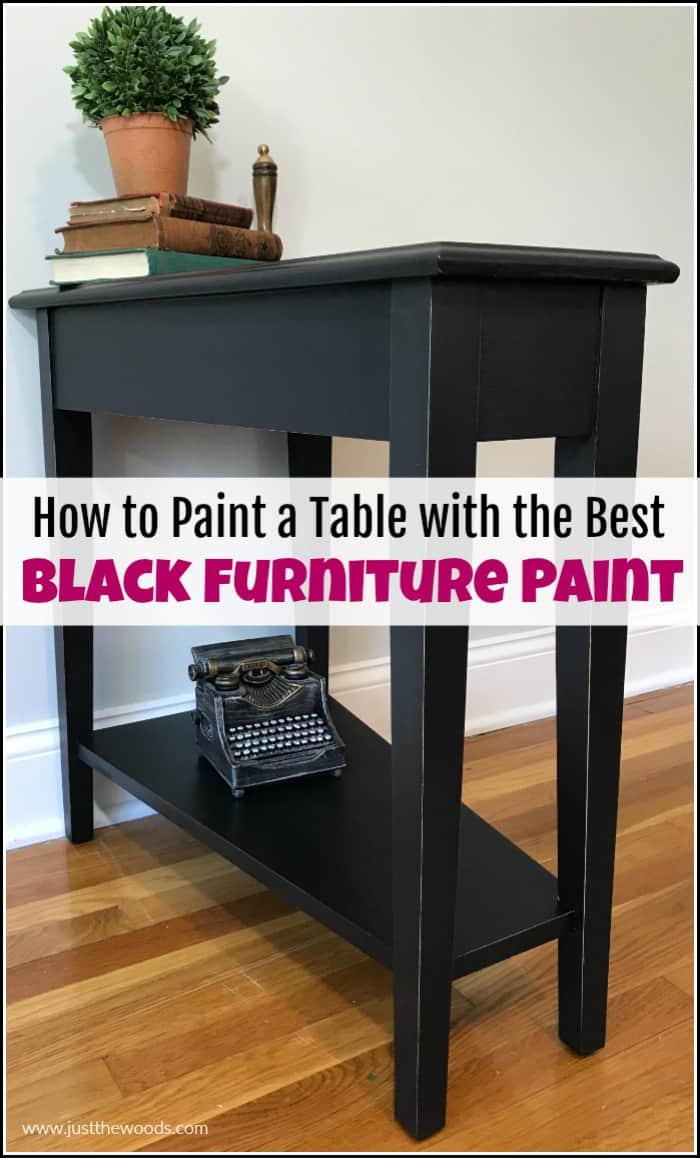 Black Modern Desk Makeover
When you love your furniture but hate the color you CAN have your cake and eat it too. With a little prep, paint, panic and new hardware this desk makeover is as handsome as ever and heading home.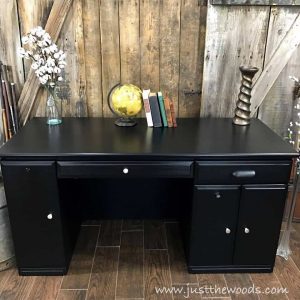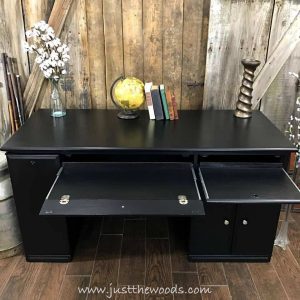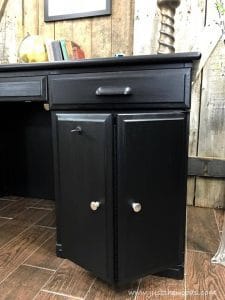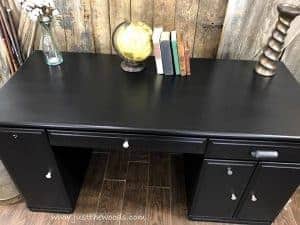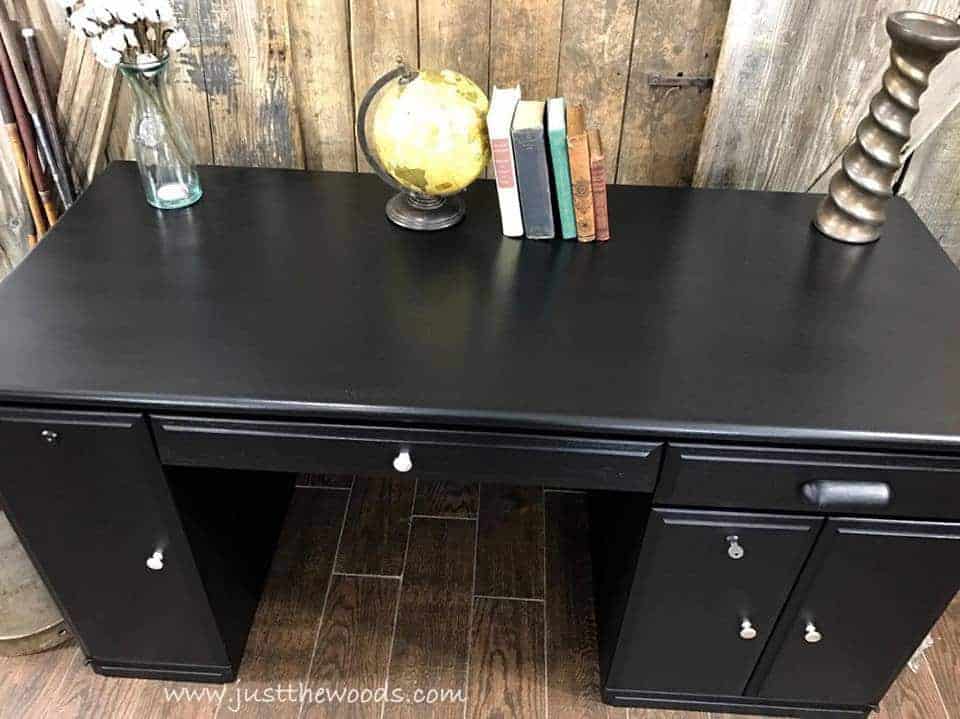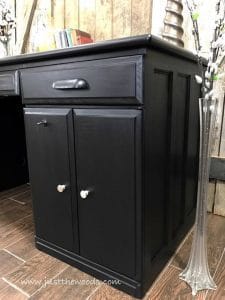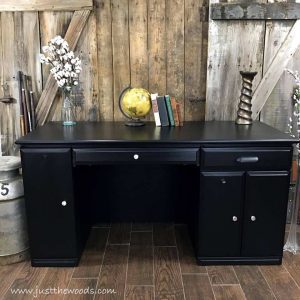 Wait! Don't Go! It's that time of the month again for:
Crafty Girls and Furniture Friends
A few of my creative and talented blogger friends and I have joined together in our monthly Crafty Girls and Furniture Friends share. We get together on the second Tuesday of each month ????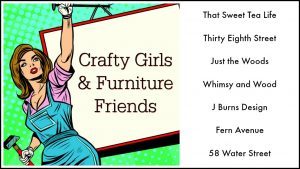 Let's see what my friends are up to! Make sure to click the links below the image to check out all the amazing projects that my bloggy girls are working on this month.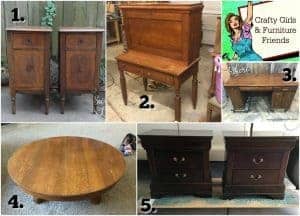 That Sweet Tea Life – Trying Out Wise Owl Synthesis Paint
Whimsy & Wood – Go With Red
Just the Woods – How to Love Your Furniture When You Hate the Color
58 Water Street – Reviving Craftsman Pedestal Table
Thirty-Eighth Street – How to Transform Second Hand Furniture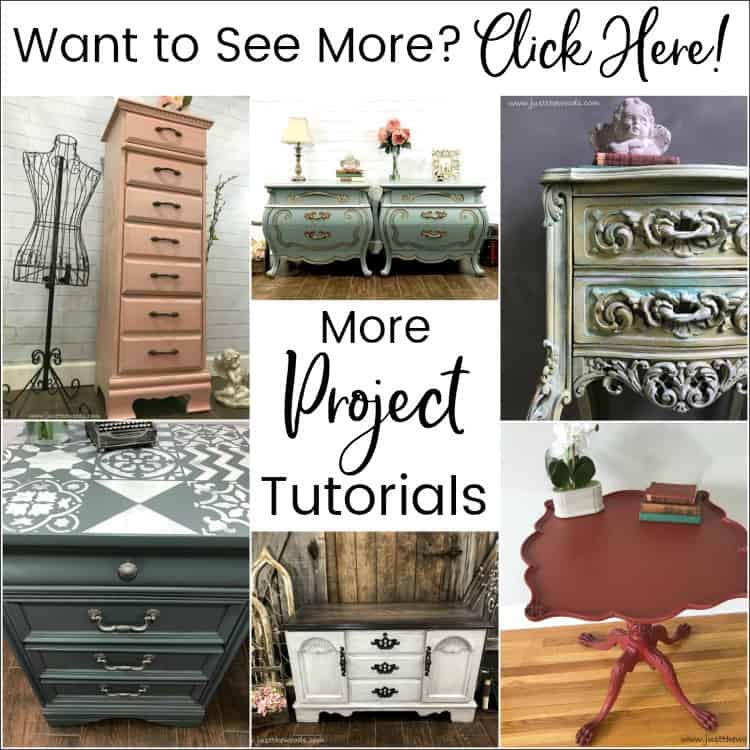 Don't Forget – Follow Just the Woods and Share this post to Inspire others:
FACEBOOK * INSTAGRAM * PINTEREST
Subscribe to our mailing list here:
PINTEREST PIN READY TO SHARE