Black furniture paint and black wood stain go together like peas and carrots. Black furniture is both timeless and one of the easier painted furniture finishes to achieve. Today I am sharing how to paint a table with the best black furniture paint and black wood stain for a classic finish.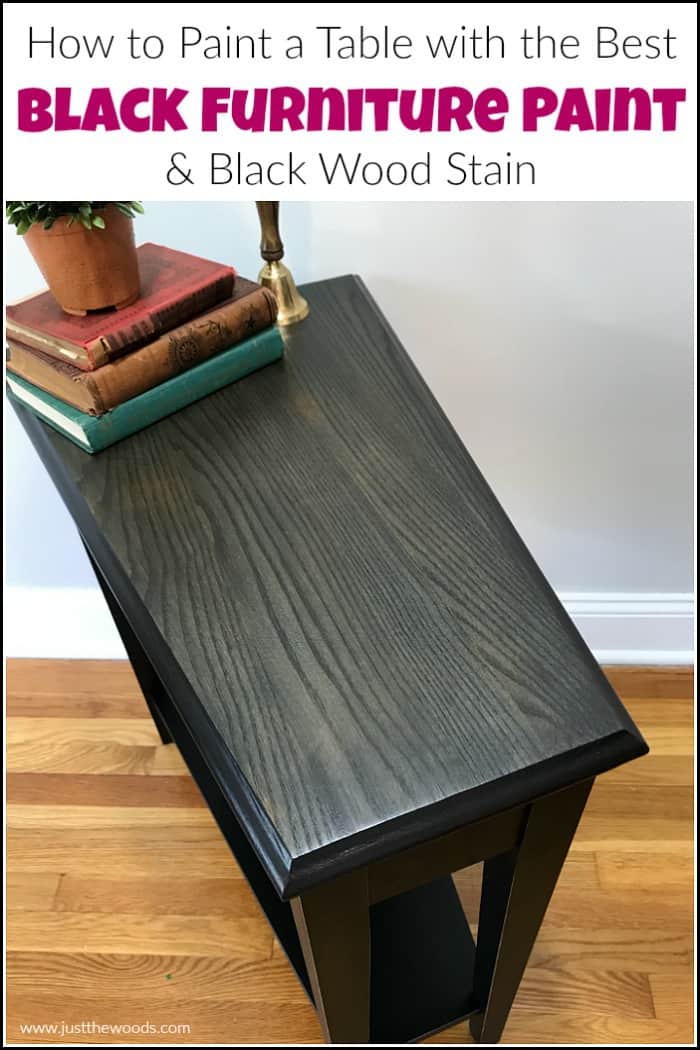 Disclosure: This black furniture paint and black wood stain post contain affiliate links for your convenience. Click here for my full disclosure policy.

Supplies & Tools Needed to Paint Furniture with Black Furniture Paint
Materials Needed / Source List:
Tools
Sandpaper
Orbital Sander

Find all of my favorite tools and products on my

Amazon Page here
Paint
Before we begin, this black paint and black stain table makeover is part of our monthly Furniture Fixer Uppers share. You know what that means! Make sure to stick around all the way to the end for more great painted furniture before and after projects.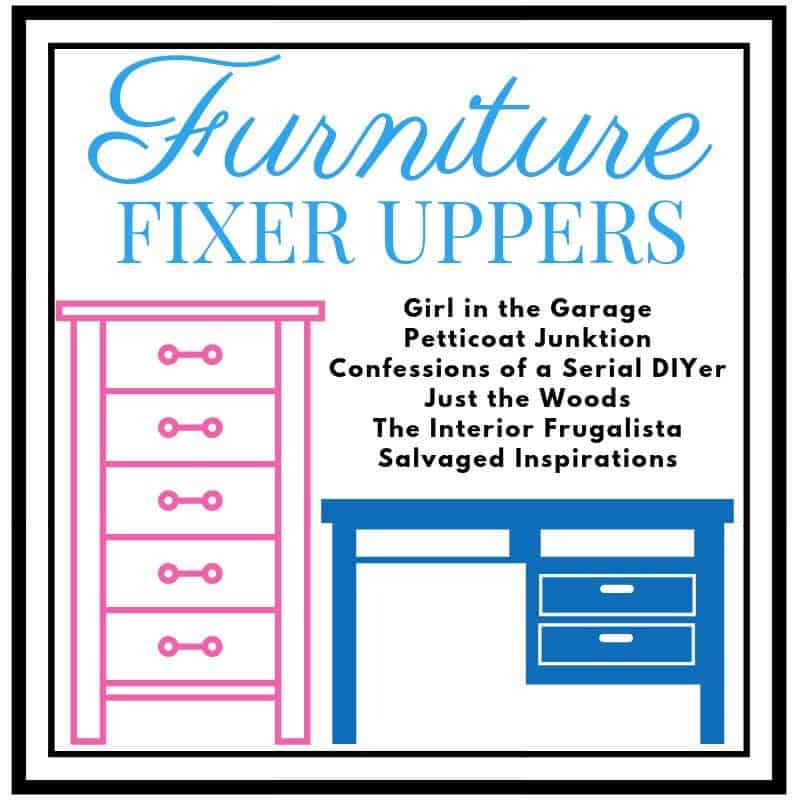 Unfinished Wooden Table
For starters, I will confess that this table is in really good condition. To be honest, it really doesn't need paint. Due to the near-perfect condition of this table, we are going to preserve the natural wood grain on the top with water-based wood stains and paint the rest of the wood black for amazing results.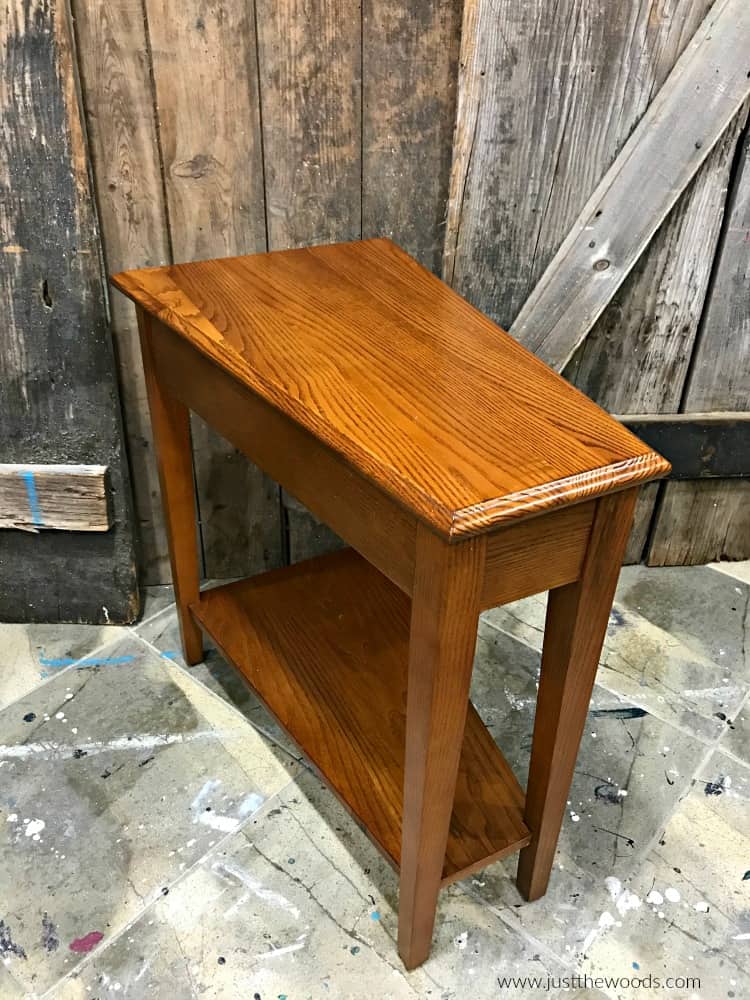 But I can't resist the cool shape of it and the fact that it's quite simple with its straight lines making it perfect for this black furniture paint project. On top of that, the gorgeous wood grain makes it the perfect candidate to change it from traditional brown to a deep black wood stain. I feel all too often, we naturally opt for brown stain when in fact, a black stain is underrated and amazing. There is just something about classic darker stains.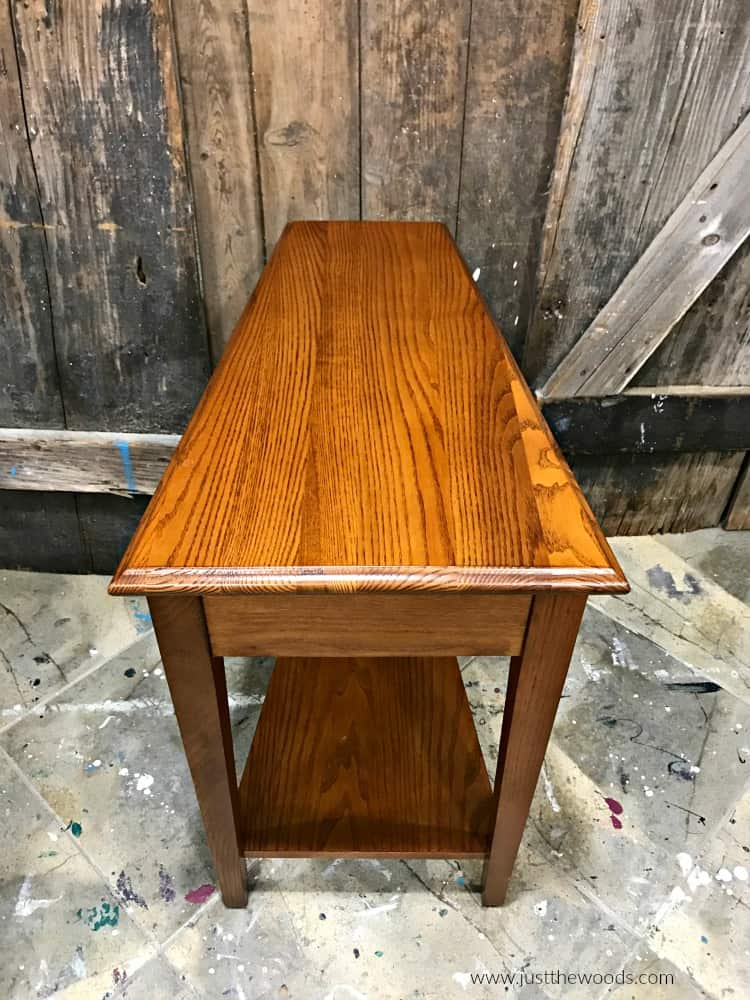 Preparing Your Table for Black Paint and Black Stain
Like all of our painted furniture projects, we need to start with a thorough cleaning and prep. Because we plan to apply black wood stain to the tabletop we will need to sand the original finish off and reveal that gorgeous wood grain underneath. When applying wood stain it is always best to get down to the bare wood. The best black wood stains always work beautifully on a bare piece of wood. To do this, grab your orbital sander to remove the existing finish. I love my Dewalt sander – it's my go-to for everything. You can get one online HERE.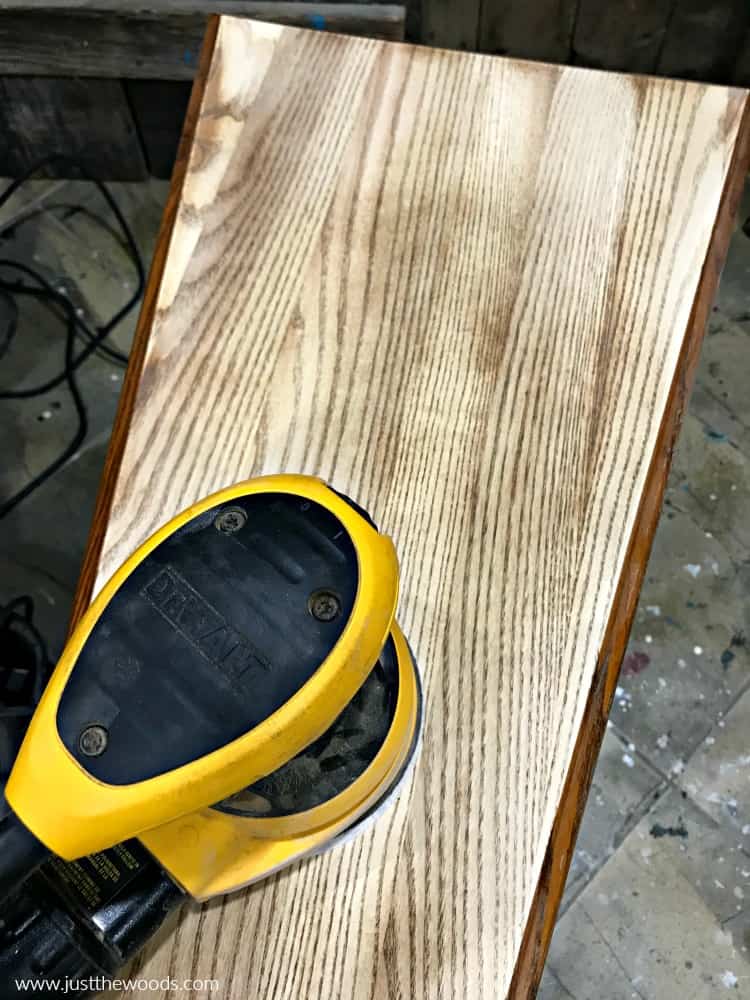 Go ahead and sand the table top down to the bare wood. I show you in the video how to sand indoors without making a dusty mess. Next, remove that lower shelf and give it a good sanding/scuff with regular old sandpaper.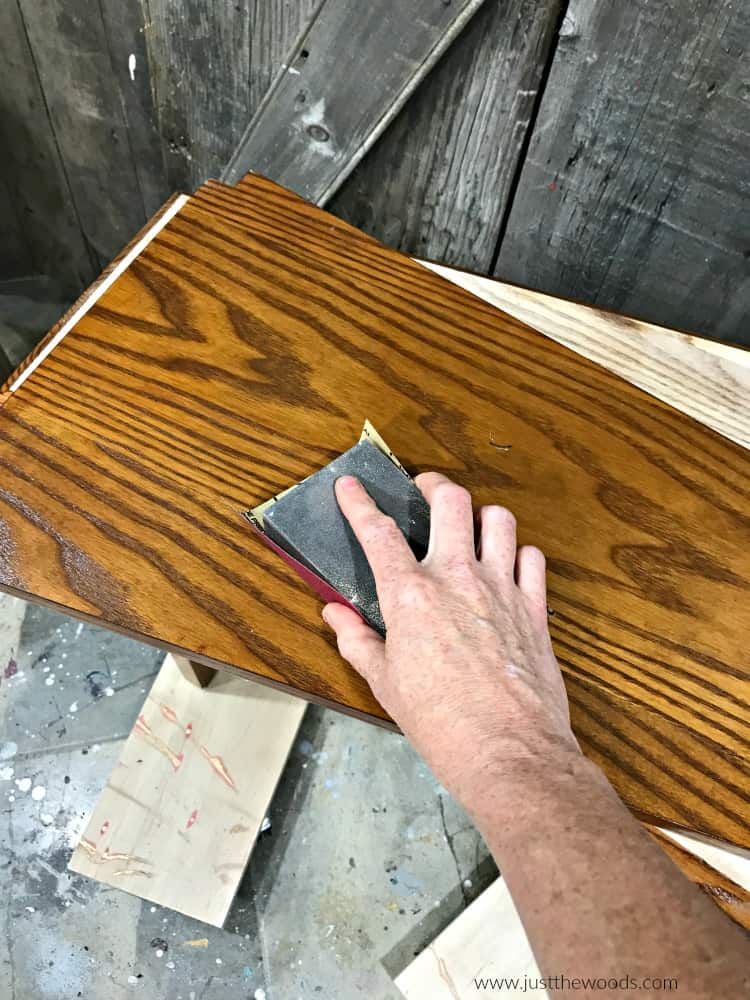 When painting a wood table you need to make sure to clean and prep all areas that will be painted. So make sure to sand the rest of the table, including the edges. On this table, those edges and the current finish is actually quite smooth. We want to scuff that up to give the black paint something to adhere to.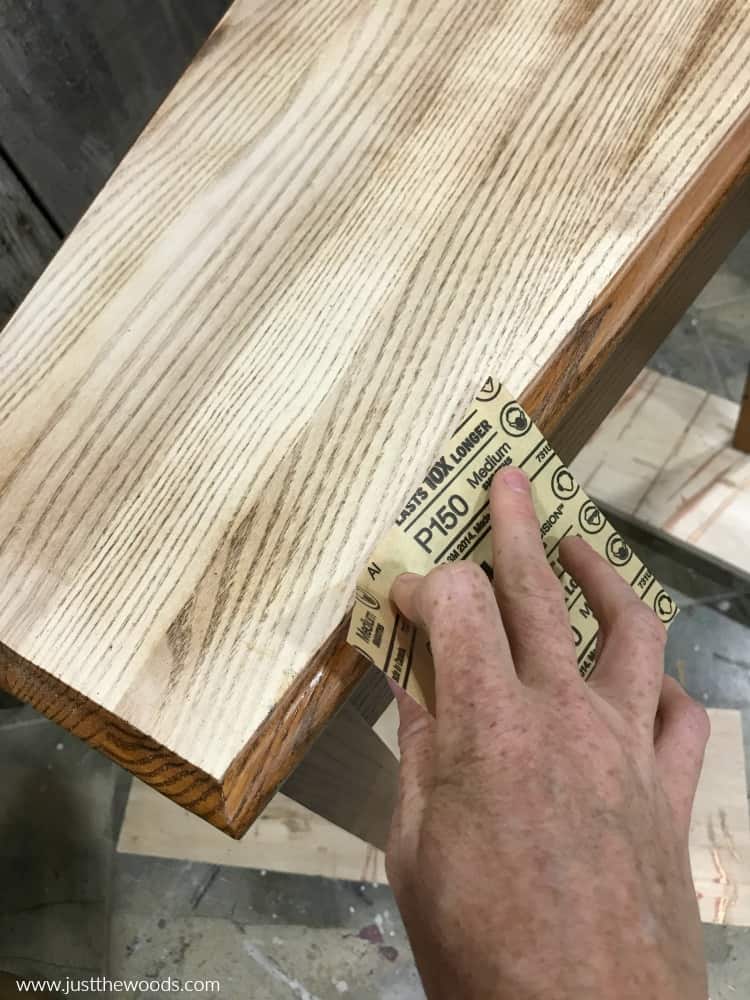 After you give the entire wood table a nice scuff make sure to go back and clean the table. You can use something like White Lightning by Dixie Belle (found online HERE), or stick with the basics. There is no wrong choice. Personally, I am a bit set in my ways and I use good old white vinegar with water and a drop of blue dish soap, and a scrubby sponge.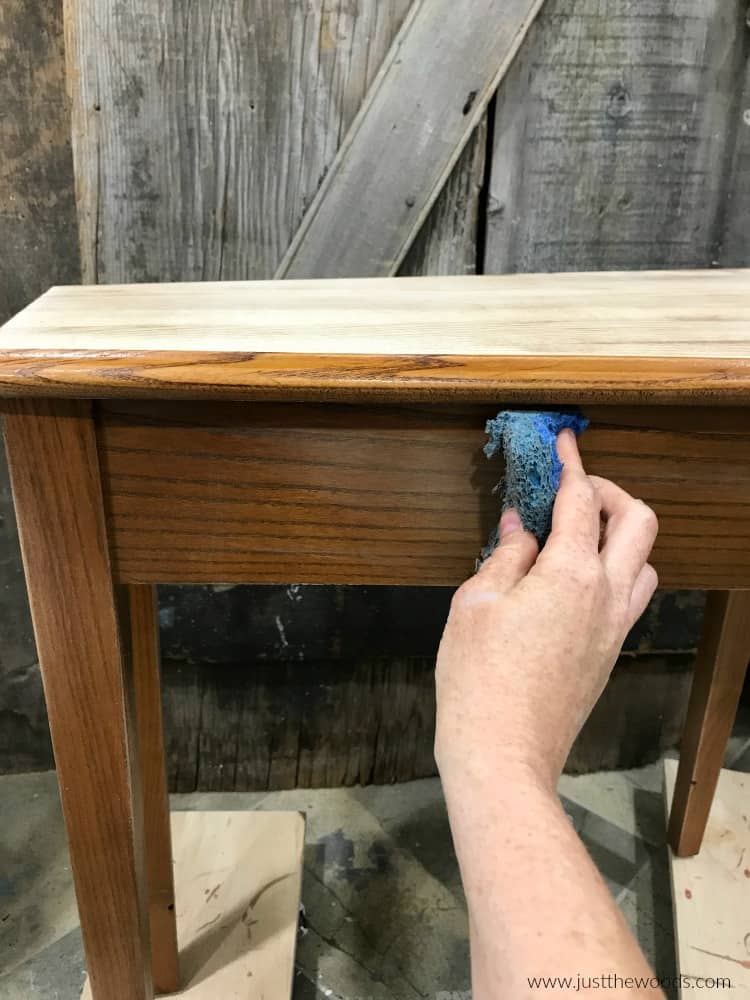 Whichever product you choose to use for the cleaning portion, just make sure to go back and give your piece a final once over with a damp clean cloth to remove any remaining dust and residue.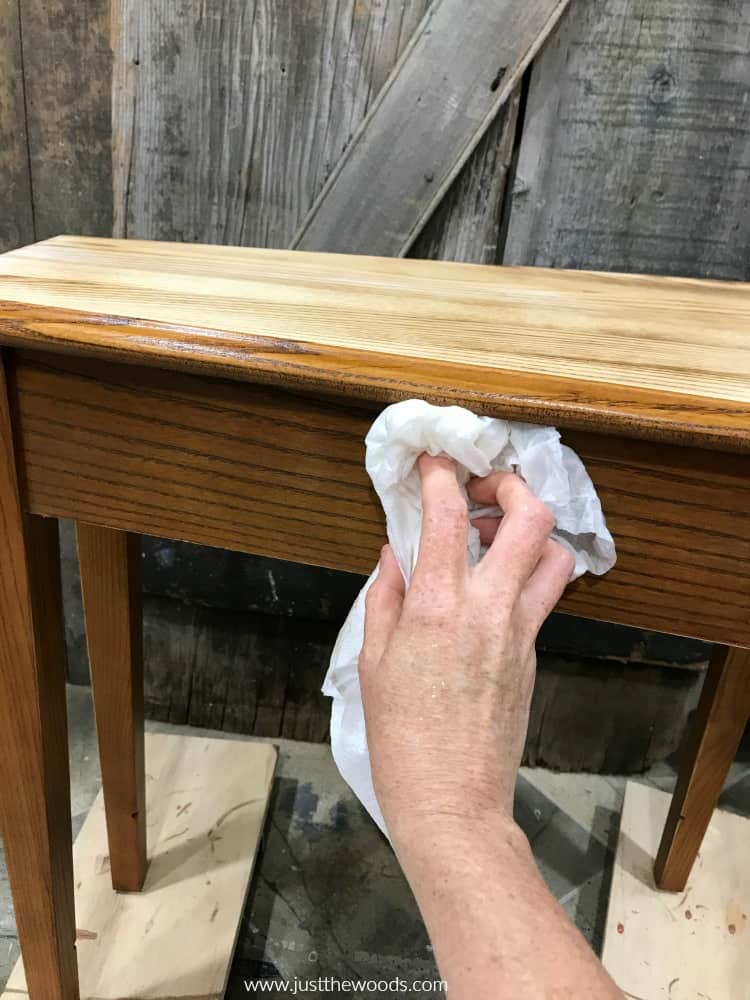 Since we sand the top down to bare wood I don't normally wipe it with a cleanser, but I do wipe it down with a clean damp cloth to remove the sanding dust.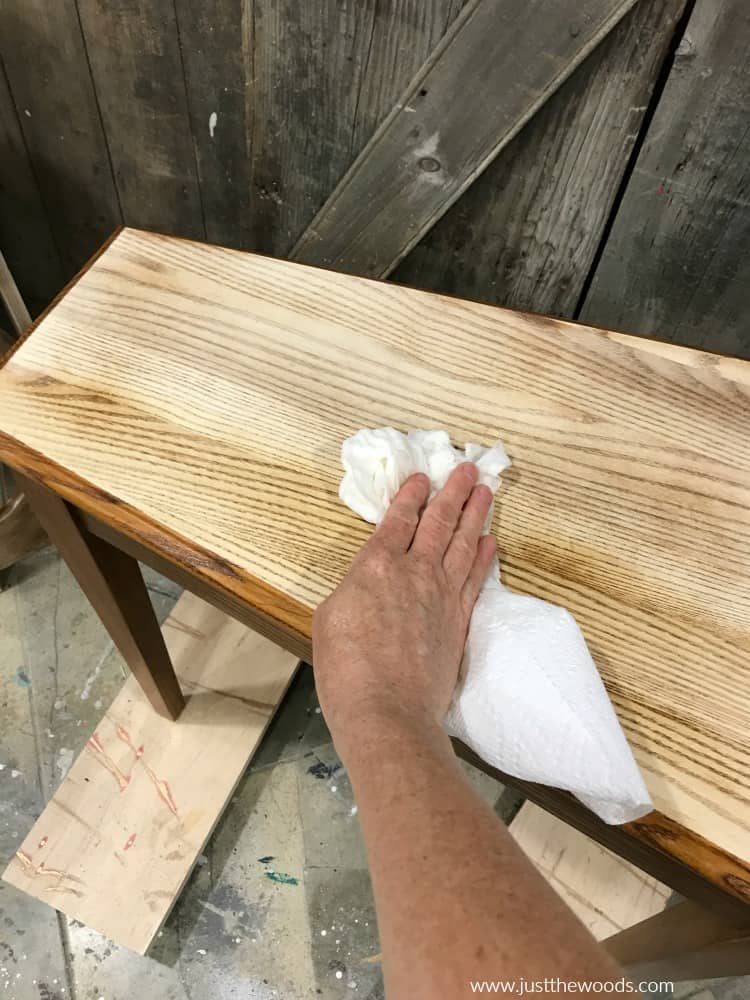 Yikes!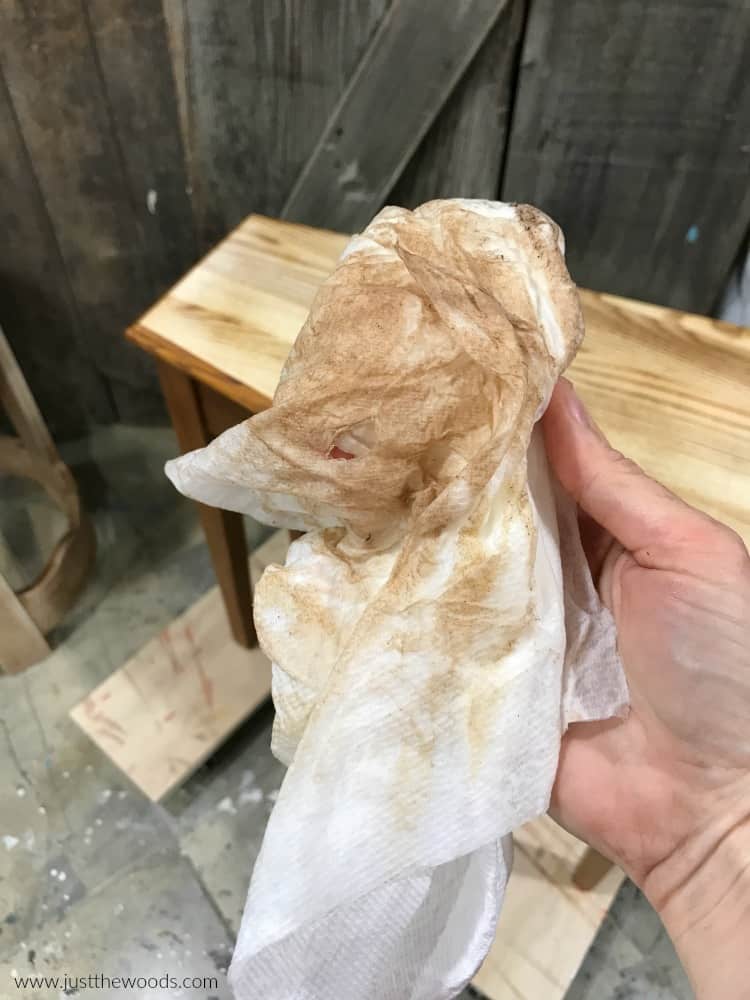 Preparing a Wood Table for Furniture Paint
Now that our table is cleaned and ready to go I would like to take one more extra step. Remember I mentioned that this table is rather new? Well, even though we gave it a scuff and sanding I find the surface to still be somewhat smooth. I am going to add a product called Slick Stick to this table before we paint it. Slick Stick acts as an extra binder for great adhesion and works wonders when you want to paint furniture that is new, laminate, smooth, or shiny, in addition to just about any type of wood. You can get Slick Stick online HERE. You can also see where Slick Stick is used to paint a brand new laminate bookcase: The Best and Trusted Way for Painting Laminate Furniture.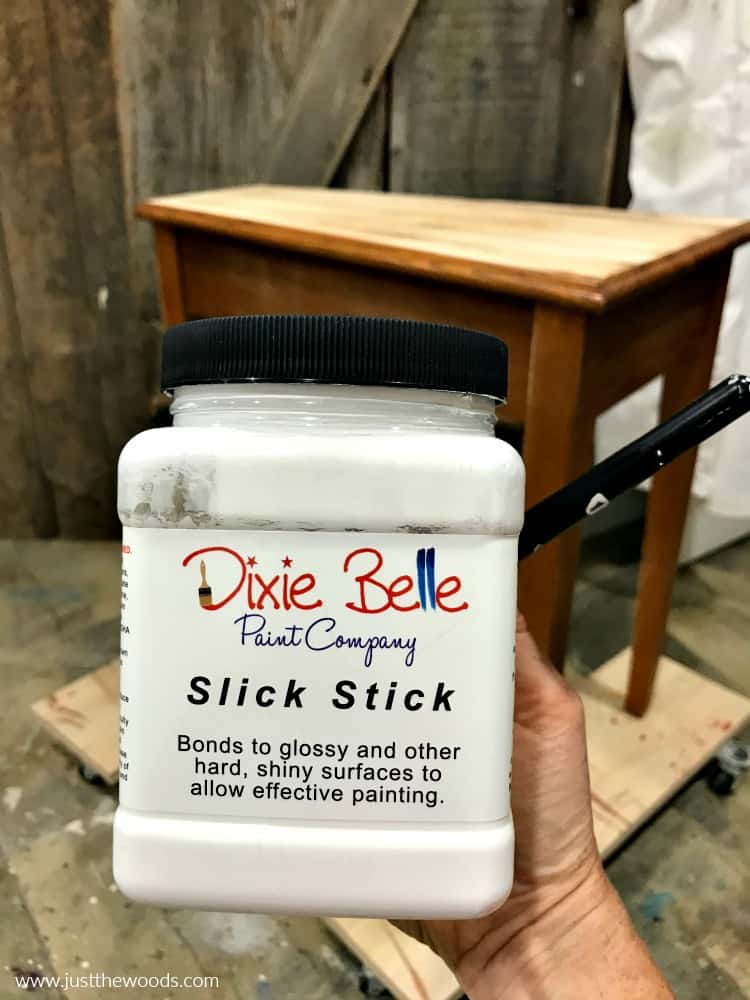 Now, grab your favorite brush and make sure it's clean. I am using my flat Cling On brush, but like to swap back and forth between Cling Ons and Zibra brushes. They both have soft bristles, are easy to work with, and clean up well. (I abuse my brushes) To be honest, I like them both. Zibra brushes are a bit more affordable and can be ordered online (HERE). Cling Ons can be ordered online (HERE).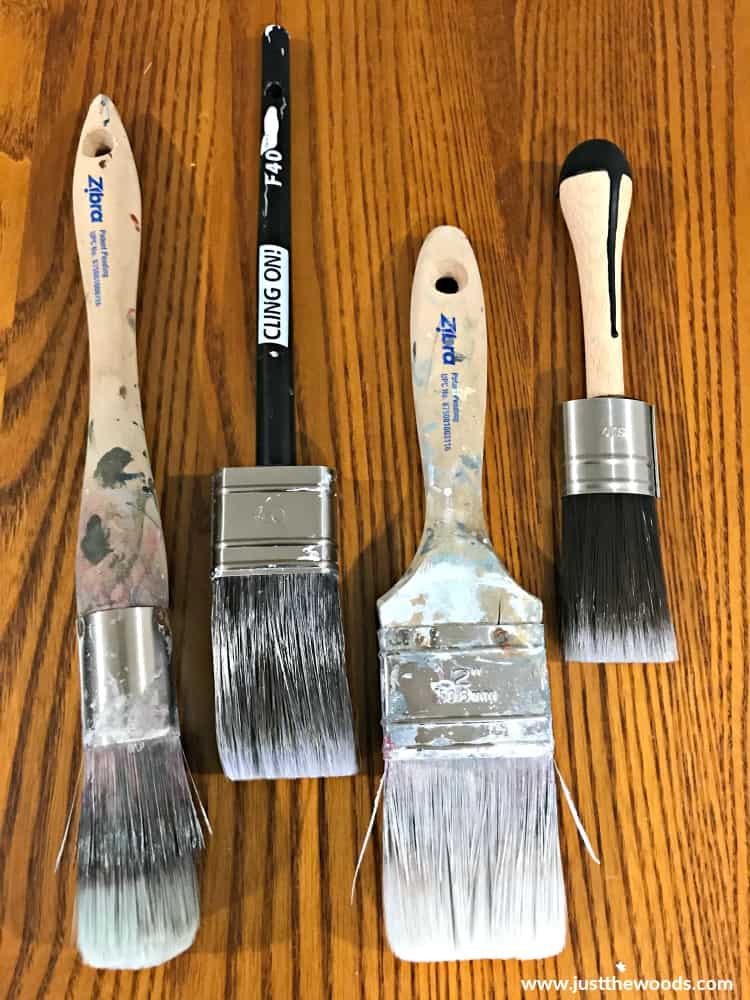 With your brush apply the Slick-Stick in the same way that you would apply your furniture paint.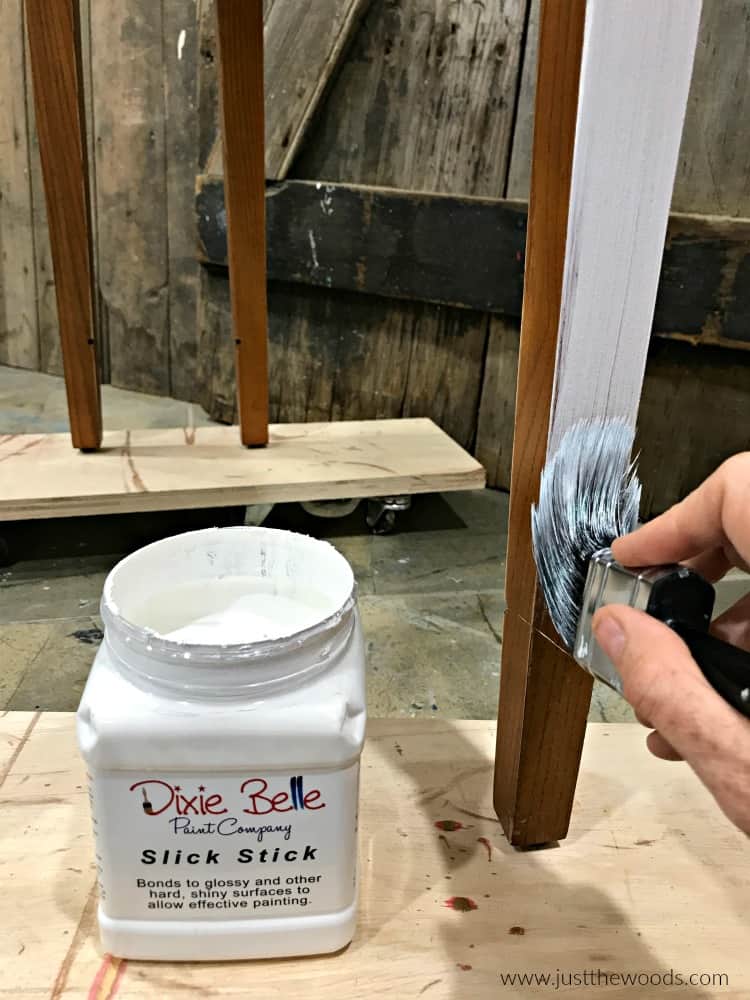 Apply the Slick-Stick to the legs and the base.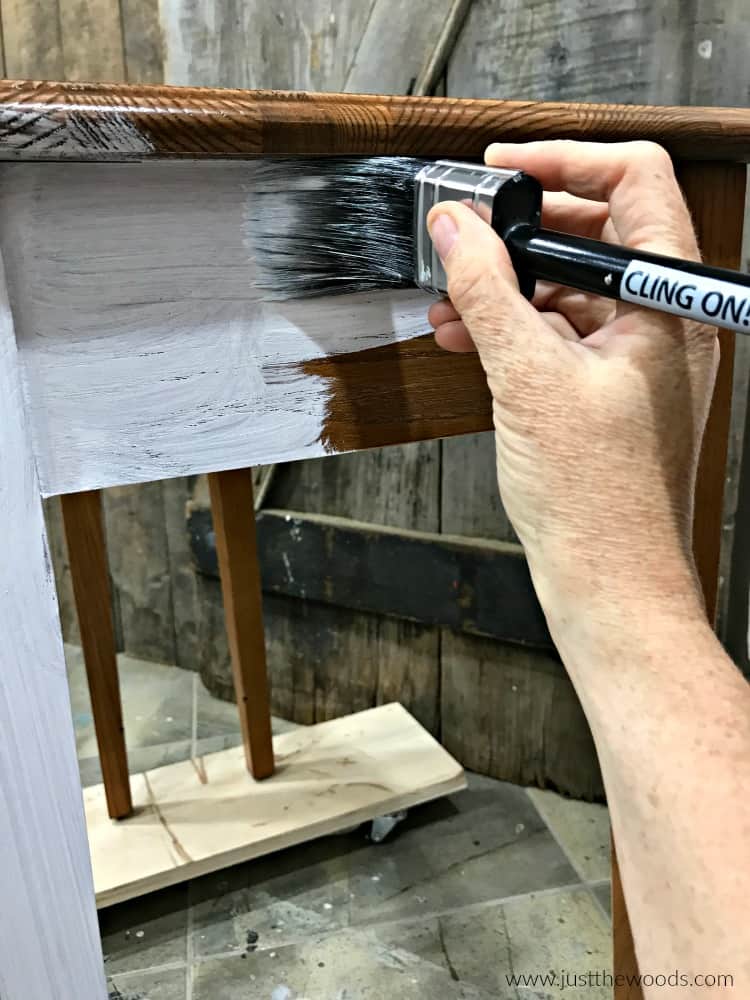 Do not apply the Slick-Stick to the tabletop. The tabletop is where we are going to apply our black wood stain. But, do apply it to the edge.
As you can see the Slick-Stick will dry white in color. This is not a problem since we are painting over it. And who cares if you paint it messy, this is for adhesion and not for prettiness anyway. 😉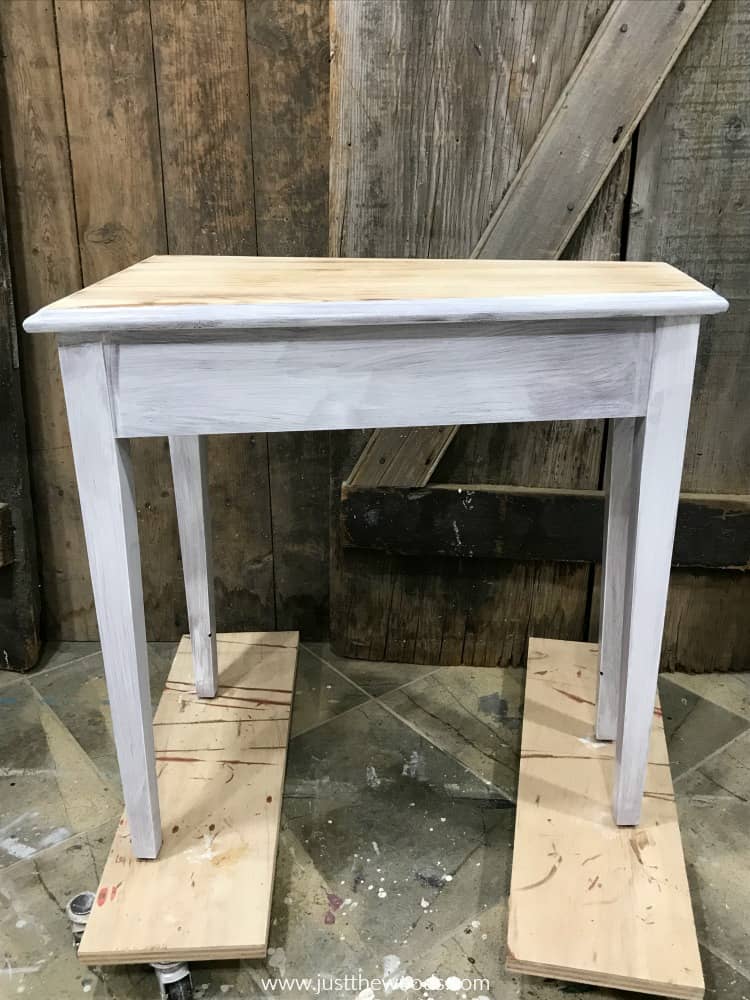 If you are new to furniture painting and want to learn how to update old furniture with paint you can always start at the beginning with How to Paint Furniture – a Beginners Guide.

The Best Black Furniture Paint and Black Wood Stain
Now that our table is fully and completely prepped and ready we can finally move on with the fun part. Time for the furniture paint and black stain. When you want to know how to paint furniture black the main question is often what is the best black furniture paint for painting wood? Well, If you are looking for a true black furniture paint without any gray tones then Caviar is your best bet. Many brands and shades of black wood paint can have slight gray or blue undertones, but Caviar is a true black. You can get Caviar online HERE. I am pairing it with this amazing water-based black wood stain called Black Magic.
Always make sure to keep your water-based products together, meaning if you are using a waterbed paint and/or stain then you should also use a water-based top coat. You should not mix and match water-based and oil-based products in the same project. You can use different products in one project but they should either be all water-based or all oil-based. I hope that makes sense.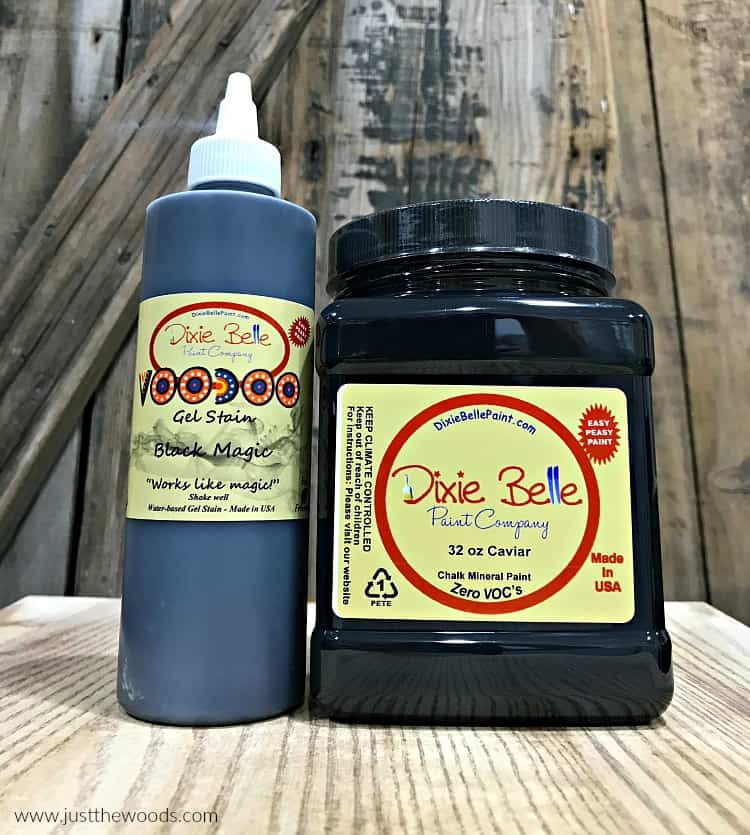 Black Chalk Paint
Let's start with the black paint portion of this makeover. Grab your paint and a clean paintbrush.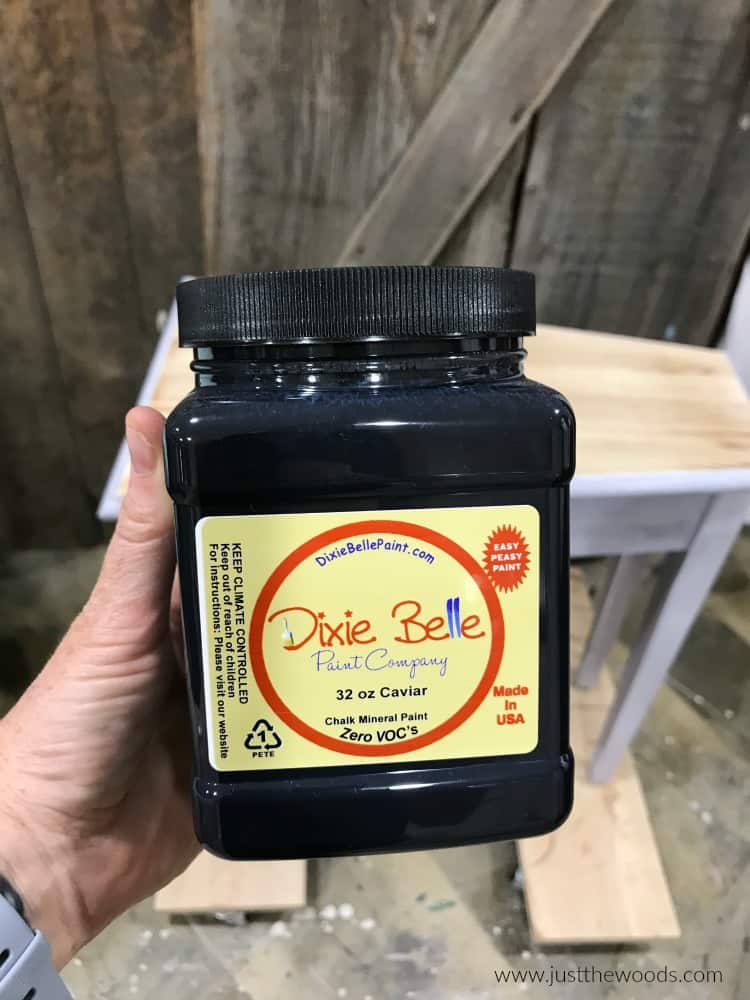 Go ahead and apply a thin coat of your black furniture paint to the table legs.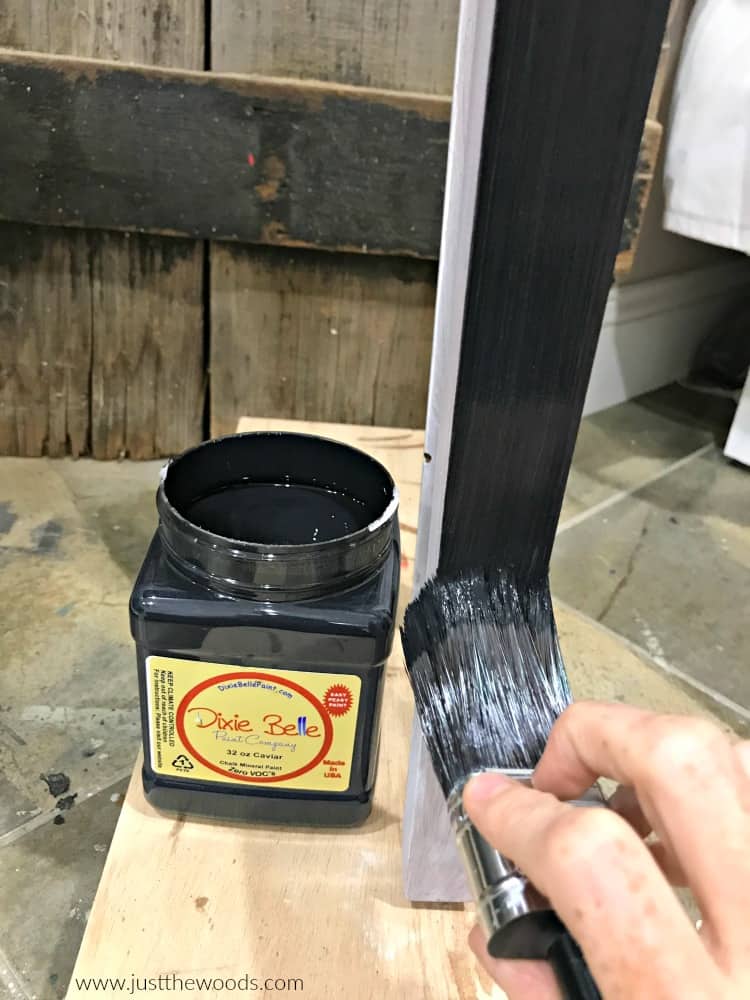 Also, paint the base/skirt area of the table.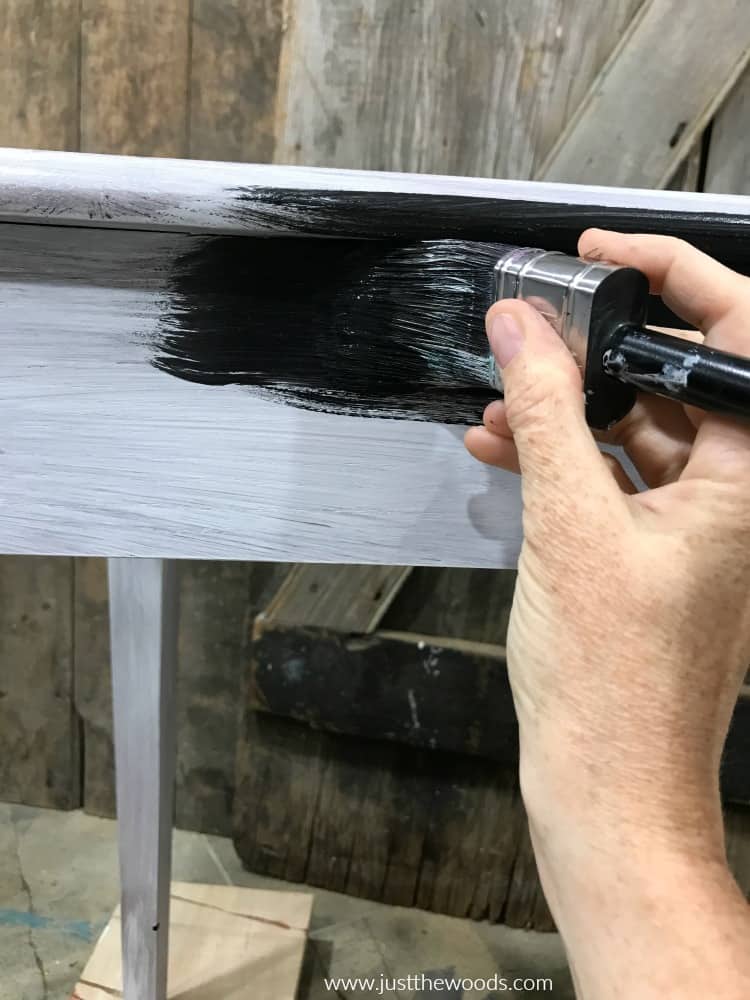 Don't forget that edge along the tabletop. Basically, apply your black paint over all of the areas where the Slick-Stick is. This won't be hard to do since the Slick-Stick is white and your paint is black. If you accidentally get a little black furniture paint on the top where we need to apply black stain – don't worry. We can take care of that too.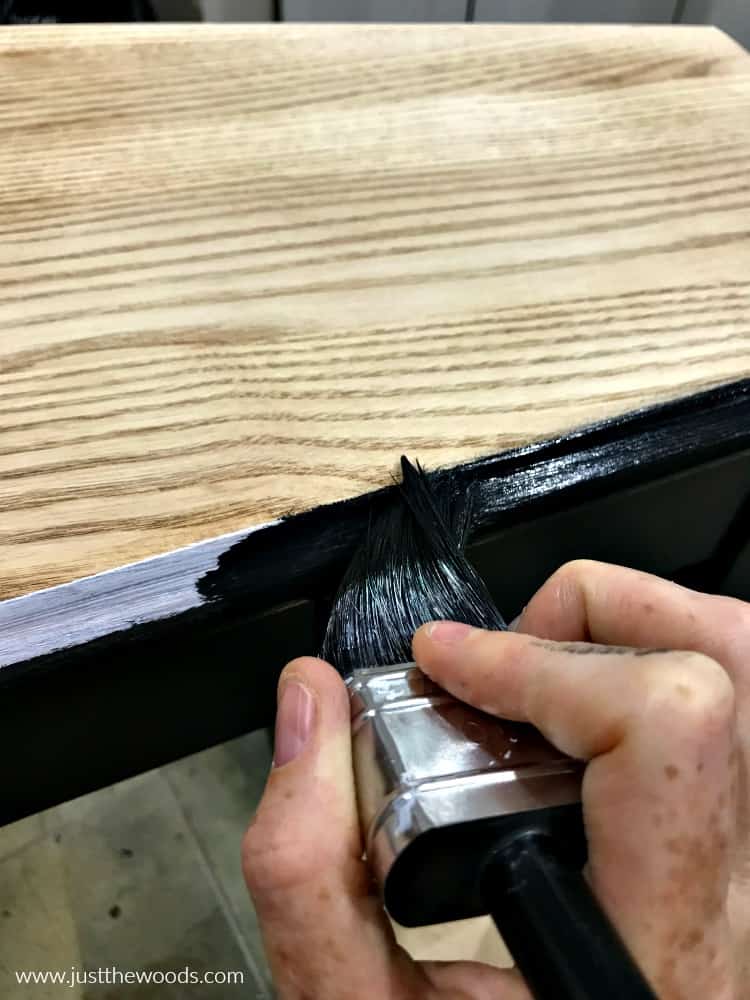 See how amazing this looks after only one coat of black chalk paint? Holy moly this paint sure does have great coverage and provides a solid color with just one coat.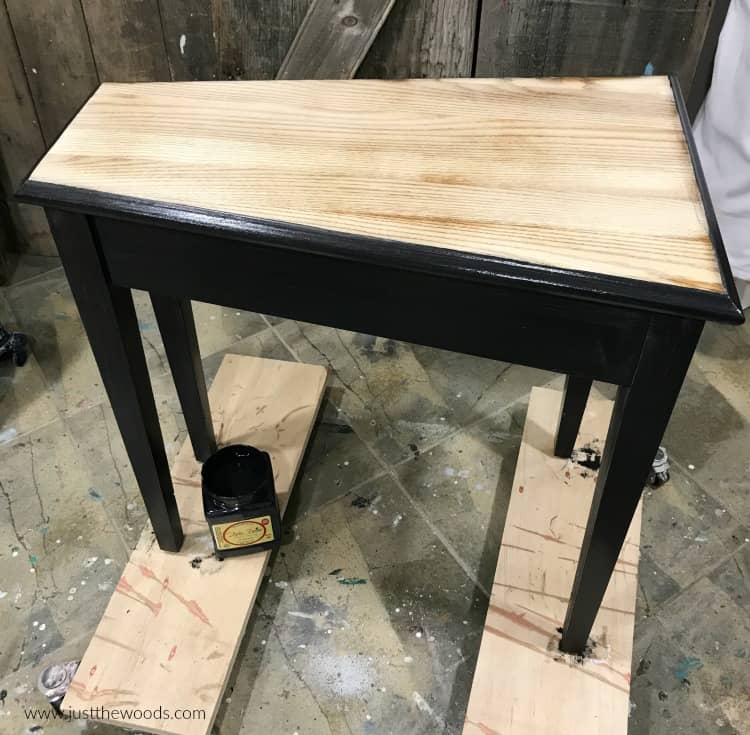 Ok, ok, don't get too excited. We almost always need a second coat. Whether the one coat is good enough or not I like to add a second coat for good measure no matter what. You can see, when the black paint dries it surely needs a second coat just to bring it all together.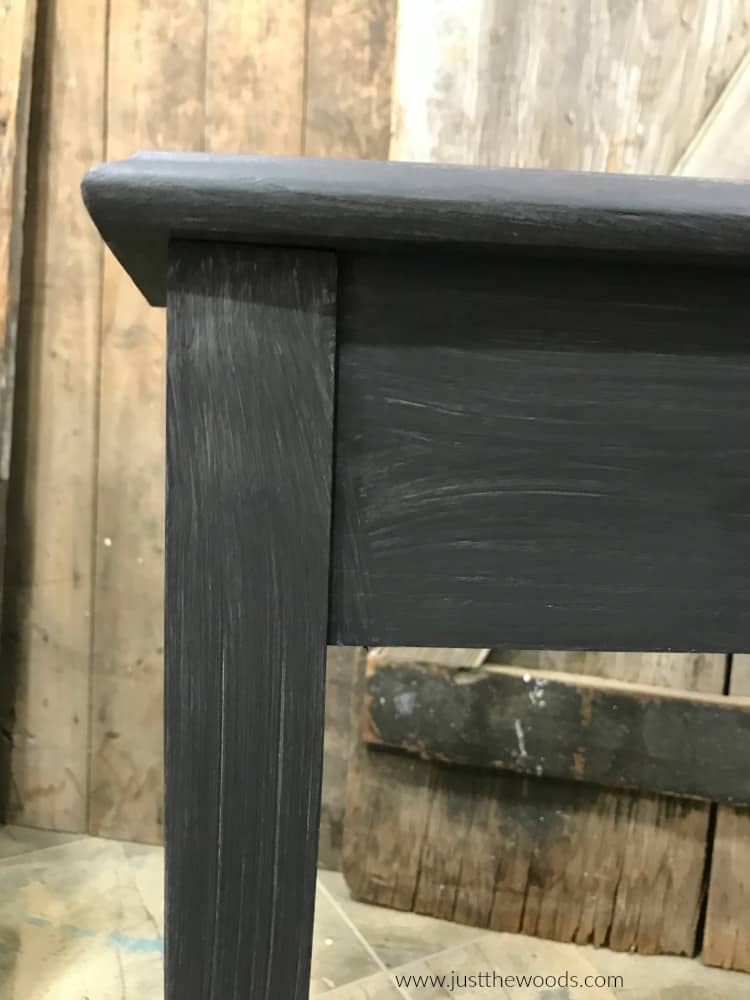 Click here to Pin this post for later.
Touching Up Your Painted Furniture
As I said, you might get some black paint on the bare wood area. I certainly do. As a matter of fact, you can probably prevent this with some painter's tape. Or, I have another solution.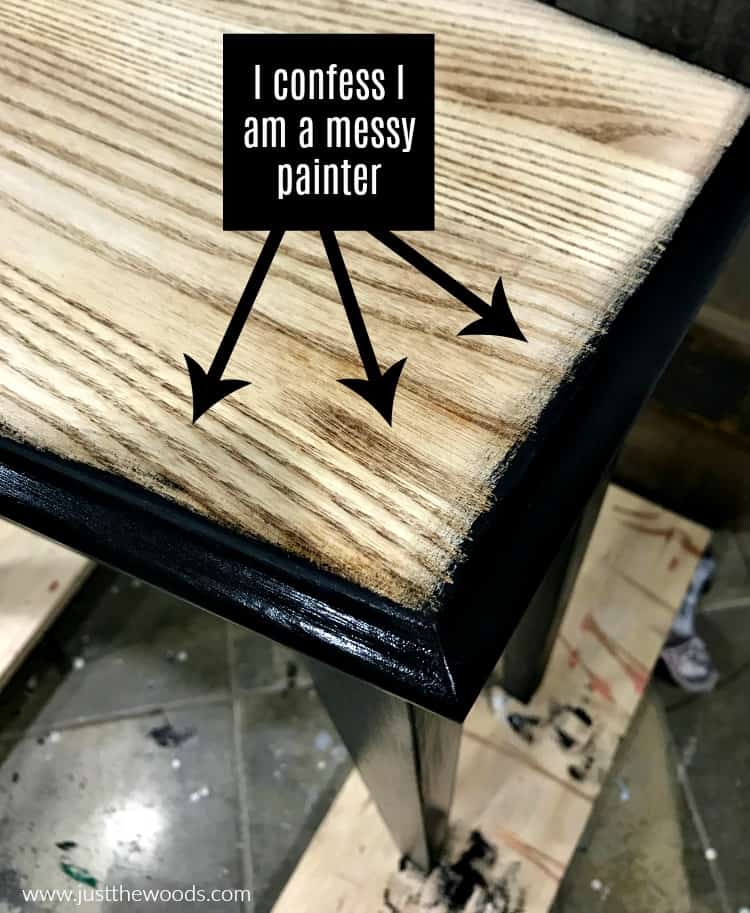 A quick one-two with the orbital sander can fix this in a snap.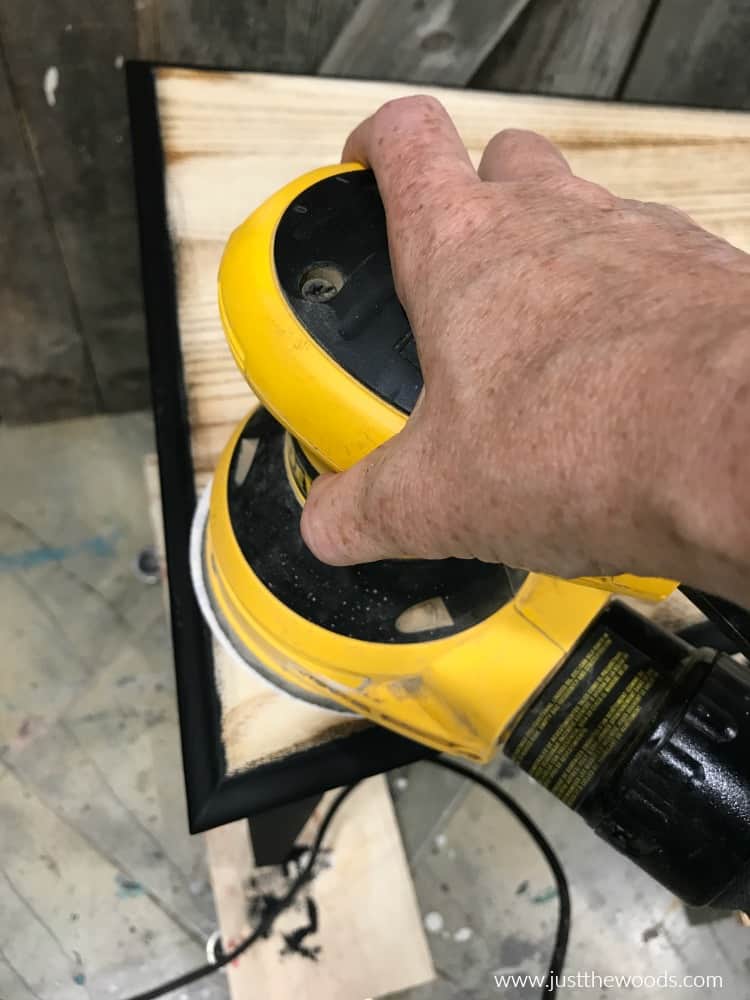 This feels like a much quicker and easier fix than painters tape. Look how crisp and clean the edge looks!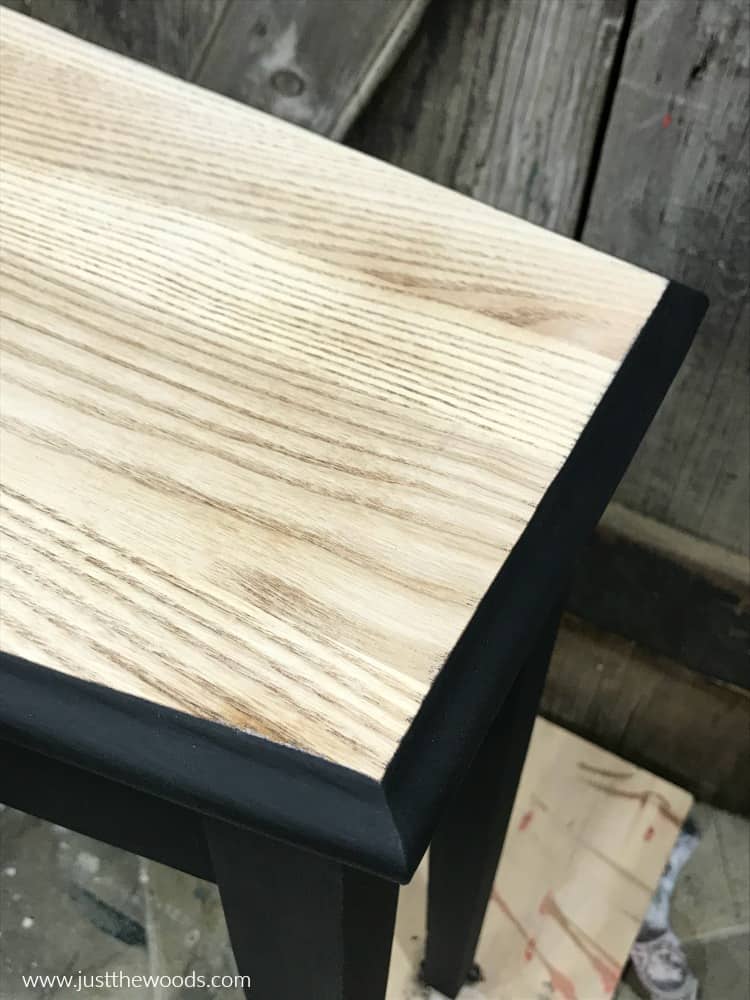 Sanding Black Distressed Furniture
We don't want to get too crazy with the sanding block but we are going for a slightly black distressed furniture appearance on our table. To do this we will need a 220-grit piece of sandpaper. Nothing too rough, but rough enough to distress the edges.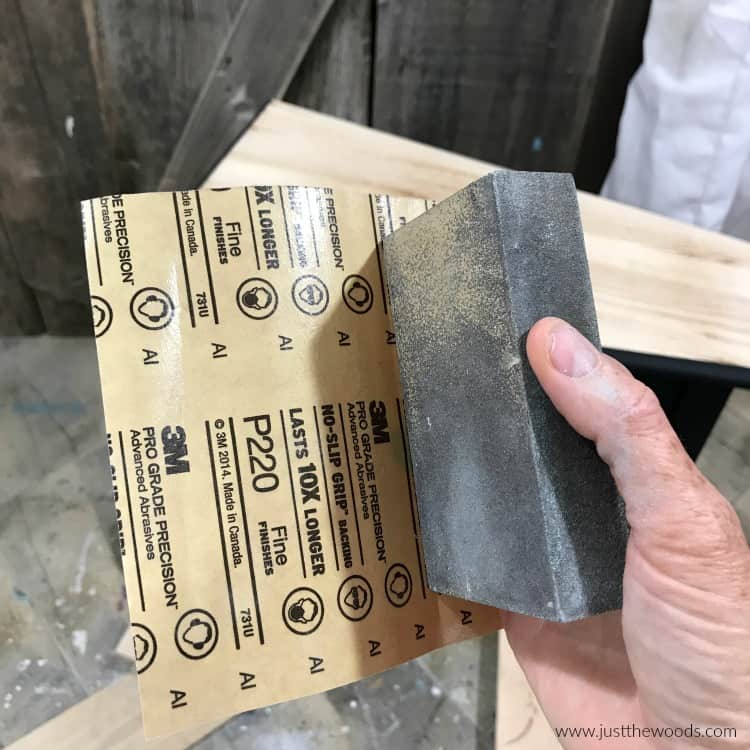 With your sandpaper, you will need to lightly sand along the edges of the table wearing away the paint any place where it would normally wear over time.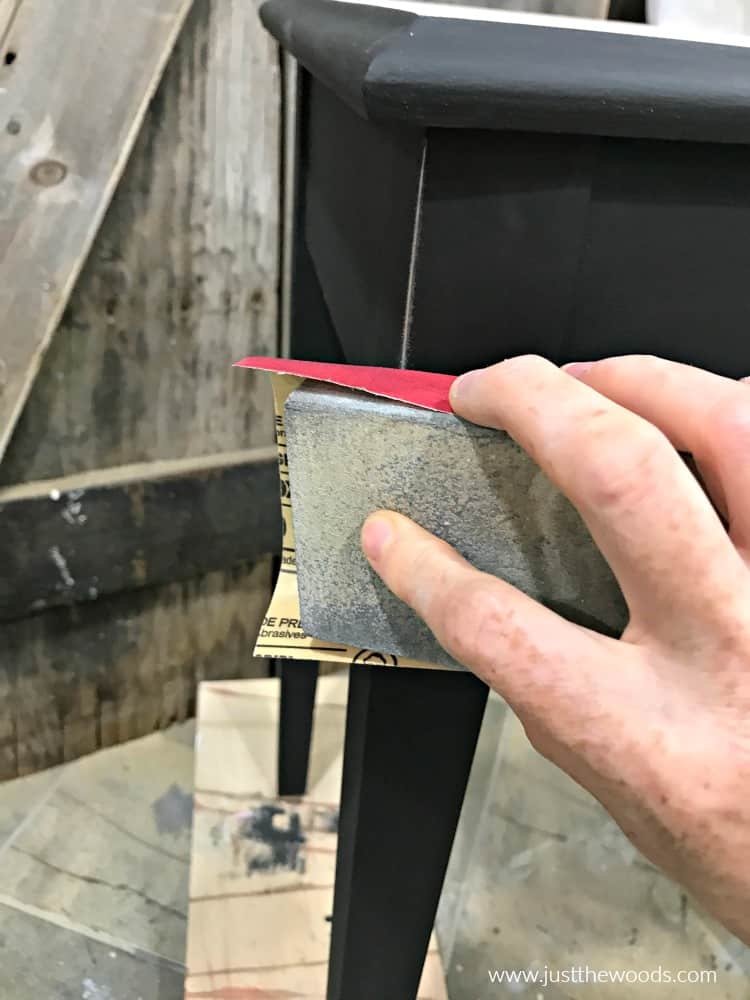 Black Wood Stain Table Top
Next up in our furniture refinishing project is the black wood stain. This is like the icing on the cake. When you want to know how to stain wood furniture darker it is still going to be easier to work with bare wood. And we are already there.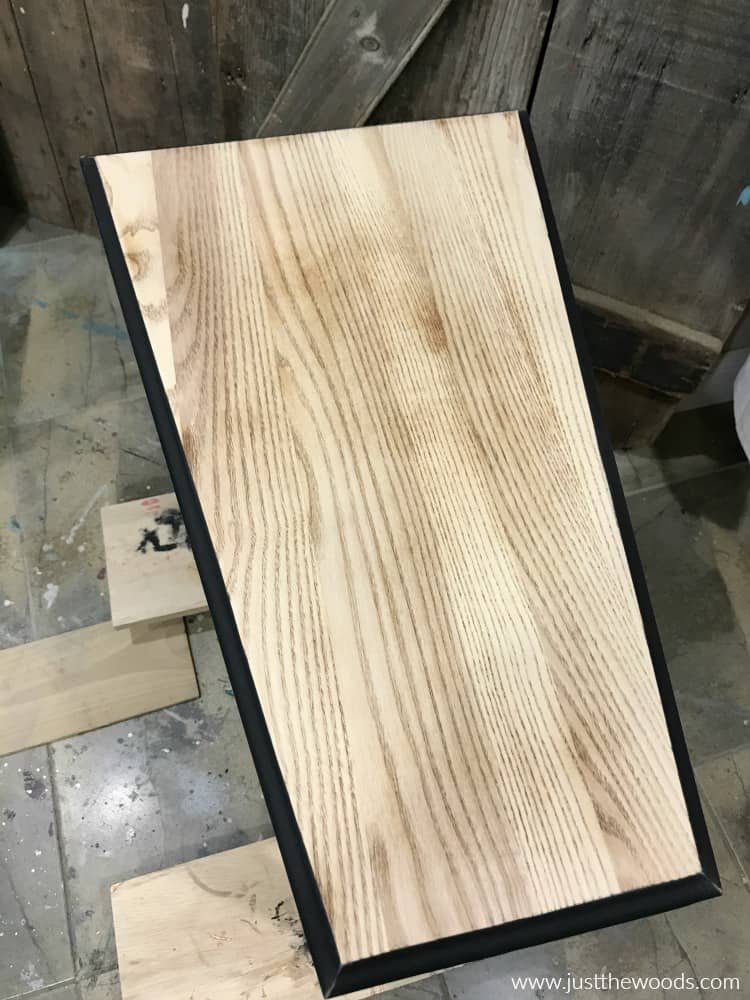 Black stain is an amazing alternative to traditional brown. For this painted table project I am using Black Magic gel stain from Dixie Belle. It is a water-based stain, but they do also carry oil-based stains called no-pain gel stains if you'd like to check them out. You can get this wood stain as well as the different stain colors/shades online HERE.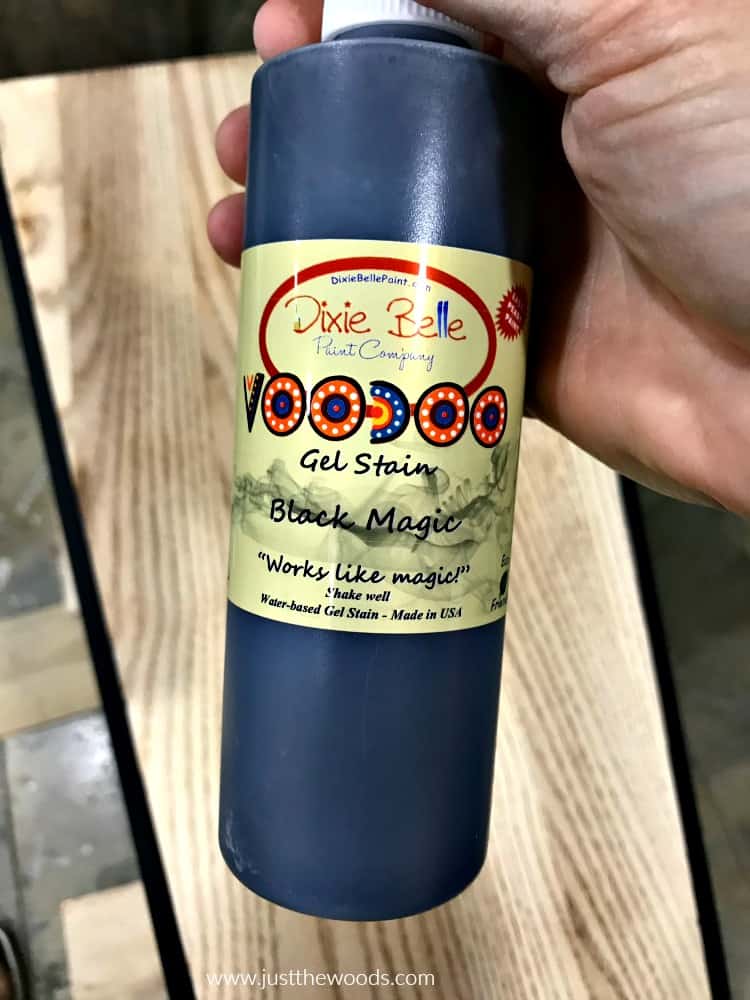 Make sure to shake the bottle well before you begin. It's always a good idea to keep your finger over the cap when you shake because, well, you just never know.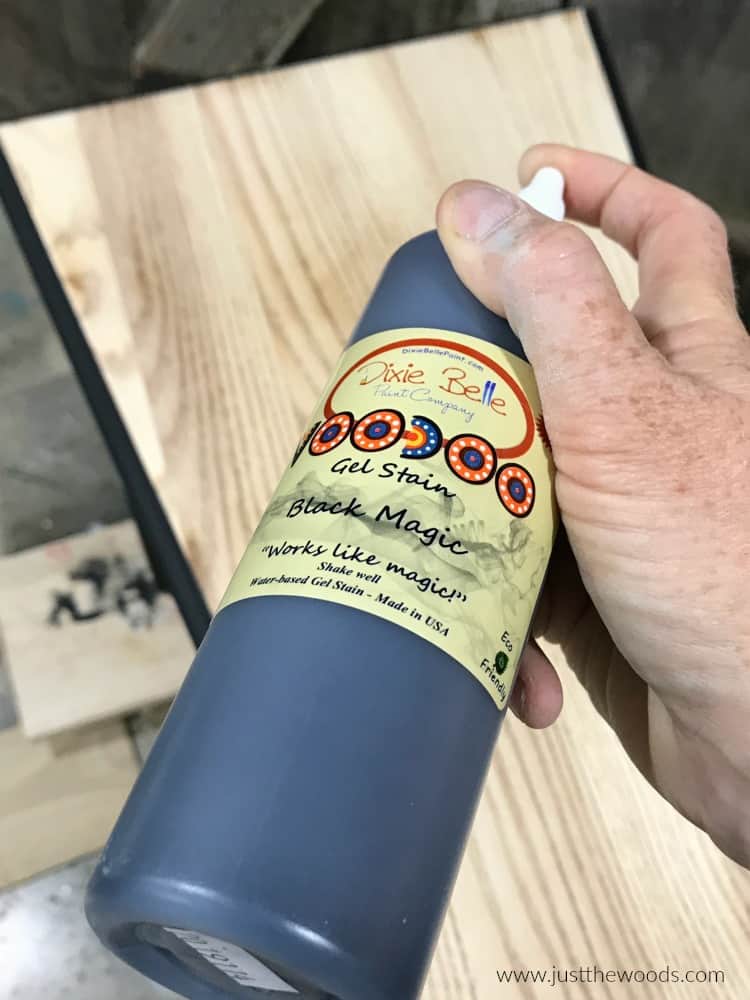 Go ahead and squirt some of your beautiful black stain onto a paper plate.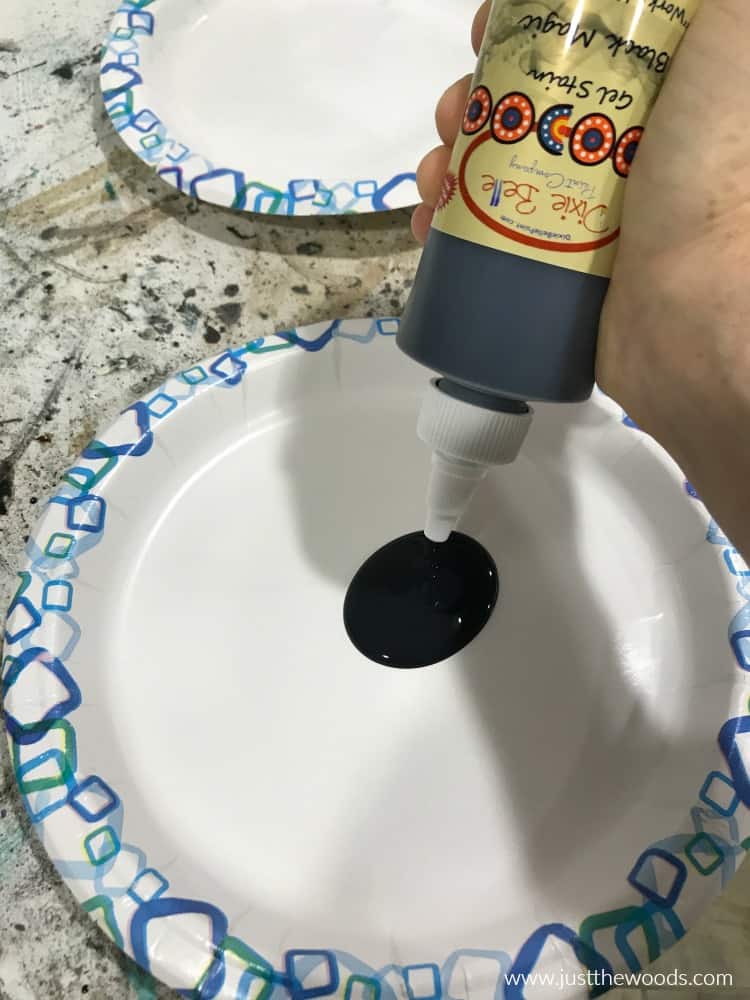 Grab your trusty yellow applicator sponge. I love this thing and use it for applying wood stain, sealer, glaze, top coat, etc. You can grab some online HERE
Dab your sponge into the black wood stain to get just enough on the sponge but do not drench the sponge. Wipe any excess back onto the paper plate. I normally work with a slightly damp sponge to start.
How to Apply Black Wood Stain
To apply the wood stain to your table you want to make sure that your tabletop is clean and dust-free. If needed, go ahead and wipe the table with a dust free cloth before you begin. I keep a bucket of these in my shop- HERE.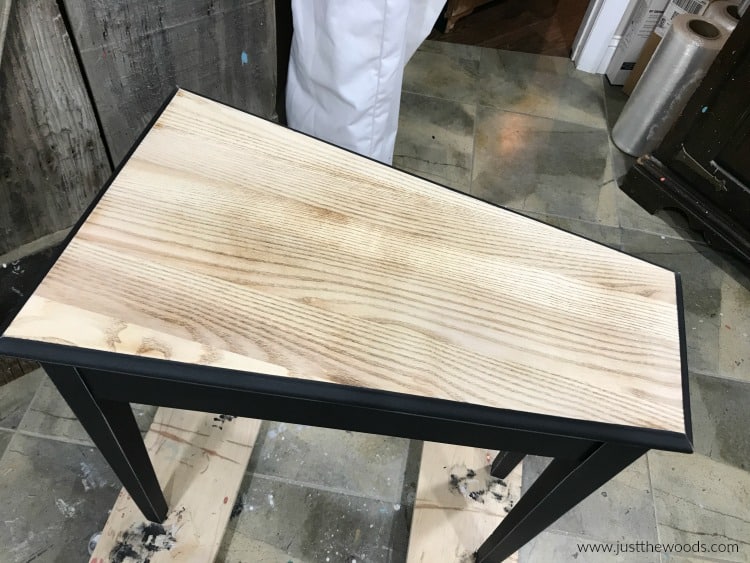 Now slowly drag your damp sponge down the table going in the same direction of the grain.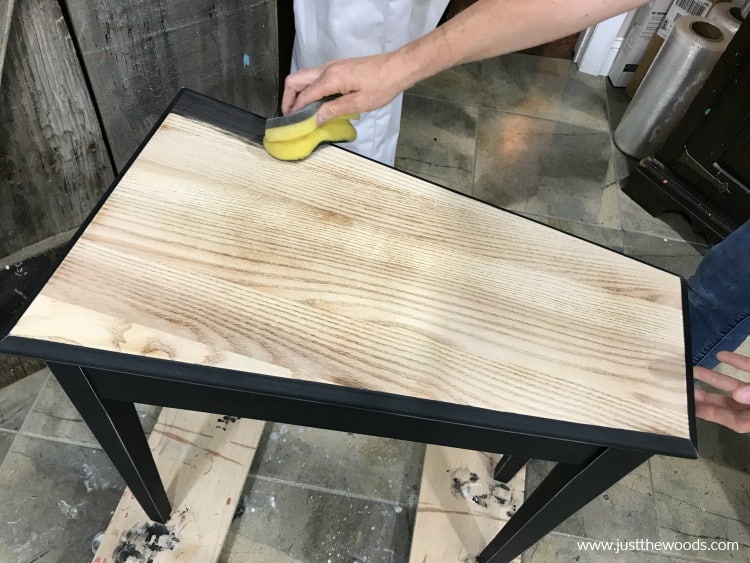 As you go you will find the amount of pressure that allows the stain to absorb into the raw wood without being too much or too little. Don't overthink and don't overwork the wood stain.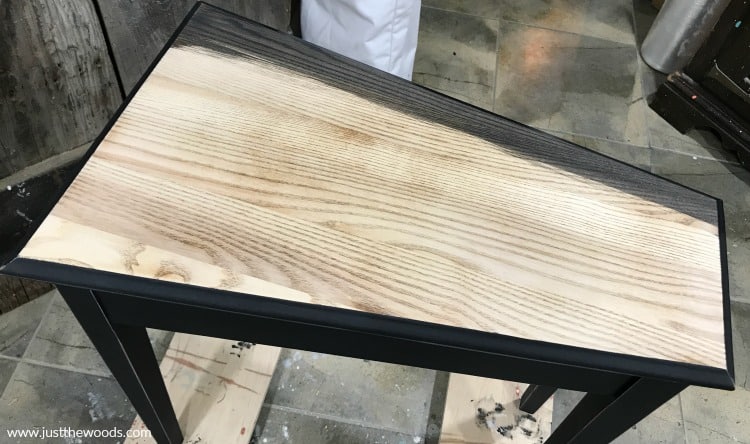 If you notice that the black stain is lighter in one area than the rest, don't worry. Also, don't try to get it to match with the first coat. The second coat will even it all out.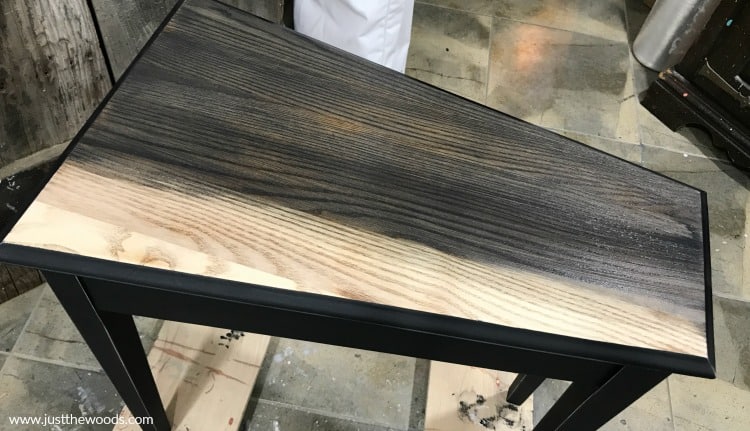 The first coat looks pretty darn pretty if you ask me.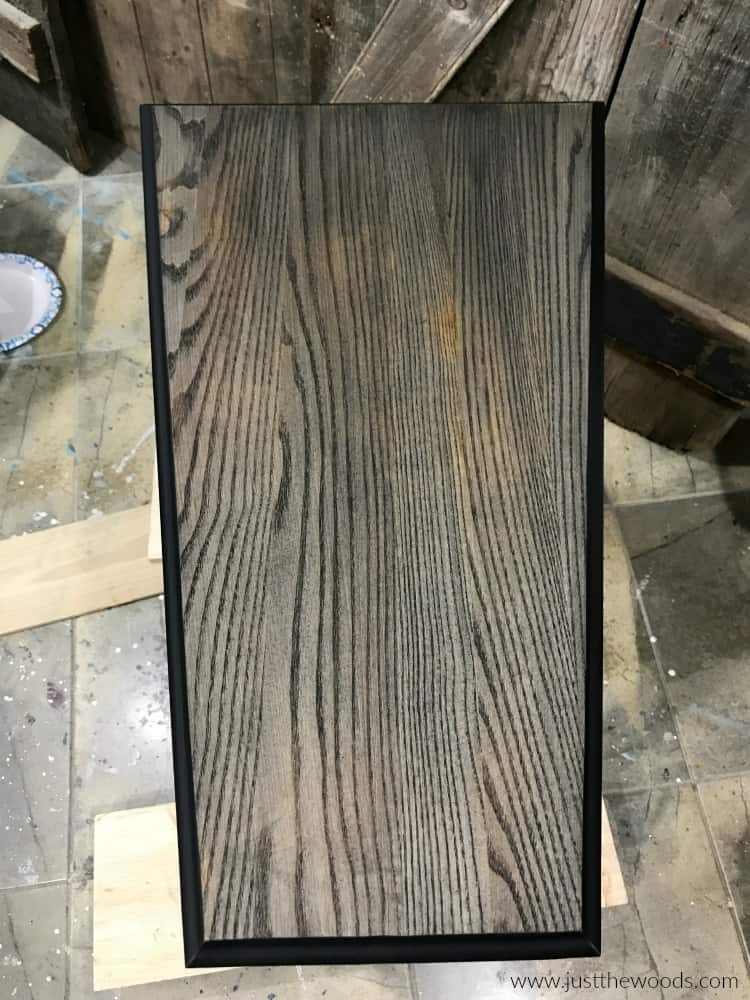 Once fully dry you can apply a second coat of wood stain to your black painted table in the same exact manner as the first. If by chance, you aren't a fan of black, then make sure to check out How to Apply Wood Stain on these farmhouse-style white-painted tables with brown stain tops.
Click here to Pin this post for later.
Sealing Your Wood Stain Table
Before we apply a top coat over the black stain I like to give the top a quick once over with fine-grit sandpaper to keep it super smooth.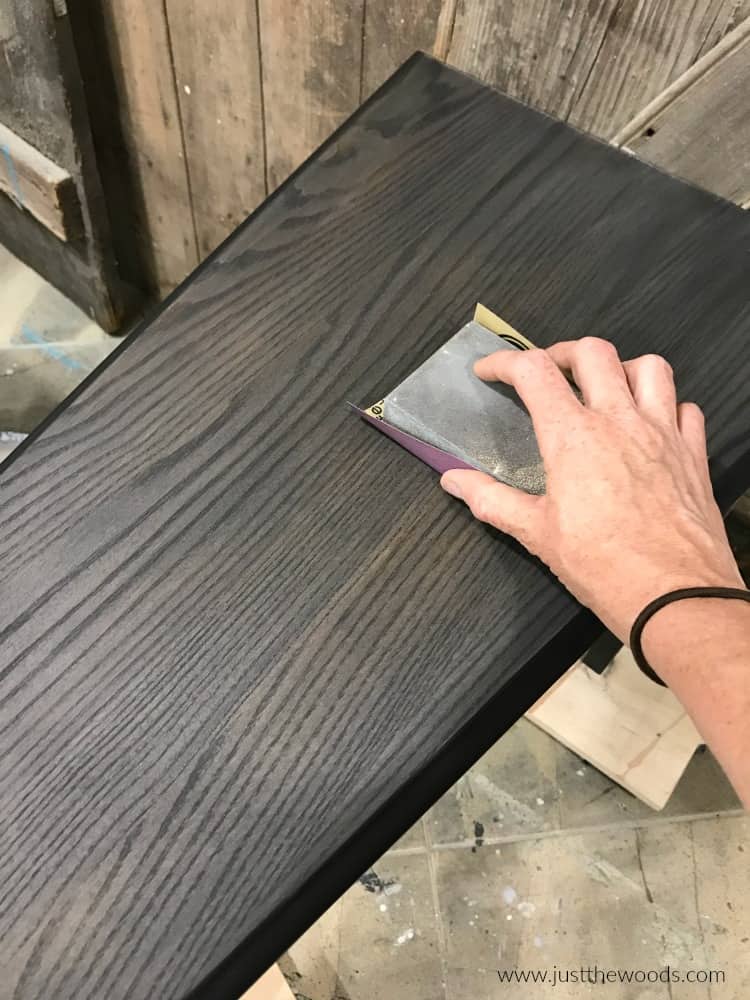 Make sure to follow up with a lint-free cloth (or tack cloth) to remove the little bit of dust you may create.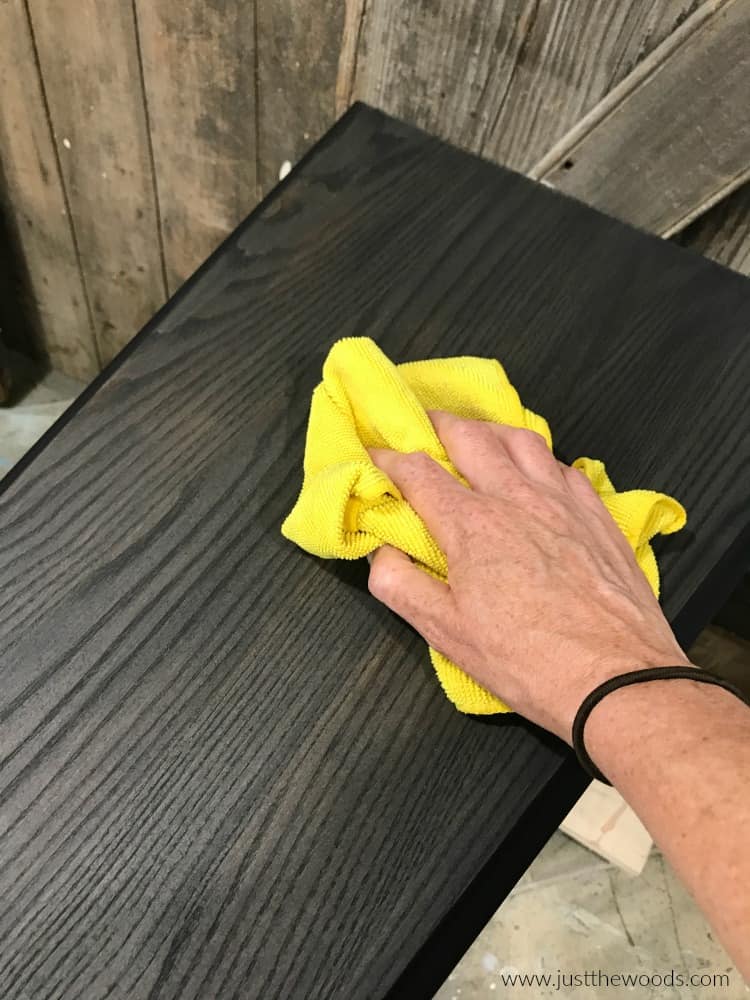 To seal this black distressed table top I am using Gator Hide from Dixie Belle. Gator Hide is water-repellant and pretty hardcore. I figure it is the best choice when sealing a table or any interior furniture that could endure high traffic. You can get Gator Hide online HERE.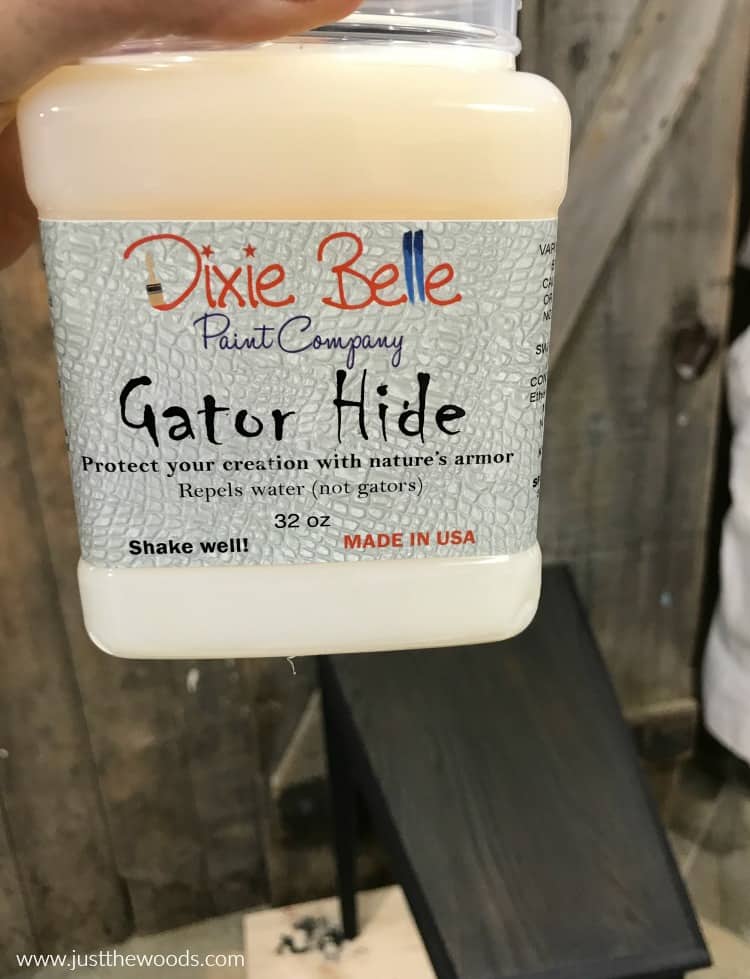 Just like the black wood stain, we are applying the sealer with the yellow sponge. Make sure you clean it in between uses though.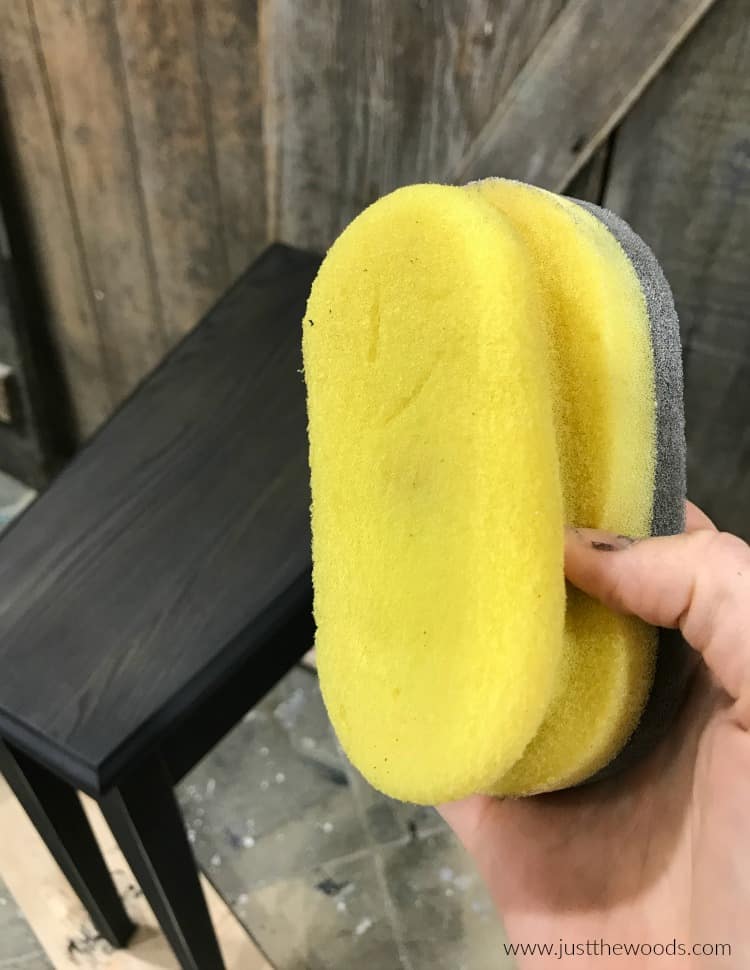 You can see how the clear top coat really enhances the wood grain pattern and brings the wood stain to life even more. Once completely dry, go back and apply a second coat because two thin coats are better than one.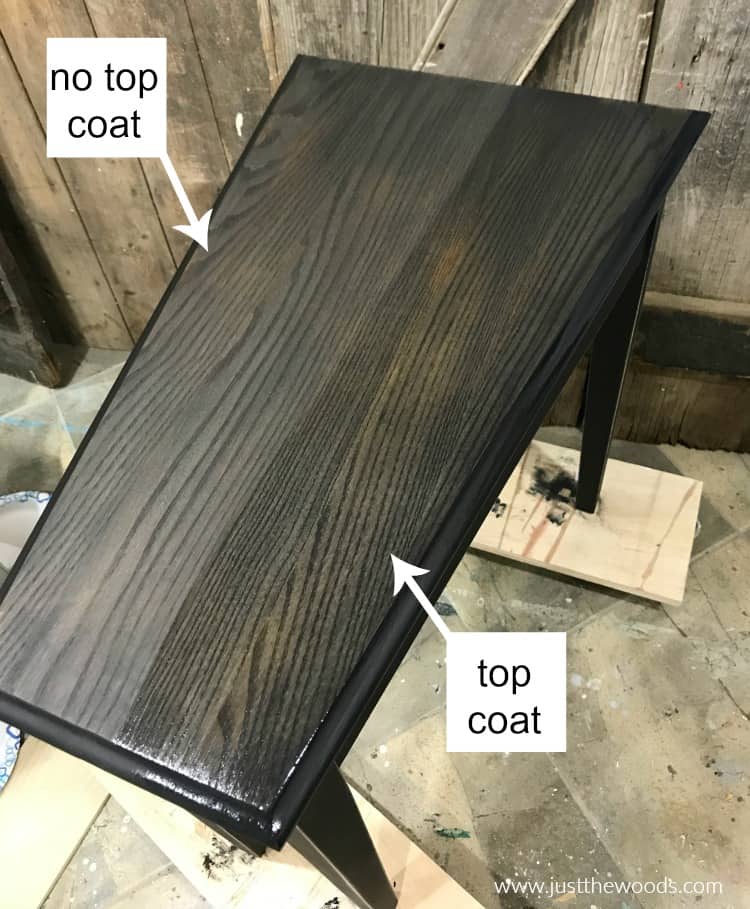 Sealing Black Painted Furniture
Now that the table top is all sealed and finished we still need to seal the rest of the black furniture paint. This is a little trick that I like to do. Grab your black paint – you know the same one that we use to paint the table.
Next, grab your clear sealer. You can use Gator Hide for this or the satin or matte sealer found HERE. Gator Hide and the other listed sealers are all water-based topcoats so any would work. Scoop some clear sealer onto a paper plate and then add a little bit of your black paint to the sealer. Make sure you have more sealer than black paint, you literally only want to tint the sealer while still keeping its strength.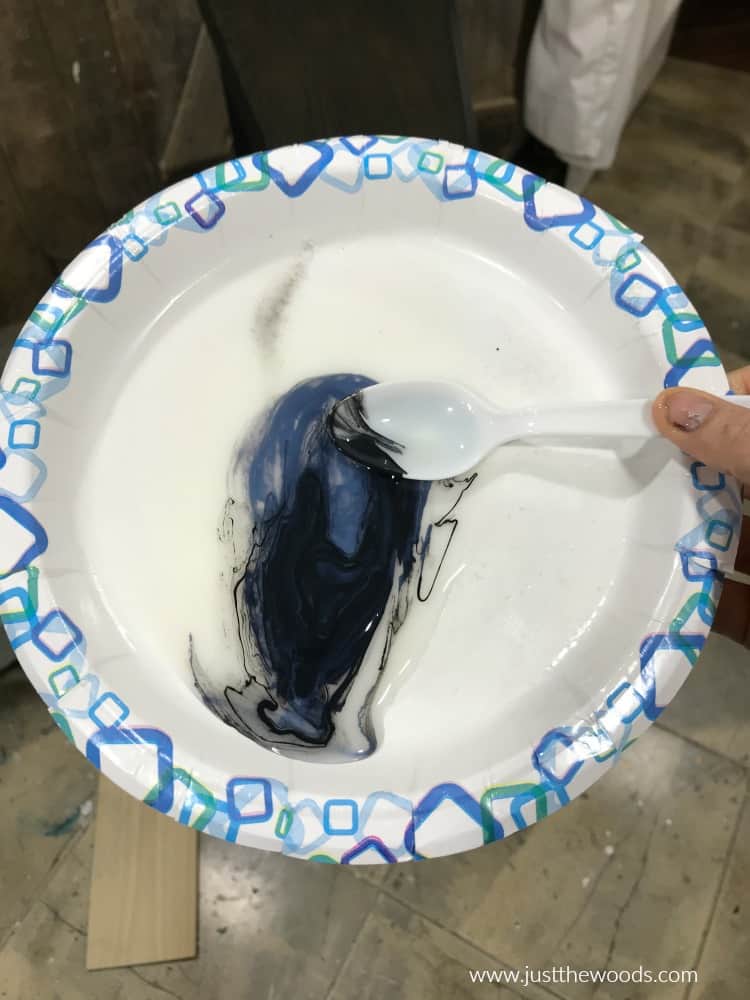 Using your applicator sponge, just like before, dab the sponge into your tinted sealer. Make sure the sponge is not soaked.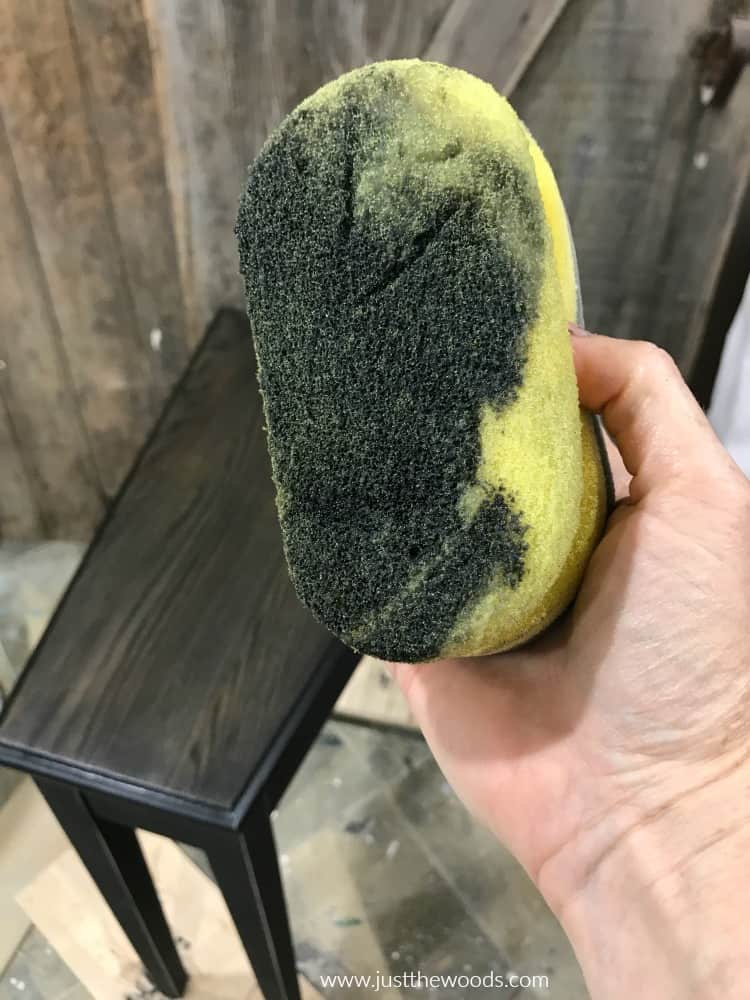 Now go ahead and seal the black furniture paint areas of your distressed black table.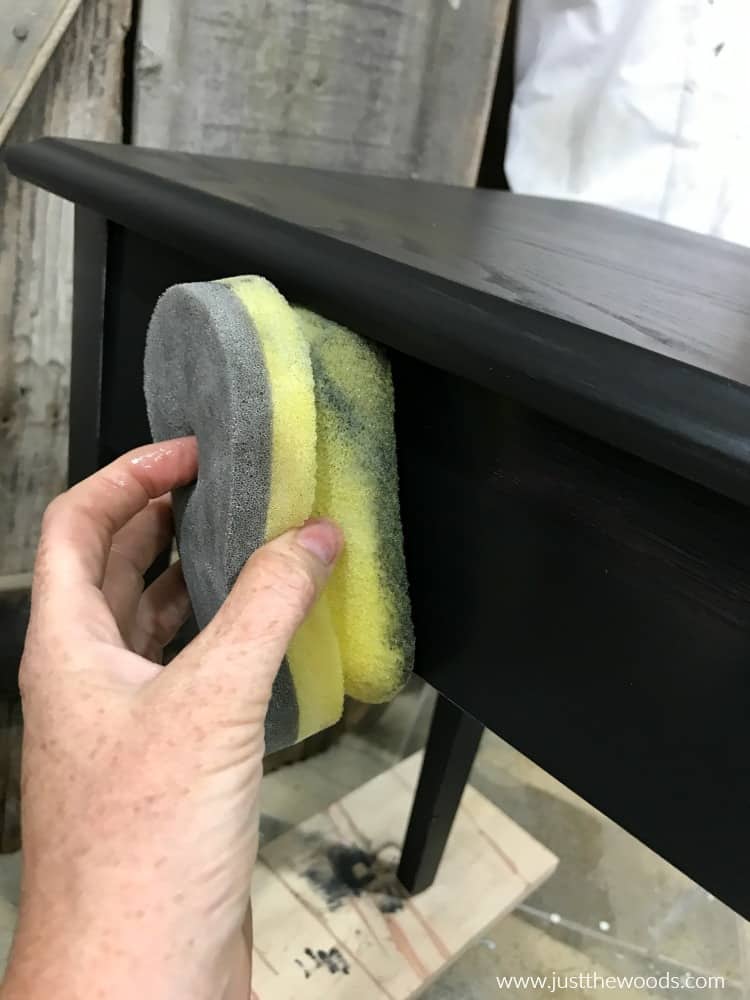 Once sealed your black painted table is looking pretty sharp.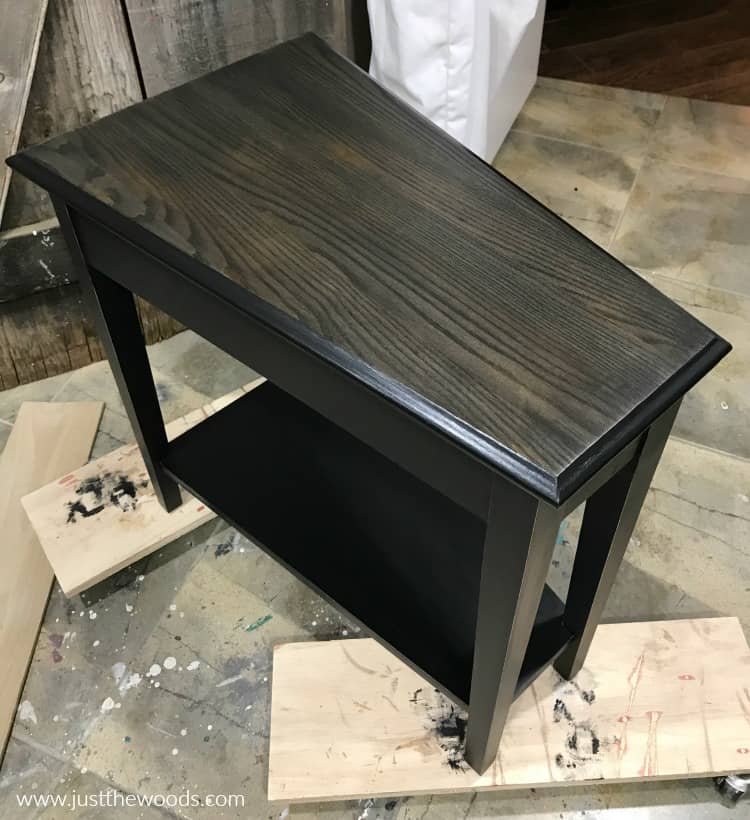 If you ever have questions about sealing your furniture makeover project you can find a full tutorial with video on how to apply clear sealer here: Sealing Painted Furniture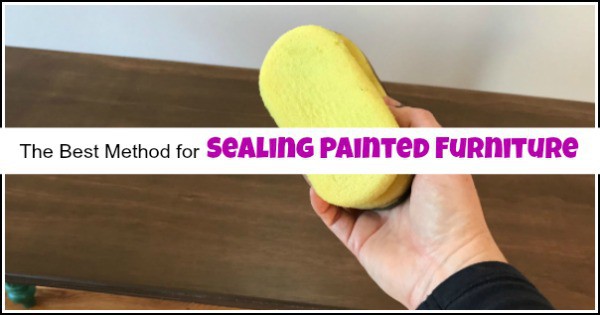 How to Paint a Table with Black Paint and Black Stain Video Tutorial
You can follow the project via a video here. If you are unable to see the video you may need to turn off 'ad-blockers' on your site. The video may also autoplay within the tutorial post.
Click here to Pin this post for later.
Click here to Pin this post for later.
Gilding Wax
Now I know that the table looks great with just the crisp black furniture paint and gorgeous black wood stain. But, just for fun, I am adding a little something more. I have this deep cranberry maroon gilding wax and it's been begging to be used. I just haven't had a project to use it on, until now. It's called Anastasia from Dixie Belle and can be found online HERE.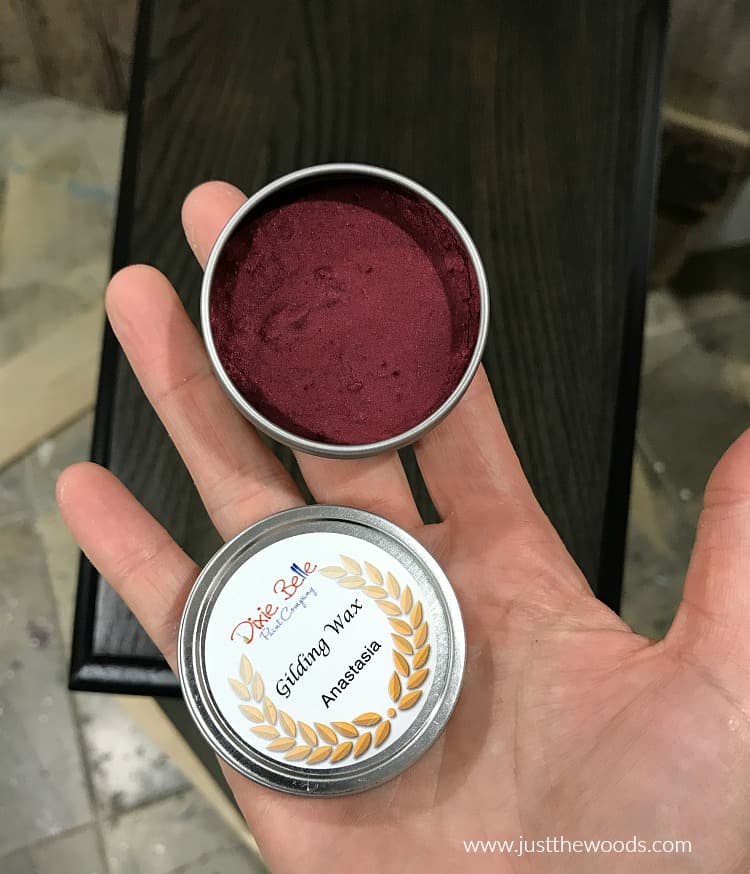 To be honest, I am not sure how this will come out, and I certainly don't want anything drastic but I simply can't help myself and I feel the need to try this color. So in typical gilding wax application fashion, I dab my finger into this luscious color.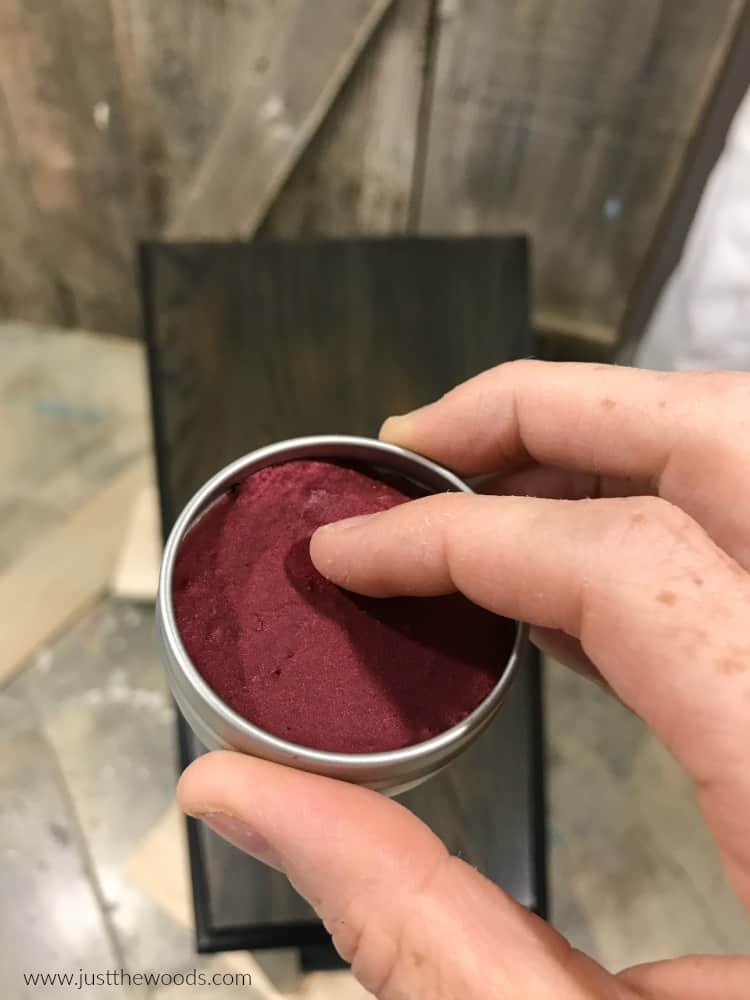 In the words of my late grandmother – "a little dab will do ya."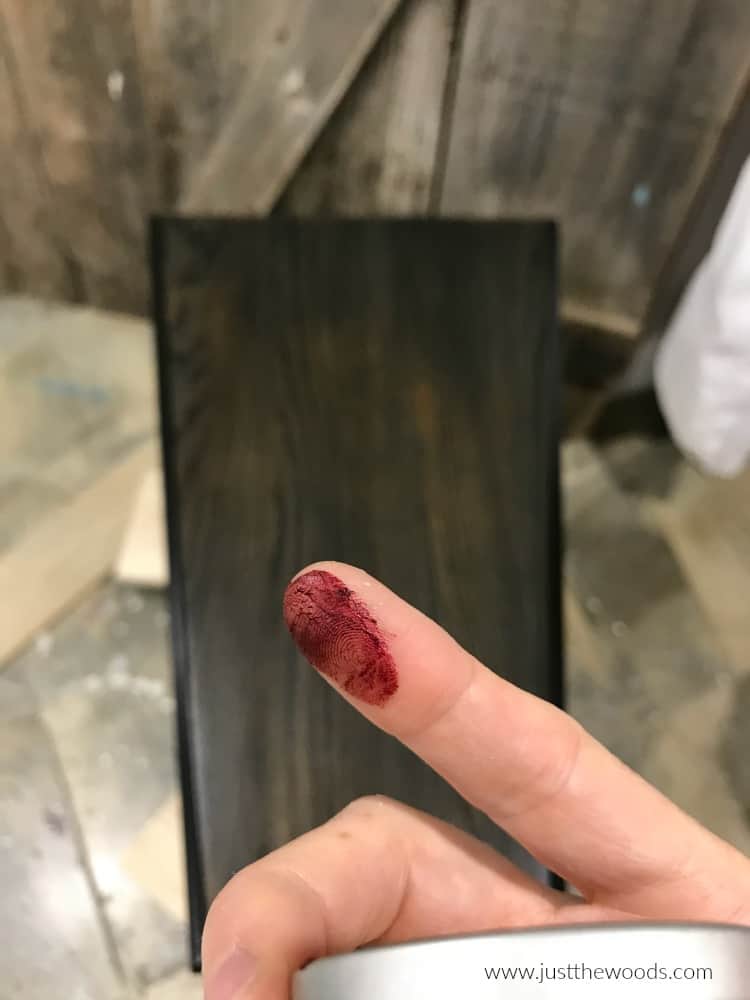 One section at a time, go ahead and rub some of the gilding wax along the edges of the painted table.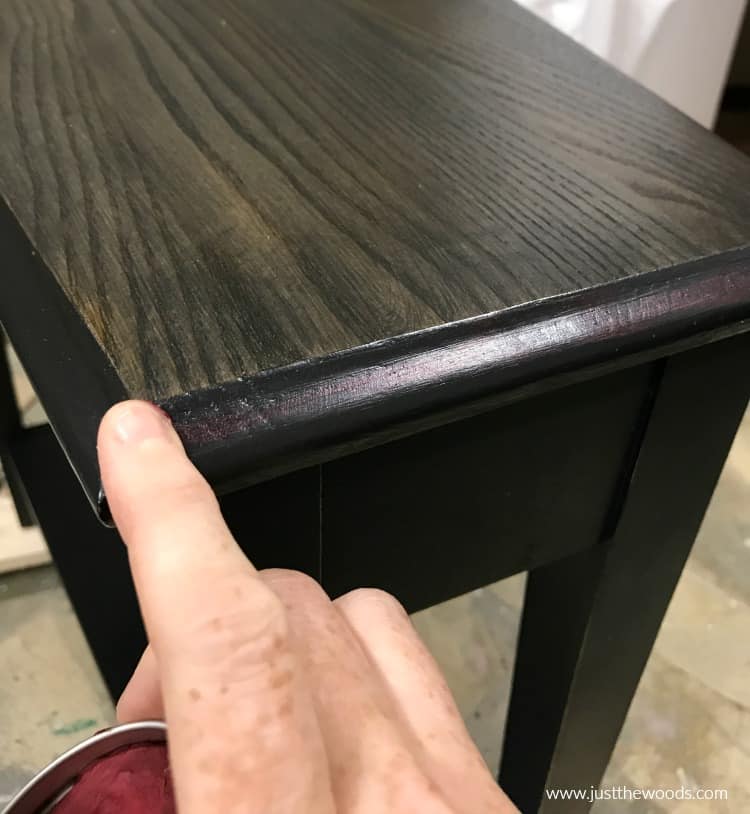 Next, go back with a clean cloth (or an old T-shirt) and buff the gilding wax. This will tone it down a bit as well as remove any excess.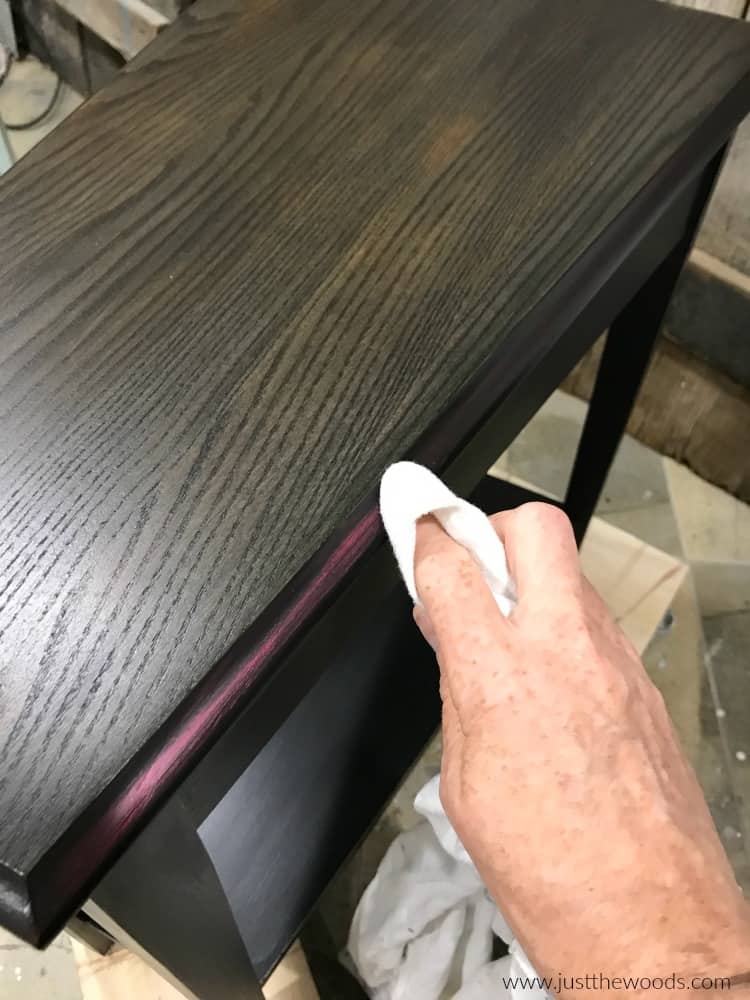 The results are subtle, which is good. I'm sure if you use this over a lighter color furniture paint the results will be even more noticeable. But for this black painted table, it adds the perfect light touch of shimmer to our black finish.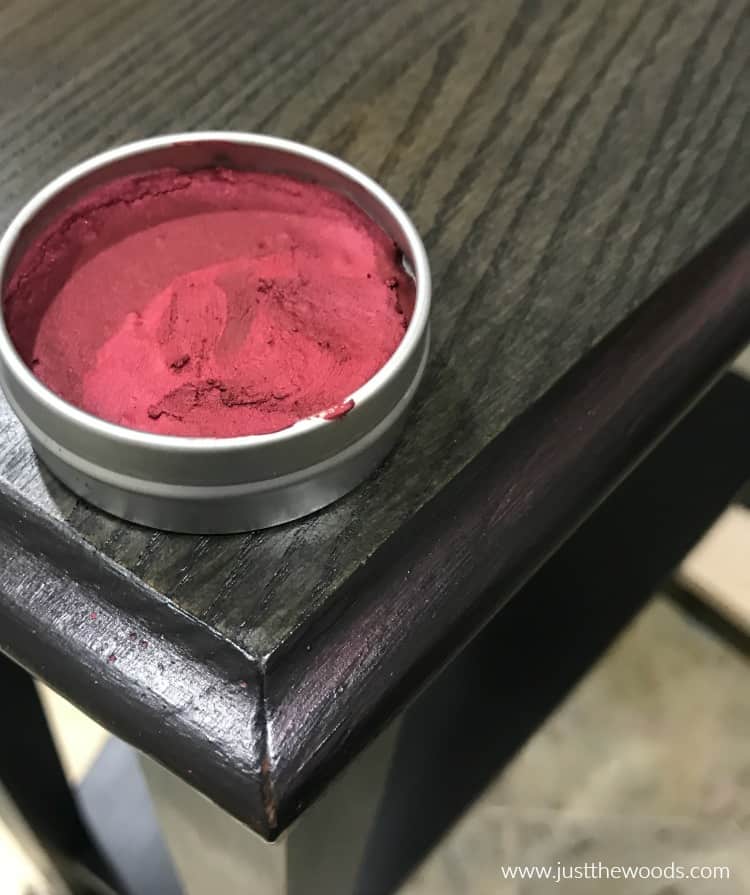 You can find another tutorial using gilding wax here on these Beauty and the Beast Inspired Bombe Chests, and another with a video tutorial here on this Painted and Layered Tall Lingerie Chest makeover.
Distressed Black Funiture with Black Furniture Paint and Black Wood Stain
Your table is all finished. This project, like many of my makeovers, is being donated to a local school, animal rescue, or charity to help with their fundraising efforts. Click here to see all of my different projects that have been donated to support local fundraisers, schools, and charities: Donation Projects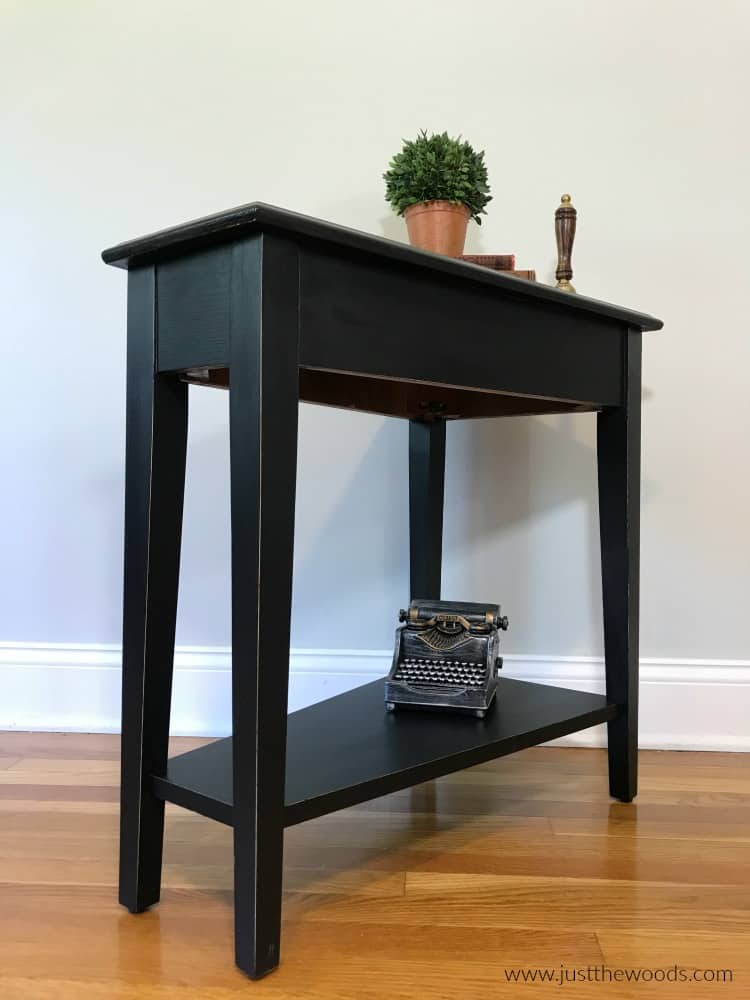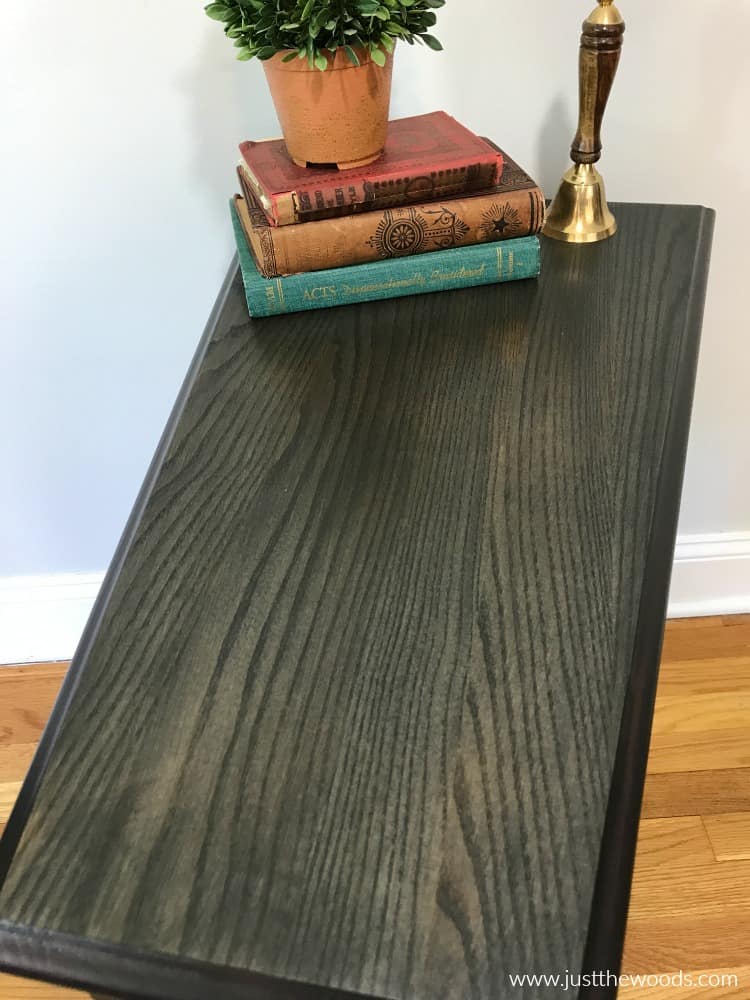 Click here to Pin this post for later.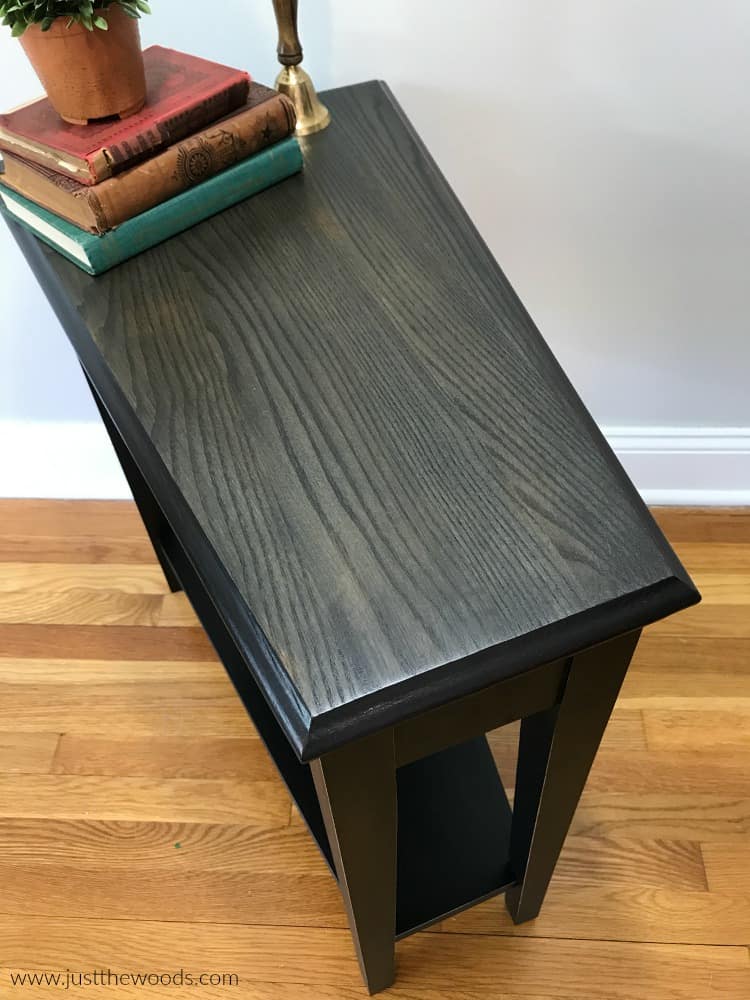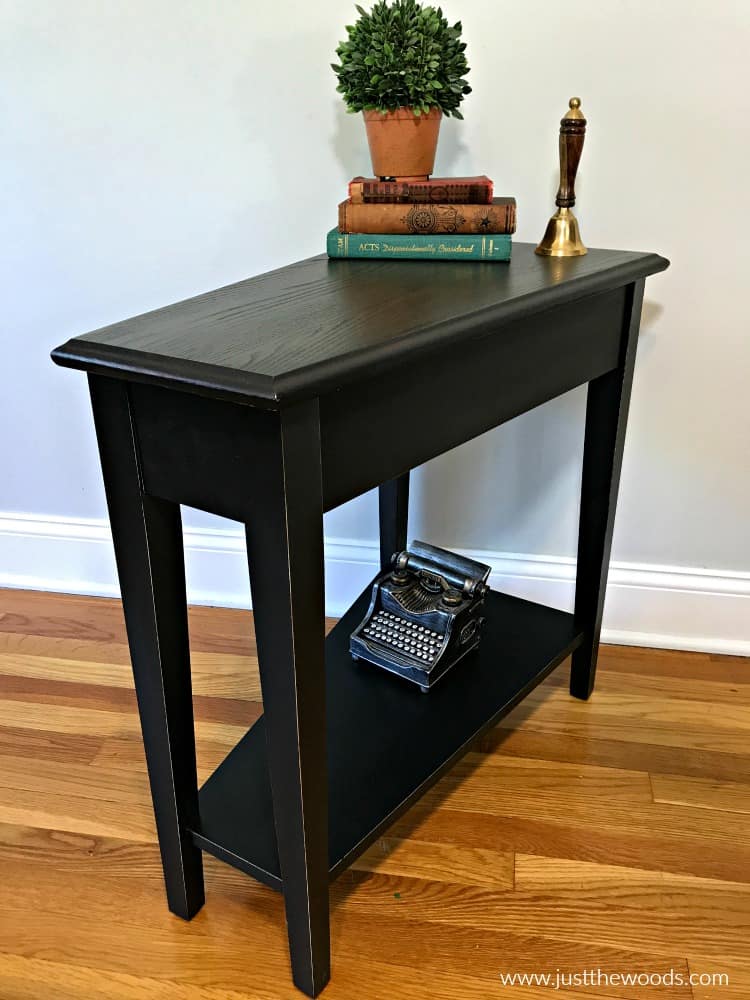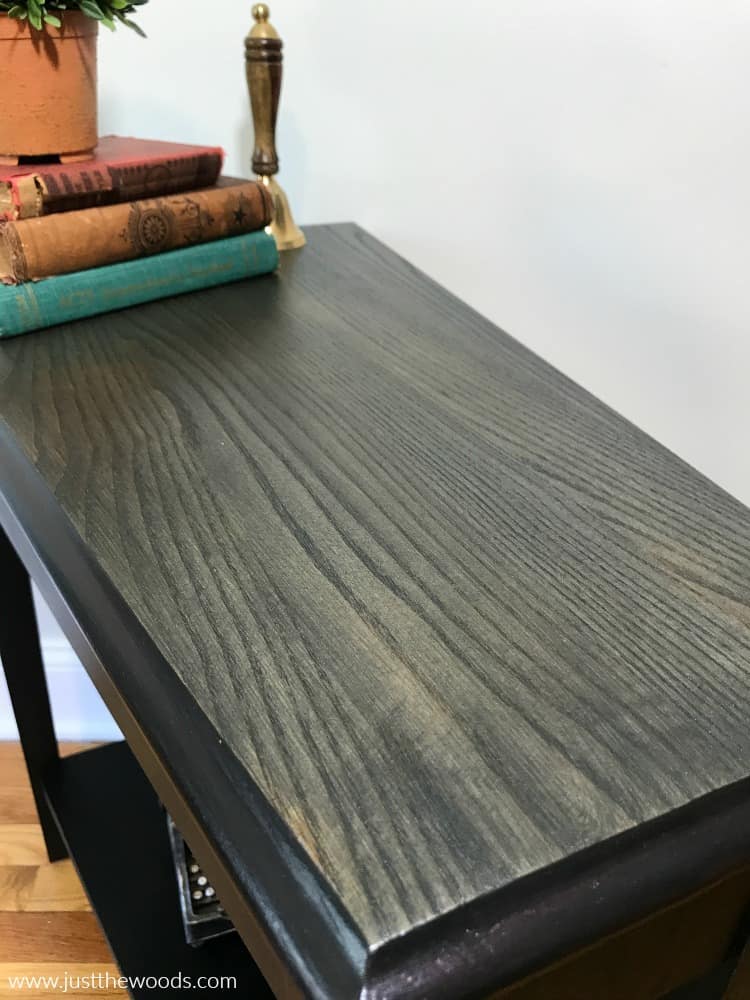 Grab any of my favorite products used for this project as well as many others online HERE.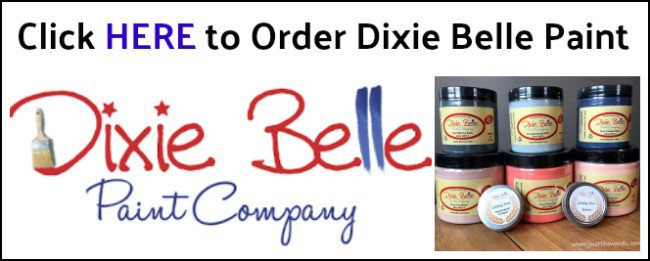 Frequently Asked Questions
Can I use this on a coffee table?

Of course, Make sure to properly seal the surface with light coats of sealer to protect it.

What if I want more of a gray color stain?

I would suggest using one of Dixie Belle's white stains and mixing it with the black stain to create the light tones you are going for.

Can I get a darker black wood finish with this stain?

To get a darker black stain finish you would need to apply more than two coats to your wooden surface. Each coat of stain will make the finish darker. This may also vary depending on the different types of wood. A light-colored wood will take longer to make darker while an originally dark species of wood will darken faster.

What is the difference between black wood stain vs paint?

I can only hope that this post has answered this question.
Furniture Fixer-Uppers
It's that time again when a few of my creative and talented blogger friends and I have joined together in our monthly Furniture Fixer Uppers share. Let's see what my friends are up to! Make sure to click the links below the image to check out all the amazing projects that my bloggy girls are working on this month.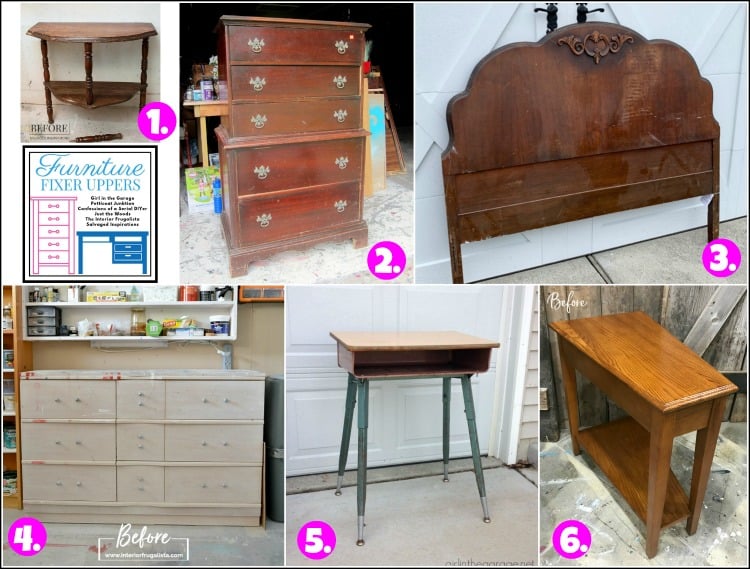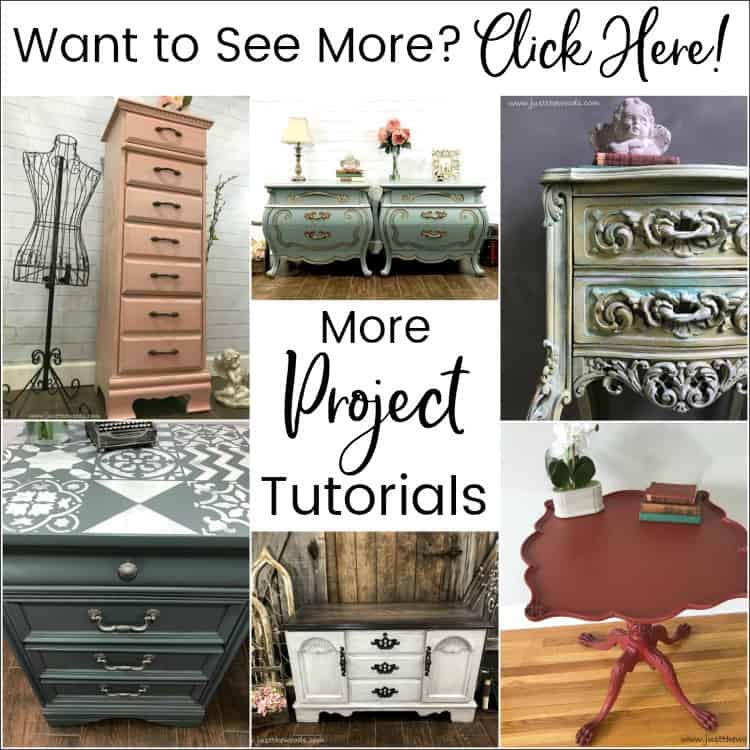 Don't Forget – Follow Just the Woods and Share this post to Inspire others:
FACEBOOK * INSTAGRAM * PINTEREST

Stay connected! For more tips and tricks sign up here :