Oatmeal protein balls are just another delicious snack that we love around here. These peanut butter oatmeal balls have only 4 ingredients, are no bake, gluten free, clean eating, and so easy to make.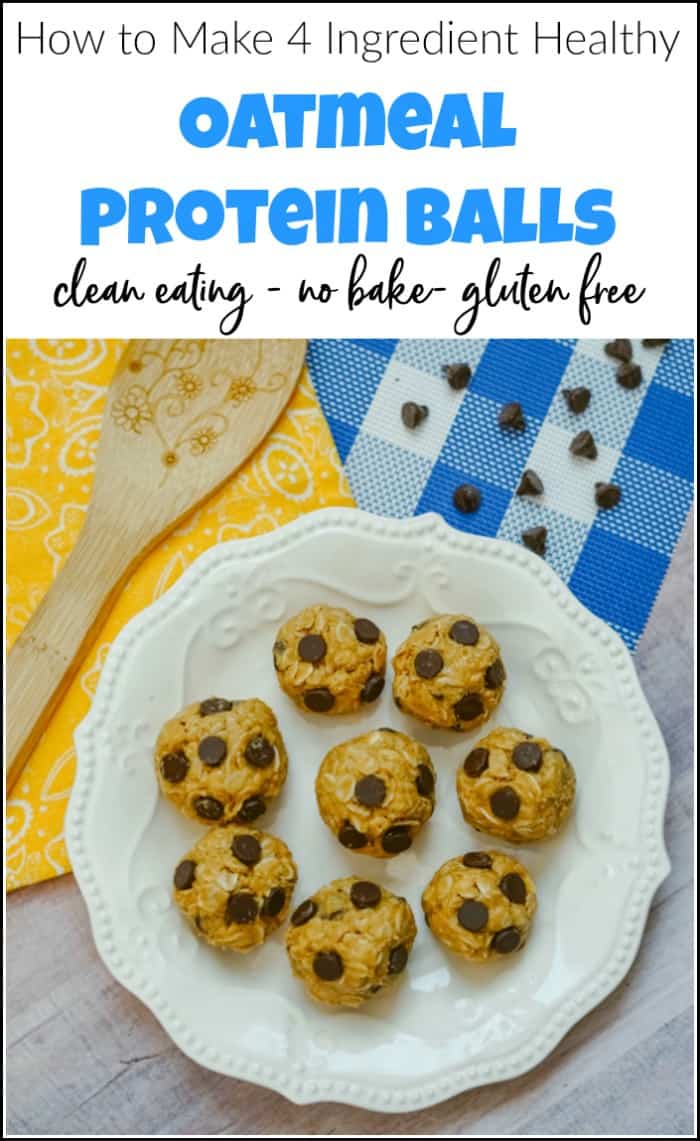 Disclosure: This clean eating oatmeal protein balls recipe post contains affiliate links for your convenience. Click here for my full disclosure policy.

No Bake Oatmeal Protein Balls Recipe
What You Will Need (Full Printable Recipe Available Below)
Ingredients:
2/3 cups natural peanut butter
1/2 cup cacao chips (85% or higher)
1 cup gluten free rolled oats
2 Tbsp raw honey
Homemade protein balls are one of my all-time favorite healthy clean eating snacks. I keep mine in a container in the fridge for when I want something quick, easy and to curb the sweet cravings. I admit that once in a while I eat so many that it feels like I'm defeating the purpose. They are so yummy it's hard to believe they are healthy. These chocolate chip peanut butter oatmeal energy balls are actually gluten-free and refined sugar-free making them virtually guilt free. Some days I snack on raw nuts, while other days I really want something sweet and peanut buttery. This energy balls recipe is a family favorite in my house. Along with all of my delicious smoothie recipes, there are always healthy energy balls, muffins and/or donuts in my grab and go stash of snacks. I am a huge 'snacker' so these have played a large part in my clean eating journey to losing over 50 lbs. Not to mention you can easily switch things up to adjust any oatmeal protein balls recipe to your liking.
Clean Eating Basics
That being said, I am all about eating healthy and clean eating. If you are new to a clean eating way of life then you need to check out Everything You Need to Know about a Clean Eating Diet. You can also see how I lost 50 lbs and am keeping it off by following a clean eating diet here: How I Lost 50 Lbs Clean Eating. I tend to try different things and mix different flavors to keep meals healthy and tasty. Snacks are also my jam. I love making homemade protein bars, muffins, and energy bites. You can never have too many snacks on hand. Just don't eat them all at once.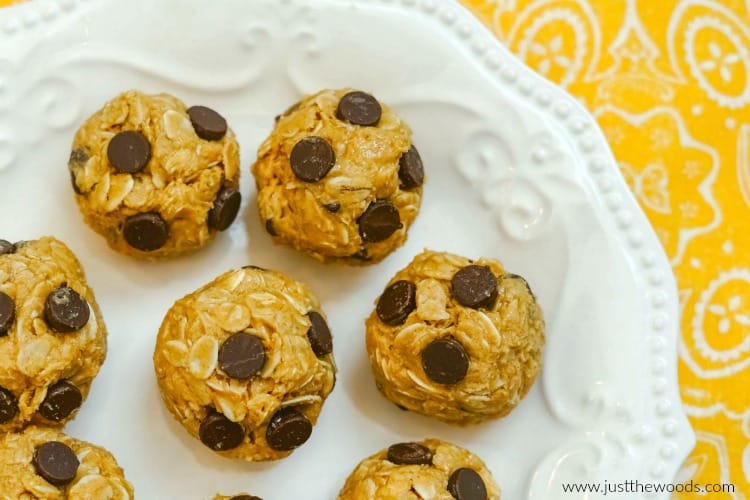 How to Make Chocolate Chip Peanut Butter Oatmeal Protein Balls
Let's start by gathering our four simple ingredients. TO be honest, these 4 ingredients tend to be a staple in my clean eating diet. At any given time you will always find these in my kitchen because they are used so often in a variety of different recipes.
Peanut butter
Chocolate Chips
Gluten Free Rolled Oats
Honey
Directions:
Now that we have our 4 ingredients we can get started with a few simple steps in making our no bake oatmeal balls.
Measure out your ingredients first to make things easier.
Combine your 4 ingredients (oats, peanut butter, cacao chips, and honey) in a medium-sized bowl.
Mix your peanut butter oat balls ingredients thoroughly.
Next, place your peanut butter chocolate chip oatmeal balls mixture in the refrigerator for around 30 minutes. They tend to form into balls and roll easier when cold. Sometimes I get impatient and pop them in the freezer for a few minutes. Just don't let them freeze.
When the oatmeal balls mixture has firmed up a bit go ahead and can roll them into 1-inch balls.
Once you roll all of your mixture you will need to place your oatmeal bites in an airtight container and store in the fridge for up to a week.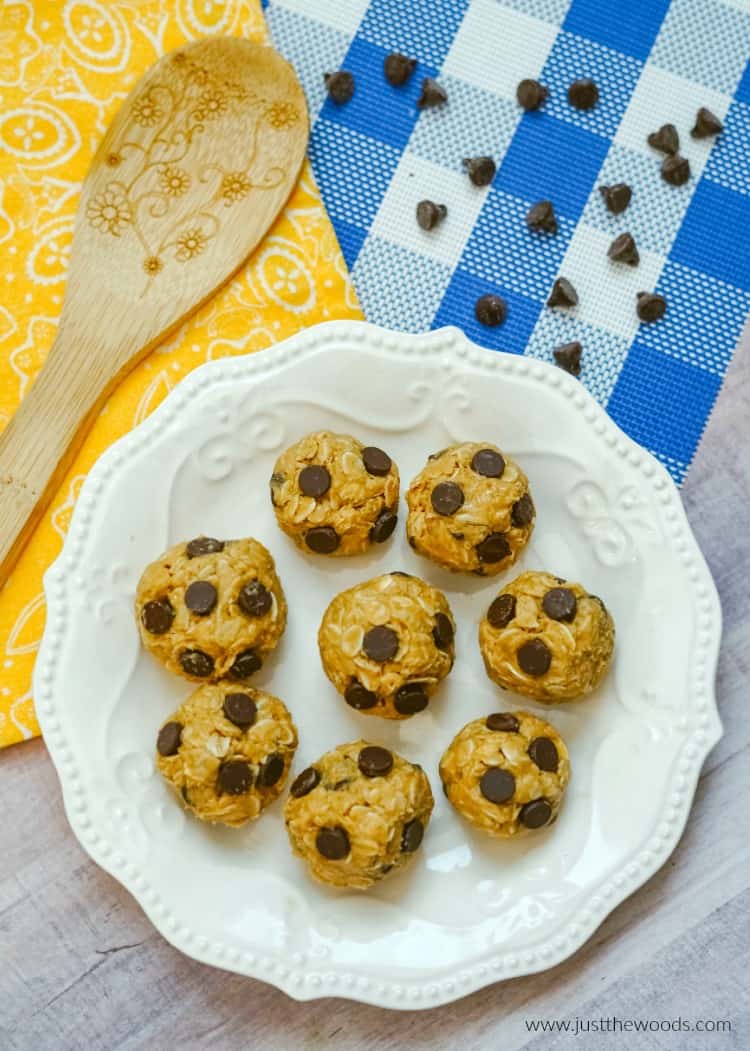 If you like these oatmeal protein balls and love these clean eating type snacks then make sure to check out these No Bake Chocolate Oat Bars! You will love them!
Easy No Bake Peanut Butter Chocolate Chip Oatmeal Energy Bites Recipe (Printable Version)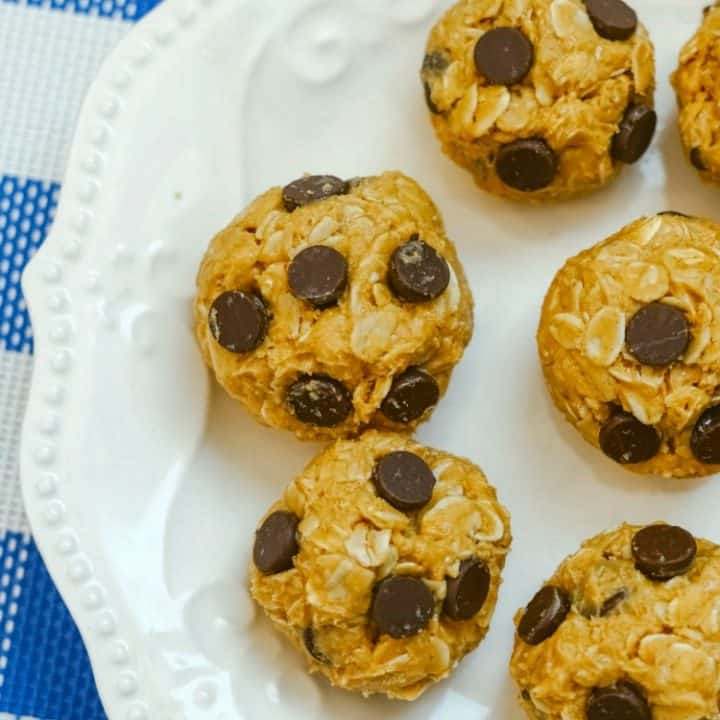 How to Make 4 Ingredient Healthy Oatmeal Protein Balls
Healthy no bake peanut butter chocolate chip oatmeal protein bites for a clean eating snack.
Ingredients
2/3 cups natural peanut butter
1/2 cup cacao chips (85% or higher)
1 cup gluten-free rolled oats
2 Tbsp raw honey
Instructions
Mix all 4 ingredients (oats, peanut butter, honey, and chocolate chips in a medium-sized bowl.
Place the oatmeal protein balls mixture in the refrigerator for 30 minutes (or freezer for 10 minutes)
When the mixture has firmed up a bit roll into 1-inch balls.
Store in an airtight container and keep in the refrigerator for up to 1 week.
Recommended Products
As an Amazon Associate and member of other affiliate programs, I earn from qualifying purchases.
For more healthy clean eating recipes make sure to follow my clean eating Pinterest board here: Clean Eating.


Don't Forget – Follow Just the Woods and Share this post to Inspire others:
FACEBOOK * INSTAGRAM * PINTEREST * RECIPES