This china cabinet started off like any standard vintage piece that we may have seen at grandmas.  In this case, that's exactly what this was..  it belonged to my customer's grandmother.  She wanted to keep the piece but since it was outdated and didn't flow with her updated home, not to mention that her husband absolutely HATED the hardware, the china cabinet needed a makeover.
Disclosure: This post contains affiliate links for your convenience. Click here for my full disclosure policy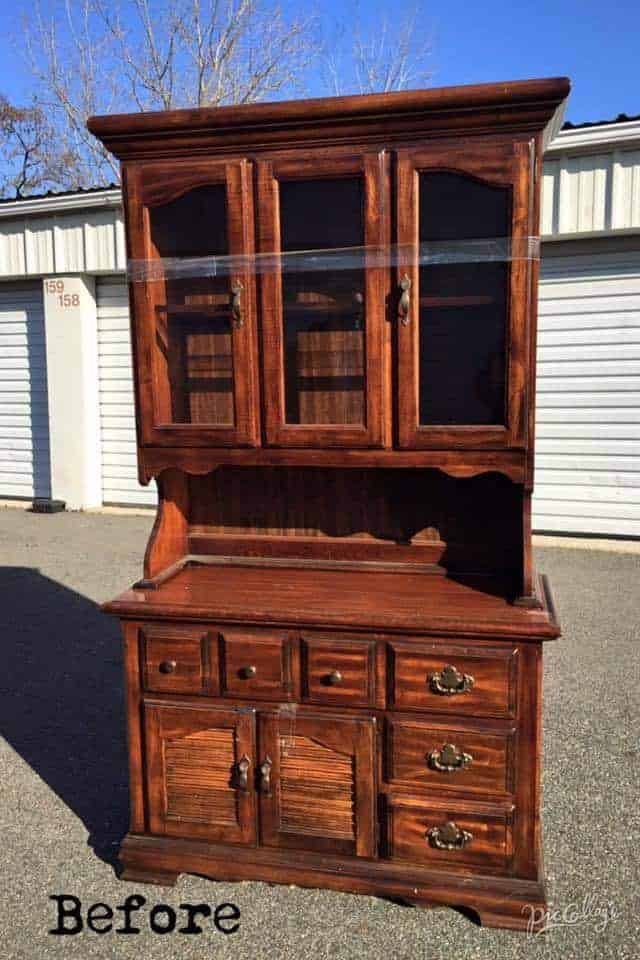 The China Cabinet Project
The first thing to do was to pop off the backing, BUT as I started to remove the backing I realized that it was made of some sort of hard cardboard and it ripped and tore apart. That's not good!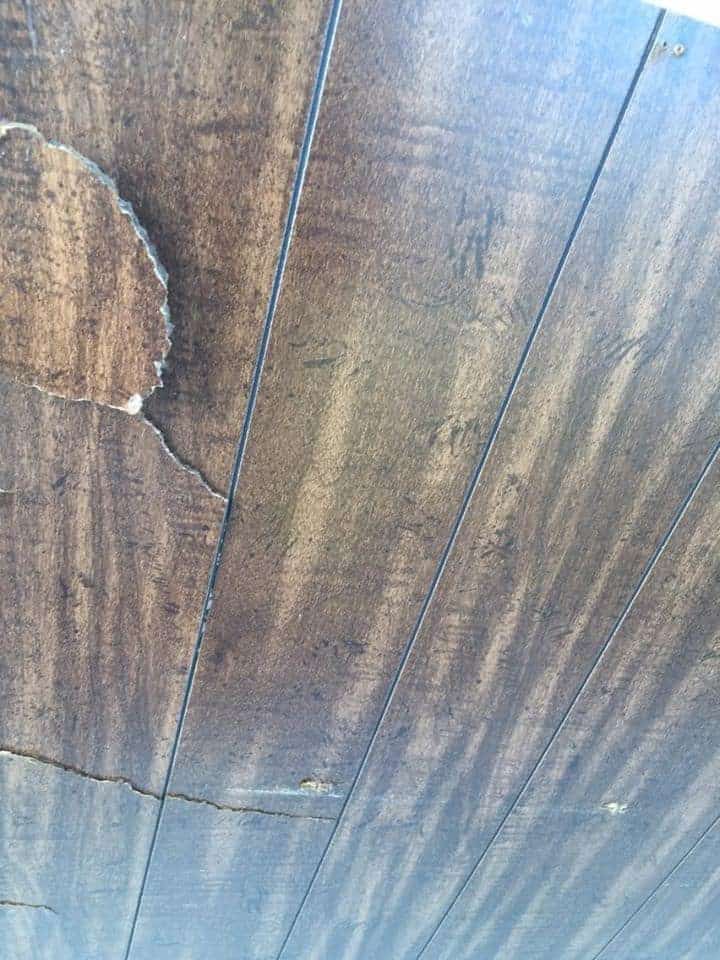 So, I sang my new theme song… "hi, ho, hi, ho..  it's off to Home Depot I go…"   A new wood backing piece was cut to size to replace the old cardboard-like back.  (wood is better than cardboard anyway) The same thing happened with Grandma's Vintage Curio Cabinet with Fabric Decoupage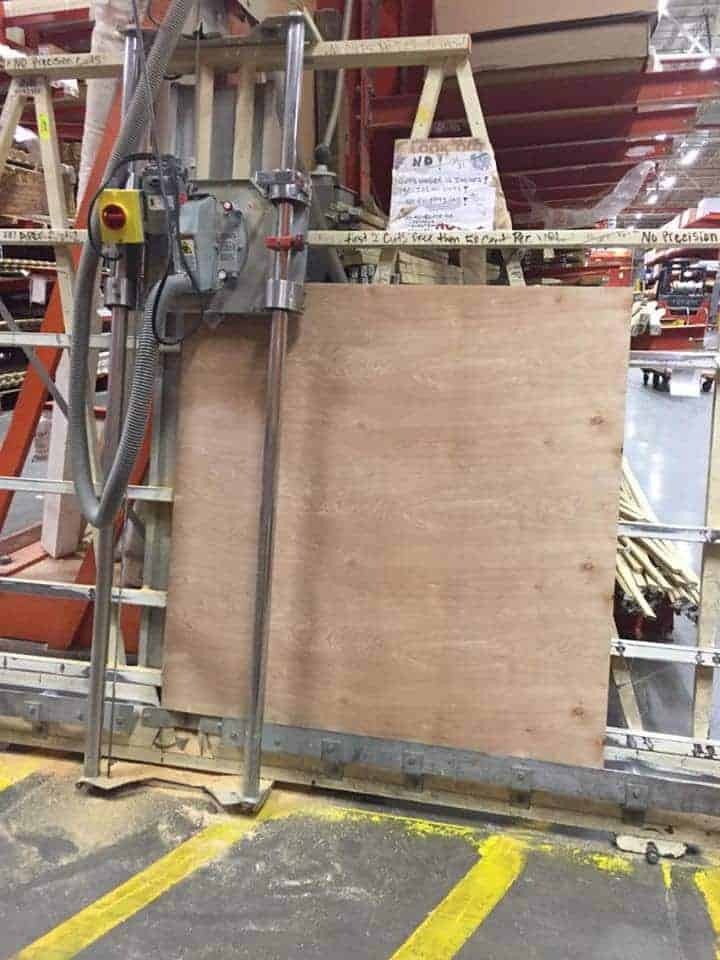 Having the back part removed made it easier to paint and work on the top portion of the cabinet, as well as the inside. This is similar to working on the Thomasville Painted Sideboard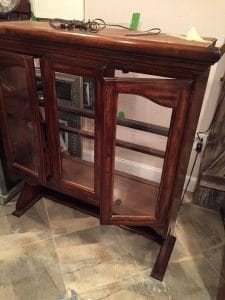 Hardware
My customer also ordered new hardware from D. Lawless Hardware and had them sent to me.  She picked out very pretty knobs and pulls but the pulls and handles were a bit more silver than desired since the knobs were black.  To make them work together just a bit better, I sponged a black tint over the silver to darken them without taking away from the gorgeous details.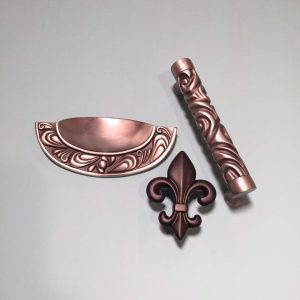 The new handles are a different size than the original hardware.  The old holes had to be filled, sanded smooth and new holes drilled.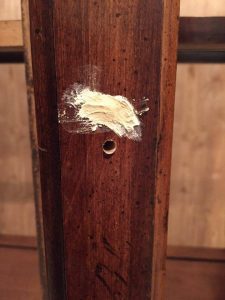 If you are just starting out you can always start at the beginning with How to Paint Furniture – a Beginners Guide

The Backing- Adding a Stencil Design to a Painted China Cabinet
The backing was painted creamy off-white.  A stencil design is added to the backing using the same seafoam color as the rest of the piece.  Any spots where the seams didn't match up perfectly were then touched up with a small artists brush to blend the seams together.  Click here to find more stencil projects: STENCIL.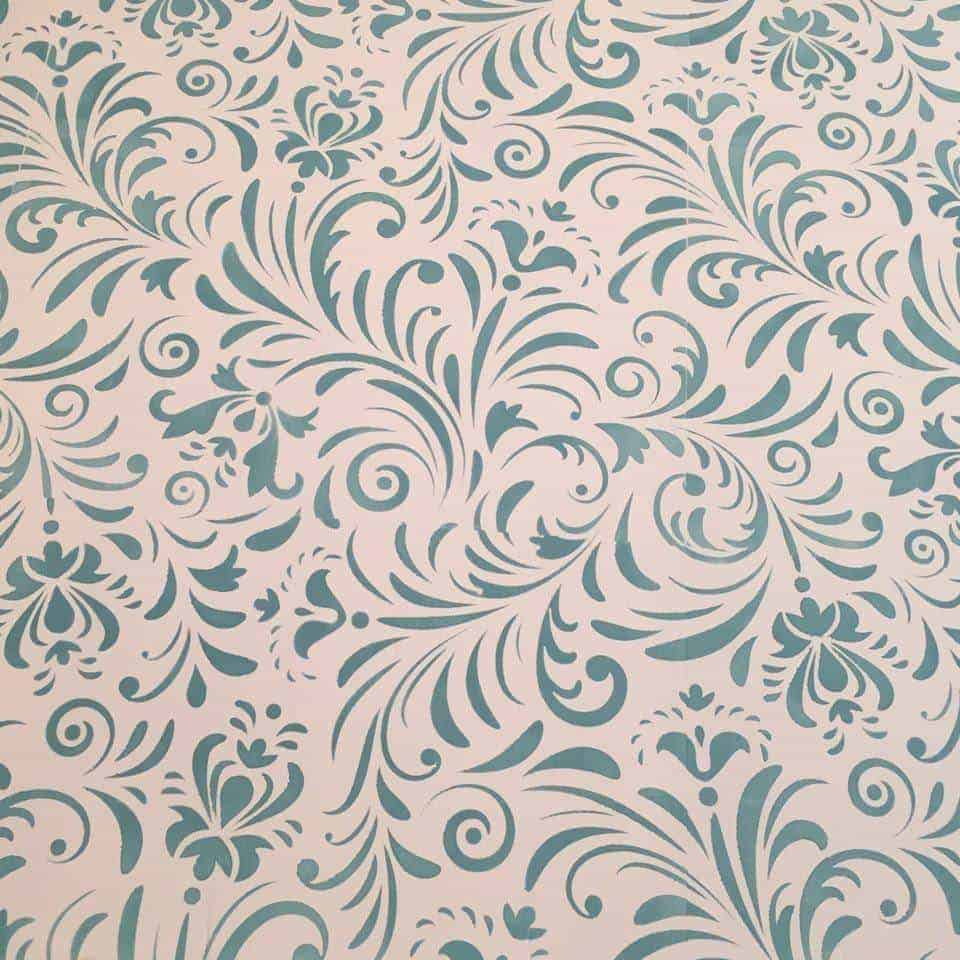 For a more detailed tutorial on adding stencils to your painted furniture makeovers make sure to check out How to Stencil Painted Furniture. There's even a video included in the post.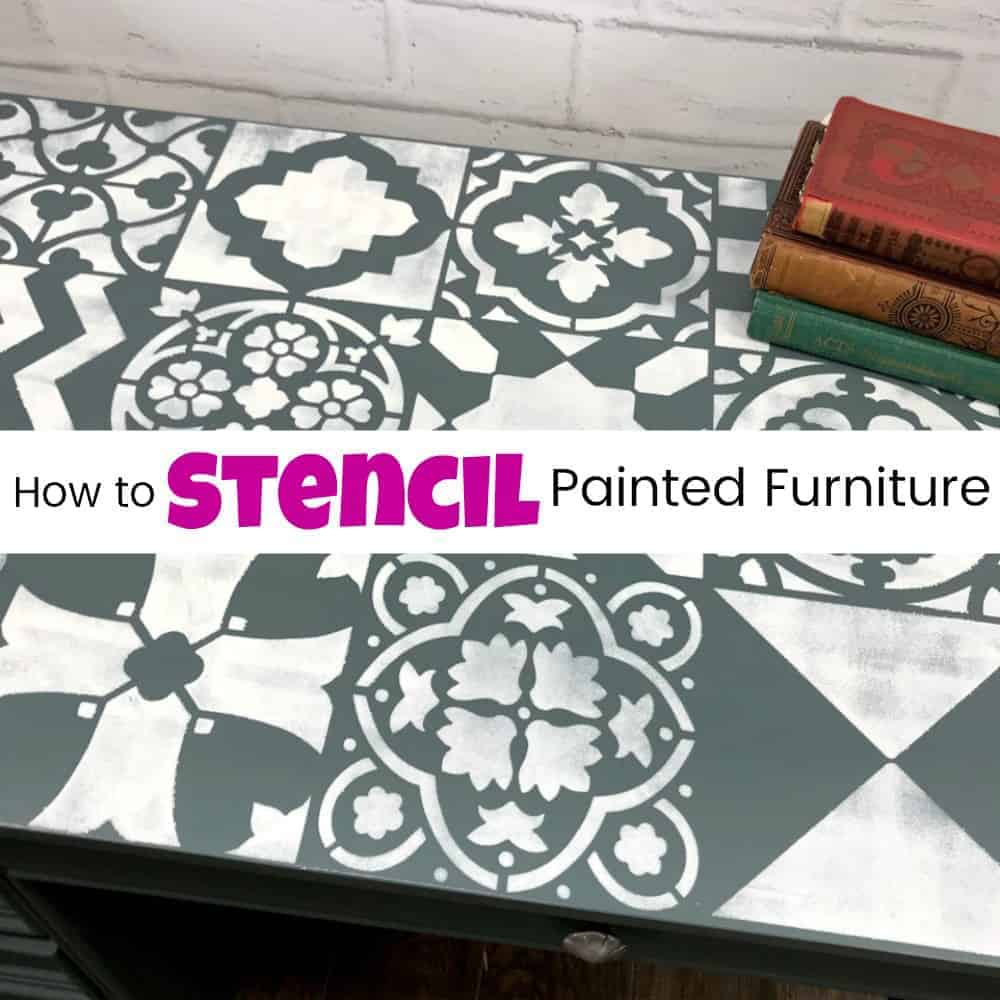 The Result – Painted China Cabinet with Stencil
Once put back together the light inside the cabinet really brought your attention to the backing!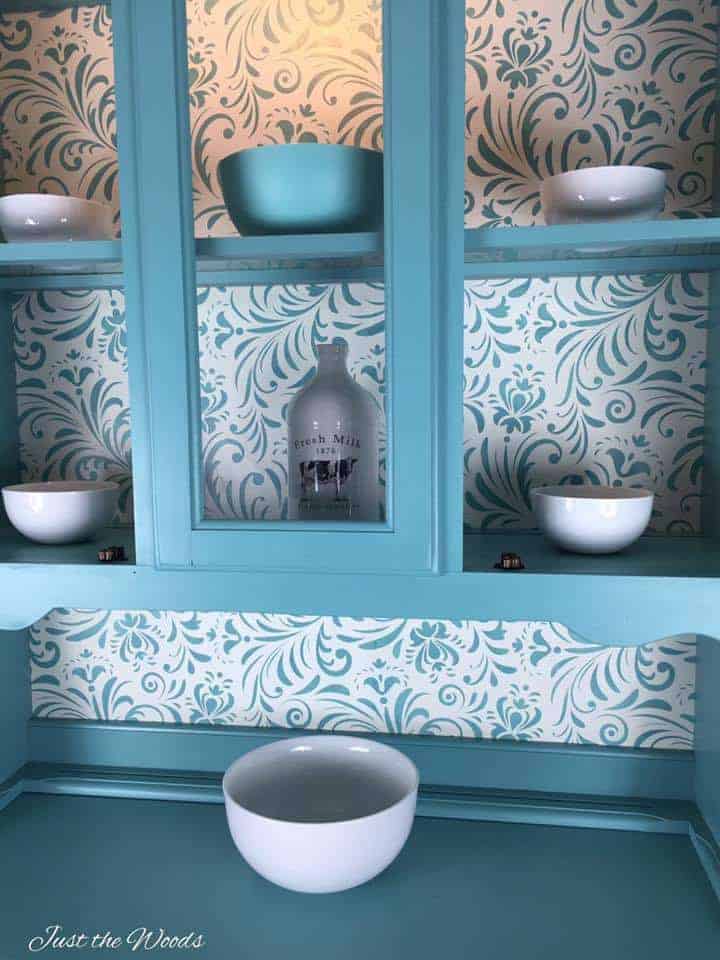 The hardware all worked well together once the silver was darkened.  I'm sure my customer's husband is glad to be rid of those old original pulls!
So much storage space .. a full-size top drawer, 2 smaller drawers and larger lower cabinet.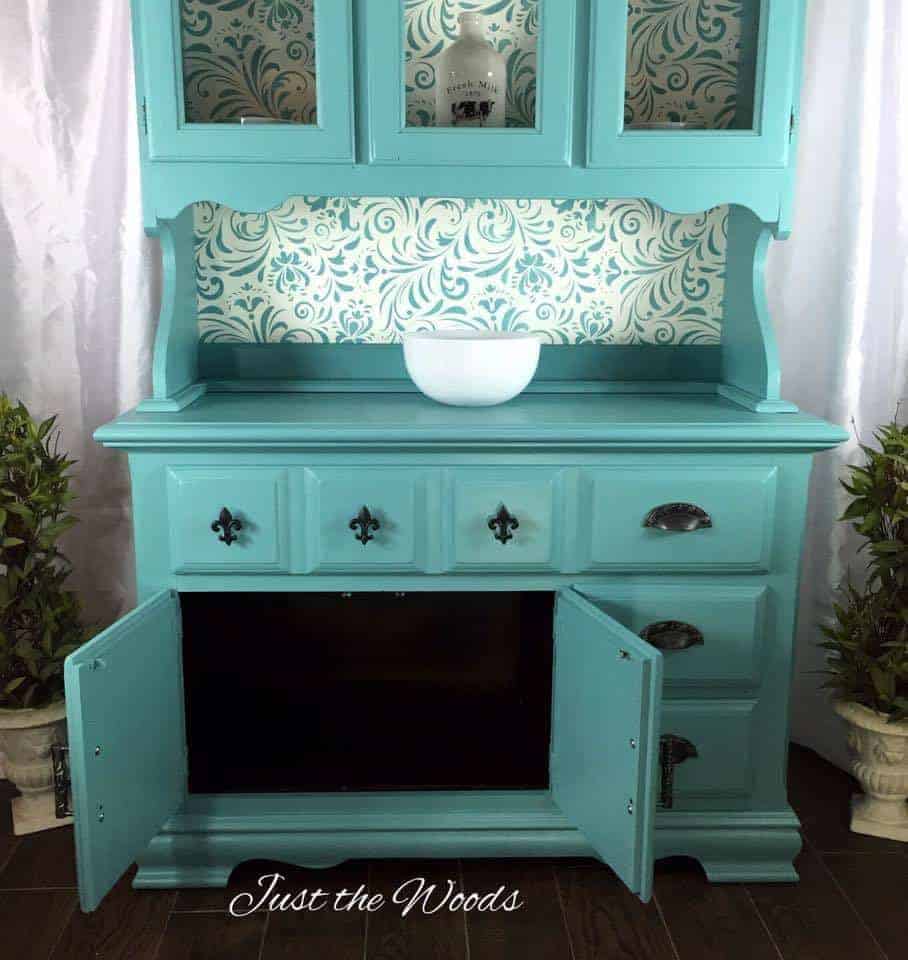 This beauty is now a piece that works with my customer's decor while keeping her grandmother's furniture in the family.  She is in love!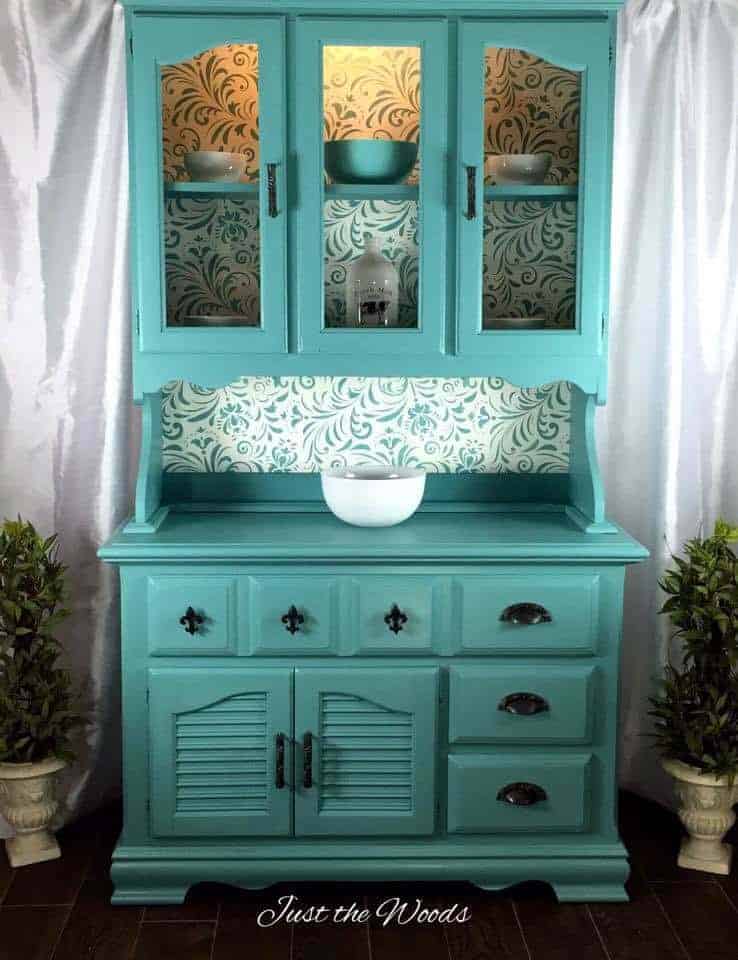 Looking for fabulous stencils?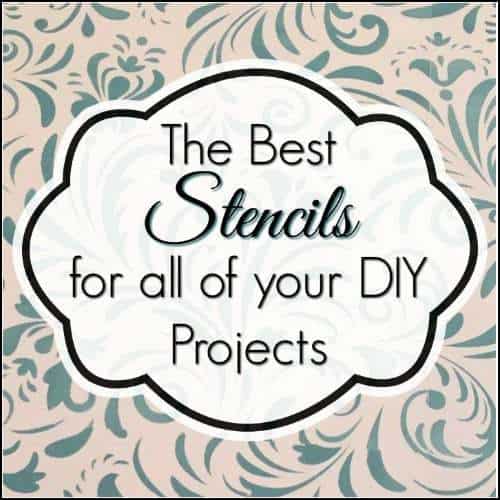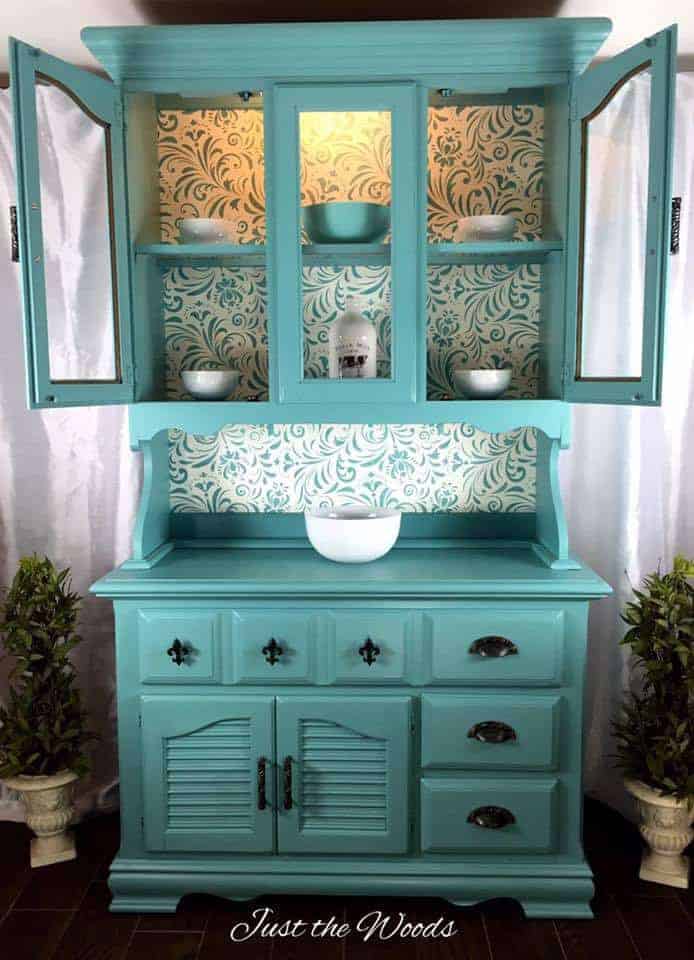 If you love this stencil you can find it here.
It must have been meant to be..  my customer followed up with this message:
"Wow! The magic of Christmas!!! So my mom just told me that my grandmother would have loved what you did to this piece because sea foam was her favorite color!! The piece lives on in her name. I had no idea when I picked the color…."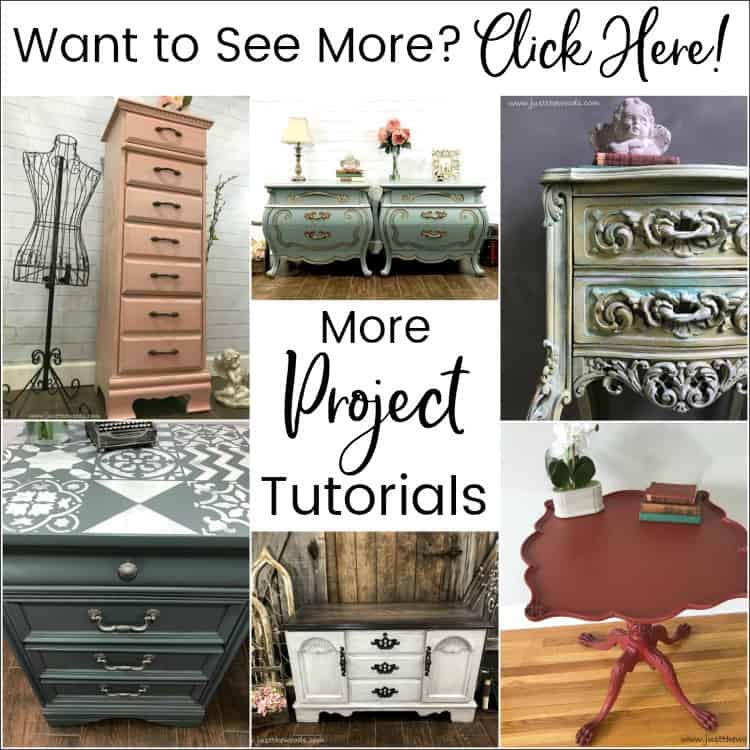 Don't Forget – Follow Just the Woods and Share this post to Inspire others:
FACEBOOK  *  INSTAGRAM  *  PINTEREST
 Stay connected! For more tips and tricks sign up here :