Disclosure: This post contains affiliate links.
A little background on this kitchen – it is in my client's rental property and along with the entire space in need of an overhaul to be rental ready for new tenants.  Custom painted kitchen cabinets were in order to bring some life back into this space.  The cabinets were plain brown wood and the top cabinets didn't have any hardware at all, while the lowers and drawers had cheap silver handles.  As a whole, between the counter tops, cabinets, floor and walls the kitchen looked very orange and dingy.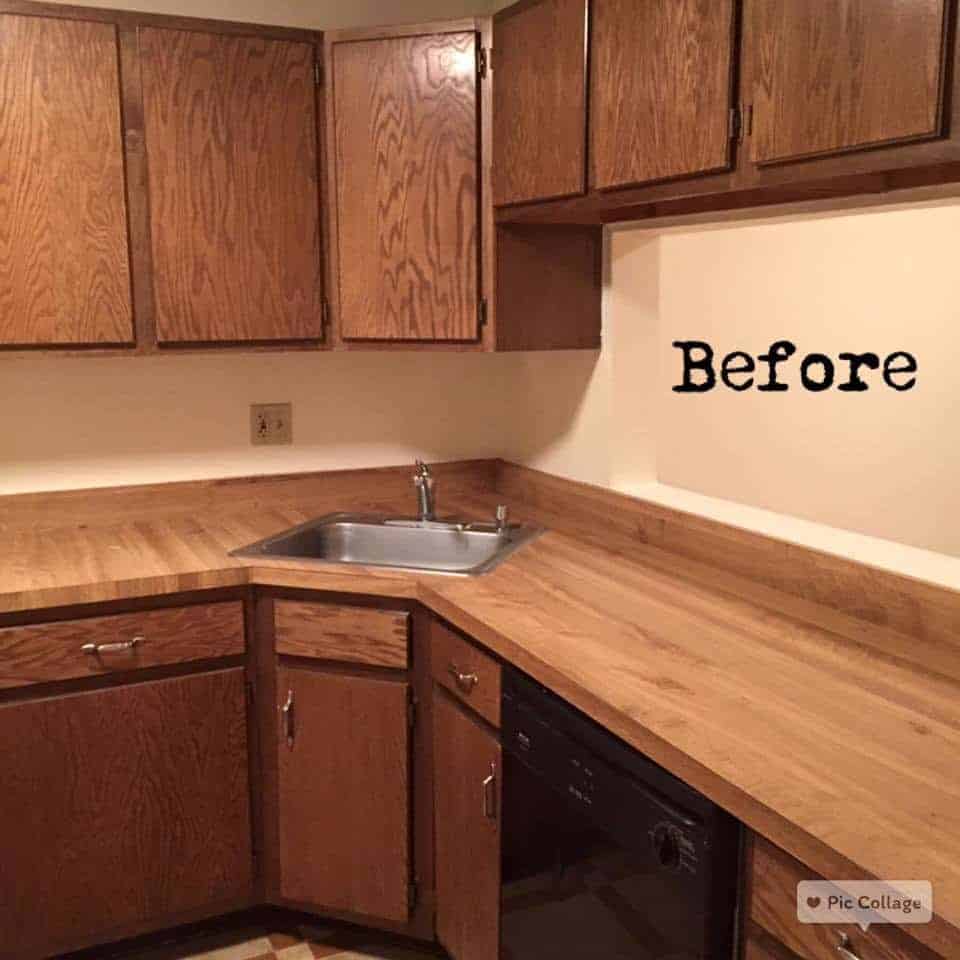 With a total of 21 cabinets & 6 drawers there is definitely enough space to make any renter happy, they just need a fresh new look to make them visually appealing again.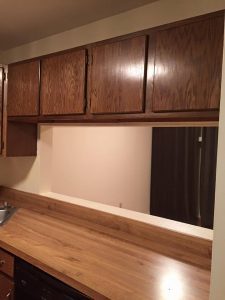 The first evening was spent removing old hardware, then sanding, scrubbing and prepping the kitchen to be paint ready.  My client chose a beautiful mushroom gray for the cabinets, which is both pretty and neutral to work with an array of home styles.  The mushroom of the painted kitchen cabinets also complimented the color that my client chose for the walls which was Behr Burnished Clay with white trim on the moldings and doors.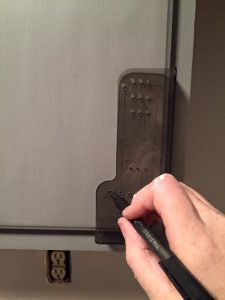 Once the cabinets were painted and sealed (after many hours) the decision was made to add knobs to the upper cabinet doors.  Using this handy template made it so easy to mark all the doors in the same exact spot for proper knob placement.
Once all of the doors were marked it was easy to go through and drill new clean holes.  The template even came with the right size drill bit for the hardware.
New oil rubbed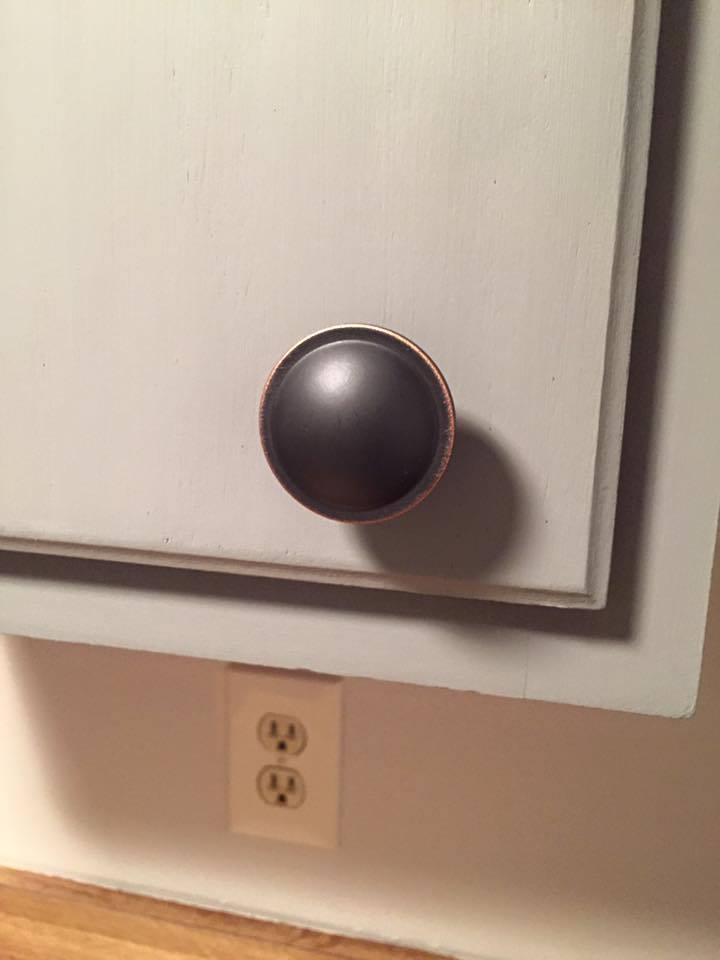 bronze hardware pulls and knobs were added to all of the cabinets and drawers.
Such an improvement from the previous cheap silver handles!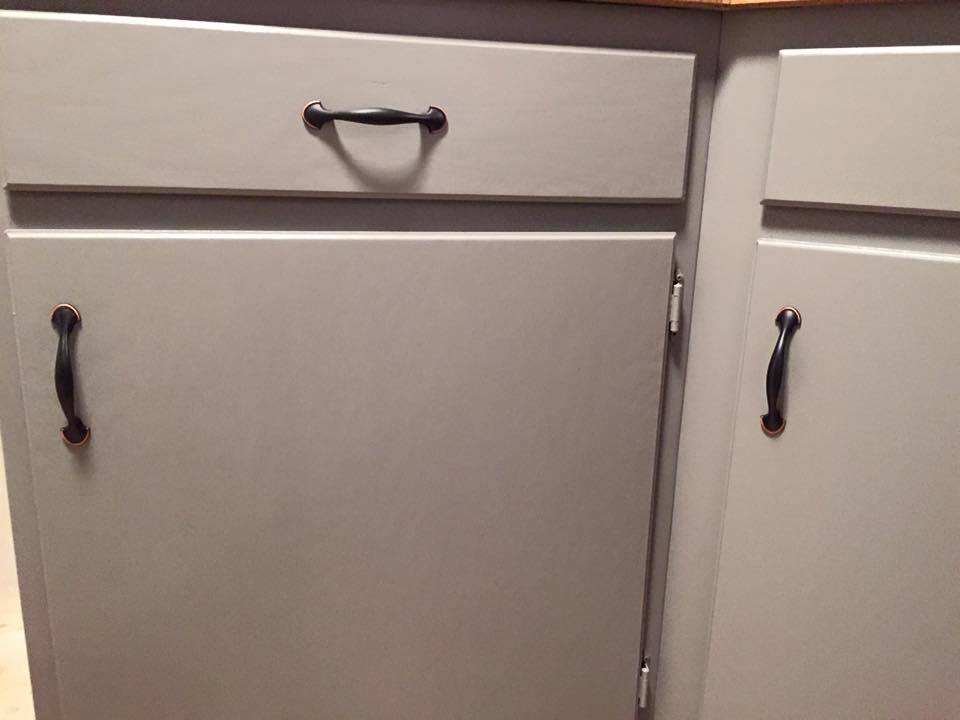 Mid way through the project my client decided to order all new appliances for the kitchen since it had a white stove, almond stove hood, white refrigerator and black dishwasher – nothing matched! The old appliances were removed leaving the inside sides of the cabinets exposed.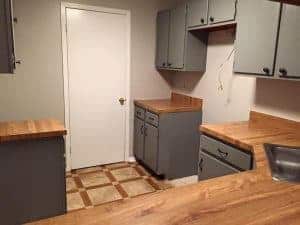 Even though those exposed sides won't be visible once the new appliances are installed I refused to leave them brown. Those were painted as well for a cleaner more finished look.
The new appliances are scheduled to arrive next week and my portion of the kitchen overhaul is complete.  I've asked the owner to forward me new photos once the appliances are installed for final makeover photos because a kitchen isn't truly  kitchen until it has all of its appliances.  (new photos below)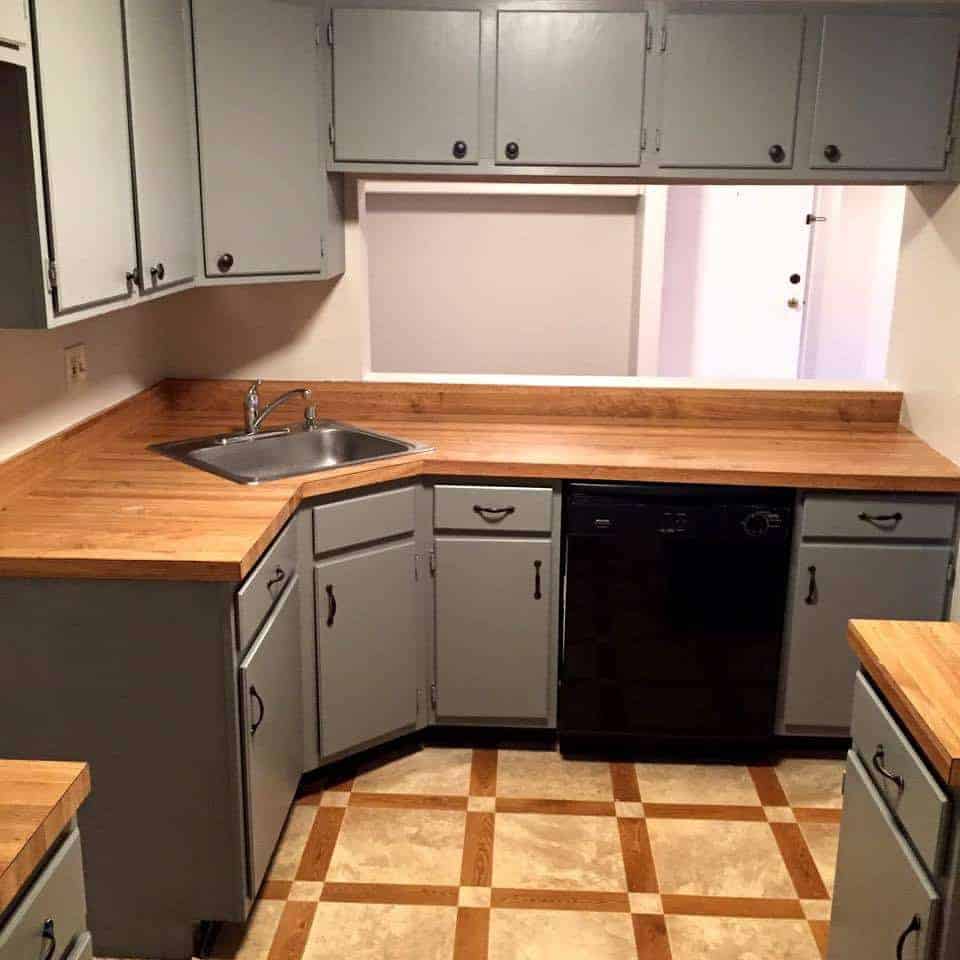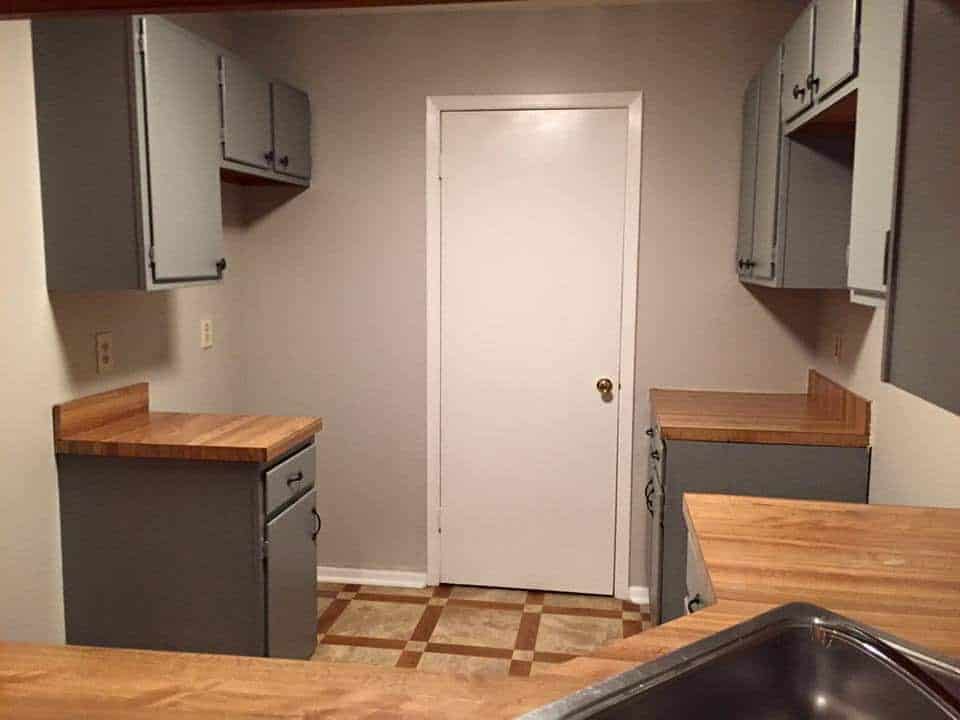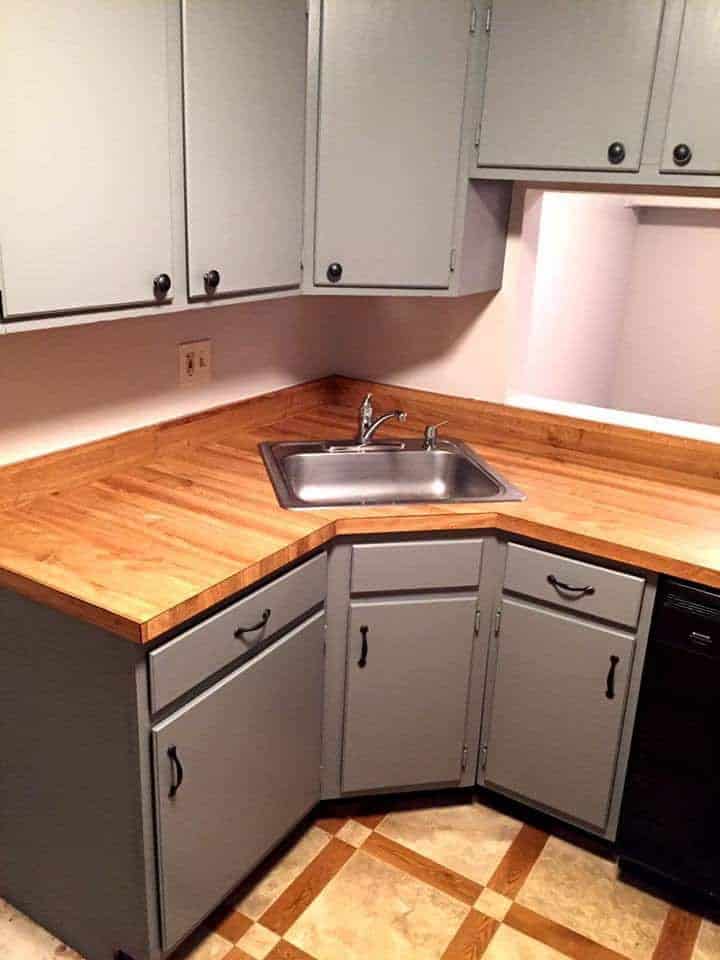 While I was finishing cleaning up a neighbor came by and asked if I was moving in and her new neighbor, I told her no, that I was just there to paint.  She looked around and immediately said "Oh, I love the cabinets!" Hopefully they help the owner get a new tenant in there quickly!  Who wouldn't love such a freshly updated place to call home?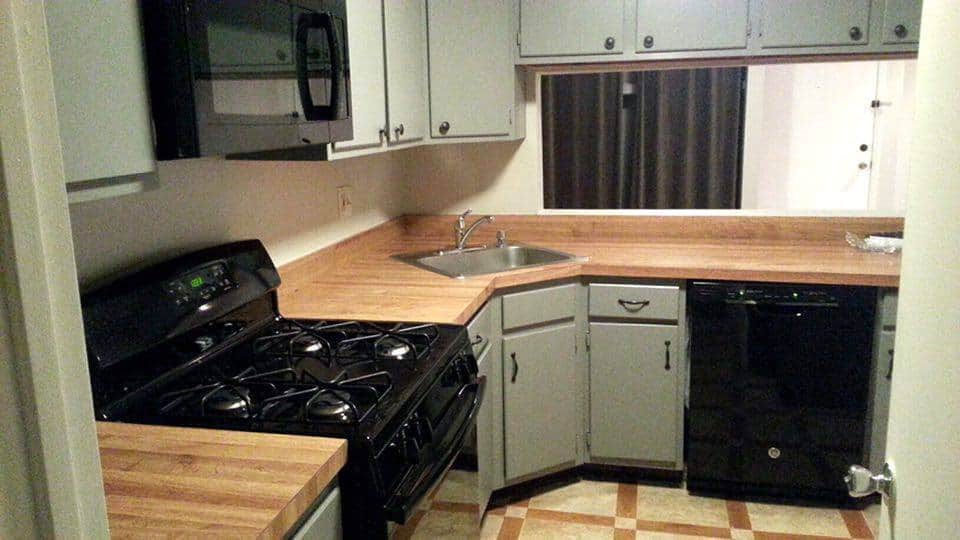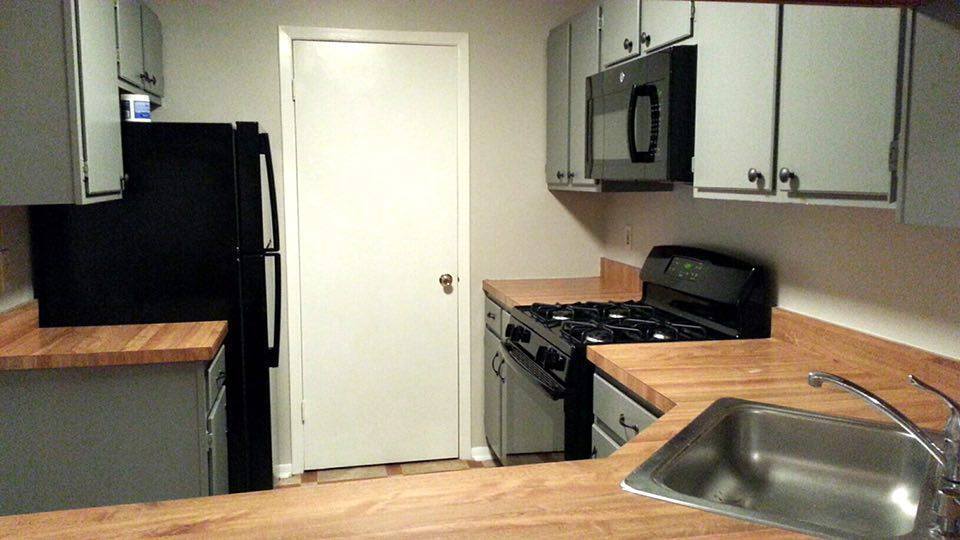 I need to add that this makeover isn't meant to be a 'magazine worthy' kitchen.  The floors and counters do need to be updated as well, but this is a rental and for a customer on a budget this was a start towards freshening up the space.  Some things are done in baby steps.  That being said I can only hope that my contribution portion of the kitchen, being the cabinets has helped.