A Creative Curio Cabinet Makeover You'll Love
Curio cabinet, china cabinet, bedroom set or rocker. All too often we have a piece of furniture with sentimental value. Maybe it's been passed down within the family for generations, or holds value simply because there's a memory attached to it. To someone else, it may seem like just a piece of furniture, but to one person it means so much more.  For example, I have a rocking chair in my bedroom that has been in my family for years, I was rocked to sleep in it as a baby, and I've rocked my babies to sleep in it. I removed multiple layers of paint from it nearly 20 years ago, sanded and stained it. I will never get rid of it simply for the sentimental value. Do you have something in your home that means the world to you?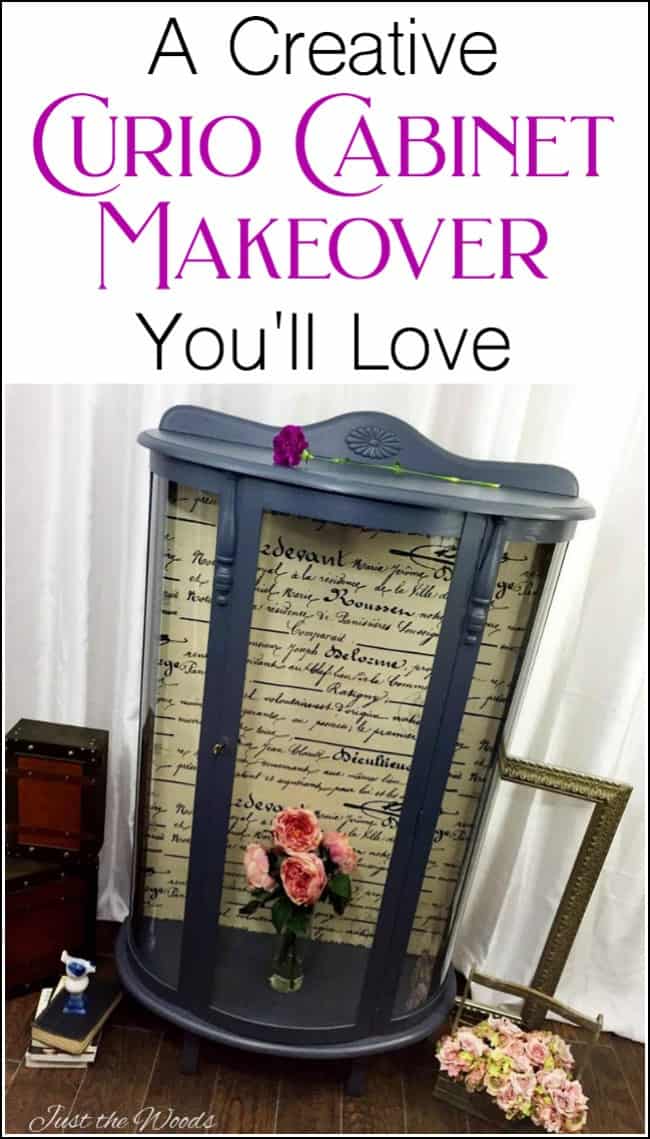 This is the case with my customer's grandmother's curio cabinet. She has been holding on to this vintage bow front curio cabinet for some time. She loves it and it has sentimental value, but it simply didn't go with anything in her home.  The plan is to come up with a curio cabinet makeover with an updated look while still keeping a piece of her family history. By doing this she essentially gets a custom curio cabinet with personal history attached.
Disclosure: This post contains affiliate links for your convenience. Click here for my full disclosure policy.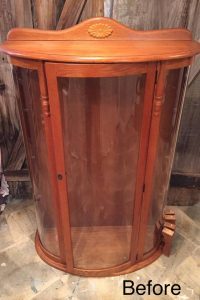 Grandma's Vintage Curio Cabinet Makeover
Materials Needed:
Staging / Home Decor:
Vintage Bow Front Curio
My three-year-old daughter, on the other hand, had other things in mind. She insisted on getting inside and closing the door.  I think she looks a bit like a living doll inside a doll case.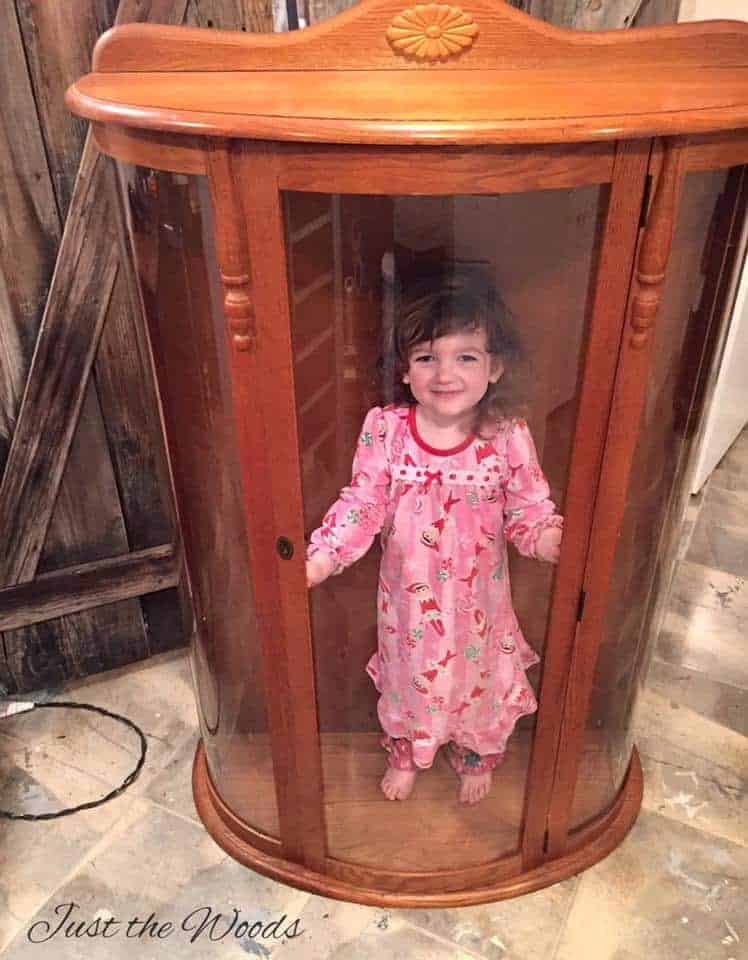 The Process – Prep for Paint
Once I was able to kick my little darling out of the curio cabinet I was able to get started by removing the glass, the inside light, and the back panel. Uh oh. Not again.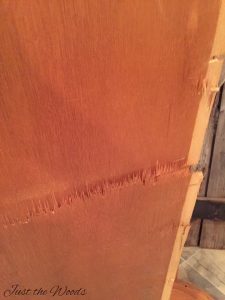 More often than not when the back panel is removed from these old pieces it seems to break apart. I can actually count on one hand where the back piece did not break and require replacement.  This was no different, it was attached with staples and broke in many places requiring a complete replacement of the piece. So off to Home Depot to get a new piece of plywood cut.
To ensure I had the exact right size I placed the old backing against the new piece of plywood to mark and measure for a new piece to be cut with my circular saw.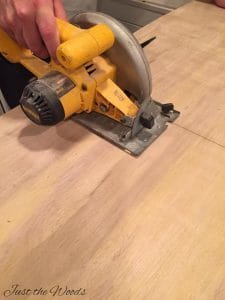 In addition to taking the piece apart, I made sure to fully prep for paint, this is my full process for How to Prep Painted Furniture.
The Fabric – French Script Fabric
Once the new piece was cut and the edges sanded smooth it was time to attach the fabric. My customer chose this gorgeous fabric online, and I didn't realize just how nice it was until it arrived and saw it in person. WOWZA!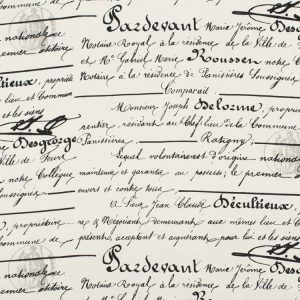 I made sure to lay out the fabric first, find the proper placement, ensuring the lettering was straight and level and then I glued the fabric down. Make sure to work in small sections and smooth the fabric out slowly. The fact that this particular fabric is on the thicker side made it much easier to prevent any bubbles.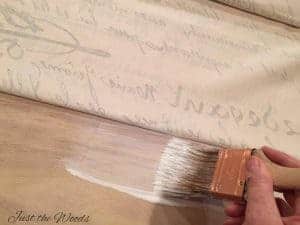 The fabric was left to dry overnight and then thoroughly sealed the next day.  How pretty it that French script? Click here for more decoupage inspiration: DECOUPAGE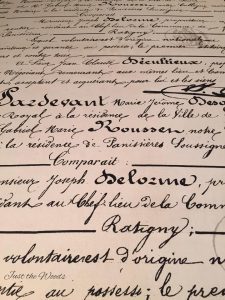 Drilling a Hole for the Light
Remember I mentioned that I had to remove a light from inside the cabinet? Well, now it's time to get that light back in. The original backing had a hole for the plug to fit through so that it could be plugged in. Break out the hole saw, this is a first for me.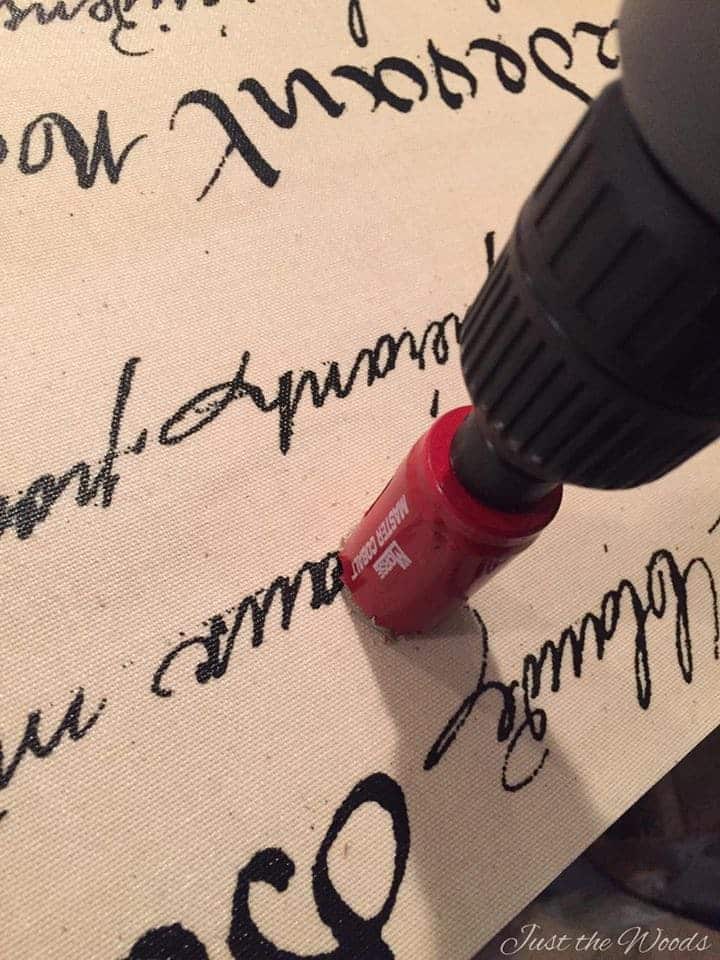 My next step was to measure the placement for the hole by placing the old backing on the new and pencil marking the area.  I then grabbed my drill and hole saw and cut a perfectly round hole in the back.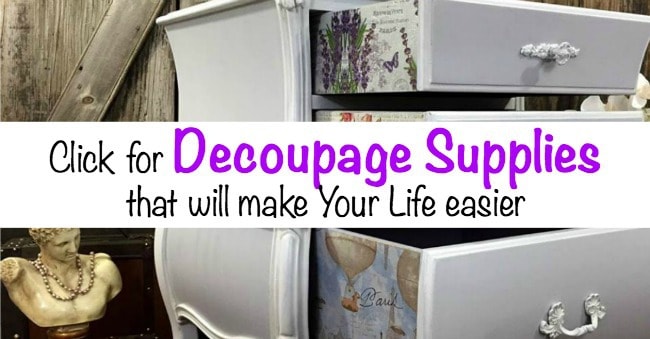 Since the fabric had been thoroughly sealed and dry the cut was clean with no loose fabric strings.  There's nothing worse than wild fabric strings!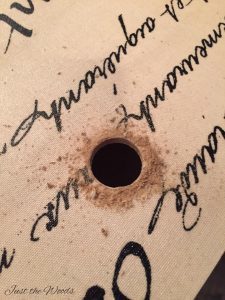 Finishing Touches
The frame or base of the curio cabinet was painted a custom mixed charcoal gray and sealed for protection without any distressing for a clean smooth look. You can find great paint color options online HERE. Once I reattached the back to the curio cabinet I used a small artist brush to touch up the edging of the plywood since it lies flush with the sides. Click here for another charcoal painted makeover: Charcoal China Cabinet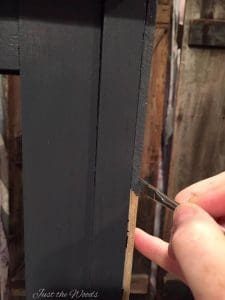 I have to admit that the hardest part about photographing something with glass is the reflection. This beauty is ready to head home where the glass shelves can be placed back inside (the owner held on to them for the project but they will be added back once returned home).

The Result – Painted & Decoupaged Curio Cabinet
A restyled curio cabinet ready to be used as it was intended..  to display the things she holds dear in a piece that she holds dear.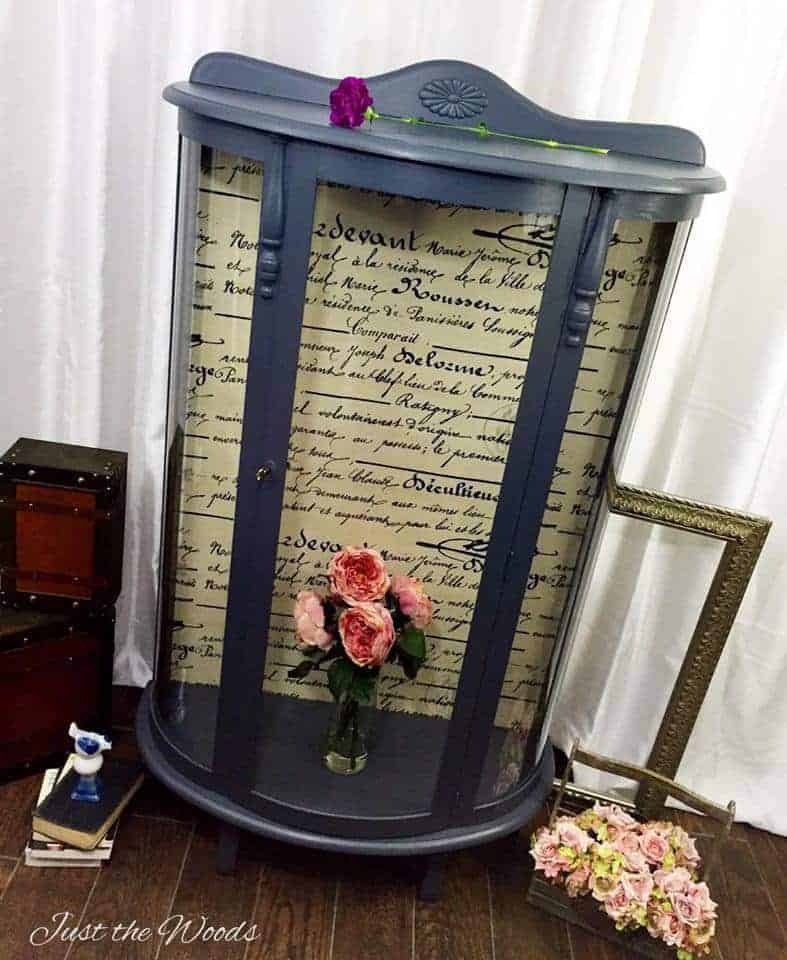 Looking for a curio cabinet but prefer not to DIY? There are a wide variety of gorgeous curio cabinets for sale online (HERE)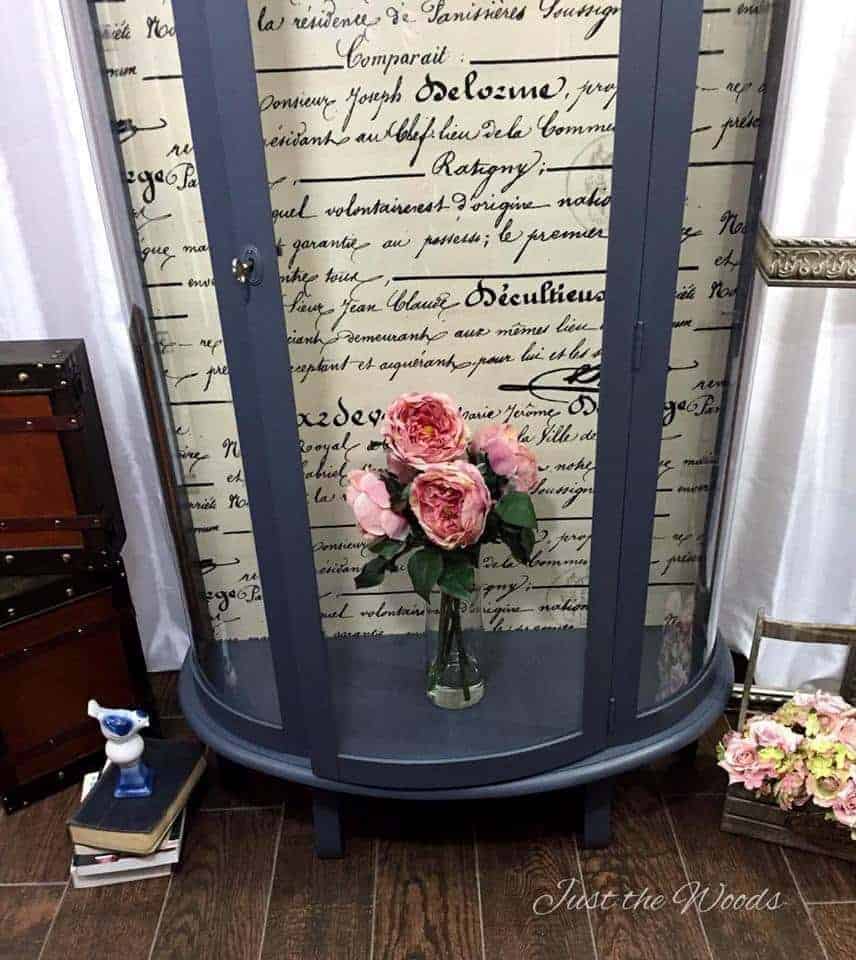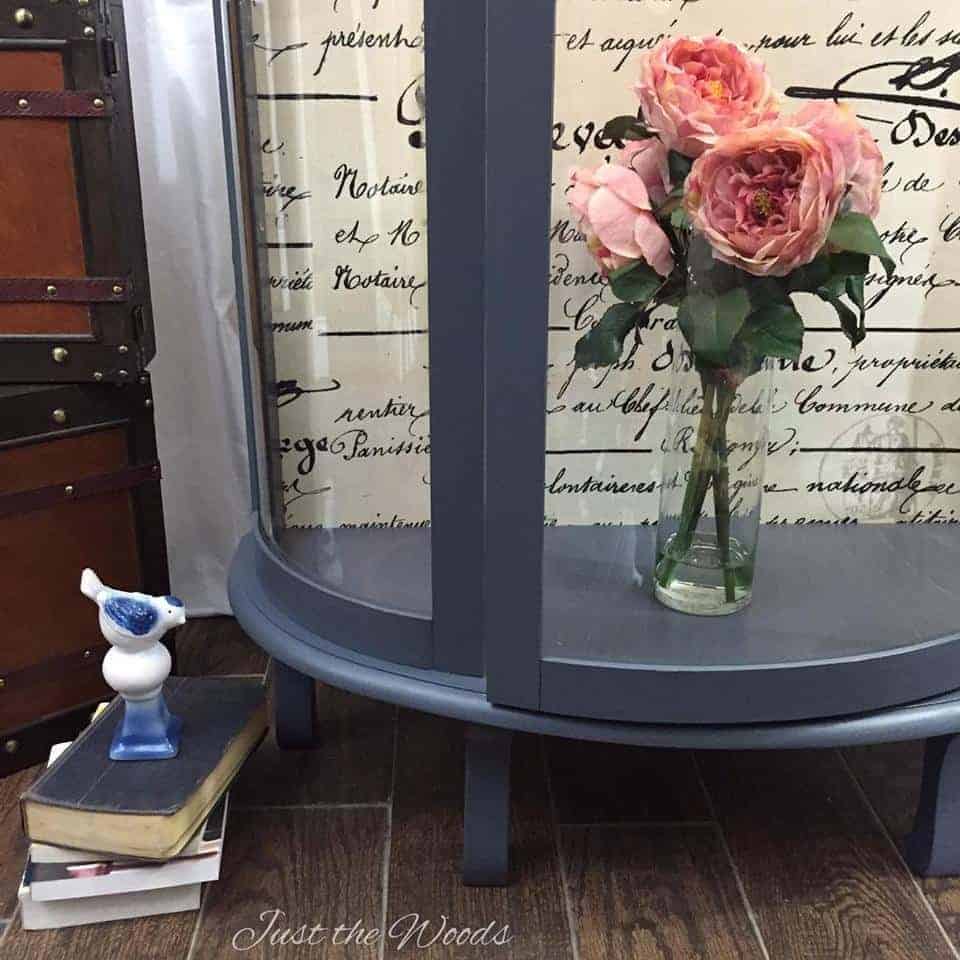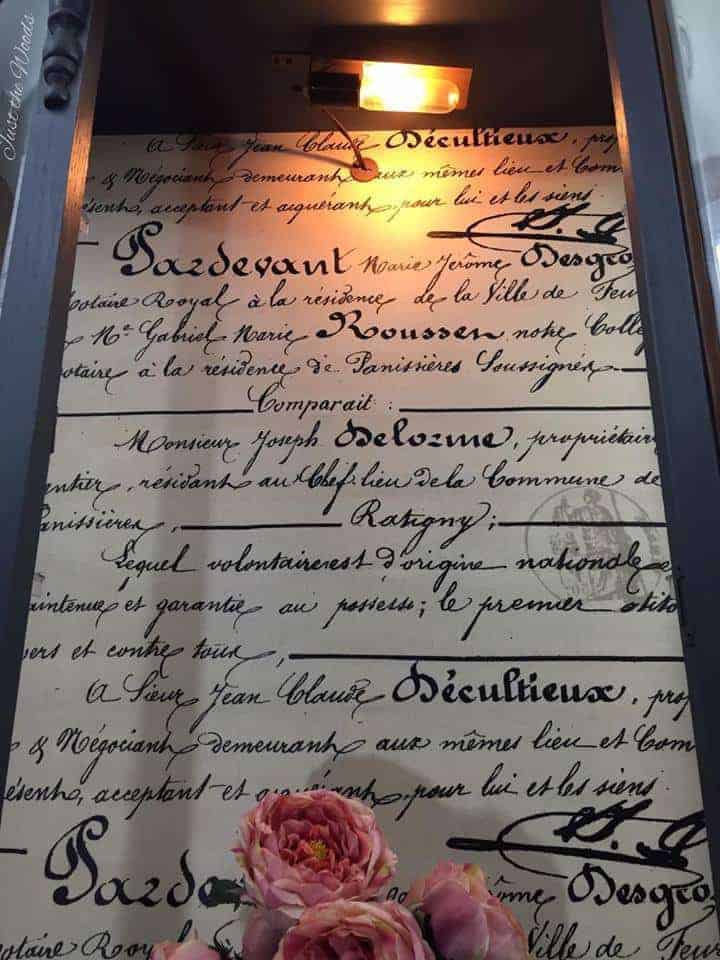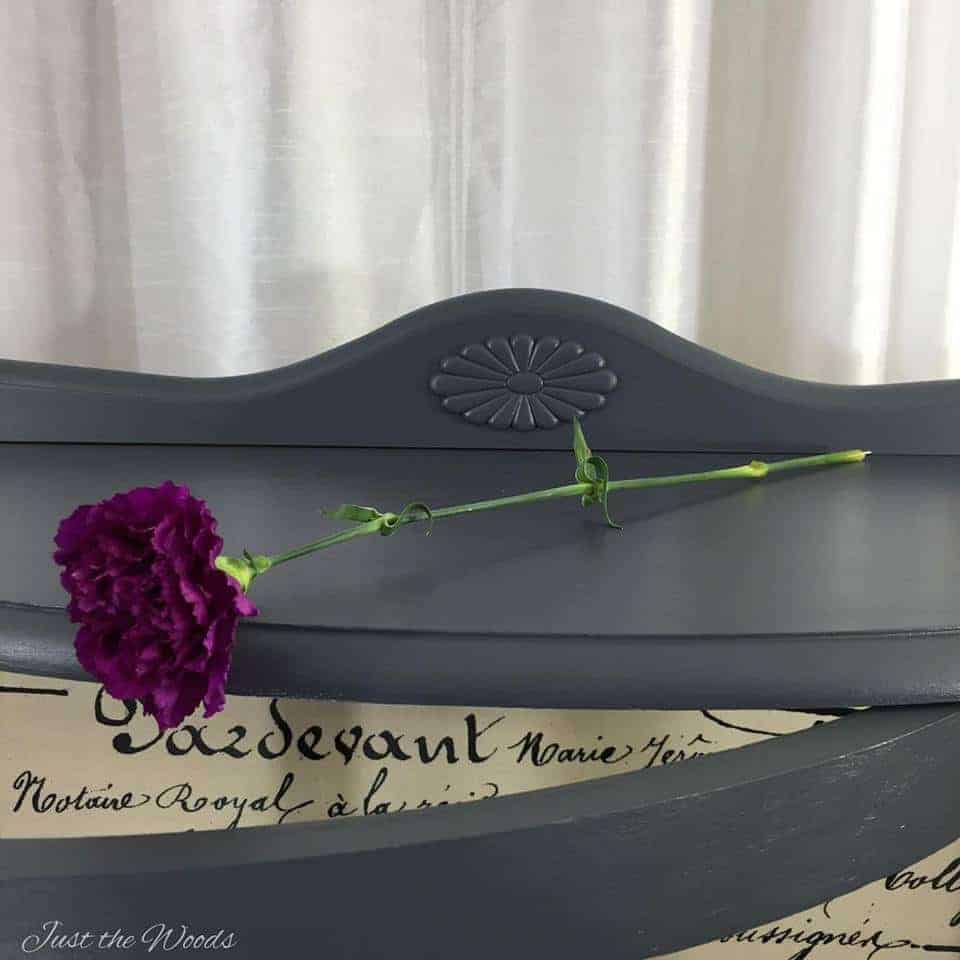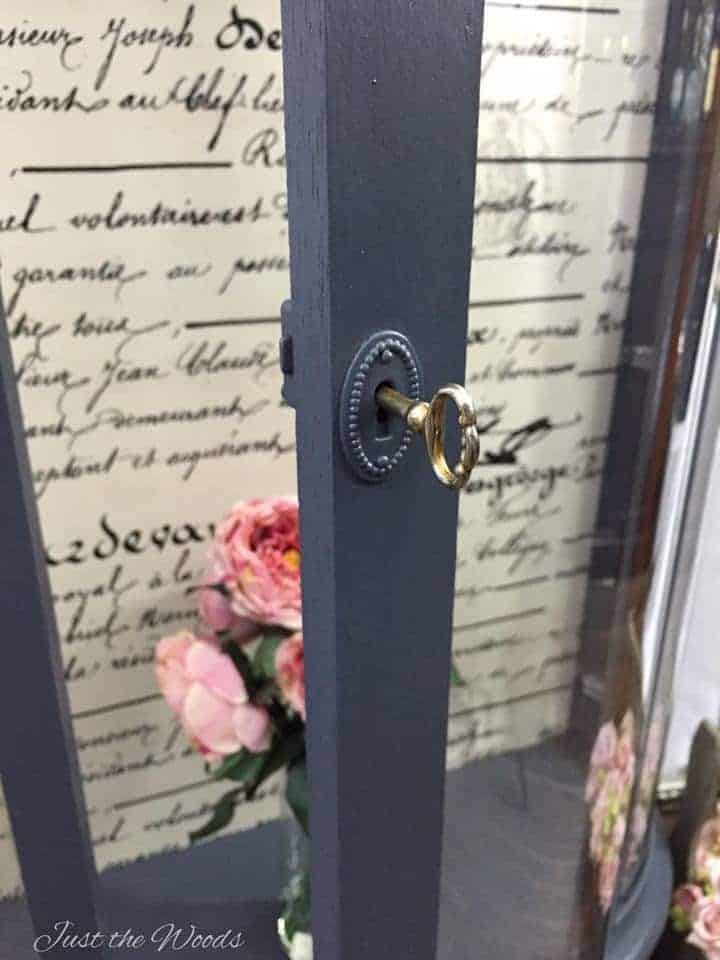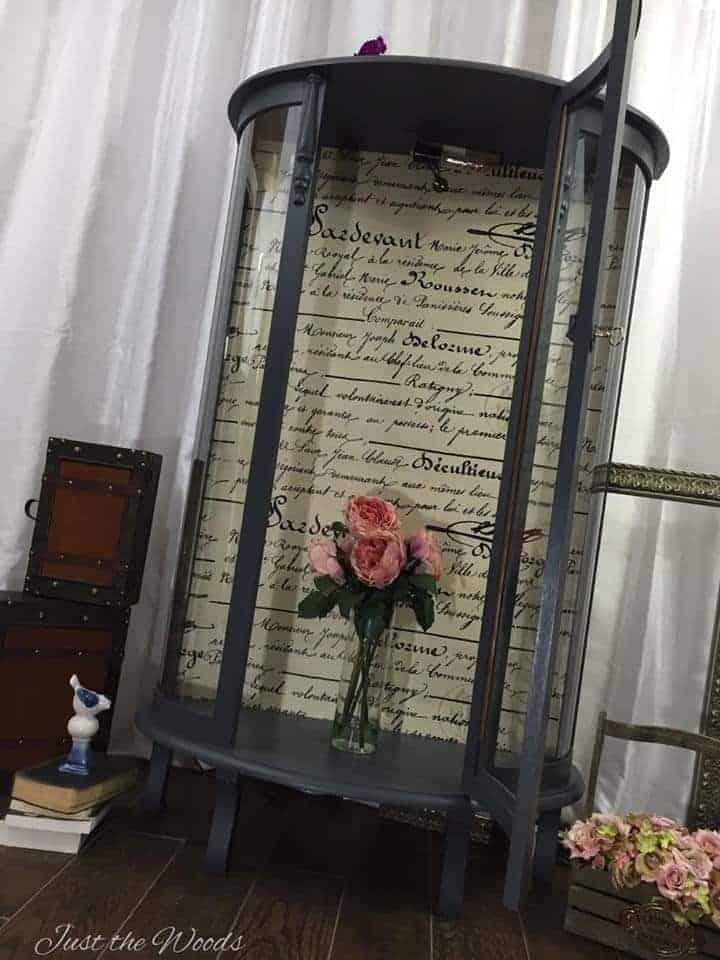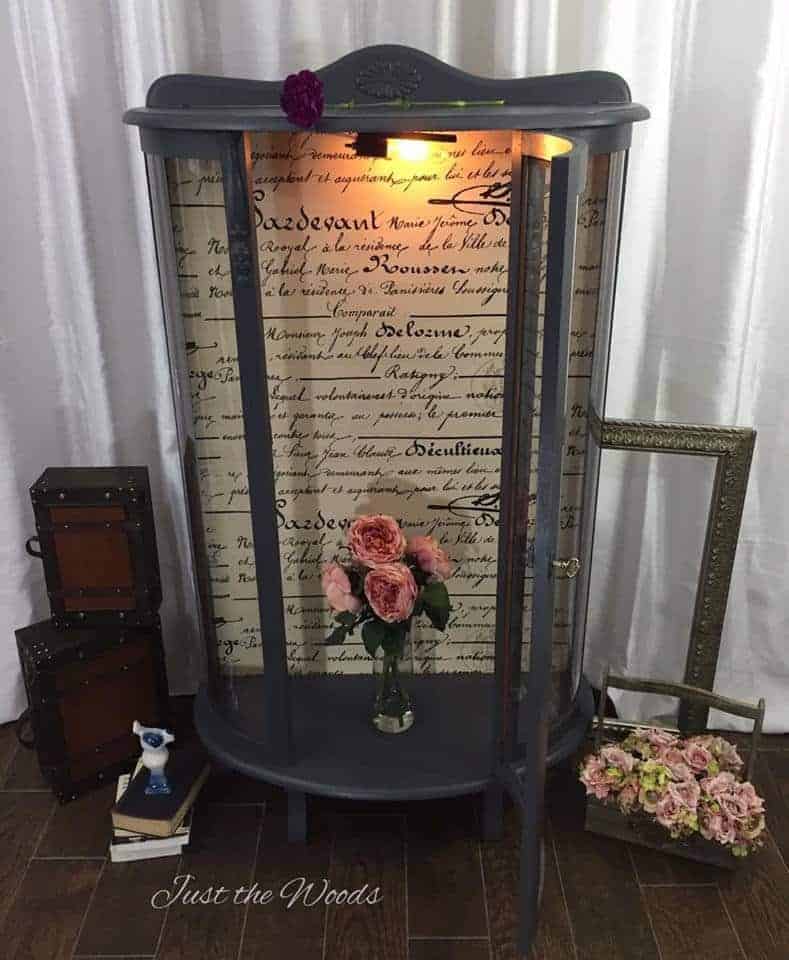 If you enjoyed this makeover then you may also like: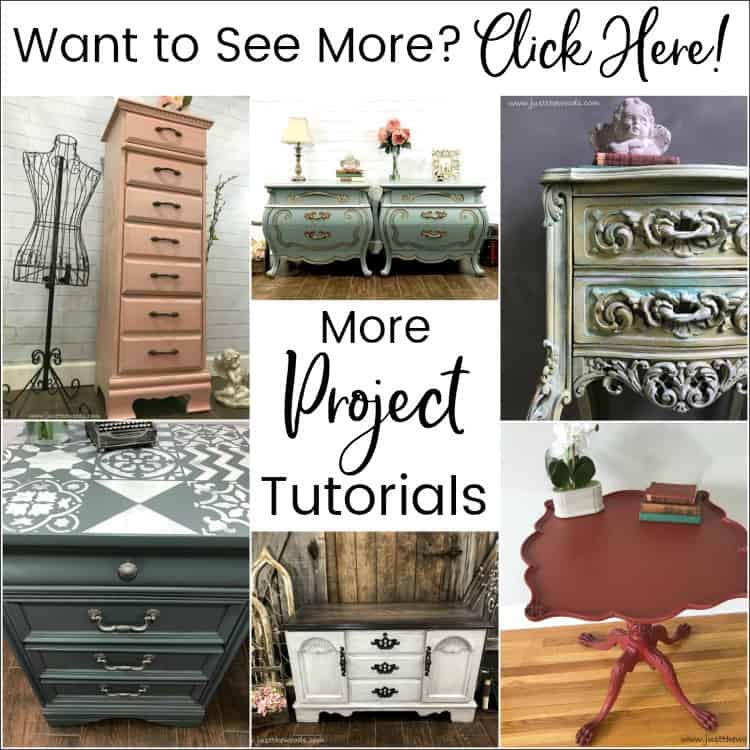 Don't Forget – Follow Just the Woods and Share this post to Inspire others:
FACEBOOK  *  INSTAGRAM  *  PINTEREST
Subscribe to our mailing list here:
PIN IT!