There is vintage furniture and then there is vintage furniture who clearly have seen better days and is begging for a makeover. That is the case with this worn out old cupboard. It's clearly been around a long time with its dents, dings, stains, and grime. This cupboard is about to become a shabby chic cabinet with an added pop of color and once again will shine. I made a little jingle there 🙂
Disclosure: This post contains affiliate links. Click here for my full disclosure policy.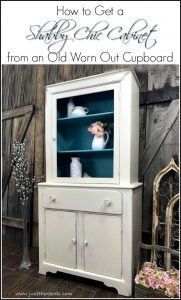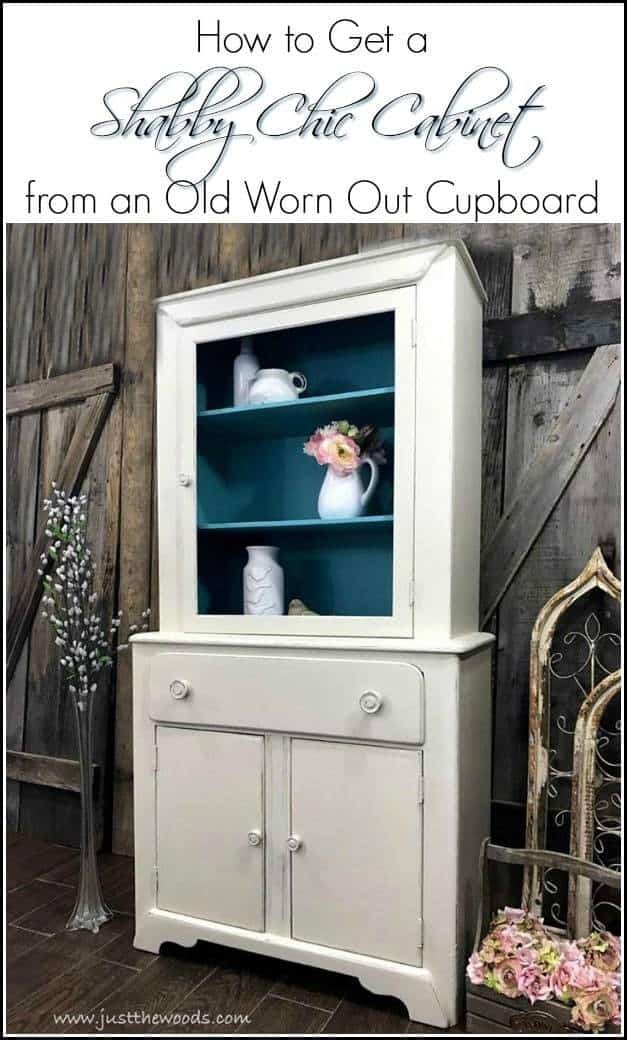 How to Get a Shabby Chic Cabinet from an Old Worn Out Cupboard
Materials Needed / Source List
Unfinished Vintage Cupboard
Let's start at the beginning. This vintage cupboard is solid wood and well made but not at all without imperfections. To get an idea of its condition before the makeover, it's glass was missing from the door, the lower doors swung into the cabinet space with nothing stopping them, one of the wooden knobs were damaged and the extent of dents and dings on the lower sides was pretty bad.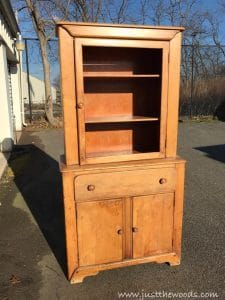 There was a lot going on with this piece but there is also room for improvement, like with many old pieces of vintage furniture. Can you see the potential? You may have to look beyond this first.
Prepping a Vintage Cupboard to Become a Shabby Chic Cabinet
This cabinet required an extensive prep before I could even think to come near it with a paintbrush. Like every piece of furniture I work on I prepped in my standard How to Prep Painted Furniture fashion. But this vintage cabinet required a bit more. It's time to get down and dirty!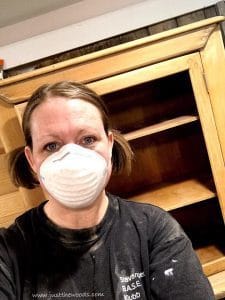 Due to the extensive wear and tear on the outer sides of the piece I hand sanded as much as I could before the cleaning process. You can see here where one side is sanded and the other hadn't been sanded yet. Such a difference sanding can make.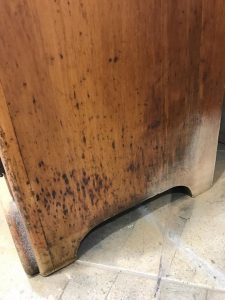 The entire vintage cabinet was sanded this way producing an obscene amount of sanding dust. It's a good thing I'm wearing a dust mask.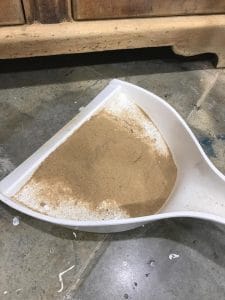 To get into the crevices I broke out my trusty old toothbrush. I keep one in the shop specifically for cleaning nooks and crannies like this.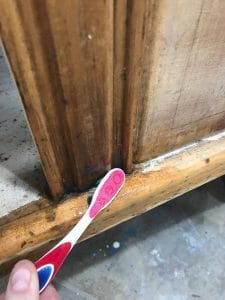 Once the piece was thoroughly sanded and cleaned I decided that I should prime. There was also what appeared to be a layer of grease on parts of the cupboard, which makes sense since it had spent some time in a kitchen many years ago. I can't be sure how much grease may or may not have seeped into the wood. So to err on the side of caution I want to seal the wood and block any grease that may be deep in the grain if that makes sense. The cabinet was primed with two coats of primer on the outside and one coat inside.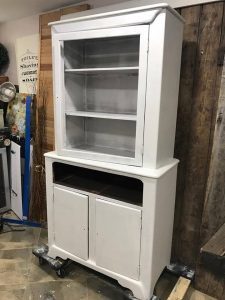 Time to Paint a Shabby Chic Cabinet
Once all that prep work was finally complete it was time to paint! My customer wanted neutral but also a little pop of color. She narrowed it down to these few colors before deciding. She bounced back and forth, and though gray is always a popular choice, she immediately felt drawn to the creamy off-white.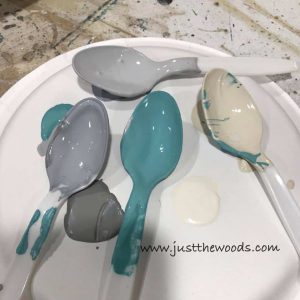 The outside of the piece was painted in a creamy off-white, which is the perfect neutral when you don't want a stark white but aren't ready for much 'color'. It's great for a shabby chic or farmhouse makeover. There's no shame in my game, I 'borrowed' my daughter's little plastic step stool to be able to reach and paint the top of the cabinet.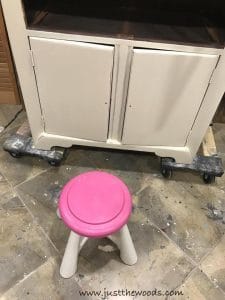 To add a pop of color, the inside of the cabinet was painted in a cool pretty blue.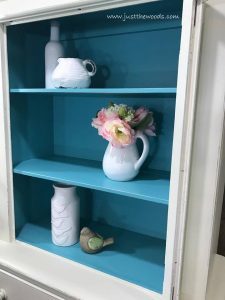 You can find great quality furniture paint and stain online HERE. An added bonus, when painting furniture, you want to make sure to use a quality non-toxic furniture paint.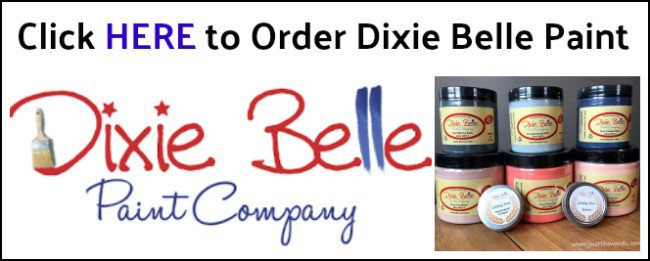 Two coats were applied of each color and the piece was sanded in between coats. When lightly sanding in between coats I also keep a hairdryer and clean cloth handy to clear away the sanding dust. As I sand I use the dryer to blow away the dust and to prevent it from settling in the corners.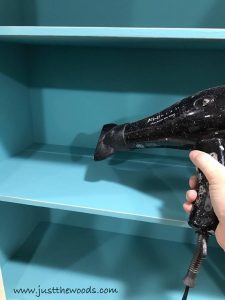 Followed by a quick wipe with a clean cloth. The same is done before applying the clear sealer. This prevents any blue dust from being accidentally wiped over the off-white finish when sealing, and vice versa.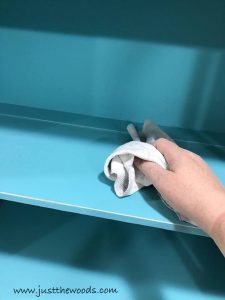 The Vintage Wooden Knobs
Remember I mentioned that one of the original wooden knobs were damaged? Well, rather than attempt to repair a damaged wooden knob we opted to replace. On the back of the door to my shop is a plethora of vintage hardware that I have removed over time from previous pieces. They are all stored neatly and out of sight in a handy over the door shoe organizer.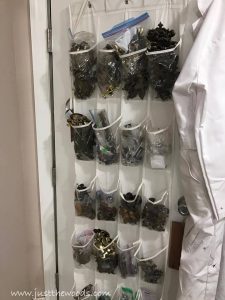 After poking through the many options of old knobs we actually found round wooden knobs almost identical to the originals.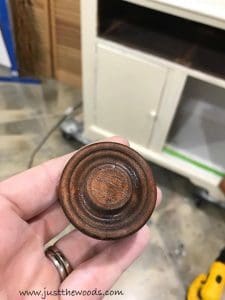 The dark wooden knobs were prepped, painted, distressed and sealed to match the rest of the shabby chic cabinet.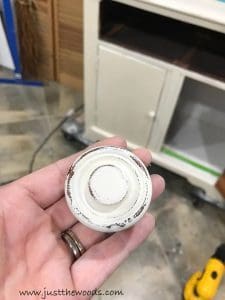 The screws to the wooden knobs were just a hair too long. No worries, with simple finishing washers they will fit like a glove.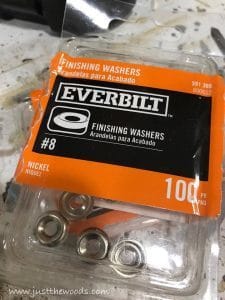 The finishing washers are the perfect little bump to make sure the knobs are back on the doors and secure.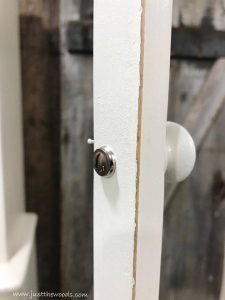 Make Sure to Seal that Painted Furniture
Once painted, and distressed throughout the cabinet was sealed inside and out with a clear matte protective finish. Two coats of clear sealer were applied to the piece using my favorite Cling On brush.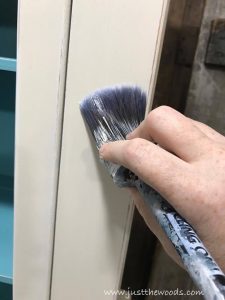 Lining the Inside of the Drawer and Cabinet
Along with wear and tear on the outside of the piece, the inside had also seen better days. Rather than tackling the inside with paint, we decided to simply line the bottoms of both the drawer and the cabinet. I took a quick run to the local craft store and bought some light blue poster board. Poster board is a bit more sturdy that thin contact paper and this piece needs something sturdy. 
The inside of the drawer was measured to ensure a proper fit.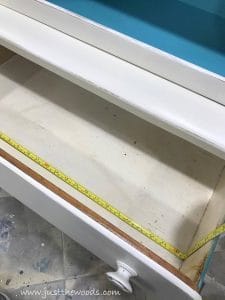 Using an Exacto knife, T-square and cutting mat the poster board was cut to size for both the drawer and the cupboard bottom.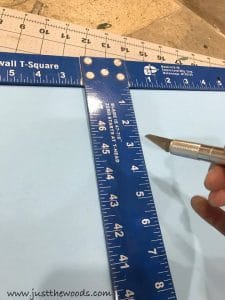 Simple and clean, now a much prettier surface to keep, well, anything really.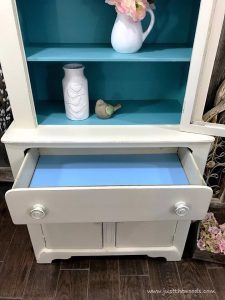 The inside of the bottom portion was actually a mess, but now it's also simple and clean like the drawer. Poster board is an affordable and simple option to line the bottom of a piece, and if you get tired of it, you can easily swap it out down the line.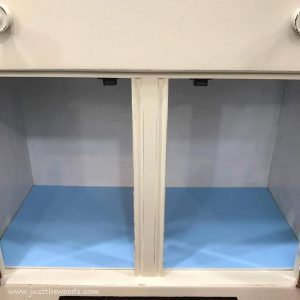 Adding Magnetic Cabinet Catch to Doors
The lower doors had nothing preventing them from swinging inside and nothing preventing them from remaining open either. This is far from ideal, but another easy fix.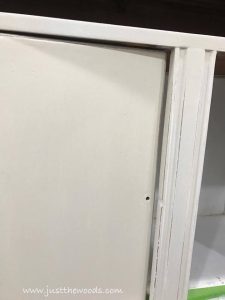 Along with random vintage hardware, I also keep a wide selection of other helpful accessories in my shop, including but not limited to these magnetic cabinet catches with strike plates.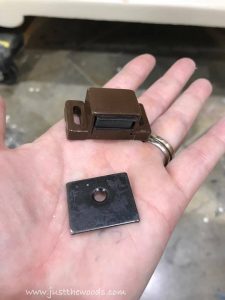 One magnetic catch was installed for each lower door on this shabby chic cabinet. Easy peasy,  now the doors are able to stay in place.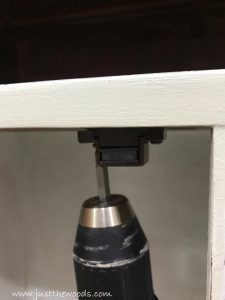 The Result – A Shabby Chic Cabinet from a Worn Out Old Cupboard
So many steps, but all worth it. This worn out old cupboard has really made a turnaround as a shabby chic cabinet, with an added pop of color too.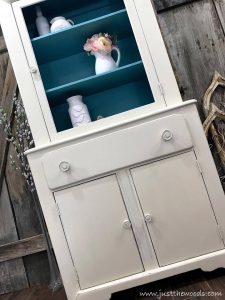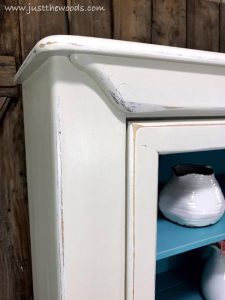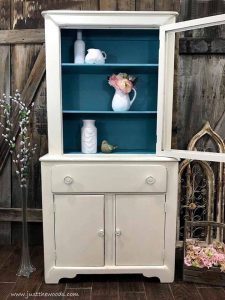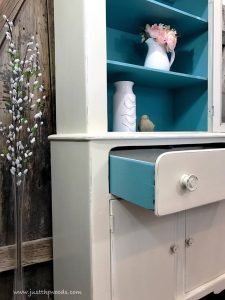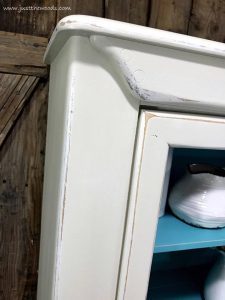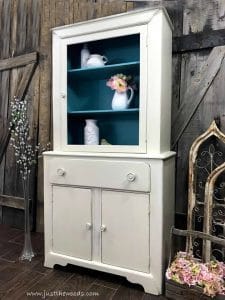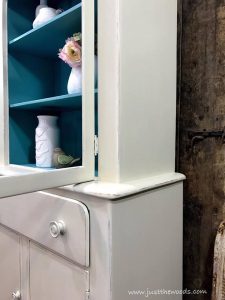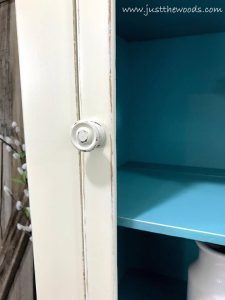 Remember how bad that lower side looked? Look at it now!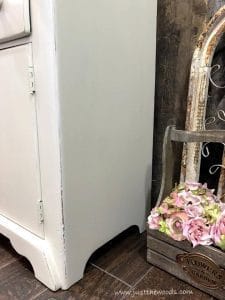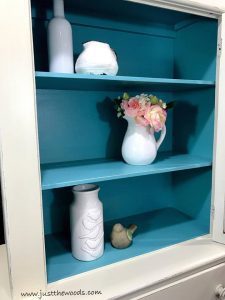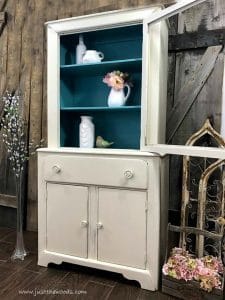 Wait! Don't Go!  It's that time of the month again for:
Crafty Girls and Furniture Friends
A few of my creative and talented blogger friends and I have joined together in our monthly Crafty Girls and Furniture Friends share.  We get together on the second Tuesday of each month 😉 Let's see what my friends are up to! Make sure to click the links below the image to check out all the amazing projects that my bloggy girls are working on this month.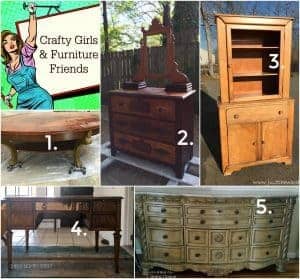 Lynn Fern – Coffee Table Makeover Using Favorite Brands
That Sweet Tea Life – How to Paint and Shade with Pure and Original Classico
Just the Woods – How to Get a Shabby Chic Cabinet from an Old Worn Out Cupboard 
Thirty-Eighth Street – Dry Brush Painting Technique that Makes Furniture Look Like Art
J. Burns Design – Broken and Outdated to Rustic and Gorgeous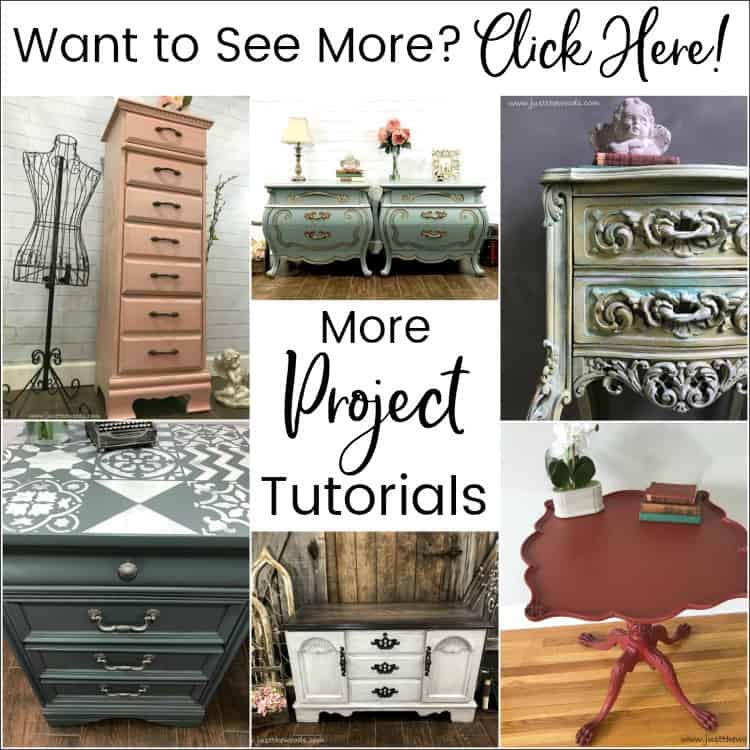 Don't Forget – Follow Just the Woods and Share this post to Inspire others:
FACEBOOK  *  INSTAGRAM  *  PINTEREST
Subscribe to our mailing list here:
PINTEREST PIN READY TO SHARE