How to paint a blue dresser and give it a masculine touch. A painted navy blue dresser is the perfect masculine painted furniture makeover. Blue painted furniture can be loved by everyone.
Masculine Blue Dresser
To some, this may just be a navy blue dresser, but to one man, it may be more. A step in a new direction, so to speak. You see, sometimes a man loves a woman and after a lifetime together one of them passes away. It's sad, it's lonely and it eventually happens to all of us. It's something we don't talk about or look forward to but it is life. Often the one left behind is left to pick up the pieces and has to figure out how to go on without their other half. Possibly updating or replacing the bedroom furniture is just a small step in moving on. This vintage chest on chest dresser is a wise choice for a man looking to add a masculine touch to his once peach bedroom.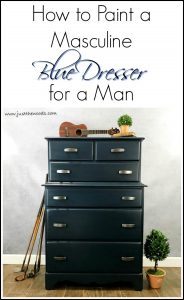 Disclosure: This painted blue dresser post contains affiliate links for your convenience. Click here for my full disclosure policy.
How to Paint a Masculine Blue Dresser 
Materials Needed / Source List
Prepping the Vintage Dresser for Paint
This vintage, chest on chest tallboy was another warehouse save. There was a warehouse full of vintage furniture that I had the opportunity to scour through. Woohoo, it was fun. I almost didn't take this piece, but I'm glad I made some room and squeezed it into my truck. It's transformation really is something.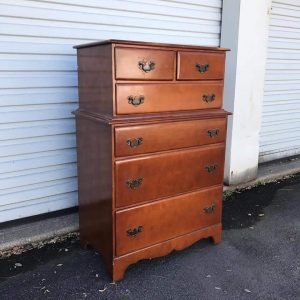 When this vintage tallboy was brought into the shop and I discovered that the drawers had been protected with a paper liner. The paper liner actually crumbled as I removed it from the drawers. Such a small bit of history of this dresser, yet it served such a purpose because it managed to keep inside the drawers in great shape. I can't help but wonder about the person who lined these drawers many years ago. I like to think it was an older woman like my late grandmother, but who knows. Sometimes it's fun to think about the history of a piece or create a story based on the small bit of evidence left behind.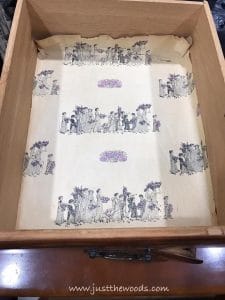 After removing the paper liner, the hardware was also removed and the entire piece was sanded and prepped in my standard How to Prep Painted Furniture fashion.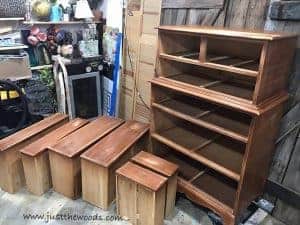 Click here to Pin this post for later.
Blue is a Good Choice for a Masculine Painted Dresser
The dresser and drawers are all painted in a sort of a royal blue furniture paint. This is a gorgeous blue but not the right blue for this blue dresser. You can find great quality furniture paint online HERE.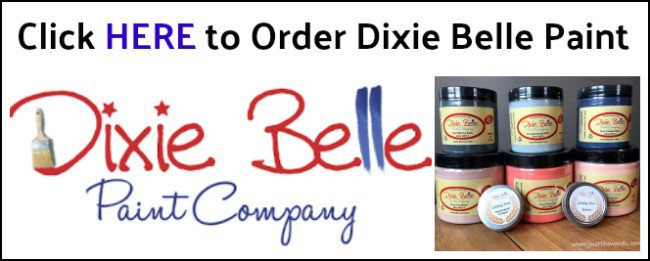 I had a feeling that this blue was a bit too 'young looking' and less older man blue so I sent a photo to my customer. My feeling was correct, my customer agreed that this painted blue dresser appears to be more of a little boy blue and we wanted more of an adult masculine blue. Who knew blue had so many shades relating to age. 😛 We are aiming for a dark blue dresser.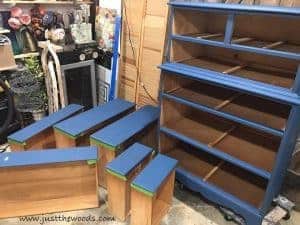 Navy is a Better Choice for a Masculine Painted Blue Dresser
Luckily, this is an easy fix. With a 1:1 ratio mix of the original blue and black furniture paint I was able to create a more grown-up navy blue. The second coat applied was this deeper, more appropriate navy color. This is a much better version of blue paint for a blue painted dresser.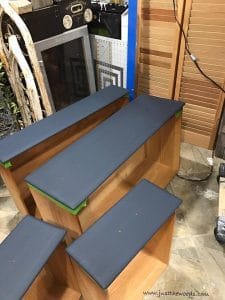 The entire navy dresser is lightly sanded between coats for a smooth finish. But this dark blue dresser is not being distressed so I was careful to apply minimal pressure with a fine grit sandpaper.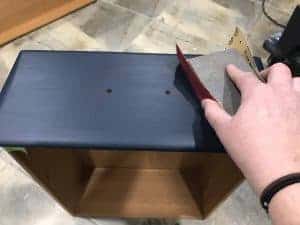 New to painting furniture and not sure where to start? Start at the beginning with How to Paint Furniture – a Beginners Guide.

The Hardware Dilemma
Initially, the plan was to keep the original hardware and paint it pewter. But after the regal navy blue paint job, the old hardware simply did not do this navy blue chest of drawers any justice. Thanks to D. Lawless and their amazing selection of drawer pulls I was able to replace the old vintage hardware with these Rustic Old World Pewter pulls. They are a much better fit for this painted navy blue dresser.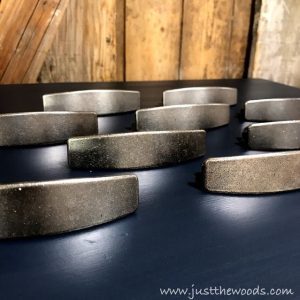 The new pulls have a chunky manly feel to them, don't you agree?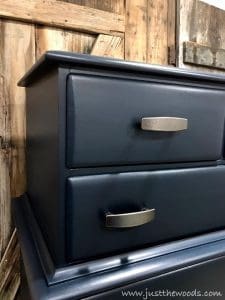 Painted Furniture Quick Tip
A quick note about vintage wooden dressers. Many vintage dressers have wooden drawer tracks, and when wood rubs against wood it could stick over time. One of the drawers of this blue painted dresser stuck just a little bit. So as an added precaution, I rubbed all of the tracks on all of the drawers of this navy blue dresser as well as any spot where wood rubbed against wood, with Daddy Vans Furniture Polish. It's a soft all natural beeswax that smells lovely and after a small application, the drawers glide like a dream.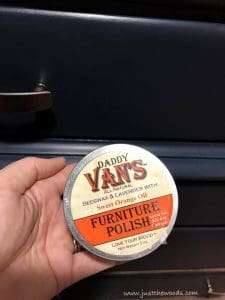 The Result – a Masculine Navy Blue Painted Dresser
With a little paint and hearty hardware, this vintage dresser is given a masculine touch. Add this beauty to the best blue painted furniture list.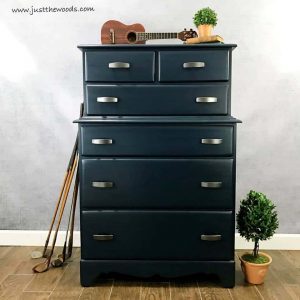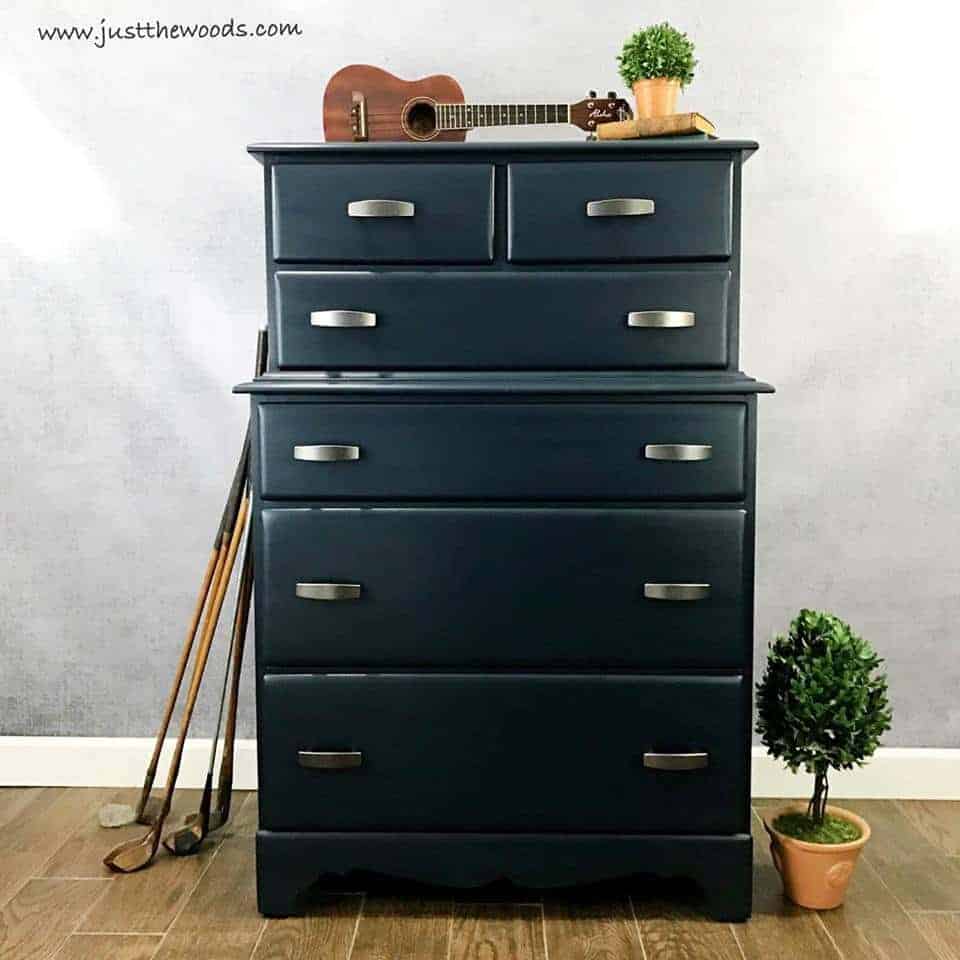 Click here to Pin this post for later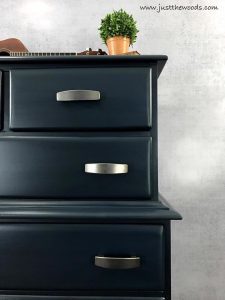 [clickToTweet tweet="A painted navy blue dresser is the perfect masculine painted furniture makeover." quote="If you like what you see go ahead and tell your friends" theme="style5″]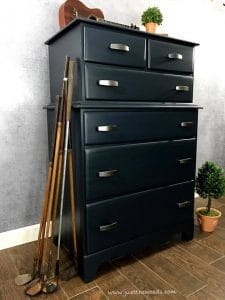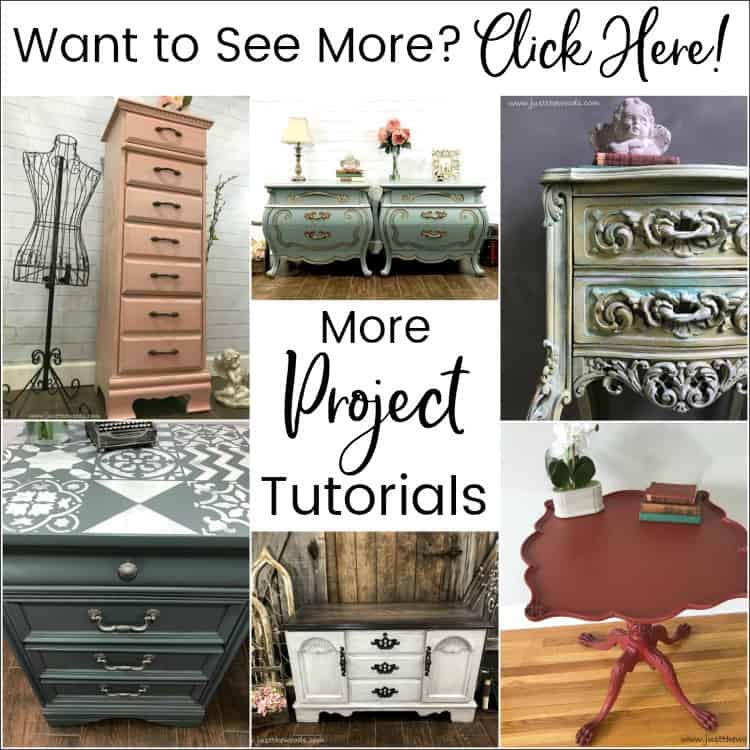 Don't Forget – Follow Just the Woods and Share this post to Inspire others:
FACEBOOK  *  INSTAGRAM  *  PINTEREST
Subscribe to our mailing list here:

Click here to Pin this post for later