Strawberry banana muffins for the win. Who doesn't love the combo of delicious strawberries and bananas? They go together like peas and carrots, like peanut butter and jelly, even like quinoa and kale 😉 To make this strawberry banana muffin recipe even better it is gluten-free, refined sugar-free and works perfectly for someone following a clean eating lifestyle like me.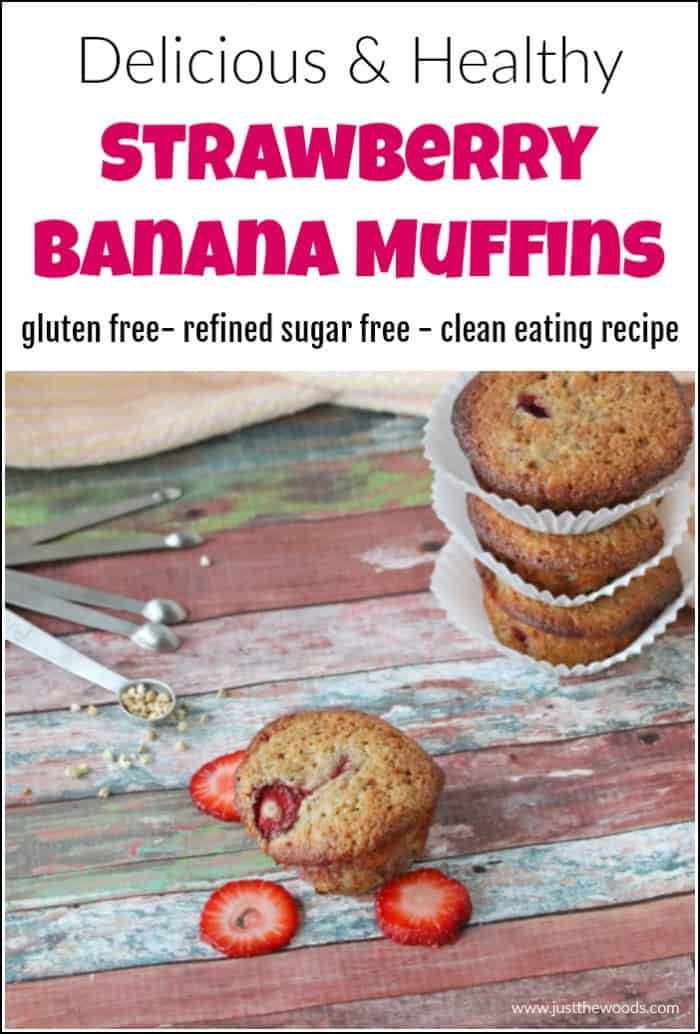 Disclosure: This clean eating strawberry banana muffins recipe post contains affiliate links for your convenience. Click here for my full disclosure policy.

Gluten Free & Refined Sugar-Free Muffins Recipe
What You Will Need (Full Printable Recipe Available Below)
Ingredients:
Dry ingredients:
1/2 cup light buckwheat flour (find it

HERE

)
1/4 cup almond flour (find it

HERE

)
1 Tbsp arrowroot flour (find it

HERE

)
1 tsp baking powder
Wet Ingredients:
1 large ripe banana
2 eggs
3 Tbsp coconut oil
1/4 cup pure maple syrup
1 cup diced strawberries
Homemade muffins are one of my all-time favorite healthy clean eating snacks. I keep a stash in the freezer to keep me from eating them all at once. They defrost easily in the microwave when I want something quick, easy and to curb the sweet cravings. My kitchen always has some sort of snack, whether I'm sipping on a delicious smoothie, or healthy energy balls, muffins and/or donuts. I am a huge 'snacker' so these have played a large part in my clean eating journey to losing over 50 lbs. Not to mention you can easily switch things up to adjust any muffins recipe to your liking just by changing out the fruit.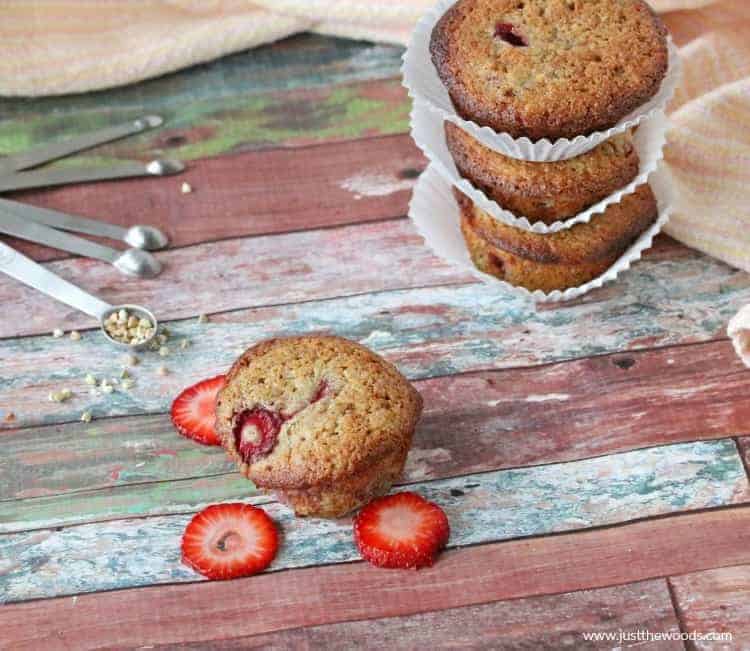 Clean Eating Basics
That being said, I am all about eating healthy and clean eating. If you are new to a clean eating way of life then you need to check out Everything You Need to Know about a Clean Eating Diet. You can also see how I lost 50 lbs and am keeping it off by following a clean eating diet here: How I Lost 50 Lbs Clean Eating. I tend to try different things and mix different flavors to keep meals healthy and tasty. Snacks are also my jam. I love making homemade protein bars, muffins, and energy bites. You can never have too many snacks on hand. Just don't eat them all at once.
How to Make Gluten-Free Banana Muffins with Strawberries
Preheat your oven to 350 degrees.
Spray or line a muffin pan. (these silicone liners are pretty great:

HERE

– I forgot to use them with this muffin recipe, oops)
Melt/soften the coconut oil.
In a medium-sized bowl, whisk all of the dry ingredients together. (1/2 cup

buckwheat flour

, 1/4 cup

almond flour

, 1 Tbsp

arrowroot flour

, 1 tsp baking powder)
In a smaller bowl, mash the banana then add in the rest of the wet ingredients (2 eggs, 3 Tbsp coconut oil, 1/4 cup pure maple syrup). Don't add the strawberries just yet. Mix well to combine.
Next, pour the wet ingredients into the dry and mix well. Allow the muffin mixture to set for 3 minutes or so to allow the wet ingredients to absorb into the dry.
Gently, fold in the strawberries.
Portion your batter into 6 muffin cups. You can also top with a few strawberry slices if you'd like.
Bake in the oven for 19-21 minutes. When the tops begin to turn golden perform the toothpick test. (stick a toothpick in and pull it out. If the toothpick comes out clean then your homemade healthy muffins are ready).
Remove from the oven and allow your strawberry banana muffins to cool in the muffin pan.
Ready to Delicious Strawberry Banana Muffins
Enjoy a few now, share some with those you love or save a few for later. If you choose to save these in the freezer you can easily pop in the microwave to warm up for a few seconds and voila. Naturally sweetened with bananas and pure maple syrup, you don't even need to tell the kids that they are refined sugar-free.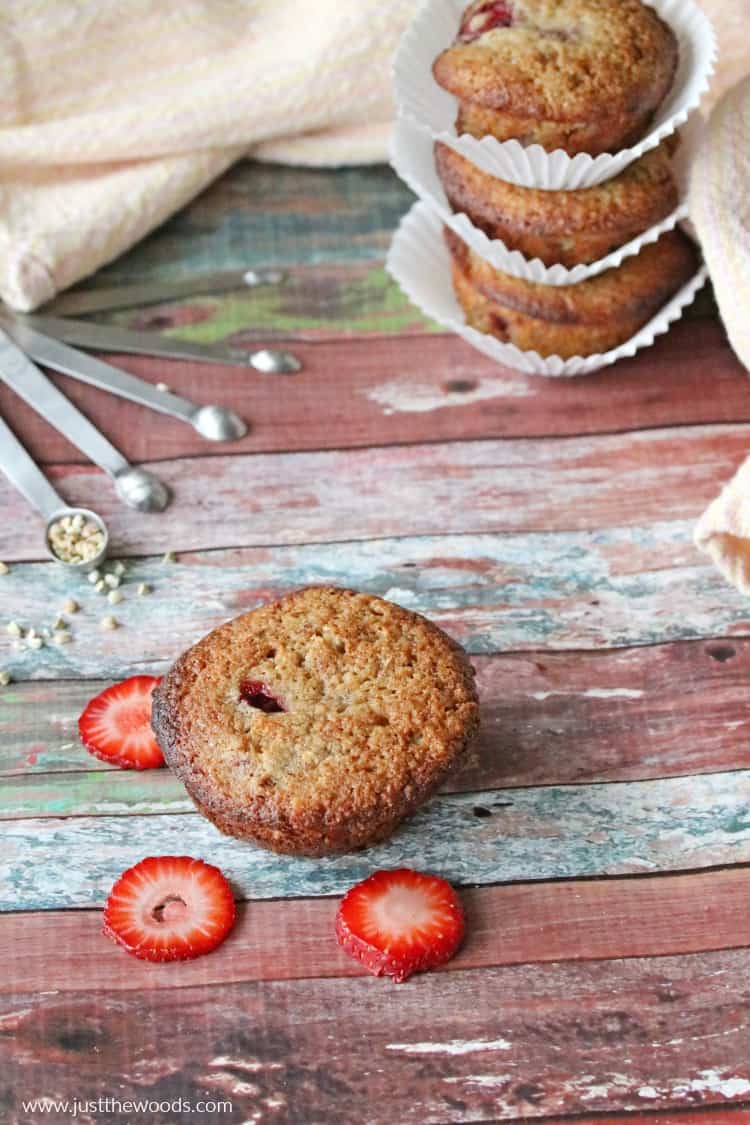 Love muffins and easy snacks? Make sure to check out the other healthy muffin recipes on the blog here: muffins!
Easy Banana Strawberry Muffins Recipe (Printable Version)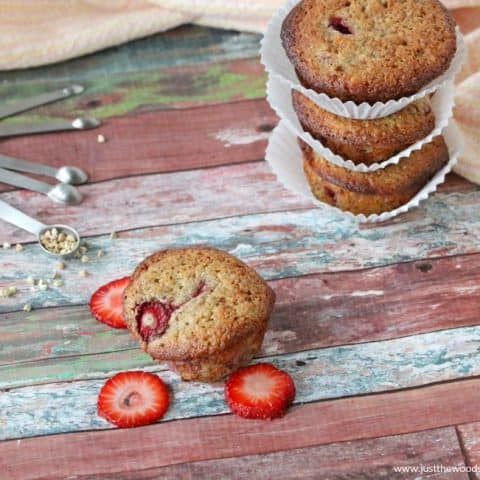 Delicious & Healthy Strawberry Banana Muffins
Healthy strawberry banana muffins recipe that is gluten free, refined sugar free and falls within a clean eating diet.
Ingredients
Dry:
½ cup light buckwheat flour 
¼ cup almond flour 
1 tablespoon arrowroot flour 
1 teaspoon baking powder 
Wet:
1 large banana, ripe 
2 eggs 
3 tablespoons coconut oil, measured solid 
¼ cup maple syrup 
1 cup diced strawberries
Instructions
1. Preheat the oven to 350 degrees.
2. Melt the coconut oil.
3. Whisk together all the dry ingredients.
4. In a small bowl, mash the banana and whisk together the wet ingredients mixing well.
5. Pour wet into dry and mix until combined.
6. Let sit for 3-5 minutes to allow the liquid to absorb slightly.
7. Gently fold in the strawberries.
8. Spray or line a muffin tin.
9. Portion out the batter into six muffin cups. Top with sliced strawberries.
10. Bake for 19-21 minutes, until the top is starting to turn golden. Perform toothpick test.
11. Remove from the oven and let sit in the tray to cool.
Recommended Products
As an Amazon Associate and member of other affiliate programs, I earn from qualifying purchases.
For more healthy clean eating recipes make sure to follow my clean eating Pinterest board here:
Clean Eating
.


Don't Forget – Follow Just the Woods and Share this post to Inspire others:
FACEBOOK * INSTAGRAM * PINTEREST * RECIPES