A Bookcase or an Etagere?
I admit that when I got this vintage etagere I had no idea what it was called. I just thought it was a very tall, heavy and unique bookcase that was dug out of a dusty old garage. What did I know? Until a friend explained that it's called an etagere. That seems like the kind of word that you have to say with an accent and it makes me feel just a little bit fancy.
Disclosure: This post contains affiliate links for your convenience. Click here for my full disclosure policy.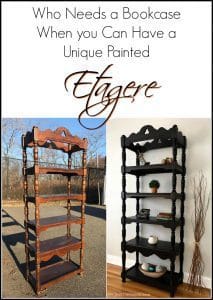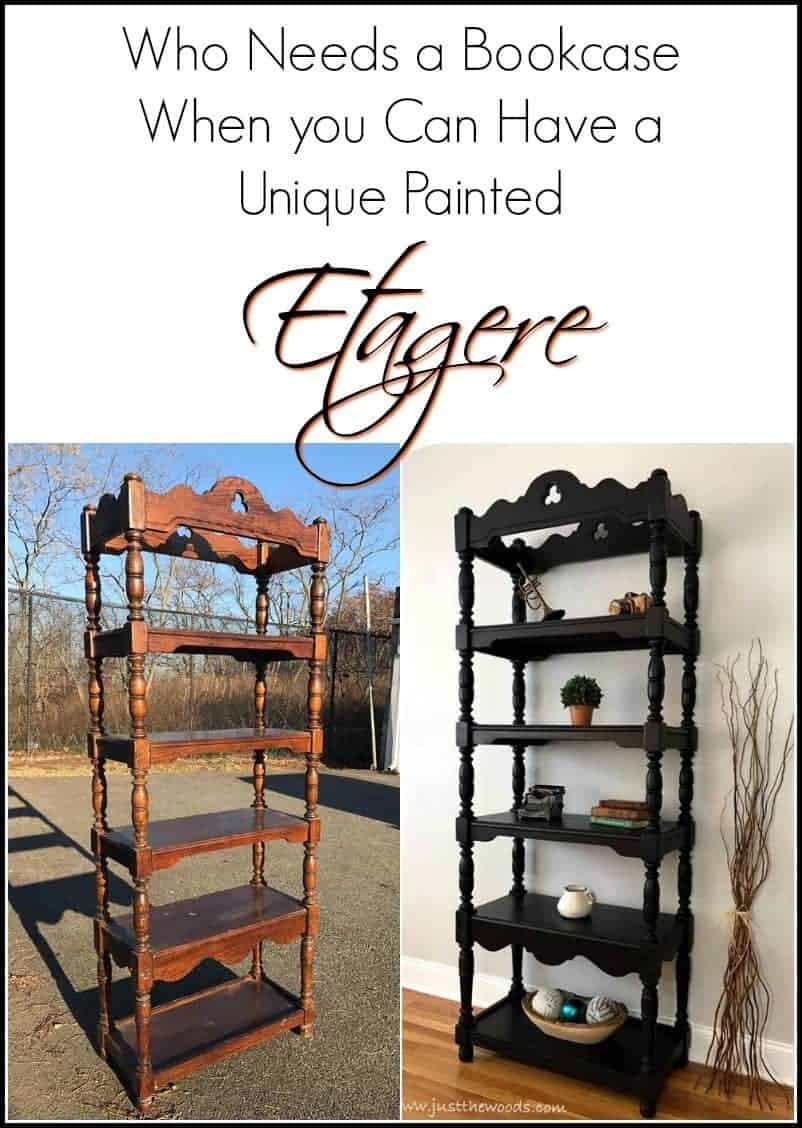 My next concern was the height. You know my shop ceiling is a bit lower than a standard ceiling right? Fingers crossed that this will fit. Eeek, it just fits! It's not the first time I've struggled with 'too tall' furniture. This sideboard, for example, was so tall I couldn't take photos until it made its way to its home. Click here to see that: angelic blue Thomasville sideboard.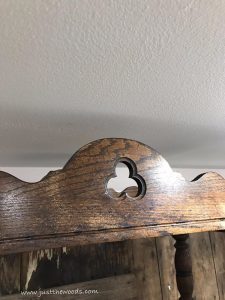 Before we continue, I just want to give you the heads up that my friends are joining us again towards the bottom of the post. It's another month of Crafty Girls & Furniture Friends.
Who Needs a Bookcase When you Can Have a Unique Painted Etagere
Materials Needed / Source List:
Preparing to Paint an Extra Tall Etagere
The etagere is very tall, as I mentioned which may not be as noticeable in the before photo. But to get an idea of how tall this is, it actually stuck out the back of the bed of my truck it's so tall!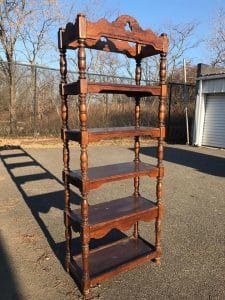 Also, not so noticeable in the photo is the wear and tear that this giant beauty has endured over time. There were small rings of some sort on a few of the shelves.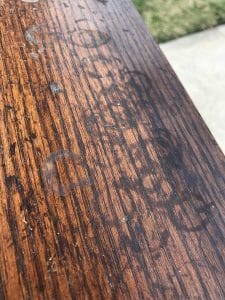 I felt my best bet was to lay the etagere down on the ground to properly sand and prep since I didn't plan to bring a step stool outside. Could you imagine how ridiculous it would look to see me outside standing on a step stool to sand the top shelf? I confess I'm laughing at myself a little right now. Here is my full process on How to Prep Painted Furniture.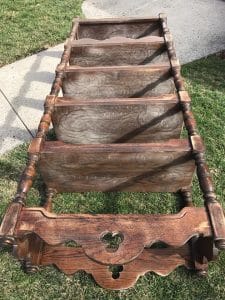 Lucky for me a neighbor was outside washing his car while I was sanding and prepping the etagere and he offered to help me get it inside when done. Along with being awkwardly tall, the etagere is also quite heavy, heavier than it looks for sure. Thank you, neighbor.
Painting a Unique Etagere
The chunky spindles and abundance of shelves make this piece so cool. I remembered that my customer had been looking for a bookcase, so I reached out to her and suggested this instead. Because who needs a bookcase when you can have a unique painted etagere? She bounced around on colors and decided on a classic black finish. My favorite! You can find great quality furniture paint and stain online HERE. An added bonus, when painting furniture, you want to make sure to use a quality non-toxic furniture paint.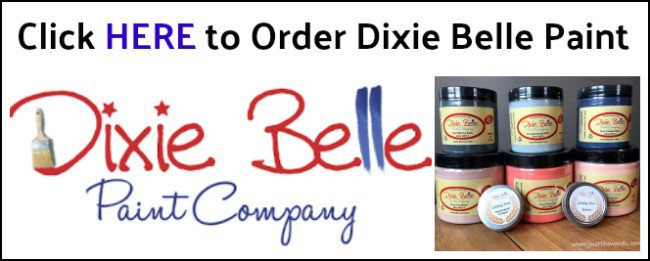 The entire etagere was hand painted black. And yep, I had to break out the step stool to get to the tippy top of the etagere.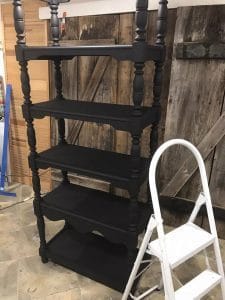 In between coats of paint, I lightly sanded to ensure a super smooth finish, especially on the shelving areas.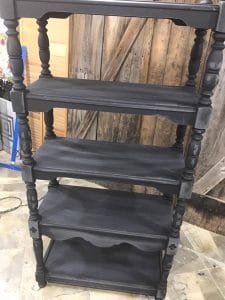 Instead of sealing the piece with a clear sealer I decided to seal with a black tinted sealer. I pretty much always seal my black painted pieces with a tinted black sealer, this just makes more sense to me. You can add a bit of black paint to your clear sealer to do this too. (I do the same with white)
The Result – Classic Black Painted Etagere
A step stool, electric sander, and helpful neighbor helped transform this chunky dusty piece into a gorgeous painted etagere. Having a friend who's familiar with fancy words doesn't hurt either.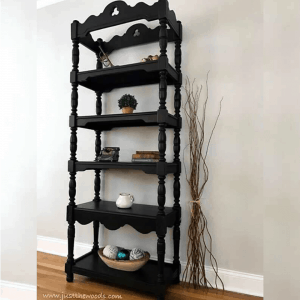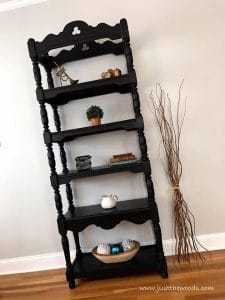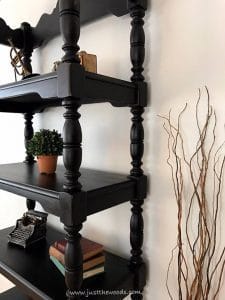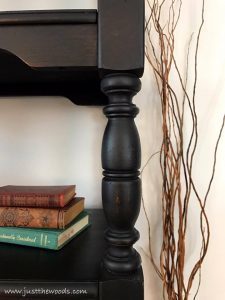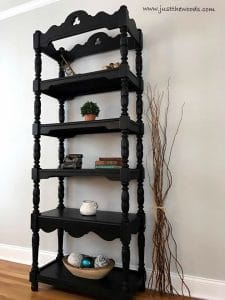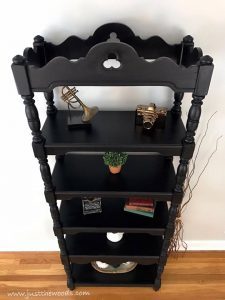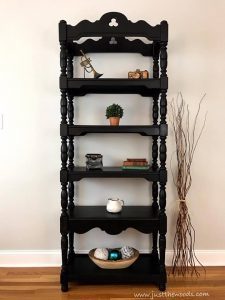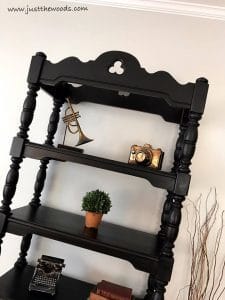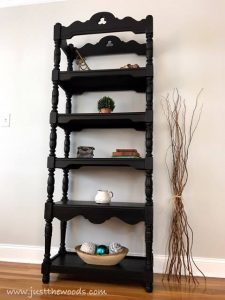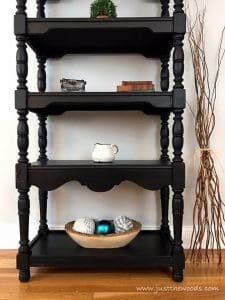 Wait! Don't Go!  It's that time of the month again for:
Crafty Girls and Furniture Friends
A few of my creative and talented blogger friends and I have joined together in our monthly Crafty Girls and Furniture Friends share.  We get together on the second Tuesday of each month 😉 Let's see what my friends are up to! Make sure to click the links below the image to check out all the amazing projects that my bloggy girls are working on this month.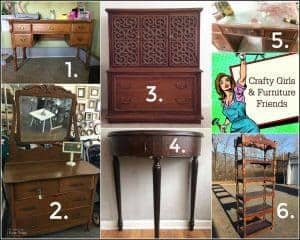 58 Water Street – New Twist on a Traditional Desk
J. Burns Design – Creating a RH Weathered Wood Finish
Thirty-Eighth Street – Painting Furniture with General Finishes Milk Paint
That Sweet Tea Life – Awesome Way to Make a Basic Table More Beautiful
Lynn Fern – Santa Fe Turquoise Desk Makeover
Just the Woods – Unique Painted Etagere
Don't Forget – Follow Just the Woods:
FACEBOOK  *  INSTAGRAM  *  PINTEREST
Subscribe to our mailing list here:
PINTEREST PIN READY TO SHARE