A basement makeover project taking the original concrete basement to completed finished basement over the course of a year. This basement project shows the step by step remodel.
Finished Basement Makeover Renovation
Since I've shared my living room makeover, as well as my kitchen remodel I figure it's better late than never, I may as well gather up my basement makeover. It's been 3 years since we completed the basement remodel but it feels like ages ago. The kids were much younger then, and we probably had a bit more patience. Nah, it was stressful. The basement makeover project took almost an entire year of weekends and some nights. Let me explain one thing about my hubby – he is very handy and knowledgeable when it comes to this sort of thing, BUT he is also like a bull in a china shop. He is very messy when he works, but the end result is always wonderful. Our basement is no different.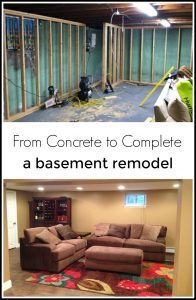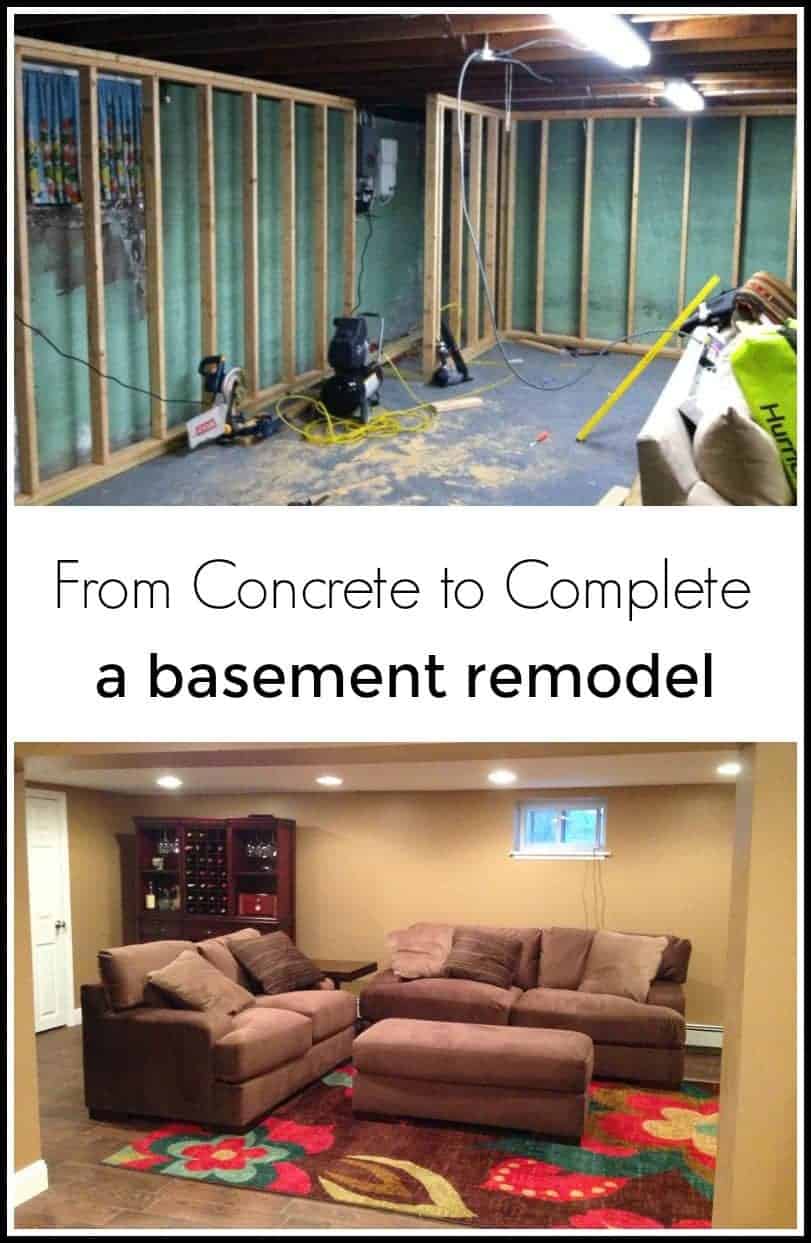 Let me start at the beginning. When we bought our home the basement was just concrete. Concrete walls, floor, etc. The stairs leading down to the basement were mint green, as were the concrete walls. It was exactly just a basement, nothing more, nothing fancy. I never even bothered to take a proper 'Before' photo but you can see from here the mint concrete wall. This was around day one when framing the walls started.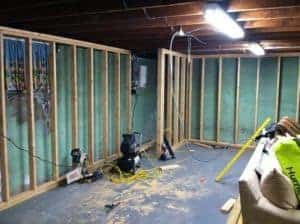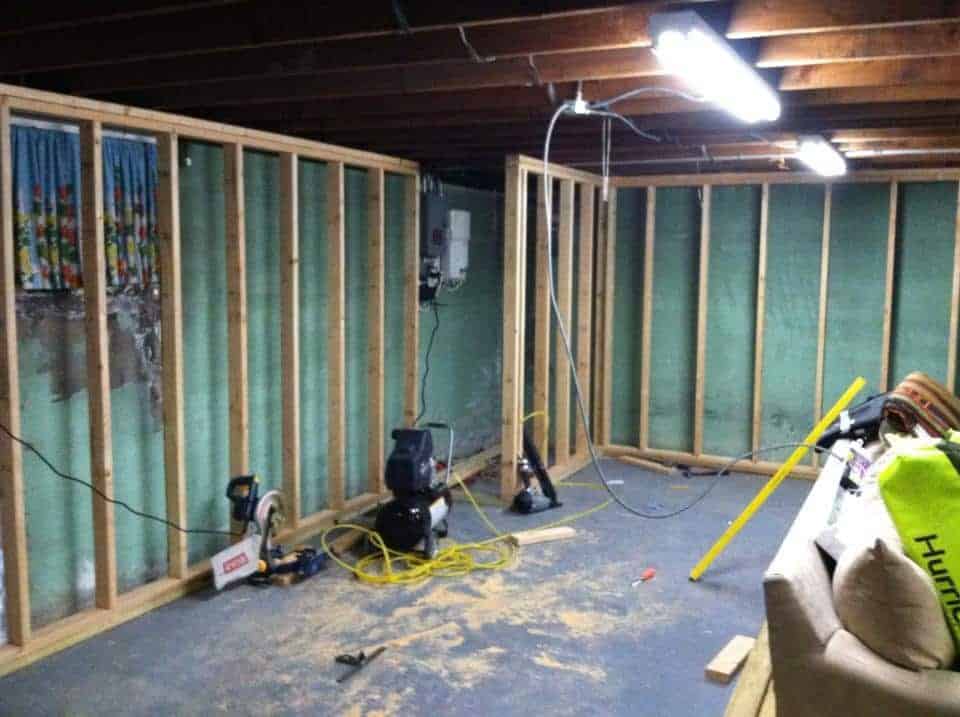 Framing the Walls for the Basement Makeover
We sectioned off small closets to allow access to the circuit breakers and plumbing pipes. We built up the frames right over the windows at first to get the baseline set.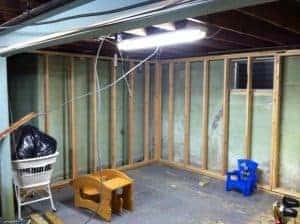 Another frame has to be built along the stairway. Most people, I would think, would clear out the basement to work, but not us. We don't always do the things that make sense, instead, we shuffled things around while the basement makeover project went on. Things gathered dust and got messed up, which made me absolutely crazy.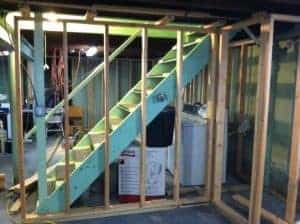 Installing a Bathroom with Shower
The plan was to install a steam shower, so an area was taped off and hubby got to work. His famous line of the project was "Babe, nothing to worry about. I'm just chopping up the foundation of our house." Can you see my concern? I know he is capable but man does he like to see me squirm. I'm just glad he decided to tape up this area to contain the mess.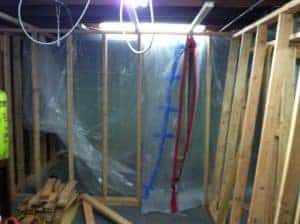 From here he marked and started cutting into the foundation to install new water lines for a shower, toilet, and sink.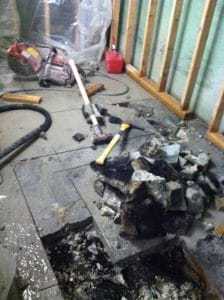 This was such a messy portion of the basement renovation project that he decided at one point to dig up the dirt naked. Yes, I said it. He thought that instead of getting himself filthy he would dig naked, that way when done he could kick off his shoes and jump in the shower. Though I appreciate his concern for creating less laundry for me to do, I wouldn't recommend doing this.
Click here to Pin this post for later. 
At one point he almost asphyxiated himself. We rented a machine from Home Depot to cut through the ground and with no air flow down there he nearly poisoned himself with the gas. That wasn't fun. But he sure did do a nice job.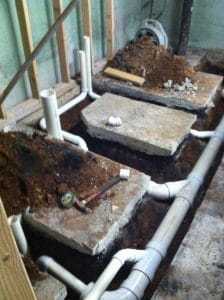 The new plumbing was tested for leaks and then covered up never to be seen again.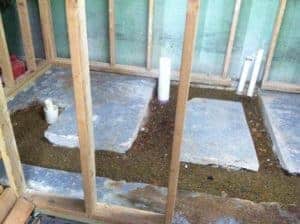 Installing New Basement Windows
Stepping away from the gaseous fumes and nakedness of the bathroom we also replaced the original basement windows. The frames were built and the old windows removed.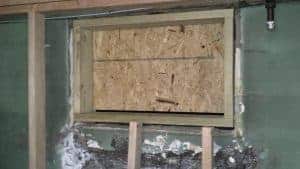 New windows were installed as well as new trim and block window sills.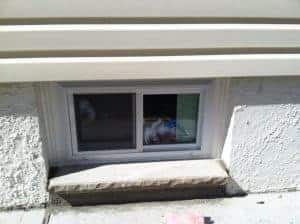 Installing Electrical – Outlets and Lights
All new cables were run for the power. Outlets and light switches were installed throughout the basement.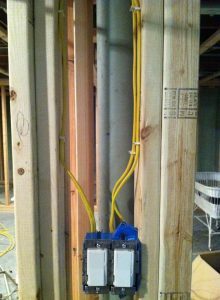 Since 'being handy' is something passed down even Jackson got to help run cables through the walls. It's never too soon to teach them.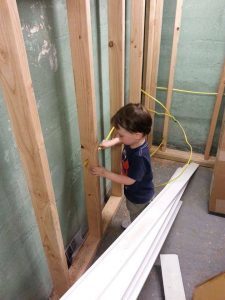 The fluorescent tube lights were removed and new high hats were added. The fluorescent tube lights were relocated and installed in the utility closets.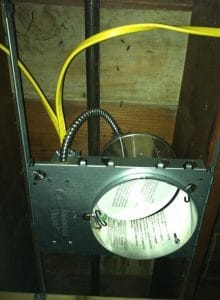 Adding a Shower in the Bathroom
Now that the plumbing is covered and the bathroom has been framed out its time to build a shower. The bottom of the shower was created with a slight slope for the water to drain properly.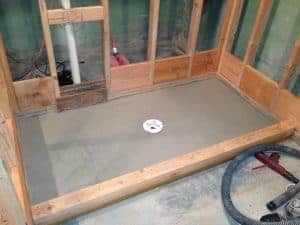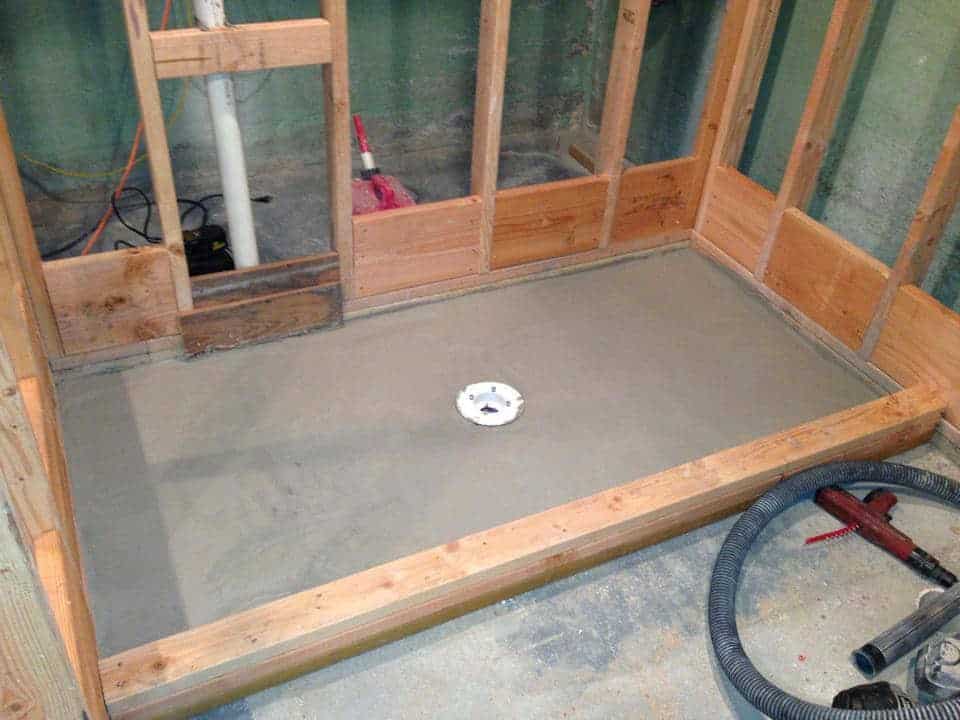 New water pipes were added for the shower. None of this work was done naked, so that's a plus.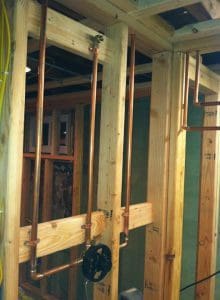 The future shower was insulated, walls up and waterproofed and shower pan installed.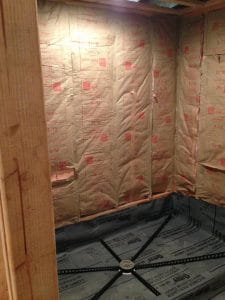 Click here to Pin this post for later.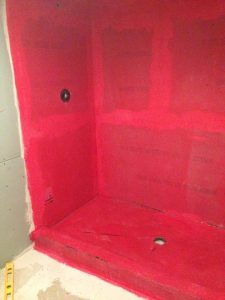 It was finally time to start making this look pretty. We chose white subway tiles for the shower walls with a stone like floor.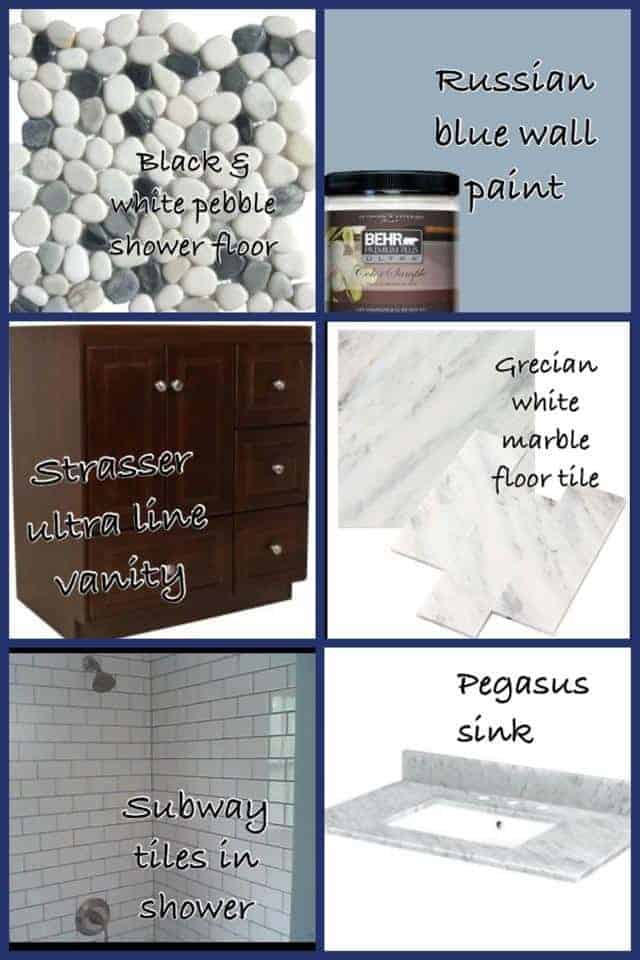 I stayed away while Brian installed the subway tile. He's a bit of a perfectionist and I've learned to keep my distance when he's working on little details. If one tile isn't lined up properly he gets crazy.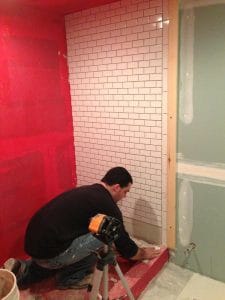 We considered gray grout but opted against it since gray would make any imperfections more noticeable. The subway tiles cover the walls and ceiling and were grouted with white as well as the stone floor.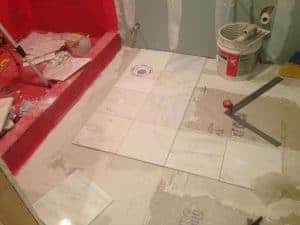 We opted for white and gray Carrera marble floor tile as well as shower ledge and sink.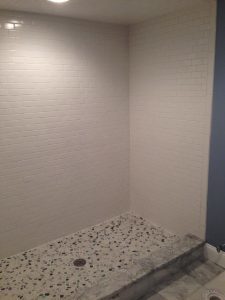 The intention with the basement bathroom is to keep it neutral, making the paint on the walls the only color in the room. I had slight flashbacks of visiting homes when we were househunting and being haunted by some of the crazy colors of bathrooms requiring complete overhauls.
Installing Baseboard Heat
The furnace was tapped, I'm not sure if that's the technical name for it, but the new water lines were connected to the furnace for baseboard heating downstairs. The heat down there has a separate thermostat to not be wasteful. This way we only heat the floor that we are in rather than the entire house.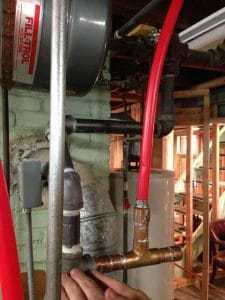 Remember I mentioned the bull in the china shop earlier? This is the constant chaos that went on for nearly a year while this basement makeover was going on.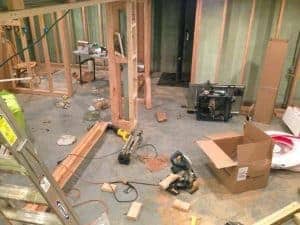 Insulating the Basement Walls
The walls and ceiling were all insulated before the sheetrock could go up.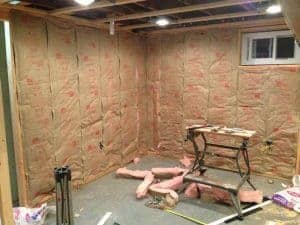 Sheetrock and more Sheetrock
We had the sheetrock delivered to the driveway and apparently it's quite heavy. It took many trips to get all of those sheets inside and down the stairs. Once it was all inside the walls and ceiling were sheetrocked. To get the ceiling installed Brian built a giant 'T' to hold up one end while he held up the other.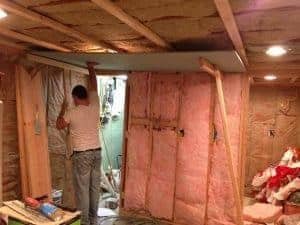 Basement Stairs
Originally, the plan was to remove the mint green paint from the stairs and then stain them. But that just seemed like way too much work. I suggested tearing them down and building new. Hubby agreed! He pulled a Paul Bunyon and smashed our old mint green steps to oblivion. Too bad we forget to move my stash of wine bottles that had been temporarily stored under the stairs. Thankfully all bottles survived and were relocated for the rest of the remodel.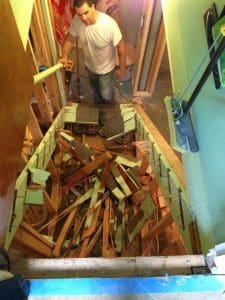 Once the old stairwell was completely removed a new staircase frame was built. This was as basic as it can be and if you ran too hard down the steps you would swear that you would fall right through the wood.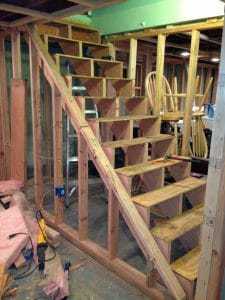 The stairs stayed like this until near the end of the project since we didn't want to make them pretty just to track dirt and dust all over them.
Click here to Pin this post for later. 
Taping and Priming the Walls
Once the walls were all up they were taped, spackled and primed for paint.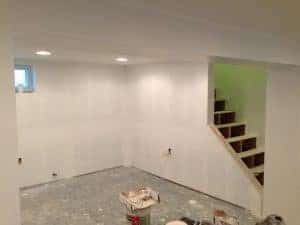 The walls were all painted in a neutral burnt almond. When I chose this color hubby fought me on the decision and said that he hated it. This time my response was to trust me. 
Installing Tile Floor that Looks Like Wood
Since this is a basement we opted for tile, but didn't want the cold feel of tile, but cozy instead. Cozy tile seems like an oxymoron, but it does exist. Tile that looks like wood!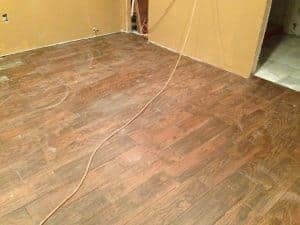 The tile was grouted and baseboard heat was added as well as white trim. The tile turned out to be a great idea, down the line there was an instance where a piece of clothing dropped into the drain sink and went unnoticed. While the washing machine drained the water overflowed the sink and created a small flood in the basement all over the tile. Thankfully, it was easily cleaned up with a wet dry shop vac. If this were anything other than tile we would have a big problem. Now we pay more attention while washing clothes. :/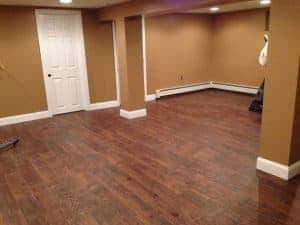 Stairwell Lighting
I almost forgot! I wanted a chandelier of some sort in the worst way. This was scary to watch but he knows what he's doing.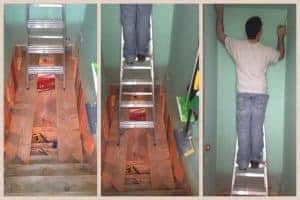 The Result – Basement Remodel from Concrete to Complete
After almost an entire year our cold concrete basement is a cozy family hang out. Hubby fought me on the bold colorful area rugs too. The basement before and after is drastically different and we couldn't be happier. 
The kids have their own play area to make a mess.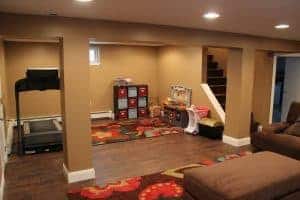 They sure didn't waste any time either.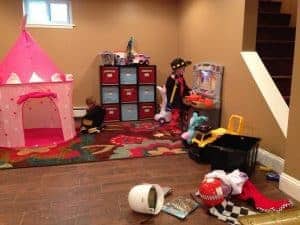 Mommy's wine storage. *Swoon*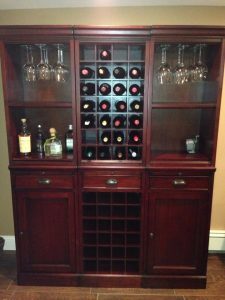 New stairwell finished and stained. I promise we did finish off that ledge that is still exposed in the photo.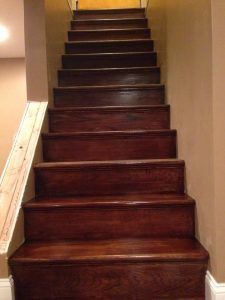 The chandelier over the stairwell.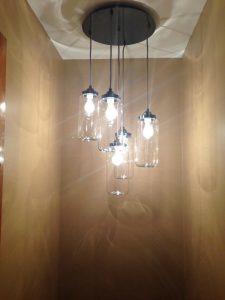 The finished bathroom. 
Click here to Pin this post for later.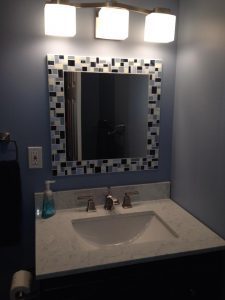 Years later this is still a cozy area for us to hang out. There are a few more toys and a few less bottles of wine. That's not exactly true, I restock that as often as possible. 😛 Oh, and in the end, even hubby agreed that all of my color choices for the basement makeover worked together perfectly. I think that may be why he didn't fight so hard on my design decisions once we got to the living room makeover.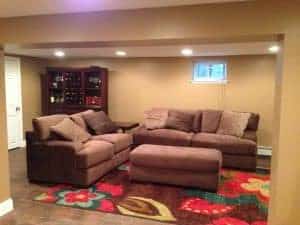 Would you like to see other areas of our home? Check out or 1950s Kitchen Remodel and our Living Room Makeover.

I'll be sharing this post at these fabulous link parties.
Don't Forget – Follow Just the Woods:
FACEBOOK  *  INSTAGRAM  *  PINTEREST
Subscribe to our mailing list here:
PINTEREST PIN READY TO SHARE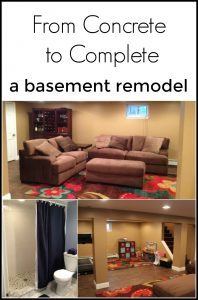 Disclosure: This post contains affiliate links