Disclosure: This marble top tables post contains sponsored links from Pure & Original Paint. All opinions are 100% my own. This post contains affiliate links.  
Marble Top Tables Painted Romantic Gustavian Style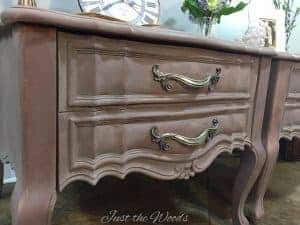 This post has a lot of what was supposed to happen followed by what actually happened. These tables were supposed to be "easy".  I've come to learn that any time I have a project that I expect to be easy,  it turns into quite the opposite.  The funny thing is that the tables are gorgeous, the hardware is gorgeous and the paint used is gorgeous.  I think the marble tops are what were throwing me for a loop.  I will walk you through the progression of these tables. Please bear with me.
Unfinished Vintage Marble Top Tables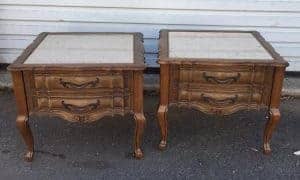 I was quite excited about these since they were originally my choice pick for a contest that I'm participating in. I decided to use a different piece for the contest and that post is still yet to come, so stay tuned. These gorgeous soft colors were my first choice for these tables because initially, they seemed to compliment the stone tops beautifully.  I used all of these colors and then some. *update you can see the contest piece project here.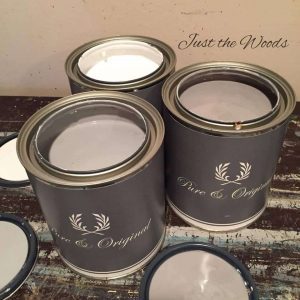 The Beginning – Things Don't Always Go as Planned
I was supposed to be packing for our vacation in Florida and instead, I snuck down to my shop to get at least one first coat of paint of Pure and Original White Rhino on these beauties.  So far, so good.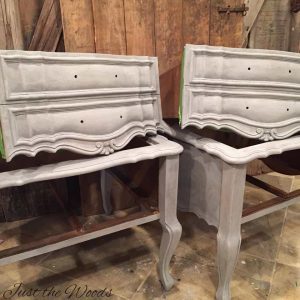 Once we returned from vacation I was ready to continue and added a layer of Island White, Dried Clay, and Black Smoke.  The gray simply was not working with the stone.   The paint looked great but not with the marble.  I actually loved the look of the paint finish so much that I ran out to a local stone yard and tried to buy new black stone to replace the existing but they wanted $360 for new black square tops.  A cost that I simply couldn't justify.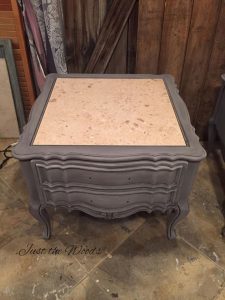 Next, I added a light layer of Island White which in turn made the stone look a pinkish orange and convinced me that I needed to go darker with the paint.  This was frustrating because again I loved the paint finish.
Next, I went on and added a layer of Cuban Brown and Hazelnut Butter which made the tables look red,  sigh, still not quite there yet.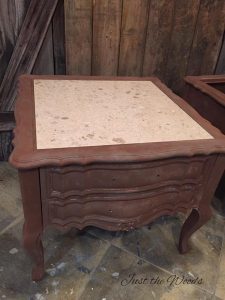 Then They Somehow Fall Into Place
Lastly, I toned down the red with another layer of a dried clay and island white. By golly, I think I've finally got it.  The hardware was cleaned and distressed back in parts to reveal gold while leaving some original patina as well.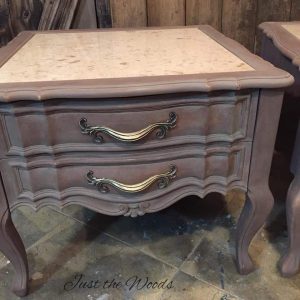 I am finally happy with them!  I am loving the cloudy gustavian style finish, I think that's what its called. What do you think? I warn you now that I am about to bombard you with photos of these beauties!
The Result – Vintage Marble Top Tables Painted Romantic Gustavian Style






I love the end result of these tables and this was my first time trying Pure & Original Paint and can honestly say that I love it.  There are so many soft colors to choose from. Even more excited to add, is that these tables were purchased and now live in ALASKA!
I've decided to share where I purchase the items that I use in staging my photos. Clearly, I have a prop/decor addiction.
I'll be sharing this post at these fabulous link parties.
Don't Forget – Follow Just the Woods :
FACEBOOK  *  INSTAGRAM  *  PINTEREST
Subscribe to our mailing list here: