Majestic Cranberry Ethan Allen Buffet
I didn't expect to find an Ethan Allen buffet on this particular day. I was on a mission to buy a large dresser, but when I arrived to check out the dresser the seller said: "oh, by the way, I'm also selling this Ethan Allen buffet if you're interested" Um, YES I am definitely interested! To be completely honest, this buffet was in really nice shape when I bought it, which is always a pleasant surprise. It's large, curvy and comes with the Ethan Allen name. That alone assures me of its quality. The drawers are dovetail and clean inside with hardware that fits the piece perfectly.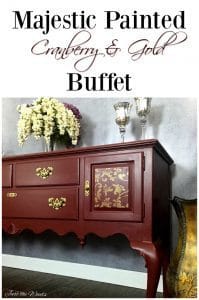 Materials Needed:
Disclosure: This Ethan Allen buffet post contains affiliate links for your convenience.
Staging / Home Decor
Unfinished Ethan Allen Buffet
The details are gorgeous and its oversized length caused the buffet to stick out the back of my truck. I had been on my way to Brooklyn when I scooped this up and had to run it home and put it in my kitchen to avoid leaving it in my truck with the end hanging out. There was no way I would risk losing this beauty. My hubby wasn't so keen on my dropping it our kitchen since I burst in like a hurricane and then ran right back out again. But that was only temporary. It was removed to storage the next day until its makeover, but oh the torturous things we do to one another in a marriage 🙂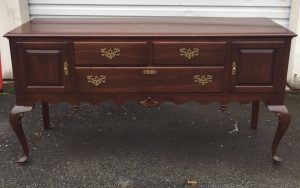 The Process
This beautiful buffet was brought into my shop for the standard prep, which includes a sanding and cleaning prior to painting. See my How to Prep Painted Furniture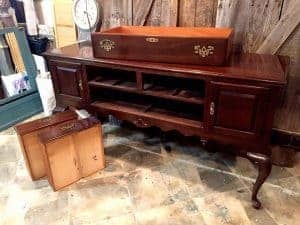 The buffet was hand painted in a gorgeous, rich and elegant cranberry red. I sanded in between coats as well as lightly sanded between coats of clear sealer for a smooth finish. Once the cranberry was complete I was able to create a custom mixed gold for an added elegance. You can find great quality furniture paint and stain online HERE. An added bonus, when painting furniture, you want to make sure to use a quality non-toxic furniture paint.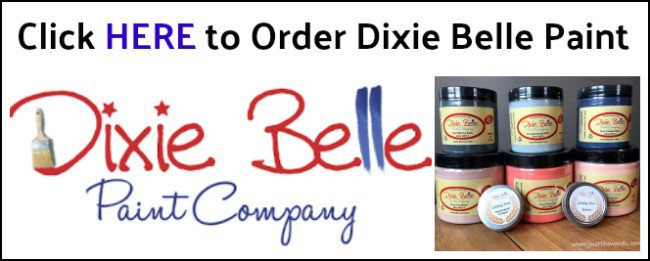 The Stencil
The entire top of the buffet along with the square areas on the cabinet doors were finished with a subtle metallic gold stencil creating a tone on tone appearance.  This simply means that the image can seem to fade in and out depending on how the light hits it.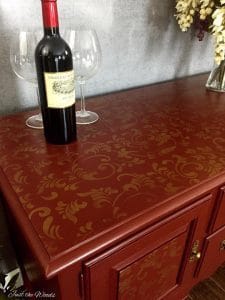 Looking for amazing stencils? Find them here: Stencils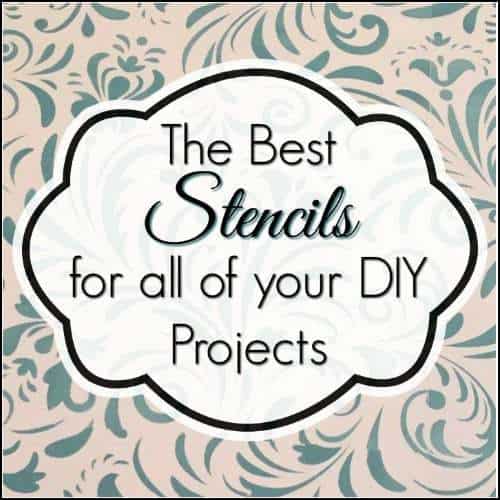 The Hardware
The original hardware was cleaned and refreshed to gold, complementing the metallic gold stencil.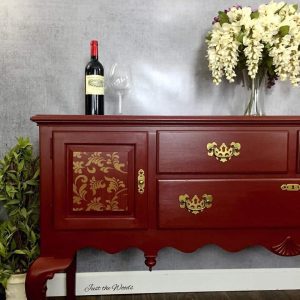 The Result – Majestic Painted Ethan Allen Buffet
This solid wood, vintage, Ethan Allen buffet now exudes a sense of elegance.  The rich cranberry color with the subtle metallic gold design compliments each other beautifully.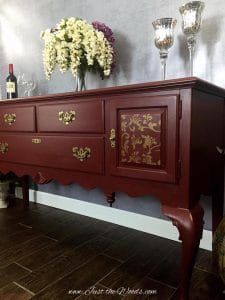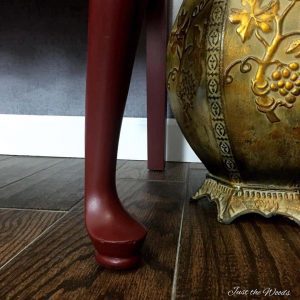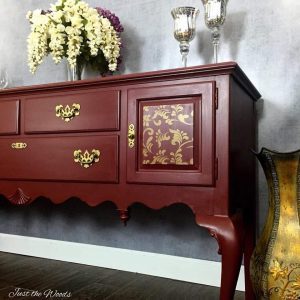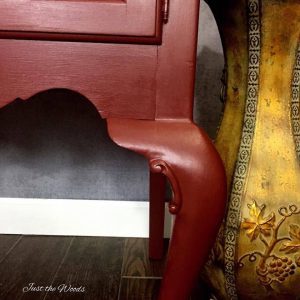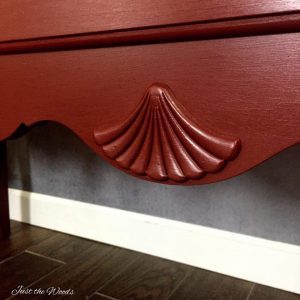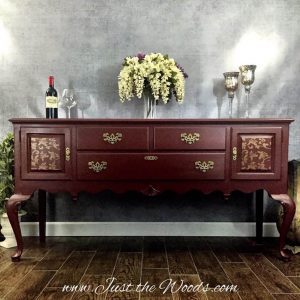 Oops
While taking photos I had an epic staging / photography FAIL.  I was tending to one tripod and completely forgot about another, knocking one over and my light bulb shattered all over the floor. Eeek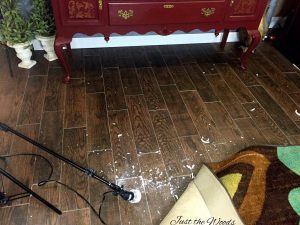 If you enjoyed this makeover then make sure to check out
I'll be sharing this post at these fabulous link parties.
Don't Forget – Follow Just the Woods and Share this post to inspire others :
FACEBOOK  *  INSTAGRAM  *  PINTEREST
Subscribe to our mailing list here: