Cranberry Painted Bookcase with Gold Stencil
There's wood and then there's not wood. I always make it a point to do my best to acquire quality vintage wood pieces of furniture. But often things in stores today fall into the not wood category and my customers still want change, an update or something different. There's no reason why their not wood can't be updated too!
Materials Needed:
Disclosure: This cranberry painted bookcase post contains affiliate links for your convenience.
The Before – Unfinished Bookcase
This cute little bookcase with curvy feet was dropped off by a repeat customer for a makeover. The bookcase is not old, in fact, it seems rather new and made of MDF, but she wants to veer away from the standard white and give it a little more personality.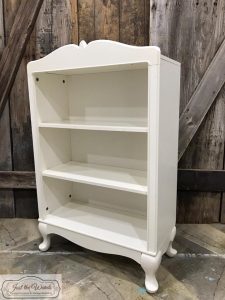 Even though this bookcase is made of MDF and not solid wood, it can still be painted with the proper prep and products.
Prepping MDF aka 'Not Wood' for Paint
The bookcase received the standard prep of sanding and cleaning, just like any other piece of furniture would be prepped for paint. Since the original finish is white, my sponge shows the residue of the finish during prep.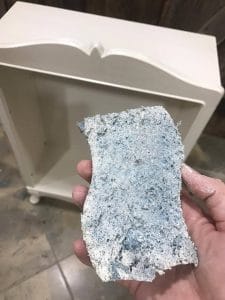 A deep red cranberry is the chosen color for this project! This color is the perfect combo of traditional, rich and elegant. You can use muscadine wine if you want a deep red like this. You can find great quality furniture paint and stain online HERE. An added bonus, when painting furniture, you want to make sure to use a quality non-toxic furniture paint.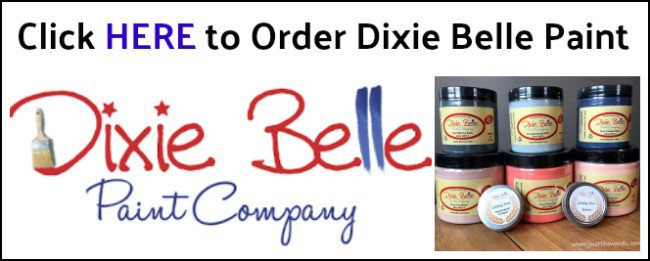 In addition to this gorgeous paint color, my customer was inspired by a previous piece that was recently finished in cranberry with a floral gold stencil. I'm sure you can see where we are heading. This Ethan Allen Painted Buffet with a gold stencil really caught my customer's eye.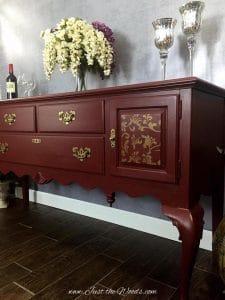 The Process – Painting an MDF Bookcase
The bookcase was painted cranberry, this was after the first coat. It pretty much looks gross with only one coat. EWWWW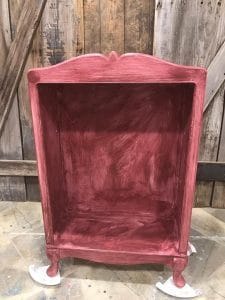 Painting a dark color over a white surface takes more than one coat. As a matter of fact, I applied three coats to be safe before sealing this cranberry painted bookcase.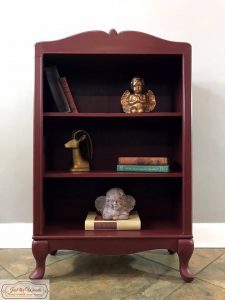 Once the bookcase with painted cranberry the floral stencil was added on the sides of the piece in metallic gold.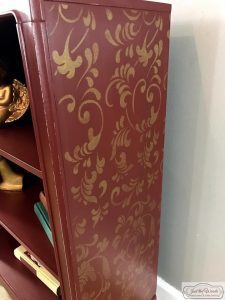 The Result – Painted Cranberry Bookcase
The white factory finish is a thing of the past.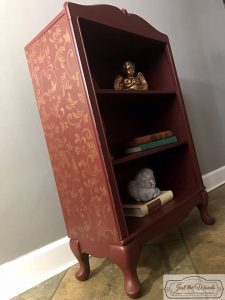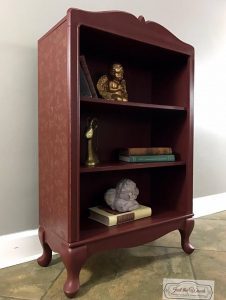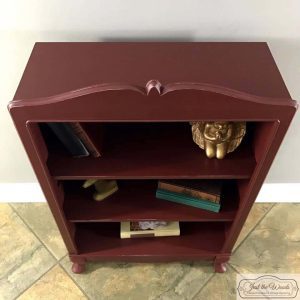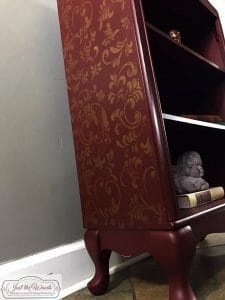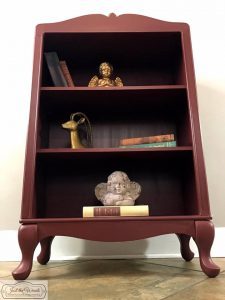 If you love this stencil you can find it HERE. And to see other projects where this same stencil was used, be sure to check out Ethan Allen Buffet and Custom Painted Cranberry Credenza.
Don't Forget – Follow Just the Woods :
FACEBOOK  *  INSTAGRAM  *  PINTEREST
Subscribe to our mailing list here:
PINTEREST PIN READY TO SHARE