Cottage Style Painted Dresser Set Makeover of Antique Eastlake Furniture for your cottage style decorating. When you have a cottage style home and are looking for cottage design ideas this blue painted dresser makes the perfect cottage style furniture
 

Eastlake Cottage Style Painted Dresser Set
This cottage style antique Eastlake dresser set is one of the oldest pieces I have worked on to date. Being over 100 years old it is handmade with amazing spoon carved details.  The drawers feature Knapp joints which seem to be rare to come across these days. All in all, it's old and amazing!
Disclosure: This post contains affiliate links for your convenience. Click here for my full disclosure policy.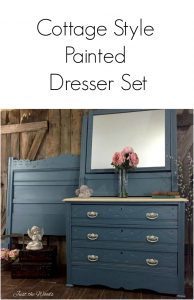 Eastlake Cottage Style Painted Dresser Set
Materials Needed:
Staging / Decor Items:
the antique books were bought at an antique shop
Before the Paint- Antique Eastlake Furniture
I know that there are antique lovers who would cry at the thought of this set being painted. But there are also the ones, like me who agree that the details would look amazing painted. Eastlake furniture often has carvings in the wood that would look lovely painted with a cottage style feel. Trust me when I tell you that this set did not come without its share of imperfections. This dresser set is the perfect style for cottage style decorating, so if you have a cottage style home then this is for you.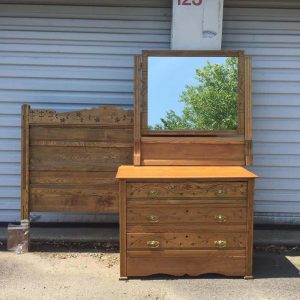 If you are feeling a little angry about this being painted, let me also share that it had been locked away in a basement of an apartment complex. No one could see it, use it or appreciate it.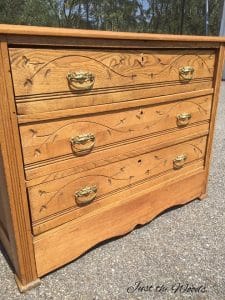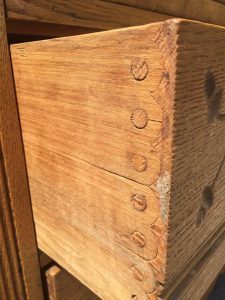 In its original condition, the dresser is without a doubt, gorgeous but it is still in need of a makeover.
Preparing for Paint
This set was thoroughly sanded and cleaned to get it ready for paint. The headboard had a few crevices where dust bunnies were hiding. An old toothbrush was the perfect tool to reach and remove them (I swear it's not my husbands). You can see my whole process for How to Prep Painted Furniture.
There was a small split in the upper corner that required a bit of patchwork.  The wood glue syringes always work wonders for situations like these.  You can get these handy syringes here.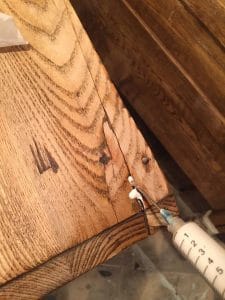 Choosing a Color for the Painted Dresser Set
While I was busy prepping this set for its new look, my customer was busy choosing her colors from this sample palette of gorgeous colors! Which would you choose?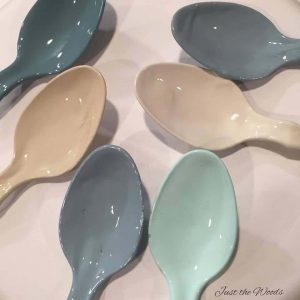 She decided on a gorgeous cottage blue with a creamy vanilla top and I have to admit that they go together beautifully.  They are such a wonderful match for a cottage style set. You can find great quality furniture paint and stain online HERE. An added bonus, when painting furniture, you want to make sure to use a quality non-toxic furniture paint.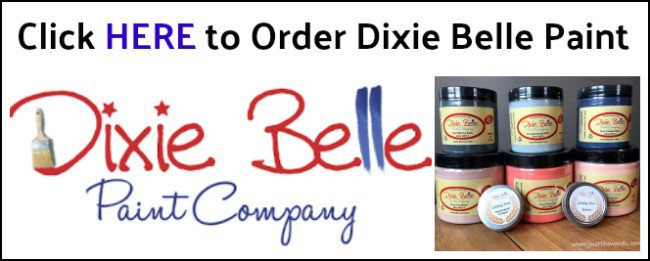 The top was hand painted in a creamy vanilla while the rest was finished in a very pretty blue. With a little sandpaper, the entire set was distressed to accentuate the spoon carved details, embracing the amazing antique characteristics. Before being sealed for protection, the amazing hardware was painted in the same creamy vanilla to match the dresser top. You can check out how I Clean, Prep and Paint Hardware.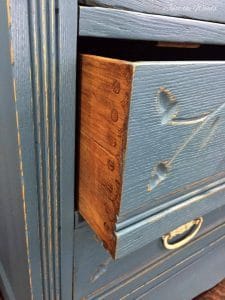 The Result – Cottage Style Painted Eastlake Dresser Set
Now, this is quite a lovely cottage style painted dresser set that will fit perfectly in a cottage style home. And it is now able to be loved and adored in its new home.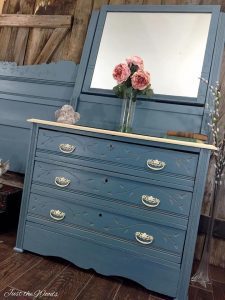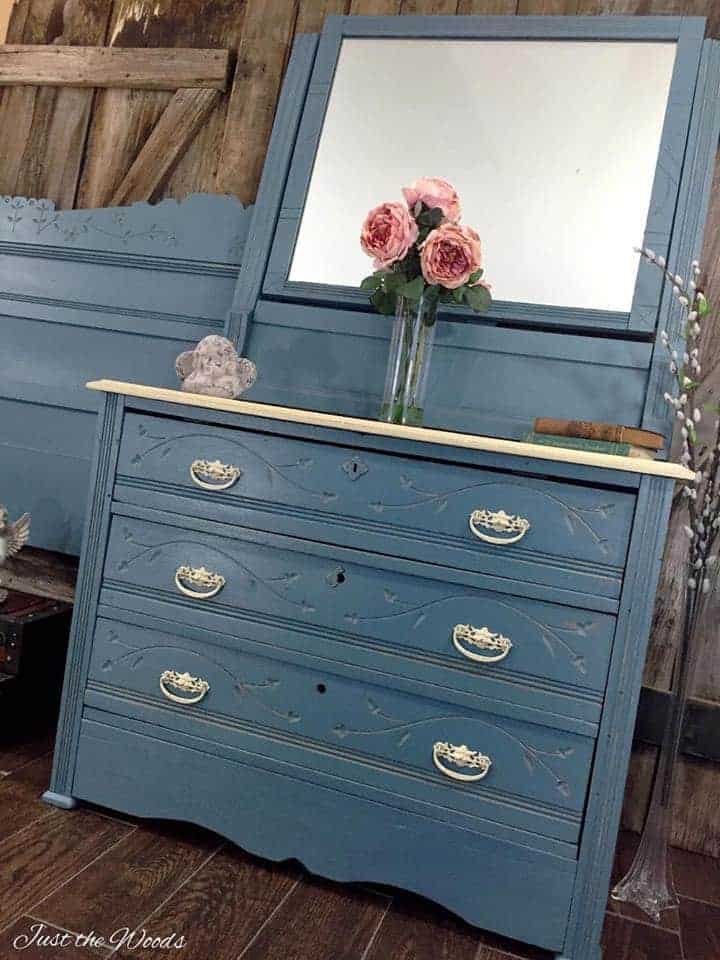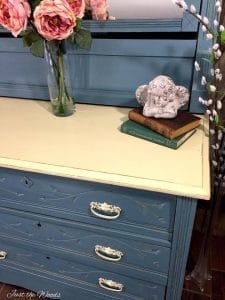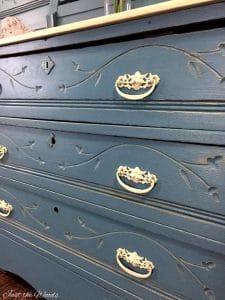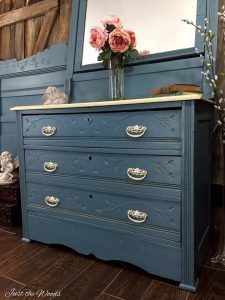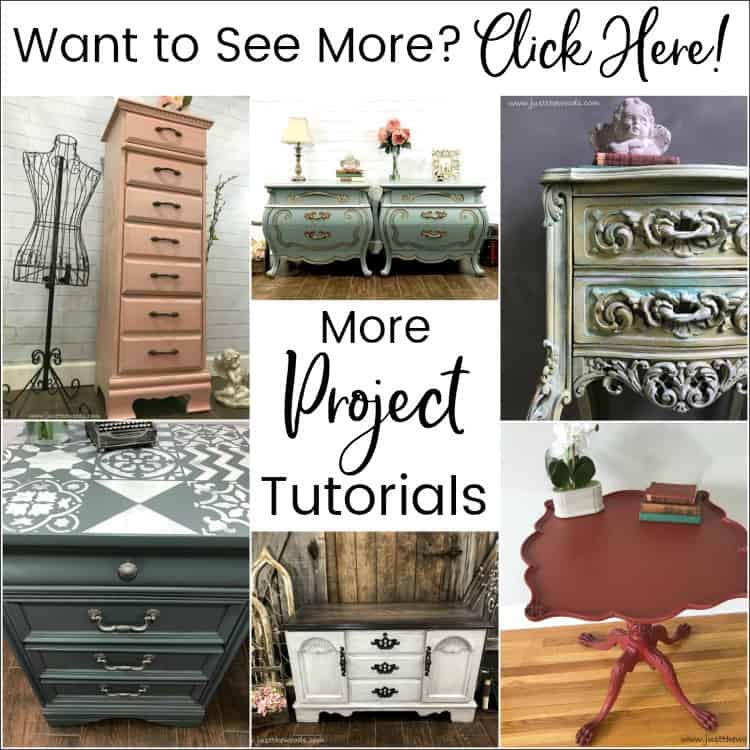 Don't Forget – Follow Just the Woods and Share this post to inspire others :
FACEBOOK  *  INSTAGRAM  *  PINTEREST
Subscribe to our mailing list here:
Go ahead and pin this, I love sharing!