Grilling season is here and it's time to get outside for simple & healthy cooking. Nothing says simple and healthy like these grilled shrimp foil packets full of tasty shrimp, red potatoes, and corn. When you crave that grilled flavor for your shrimp and you want to know how to cook shrimp on the grill you don't have to be limited to skewers. Shrimp foil packets are an easy way to get that great grill taste, especially when cooking over charcoal.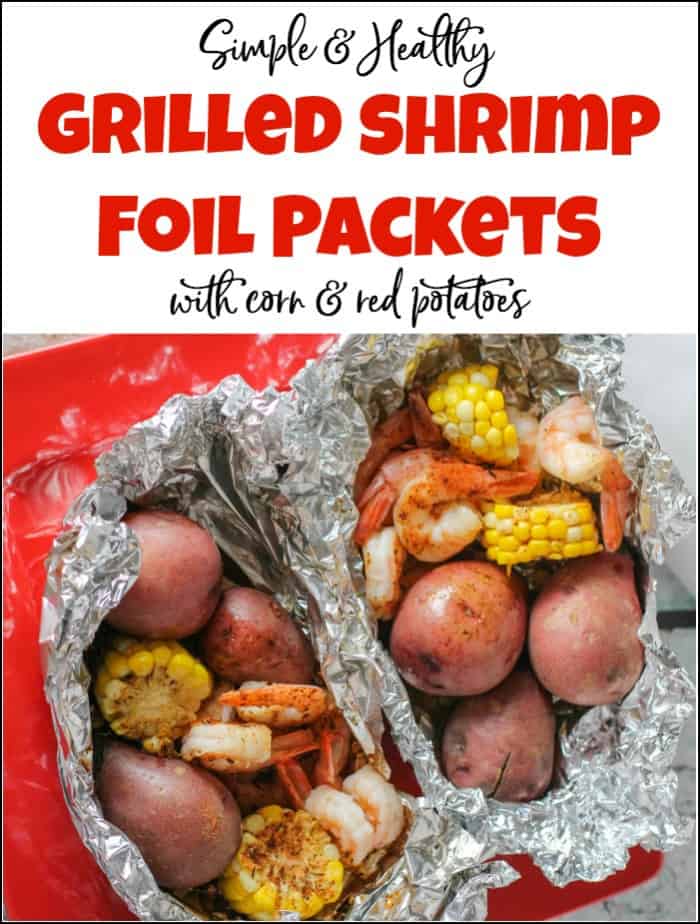 Disclosure: This grilled shrimp foil packets post contains affiliate links for your convenience. Click here for my full disclosure policy.

Grilled Shrimp Foil Packets Recipe
What You Will Need (Full Printable Recipe Available Below)
Ingredients Per Packets to make Shimp Foil Packets
5-7 medium-sized cooked and peeled shrimp
3-4 red potatoes
2-3 sliced pieces of corn
1 Tbsp butter of grass-fed butter
1 Tsp seasoning
Ingredients to Make Your Own Shrimp Foil Packet Seasoning
1 Tbsp onion powder
1/2 tsp black pepper
1/4 tsp white pepper (or use the peppercorn medley grinder: HERE)
1 tsp Thyme
1 Tbsp paprika
1/4 tsp Rosemary

*mix seasoning together well
How to Make Shrimp Foil Packets with Vegetables
Directions:
Gather your corn, shrimp and potatoes. You can often buy the shrimp already cooked and peeled, or you can get it raw, cook and peel it yourself. I always try to go for wild caught when it comes to seafood and avoid farm raised. Of course, you can play around with your foil packet meals and add and swap out ingredients as you like.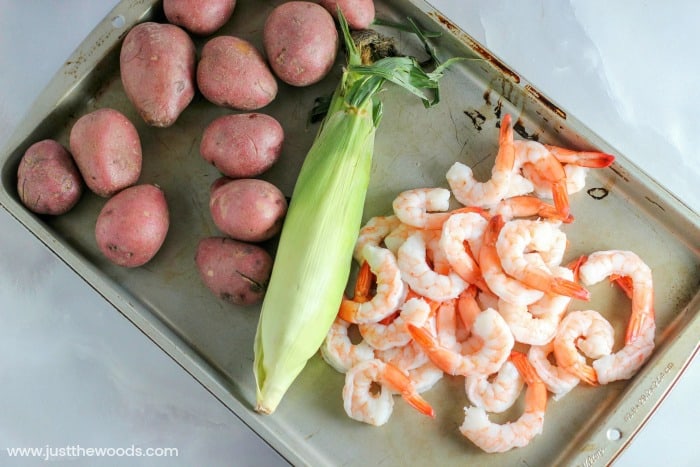 Shrimp Boil in Foil on the Grill
Fire up your grill and get it to 375 degrees. Personally, we switch back and forth between using a gas grill, a smoker, and a charcoal grill. It really depends on what your preference is. When cooking your shrimp boil foil packets over charcoal make sure to use the HomeRight electro light. No long waits or chemical fluid to get the fire going. The electro light uses hot air to light your charcoal in around 2-3 minutes. Catch the electro-light in action here: lighting charcoal the fast and easy way.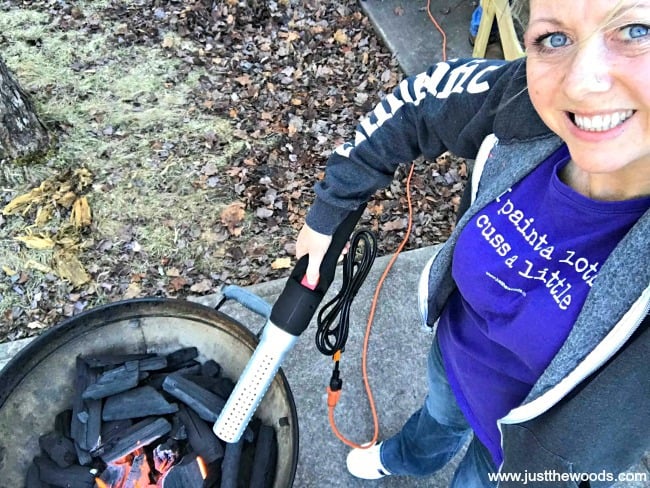 To check the temperature in your grill you can use a grill thermometer like this one (HERE)
Preparing Your Grill Foil Packets
To give your potatoes a little bit of a headstart, first place them in the microwave and put them on the potato setting for 5 minutes. I often poke a few holes into the potatoes with a fork and wrap them in a damp paper towel for this step. This allows the potatoes to start cooking and will ensure they are fully cooked when you remove them from the grill.
Next, place a piece of aluminum foil down and fold in the corners of the foil.
Add the shrimp, potatoes, and corn.

Add in a Tbsp of butter

Then sprinkle a Tbsp of your seasoning mix.

Cover the ingredients with the foil and secure packet.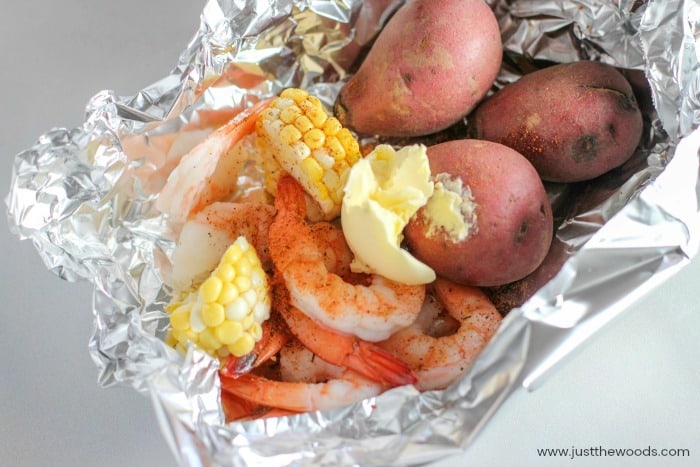 When cooking shrimp on the grill in foil, place the shrimp foil packets on the heated grill and cook for a full 20 minutes. Carefully remove your foil packets from the grill and keep the foil wrapped tightly until you are ready to serve.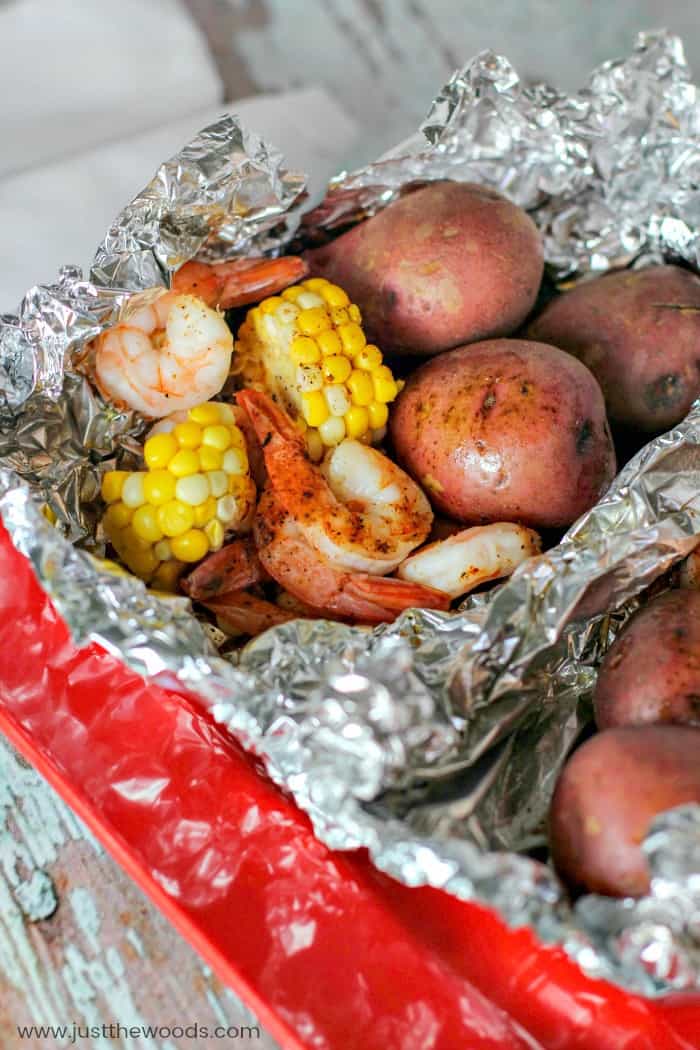 When its time to eat, unwrap and enjoy.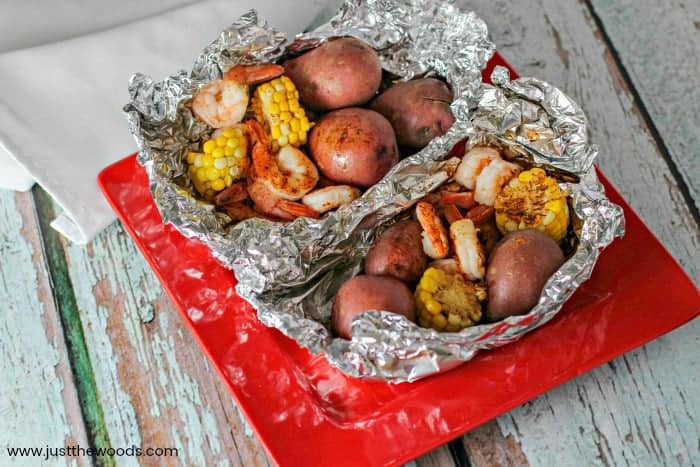 Simple and Healthy Grilled Shrimp in Foil Packets Recipe (Printable Version)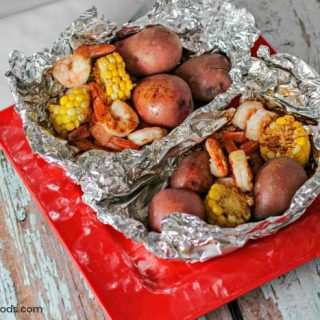 Grilled Shrimp Foil Packets
Grilled shrimp foil packets are a delicious and easy foil packet recipe for when you want shrimp on the grill in foil. You will love these shrimp boil foil packets full of corn, shrimp and potatoes
Ingredients
Ingredients Per Packets to make Shimp Foil Packets
5-7 medium sized cooked & peeled shrimp
3-4 red potatoes
2-3 sliced pieces of corn
1 Tbsp grass fed butter
1 tsp seasoning, recipe below for seasoning
Ingredients to Make Your Own Shrimp Foil Packet Seasoning
1 Tbsp onion powder
1/2 tsp black pepper
1/4 tsp white pepper
1 tsp thyme
1 Tbsp paprika
1/4 tsp rosemary
Instructions
Heat grill to 375 degrees
Place potatoes in the microwave and put them on the potato setting for 5 minutes. I often poke a few holes into the potatoes with a fork and wrap them in a damp paper towel for this step. This allows the potatoes to start cooking and will ensure they are fully cooked when you remove them from the grill.
Next, place a piece of aluminum foil down and fold in the corners of the foil.
Add the shrimp, potatoes, and corn.
Add in a Tbsp of butter
Then sprinkle a Tbsp of your seasoning mix.
Cover the ingredients with the foil and secure packet.
Cook on grill for 20 minutes
Remove from heat and leave in the foil packets until ready to serve.
Unwrap and enjoy
You May Also Enjoy:
If you love foil packet dinners and cooking outside, then you will love this collection of Quick & Easy Campfire Dinners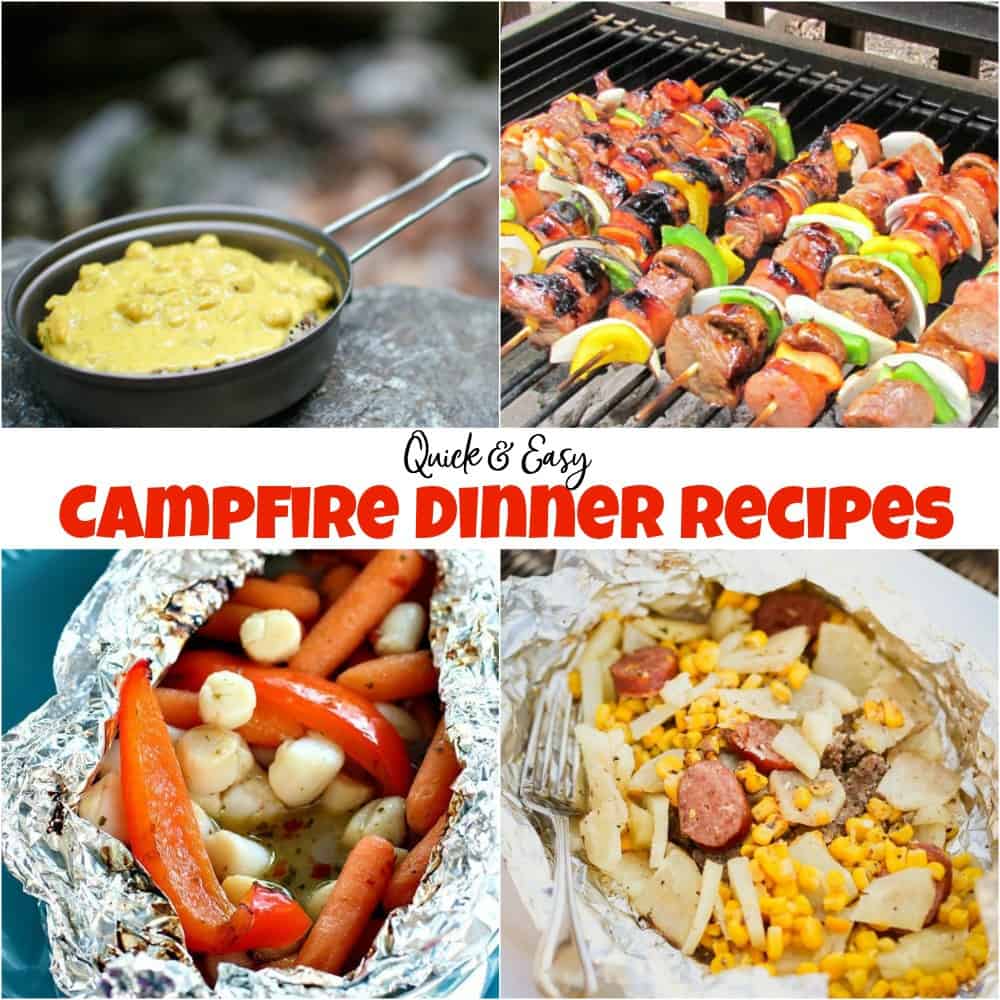 Don't Forget – Follow Just the Woods and Share this post to Inspire others:
FACEBOOK * INSTAGRAM * PINTEREST * RECIPES