Can I first start off by saying that there is something special about grilling over charcoal? But lighting charcoal can sometimes be a chore, especially lighting charcoal without using lighter fluid. I'm sure a first instinct would be to douse those charcoal briquettes with lighter fluid and toss a match but that's probably not the smartest or safest method to lighting charcoal. So the question remains on how to you light a charcoal grill? Well, I recently discovered a nifty little tool that has made lighting a charcoal grill a breeze. I literally had a "where have you been all of my life" kind of moment. You know those things that you never realized you needed until you try it and ask yourself how have I lived without it for this long? Yeah, that!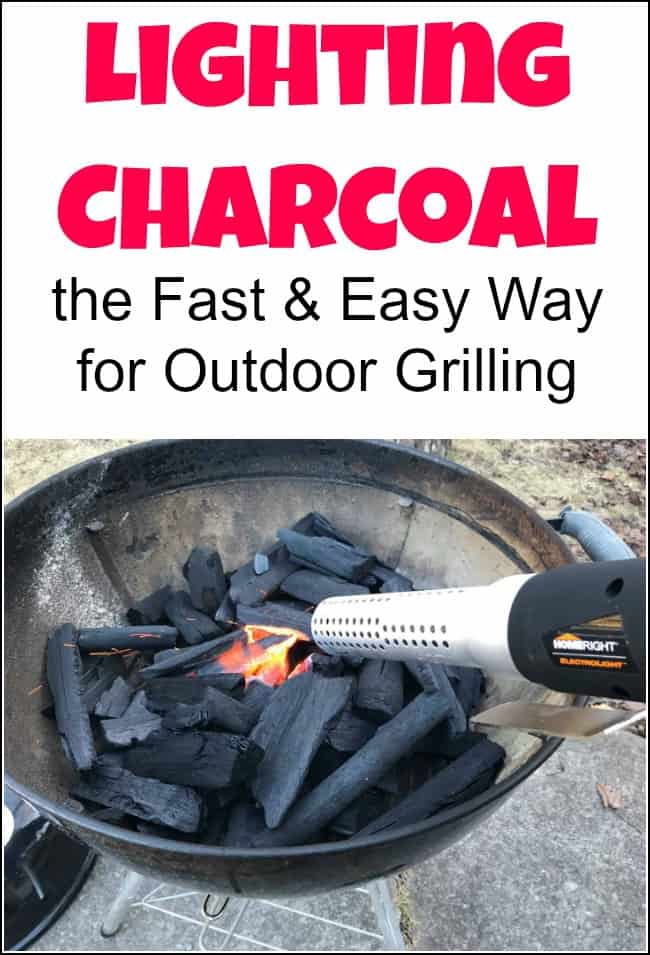 Disclosure: This post is sponsored by HomeRight. This post contains affiliate links for your convenience and I may be compensated if you make a purchase after clicking on my links. Click here for my full disclosure policy.
How to Light a Charcoal Grill
Materials Needed / Source List
Lighting Charcoal for Easy Grilling
While up at our little cabin in the Catskills we prefer to grill over charcoal. Maybe in the mountain air, or the cabin surrounded by woods but burgers and grilled veggies always seem to taste better over a charcoal grill when at the cabin. In the past, it would take forever to match light charcoal. It always felt like such a chore to use the charcoal chimney starter. Don't get me wrong, they work but you have to wait. Having young kids to feed, I'd rather not have to wait so long. Which is why I am ecstatic about finding the HomeRight Electro Light Firestarter.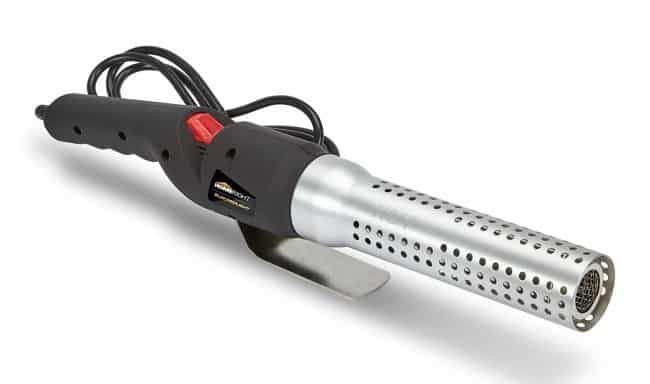 The Home Right Electro Light Fire Starter is a charcoal starter and lighter. To add to its awesomeness is the fact that it is a chemical free heated air with a built-in blower. So what does that mean? Basically, it allows you to easily light your barbecue charcoal, wood burning fireplace or fire pit in 2-3 minutes. It uses super high 1,300°F temperature air to ignite then fan the flames with a built-in blower. This is the best way to light charcoal and it's chemical free. So when you are ready to light charcoal without lighter fluid grab your Electro Light. It even has a nifty clip to attach to the grill. Hook the firestarter to the grill until you are ready while you prepare your food.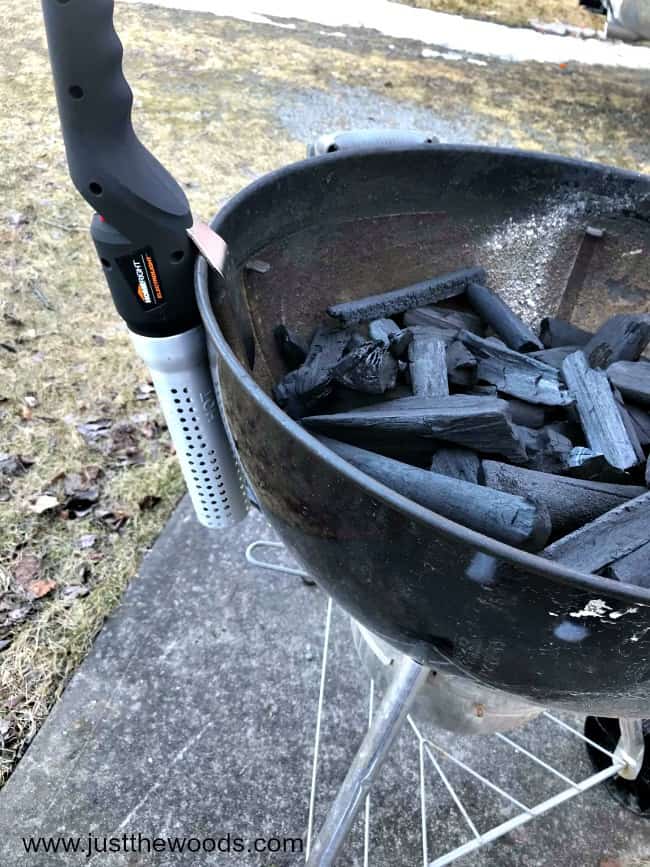 Lighting Charcoal Grill
Ready to see this thing in action? First, I should mention a few things. The HomeRight Electro Light does need to be plugged in so you will most likely need an extension cord depending on how far your outlet is from your grill. Second, it is actually quite a windy day in the mountains. Even though we are lucky to get temps in the low 50s during the day we are still grilling. The weather up here is often at least a month behind the weather back home on Staten Island. You can see a few more projects up at the cabin here: cabin.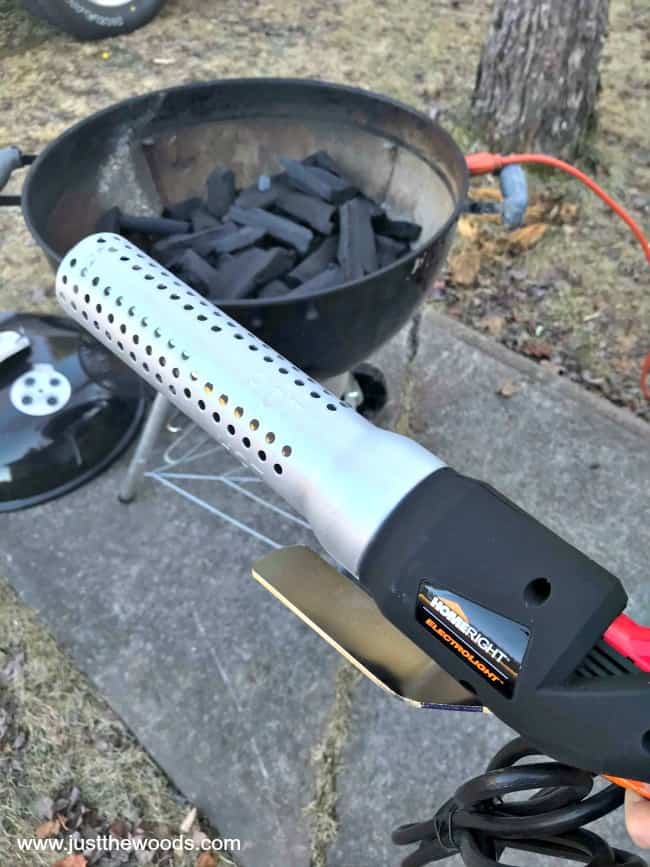 Here is a quick video showing how easy lighting a charcoal grill is with the Electro Light. In real time it takes only 2-3 minutes to get the spark and flame. I tried to speed up the wait time for you 😉

Easy peasy! Lighting a charcoal grill couldn't get any easier!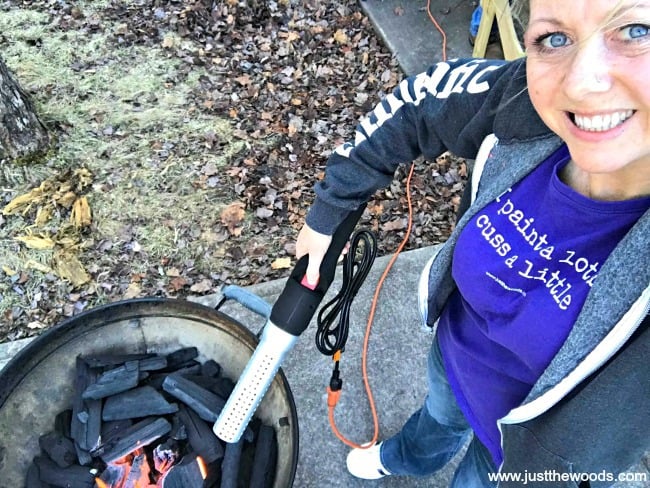 Lighting a Wood Burning Stove
Remember I mentioned that it is pretty chilly and windy here? Well, the temps are also in the 20s at night so the HomeRight ElectroLight comes in handy for lighting the wood burning stove inside as well.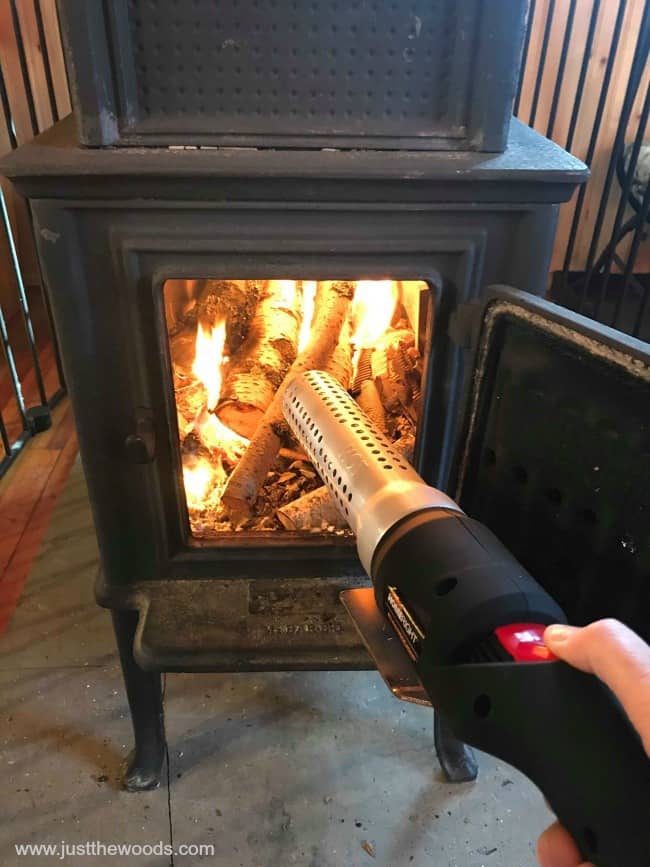 To be perfectly honest I used this fire starter so much between lighting the charcoal grill and lighting the wood burning stove that I thought I broke it. Lucky for me, I didn't break it! In fact, there is a safety feature. The Electro Light has a built-in thermal safety switch that cuts power to the unit when overheated and will automatically reset after it cools down. Whew!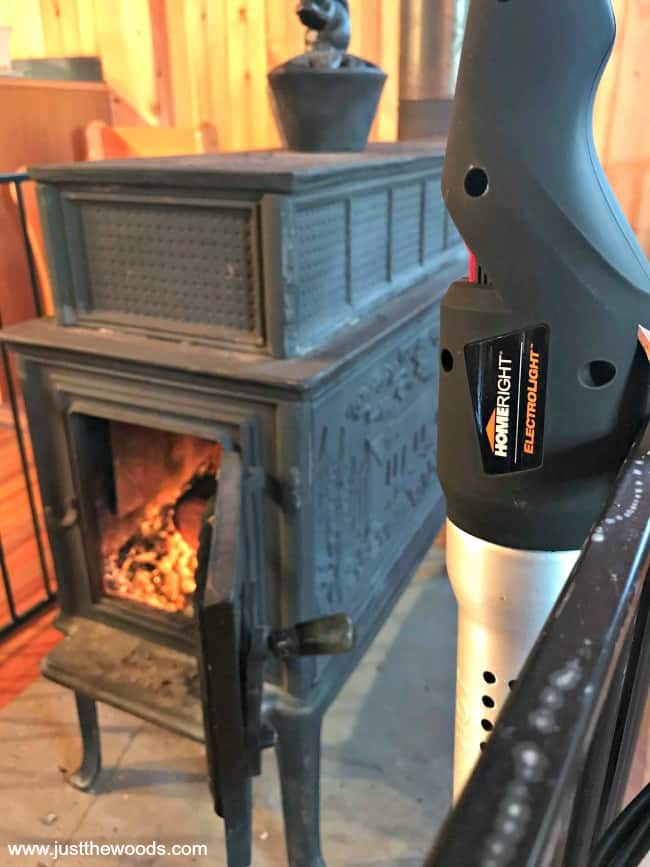 Are you ready to get your hands on this fantastic all in one electro light fire starter to take on your next camping trip, or BBQ? It works great for fire pits too! Did someone say s'mores? Get one HERE.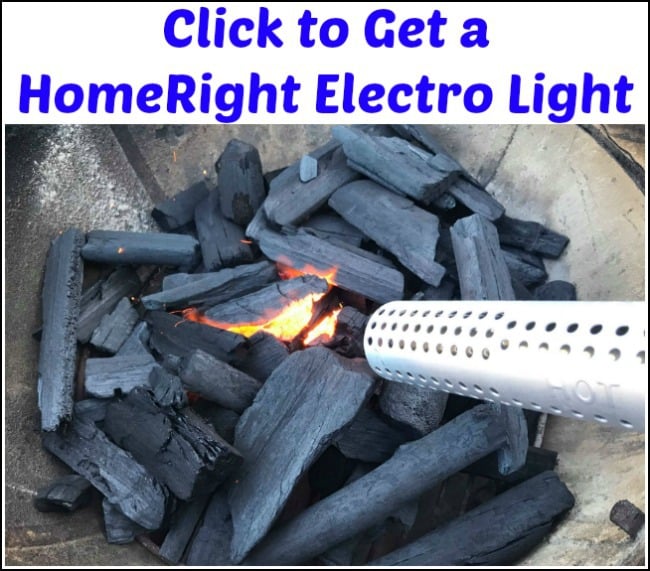 Make sure to check out other HomeRight projects here: HomeRight 

Don't Forget – Follow Just the Woods and Share this post to Inspire others:
FACEBOOK  *  INSTAGRAM  *  PINTEREST
 Stay connected! For more tips and tricks sign up here :