Yellow furniture is often overlooked or never thought of when it comes to choosing furniture colors in a home. I admit that when my husband told me that he wanted a yellow media console in the living room I thought he had lost his mind. But then I took a moment to think about it.  I remembered that my bedroom walls as a kid were bright and cheery yellow, and I had white and yellow furniture. Even now, the walls in my bedroom are a kind of soft yellow and the walls in our finished basement is camel yellow. Yellow furniture can really bring a pop of color into a room.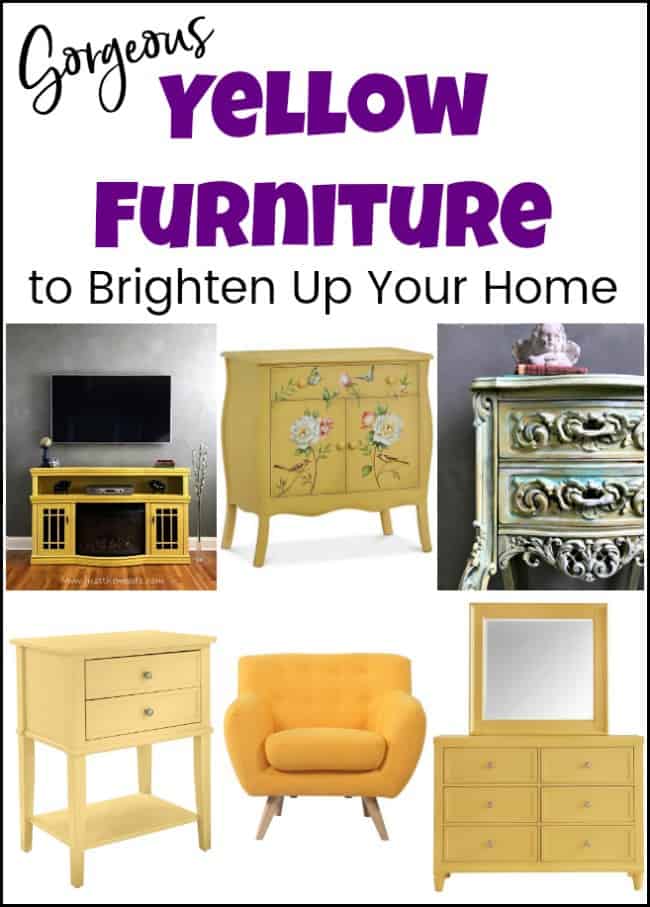 Disclosure: This yellow furniture post contains affiliate links for your convenience. I may be compensated if you make a purchase after clicking on my links. Click here for my full disclosure policy. 

Not only can you create your own custom painted yellow furniture by giving your current pieces a makeover but you can find some gorgeous yellow living room furniture as well as yellow bedroom furniture, even yellow patio furniture online. I'll be sharing a little of both!  Click the link or the image to be directed to the painted furniture makeover or the new yellow furniture for sale.
Yellow Painted Furniture
Since I already mentioned it I want to start with my media console. I never in a million years expected to have any yellow living room furniture. Yet, somehow I think it looks amazing and is the perfect fit for our colorful living room.
Next, is a custom makeover for a client. I love when a customer isn't afraid of color. This painted yellow dresser actually made it into Better Homes & Gardens magazine which Im super proud of 🙂 The frame of the dresser is finished in a neutral taupe while the drawers are painted in a mustard yellow. There are so many shades of yellow paint and mustard makes a great toned down and neutral yellow. Though I'm not quite sure if she has a completely yellow bedroom, I do know that her taupe and yellow dresser came out great.
If you prefer the less bold and more softer painted furniture makeover then you will love this next one. This vintage table starts off dark, wood and ornate. It's still wood and ornate but this yellow painted table also features layers of green and patina mixed in. Make sure to catch the transformation.
When you do plan to tackle your own project and paint your furniture yellow make sure to use great quality paint. Find all the available shades of yellow paint by Dixie Belle here: Yellow Paint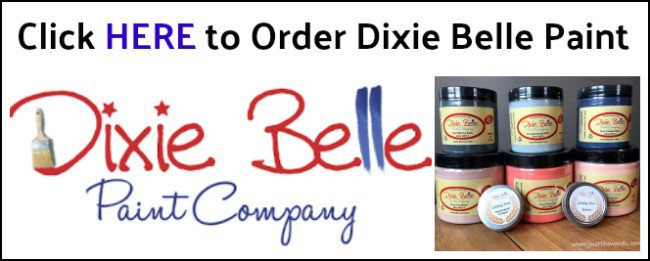 Gorgeous Yellow Furniture To Brighten Up Your Home
If painting furniture isn't your thing, or you prefer to get something new then make sure to check these out.
Yellow Accent Chairs
When accessorizing your yellow living room you can add a yellow accent chair for that empty corner. A yellow chair adds enough color without making you feel too committed to yellow.
Yellow Bedroom Furniture
I've heard that a yellow bedroom is the best color option for promoting a good night sleep. I'm not sure if its 100% true or not, but I like to think so, or at least hope so. Here are a few great yellow dressers and items to help create the perfect yellow bedroom. Maybe a simple yellow nightstand is all you need.
Yellow Accent Furniture
Bring a little yellow into your home with a little yellow accent furniture. A yellow cabinet or
Don't Forget – Follow Just the Woods and Share this post to Inspire others:
FACEBOOK  *  INSTAGRAM  *  PINTEREST
 Stay connected! For more tips and tricks sign up here :