Update Your Metal Mailbox with Paint. How to prep and paint an old metal mailbox. Even rusted metal mailboxes can be revived. | paint mailbox | paint metal | mailbox paint | DIY mailbox | painted mailbox ideas | painted mailbox | handpainted mailboxes | mailbox makeovers | mailbox makeover
How to Paint an Old Metal Mailbox
What do you do when you and your spouse (or significant other) don't agree? Whether on home design, home decor or in this case a painted mailbox? Do you stand your ground, give in or meet in the middle?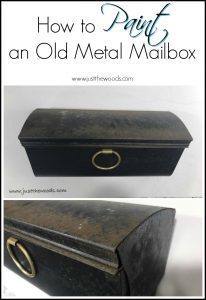 A little backstory:
We recently had the vinyl siding on our home replaced due to wind damage. It was truly in sad shape. This was right about when the workers began and started pulling down the loose pieces.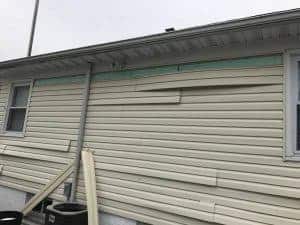 Replacing Vinyl Siding & Decisions to be Made
While it was super easy for us to decide on a color for the new vinyl siding, we simply couldn't agree on a color for the mailbox. We chose gray for the siding 😉 Disclosure: This post contains affiliate links for your convenience. Click here for my full disclosure policy.
While the project was underway we had decisions to make. In addition to deciding about the mailbox, we also had to decide on new outdoor lighting. I searched the web and compiled a group of lights that I had narrowed it down to. Those can all be found here: Perfect Outdoor Porch Lights.
Back to the metal mailbox.
How to Prep a Metal Mailbox for Paint
Materials Needed / Source List:
The old metal mailbox was black and somewhat rusty. I'm pretty sure it was original to the house.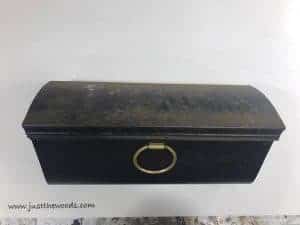 Before deciding to paint our mailbox we had ordered a new mailbox online (you can see the one I ordered HERE), but my opinionated hubby wasn't a fan of the one ordered. I have no idea why; it's black and it holds the mail. Who knew such a thing would even require so much thought. Good thing for an easy return policy. I guess it's time to prep this rusty old thing.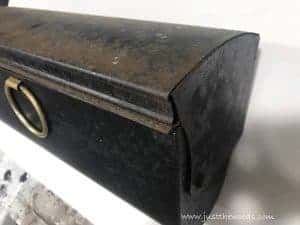 The round pull was taped off to keep from getting paint on it. In hindsight, I probably shouldn't have taped it this way. The sticky sides stuck to one another making it pretty difficult to remove once finished. I had to use an Exacto knife just to get the tape off.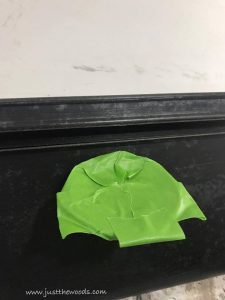 Next, the mailbox was sanded paying extra attention to the rusted areas. I used plain old sandpaper wrapped around a sanding block. Nothing fancy here.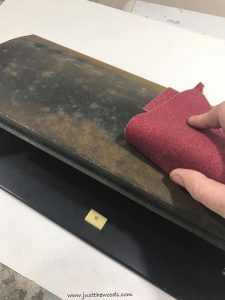 Once I was satisfied with sanding I wiped the surface clean.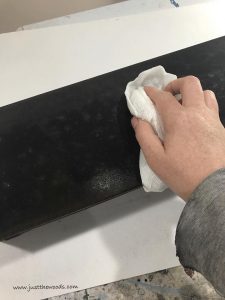 Well, that's seriously disgusting! This took a bit of work to finally get the dirt and sanding dust and rust off of the metal surface.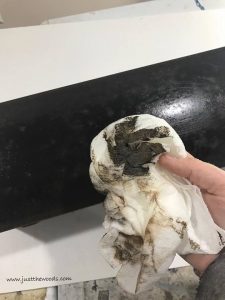 To Prime or Not to Prime?
It's a little funny considering I never almost never use primer, but this is the second time in one month that I broke out the primer. At the end of the day it boils down to 'better safe than sorry' and when working on a project outside the realm of what I do on the day to day I would rather play it safe. So today, I prime.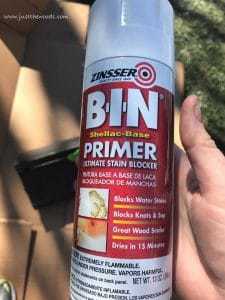 I headed out to the yard and 'borrowed' a piece of cardboard that the workers had on the grass and gave the mailbox a quick spray. They did look at my a little funny.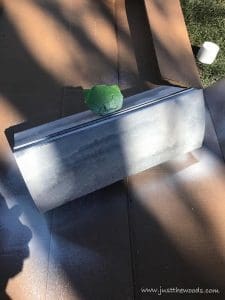 Once dry, I headed back inside to paint!
Painting a Metal Mailbox
To be honest I thought blue would be a great pop of color against the gray and decided to go with a bold turquoise blue. I painted my first coat by dabbing the paint instead of using smooth strokes. You can also see the difference where I missed with the primer on the side. The 'work in progress' photos are always so ugly. No worries.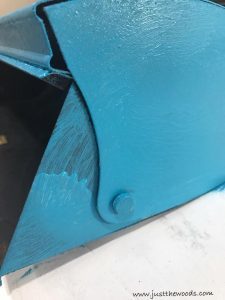 After the first coat, I lightly sanded the entire surface.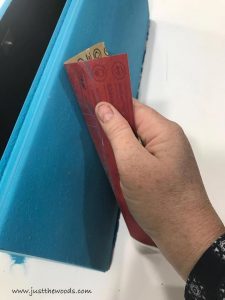 You can find great quality furniture paint and stain online HERE. An added bonus, when painting furniture, you want to make sure to use a quality non-toxic furniture paint.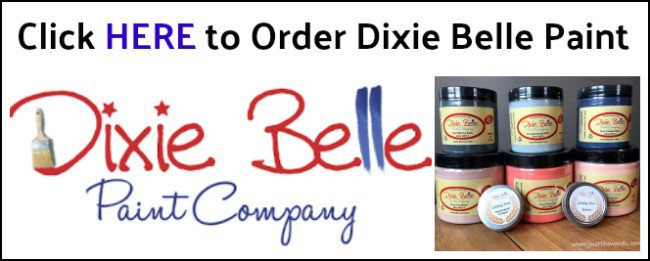 Bright Teal Blue Painted Mailbox
Isn't the bold teal a gorgeous color? But, there's always a BUT….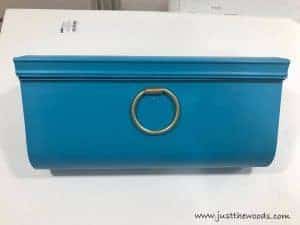 BUT.. remember I mentioned that my husband and I didn't agree on the color. Well, not only did he hate the blue but my own mother also said it was horrible. That's putting it nicely, she had a few choice words for me that I would rather not share. 😛 Don't get me wrong, it's not the color itself that they felt is horrible, but the color on our mailbox for our house is horrible. The color is gorgeous but they both felt that not everything needs a pop of color and that some things should remain neutral. Sigh.
I even posted to Facebook asking for opinions, which always makes the decision making more difficult. Many suggested going with red to match the bench. Back to the drawing board.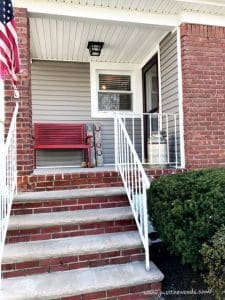 Repainting a Metal Mailbox
I opted to compromise and let hubby have this one. The second time around I remembered the ordeal of getting the frog tape off of the handle, so I chose to wrap the handle in a ziploc bag and tape around the bottom instead. Much smarter choice. The blue was covered up and painted black.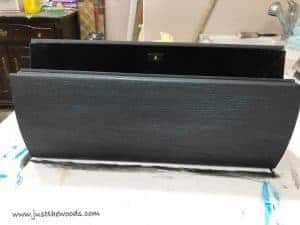 At one point I even asked hubby "what do you think about black with a little blue peeking through" but he wasn't having it. I suppose he's right.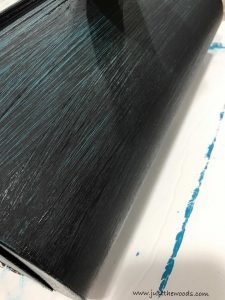 After two coats of black, the mailbox was sealed, again.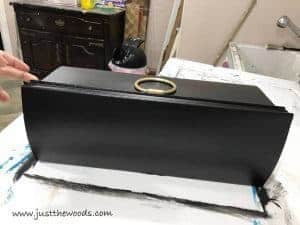 Installing a Painted Mailbox
There was no way I was risking messing up the new vinyl siding so I had hubby measure and screw the holes into the house for the mailbox.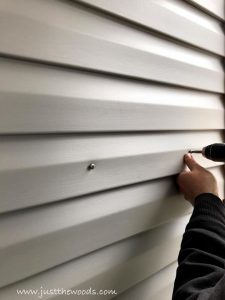 Layla was eager to help as well. Who dressed this kid?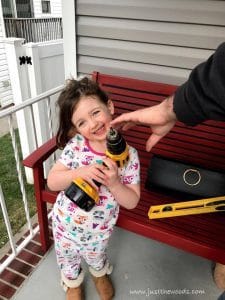 Black Painted Metal Mailbox
I pointed out that it seemed silly to paint a black mailbox black but I also have to admit that the update looks fresh and crisp. A little compromise can go a long way. Besides, he let me have my bold and colorful living room, so I can let him have a black painted mailbox 😉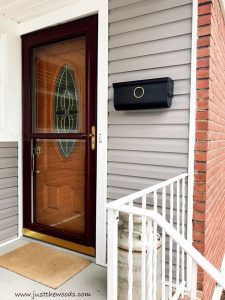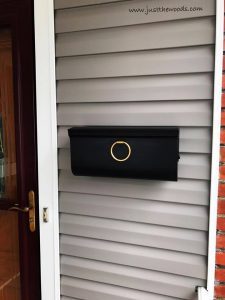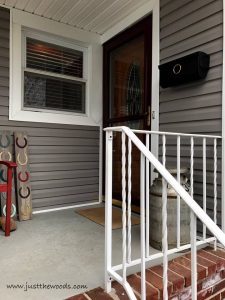 Outdoor Lighting
If you had a chance to check out the Perfect Outdoor Lighting post then I'm happy to say we narrowed it down and decided to go with these. The wall sconce is on the side of the house leading to the backyard.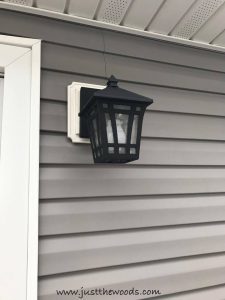 The close to ceiling light is on our front porch.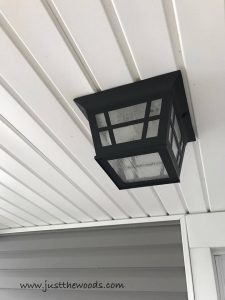 For more painted metal makeover make sure to check out How to Paint Metal – 10+ painted metal makeovers.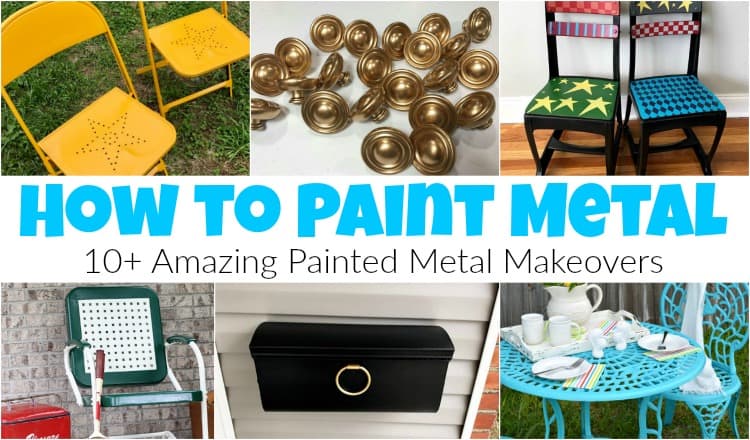 Don't Forget – Follow Just the Woods and Share this post to Inspire others:
FACEBOOK * INSTAGRAM * PINTEREST
Subscribe to our mailing list here: