Perfect Porch Lights
My house is falling apart! I feel a little bit like the little pigs with the wolf huffing and puffing to blow my house down. Ok, it's not literally falling apart but the siding started coming off. During a storm, the siding will come off the house and then slam against the side of the house making a thunderous bang as if someone is trying to crash through the walls. Like fools, we would just put the siding back and go on about our day until the lightbulb went off that this is covered under our homeowner insurance. I'm not sure why it took so long for us to even come to this conclusion. Long story short we are having our house re-sided and need new porch lights to go with it. It seems silly to get new siding and keep the dated porch lights that were original to the house. Here are the ugly 1950's basic lights that we have now. 
Original 1950's Porch Lights
This is the ugly 1950's basic ceiling porch light that we have now.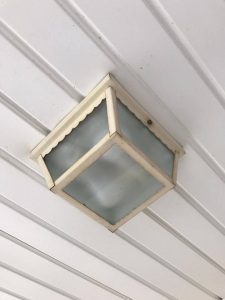 This is the light outside the side door that has become the target for birds nests on more than one occasion. Every time hubby would knock down a nest those tenacious birds would build a new nest.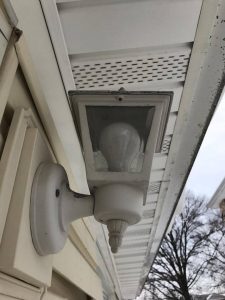 I'll spare you the photos of my Three Little Pigs House falling apart because it's quite embarrassing at the moment.
Perfect Porch Lights
Since I do almost all of my shopping online because store shopping with two little kids is enough to drive someone to drink, I've decided to share my search for the perfect replacement lights with you. I'm including a few of both the ceiling lights and the side lights. This post contains affiliate links, click the link to be directed to the item.
Disclosure: This perfect porch lights post contains affiliate links. 
Do you have a favorite? I hope this helps you, I know I will be ordering from this list once I narrow down which ones we like. Our new siding will be gray 😉
If you like this post of outdoor lighting then you may also enjoy this indoor lighting post as well.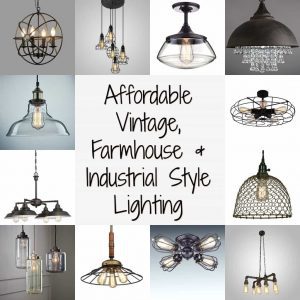 I'll be sharing this post at these fabulous link parties.
 Don't Forget – Follow Just the Woods :
FACEBOOK  *  INSTAGRAM  *  PINTEREST
Subscribe to our mailing list here:
PINTEREST PIN READY TO SHARE