Ornate Vintage Buffet Painted Cream, White & Gray
This is why I need to be more choosy about the pieces I pick. This ornate vintage buffet is huge and heavy and I simply can't lift it, did I mention that it weighs a ton? But it's gorgeous so I confess that I had to recruit a neighbor just to help unload this beast into my shop. It was also originally marked reserved for my own home. I was going to paint it for my living room but plans changed and it was put up for grabs. The funny thing is that months back when I had met with this particular customer she had mentioned that she saw this piece in my inventory that would be perfect for her, but it was already marked reserved. So when I removed the reserved status she contacted me immediately, I think it was meant to be hers all along.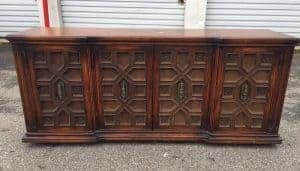 Materials Needed / Source List:
Disclosure: This ornate vintage buffet post contains affiliate links. 
Before – The Unfinished Ornate Vintage Buffet
To get an idea of how amazing this oversized ornate beauty is, or will be, just check out the details. It features an abundance of storage with three center drawers with gorgeous hardware and two side cabinets each with a fixed shelf.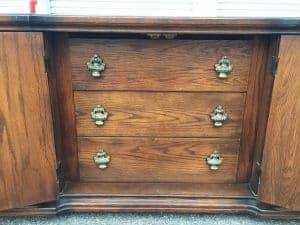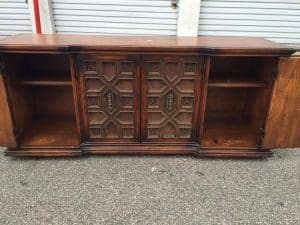 This big beast of a beautiful piece even has a solid wood back and comes on wheels.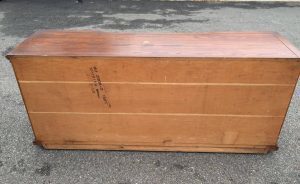 Prepping Ornate Furniture for Paint
Like every piece I work on the entire surface was hand sanded and cleaned. To get into the crevices of the detail of the cabinet doors I had to get in there with an old toothbrush. A toothbrush is often perfect to get into the nooks and crannies!  Here is my entire process for How to Prep Painted Furniture.
Time for Paint
Ornate vintage furniture pieces like this are fun to paint because the details will often pop once painted. I started off dark and worked my way lighter. The first base coat is a great gray with amazing coverage. You can find great quality furniture paint and stain online HERE. An added bonus, when painting furniture, you want to make sure to use a quality non-toxic furniture paint.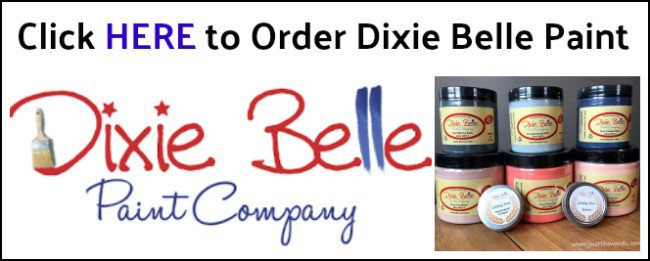 After my base coat it was time for the fun stuff, but then again isn't is all the fun stuff? 🙂 I then layered my colors using creams, grays and off-whites. My customer is looking for a neutral but not too neutral finish, something that will work whenever she decides to move or redecorate.
I continued to add more layers until I achieved the desired finish. I don't normally make a habit of sending photos to my customers while working on their piece due to the lighting never being accurate. But I did this time and it helped to make sure we weren't too gray, too white, or too cream, but rather a perfect blend of them all.
Decoupage Fabric Drawer Fronts
Those drawers in the center of the piece with the amazing chunky hardware received their own makeover. My customer wanted something added to them for that extra unique touch. I admit that I did some digging. It took a bit of searching until I found the pattern that made her say "that's the ONE!" The pretty bird fabric was applied to the drawers in a way to make sure that each drawer had a bird on it. We intentionally did not line up the branches to avoid being too 'matchy-matchy'.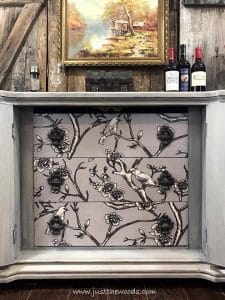 The center drawers weren't the only inside area to receive attention. The side storage areas had shown some wear over time, naturally given the age of the buffet. To freshen up the imperfect areas inside, a simple combination of dark and light wood stain did the trick.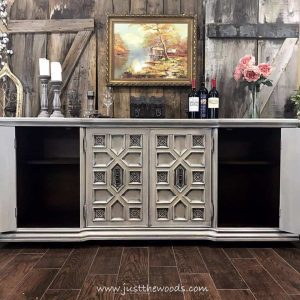 Chunky Vintage Hardware
The original hardware suits the piece perfectly and I always love to keep hardware when possible. It was removed, cleaned, prepped and painted. You can see my full process for cleaning, prepping and painting hardware HERE.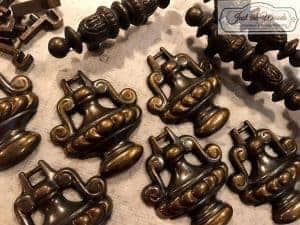 The Result – Ornate Vintage Buffet Painted Cream, White, and Gray
These ornate vintage pieces are so much fun, but next time I will opt for something smaller, for the sake of my aching back ;P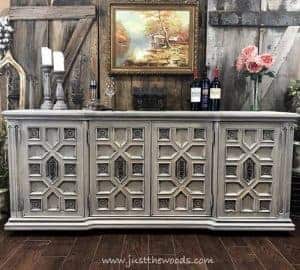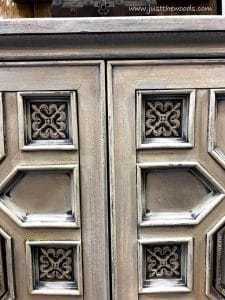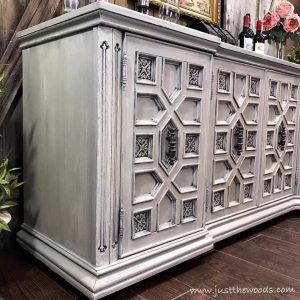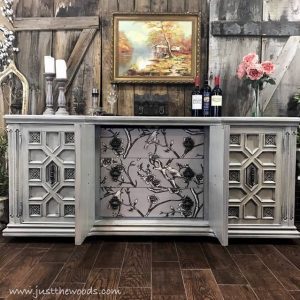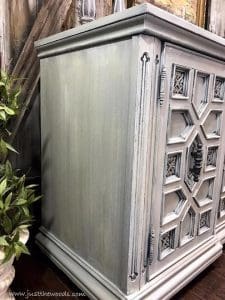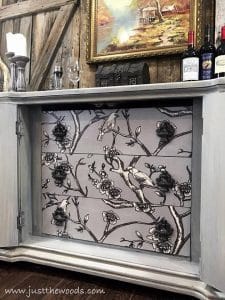 Are you looking for that unique statement piece but prefer not to DIY? Click here for a variety of gorgeous buffets and sideboards: HERE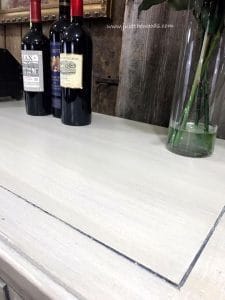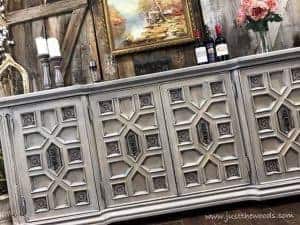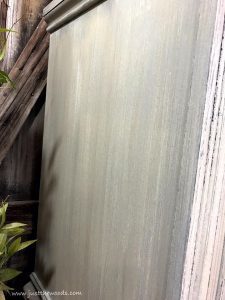 I'll be sharing this post at these fabulous link parties.
 Don't Forget – Follow Just the Woods :
FACEBOOK  *  INSTAGRAM  *  PINTEREST
Subscribe to our mailing list here:
PINTEREST PIN READY TO SHARE