Painted Lingerie Chest in Shades of Green
I am a sucker for a painted lingerie chest, and I absolutely love redesigning them. They are often hard to find. This chest was no different. I accidentally stumbled upon it when I was purchasing something completely different. It's always fun when a seller says "Oh, by the way, I have this too" and then leads you through a home, sometimes twists and turns down hallways and stairs and you start to wonder if it's a good idea to follow. Thoughts of being dropped in a well in a basement by a man with a small dog start to wander through your mind. But I quickly push those silly thoughts aside and follow along. It's like playing treasure hunt and you don't know if what they are about to show you will be a bust or the golden ticket of vintage furniture.  In this case, it led to this vintage lingerie chest. Score!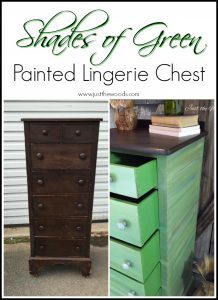 Unfinished Lingerie Chest
This dark, chunky chest has so much potential to become an awesome painted lingerie chest.  It's quality solid wood construction, along with the original casters and the catch bar on the back to prevent anything from rolling off and falling behind the piece are all the little things that make this chest great.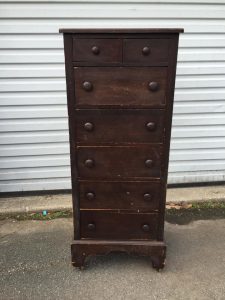 A new customer jumped all over this and claimed it for customization.  She told me that she absolutely loves the color green and asked for shades of sage and greens with hints of creams and browns.  A previous chest that I had done in layers of creams and grays caught her eye and became inspiration for this one.  She also wants the top stained with a fresh new stain like the previously redesigned painted lingerie chest. This was her inspiration piece.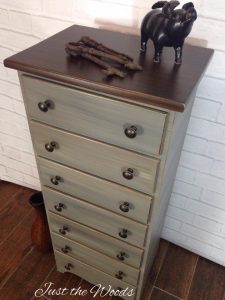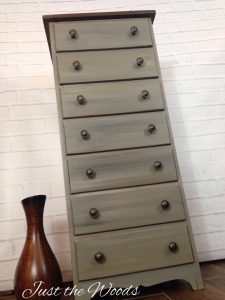 Preparing a Vintage Lingerie Chest for Paint
Disclosure: This post contains affiliate links.
I took advantage of a gorgeous December day and brought the chest outside to sand it down completely with my go to sander.  This is my entire process for How to Prep Painted Furniture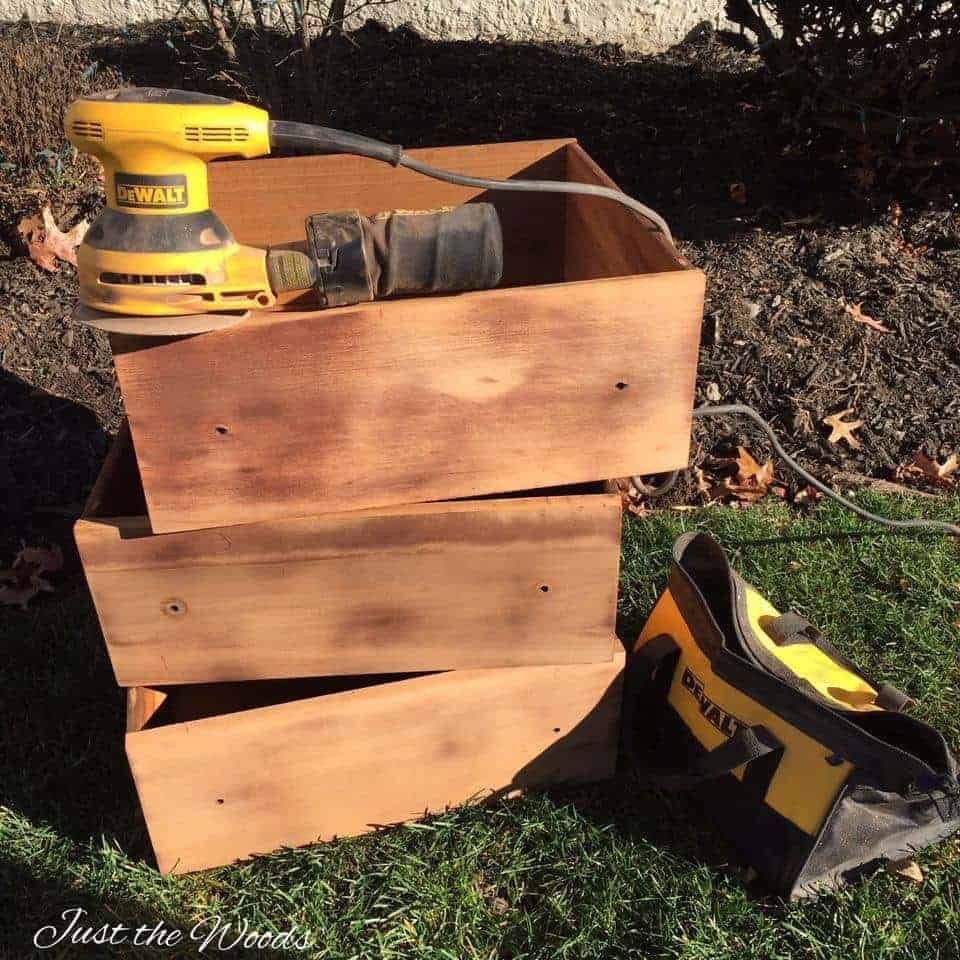 The old dark finish has been removed!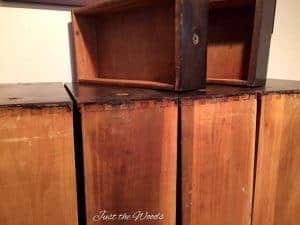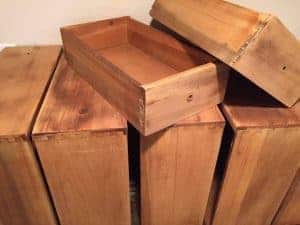 Using a Paint Sprayer to Paint Inside Drawers
When it came to the inside of the drawers my customer asked for a bright green. l thought she would go for a complimentary cream color, but nope, this lady loves color. I love her bold spirit and color choices! She went for the extra pop of color inside and since the corners aren't always as easy to get into with a brush I decided to use my paint sprayer. The inside of the drawers were sprayed a fun green that makes me think of granny smith apples! In general, I tend to prefer hand painting everything, but the sprayer really comes in handy for drawers or cubbies with corners- like bookcase shelves. Click here for more paint sprayer projects and tutorials: Paint sprayer
To see another project where I used the sprayer for spindles and included a video you can check out How to Paint Spindles with a Paint Sprayer. Can you believe I manage to use the sprayer indoors with nothing but a plastic tarp, there really is that little overspray.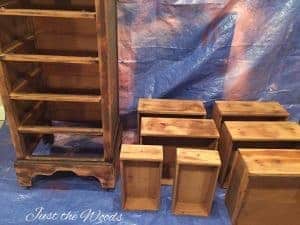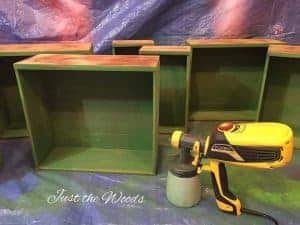 In between coats, I hand sanded the green to make sure to get an even smooth finish. Wow, that color is bright and bold.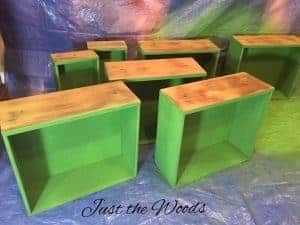 If you are unsure of how to clean your paint sprayer when done then make sure to check out How to Clean a Paint Sprayer.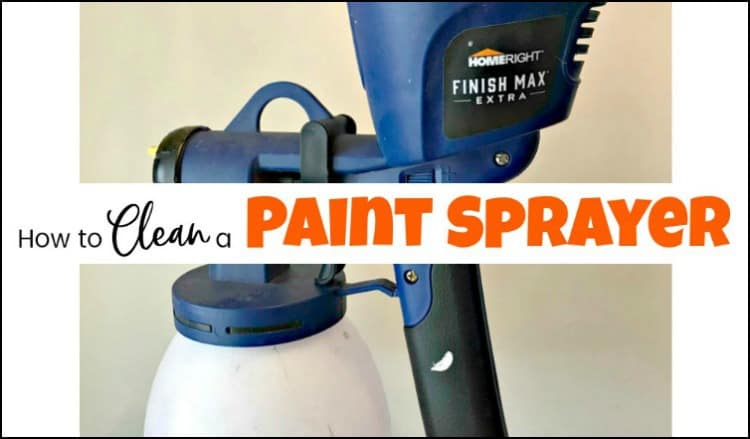 Painting Layers of Green on a Lingerie Chest
Once inside the drawers were complete I was able to paint multiple shades of sage, softer greens, creams and brown.  There are literally at least seven different colors in this color palette!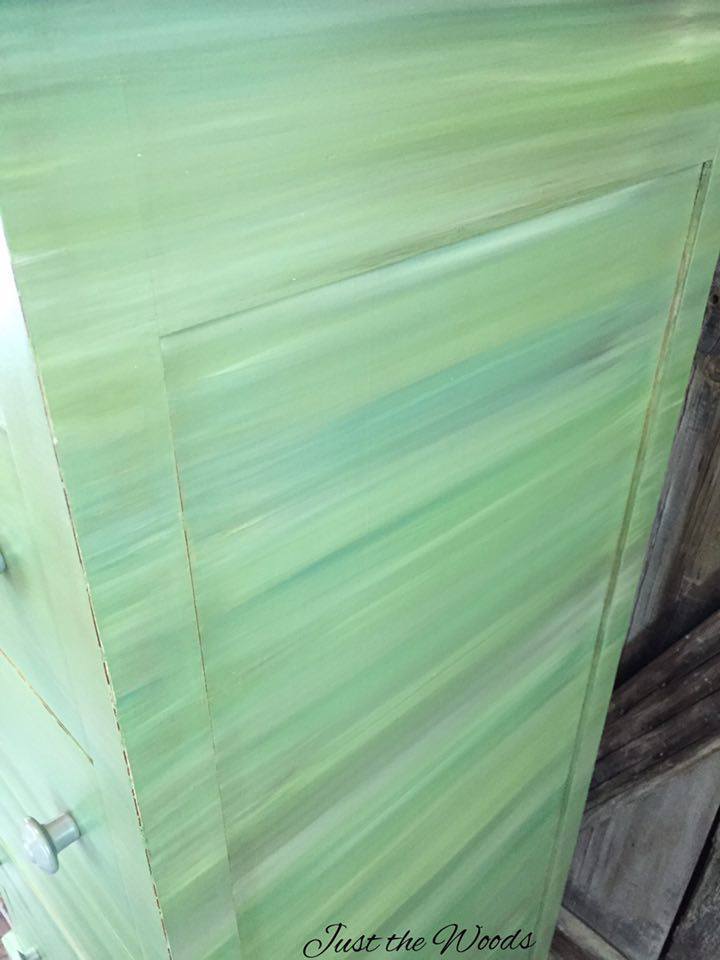 The top was given a fresh new stain and sanded smooth.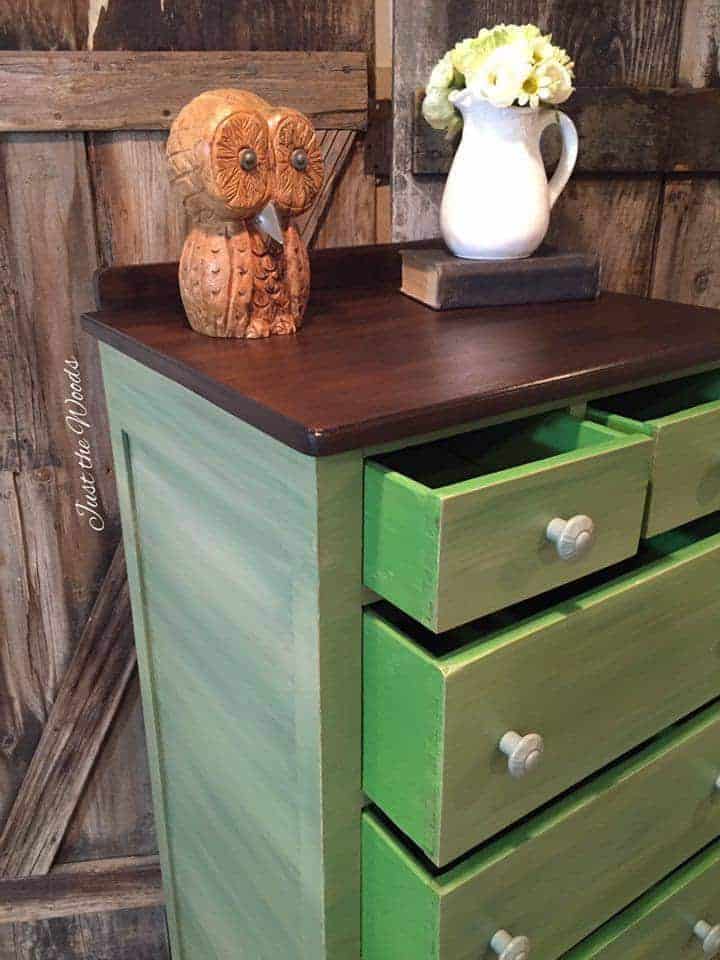 The pop of granny smith apple on/in the drawers makes a fun statement. They are perfect for a green loving customer.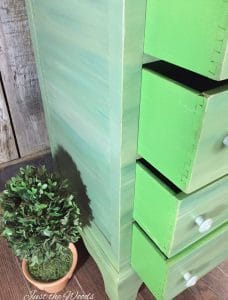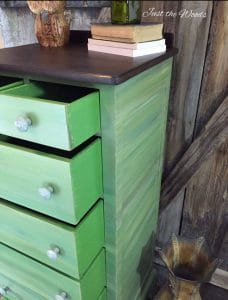 While keeping the outer appearance more on the softer side.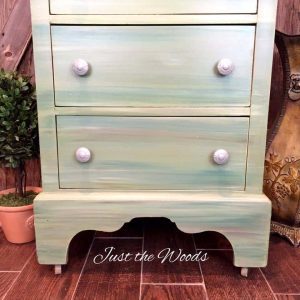 Two of the drawers stick just a little due to the natural swelling that occasionally comes with older wood furniture. Once rubbed with some natural beeswax they should glide with ease. I've since found that the absolute best thing for sticky drawers is this beeswax furniture polish and it smells great too.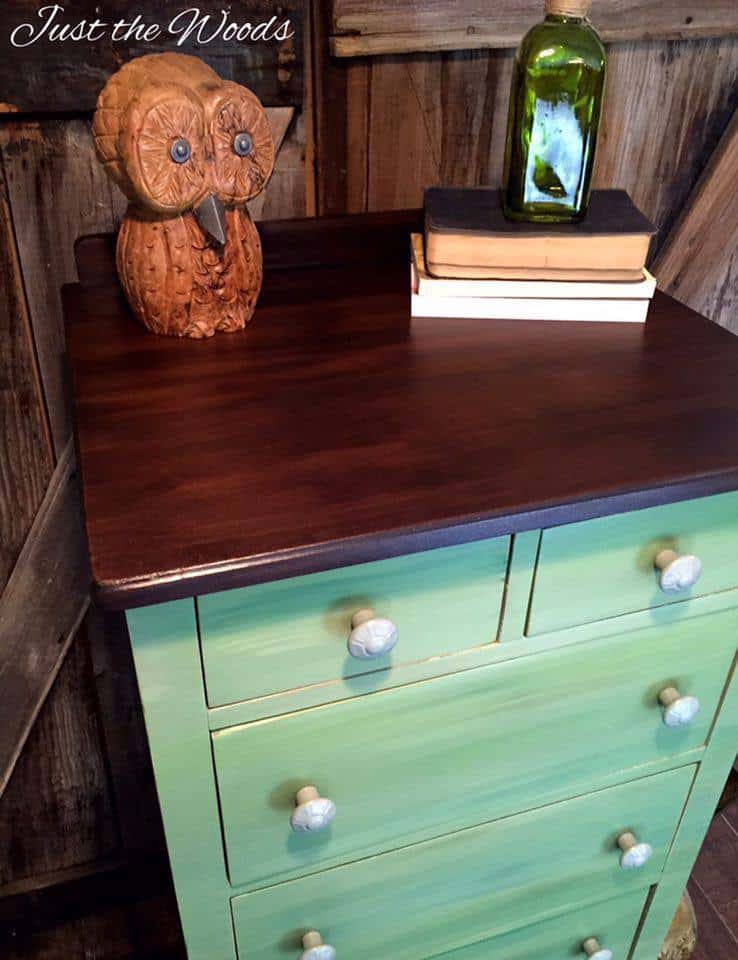 I'll be sharing this post at these fabulous link parties.
Don't Forget – Follow Just the Woods:
FACEBOOK  *  INSTAGRAM  *  PINTEREST
Subscribe to our mailing list here:
PINTEREST PIN READY TO SHARE