So you just finished a great project and now you need to know how to clean a paint sprayer. Are you unsure of how often to clean your paint sprayer? Ideally, you should clean a paint sprayer after each use. I have heard that you can leave it for a few hours, or even overnight with paint in the container. But I prefer to err on the side of caution and clean the paint sprayer after each use. Paint sprayer cleaning should coincide with any project clean up. I like to look at like stencils. As long as you take care of your stencils they will last. Well, the same applies to your paint sprayer.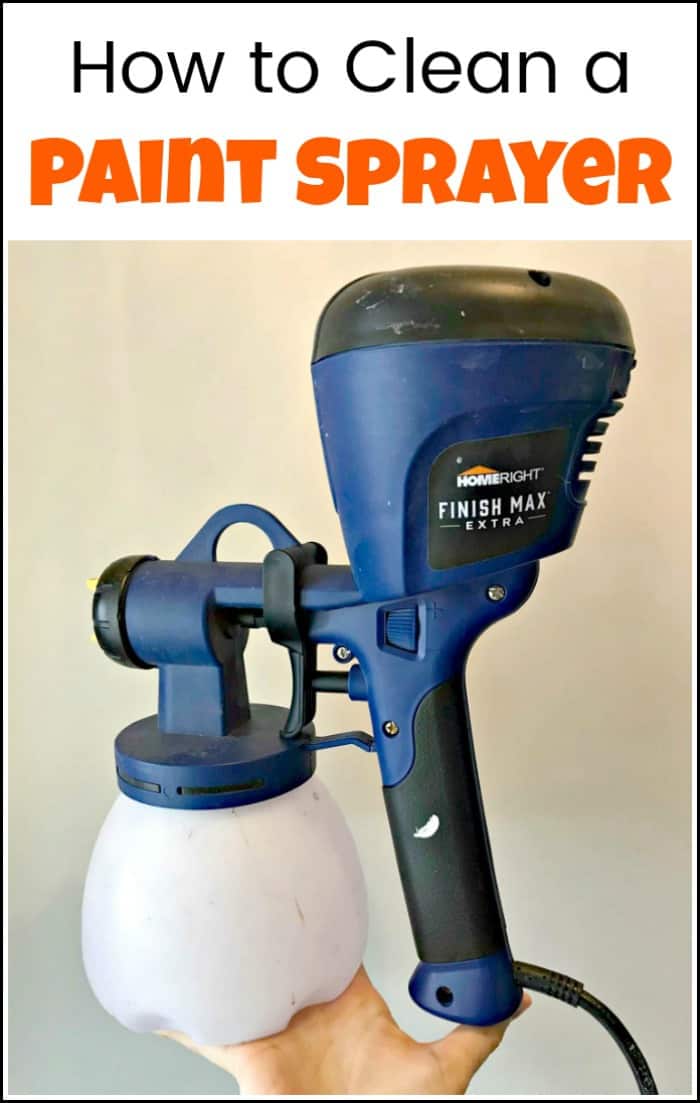 Disclosure: This how to clean a paint sprayer post contains affiliate links for your convenience. I may be compensated if you make a purchase after clicking on my links. Click here for my full disclosure policy. 

Supply List for How to Clean a Paint Sprayer
What You Will Need 
Paint Sprayer
Cleaning Your Paint Sprayer
For this quick paint sprayer cleaning, I am using the HomeRight Finish Max extra paint sprayer.  This paint sprayer has become my go-to for painting furniture with spindles, or for when I prefer a smooth finish with no brushstrokes. Normally, I don't mind brush strokes but every now and then it's nice to be able to eliminate them if so desired, You can check out a few paint sprayer projects here: paint sprayer.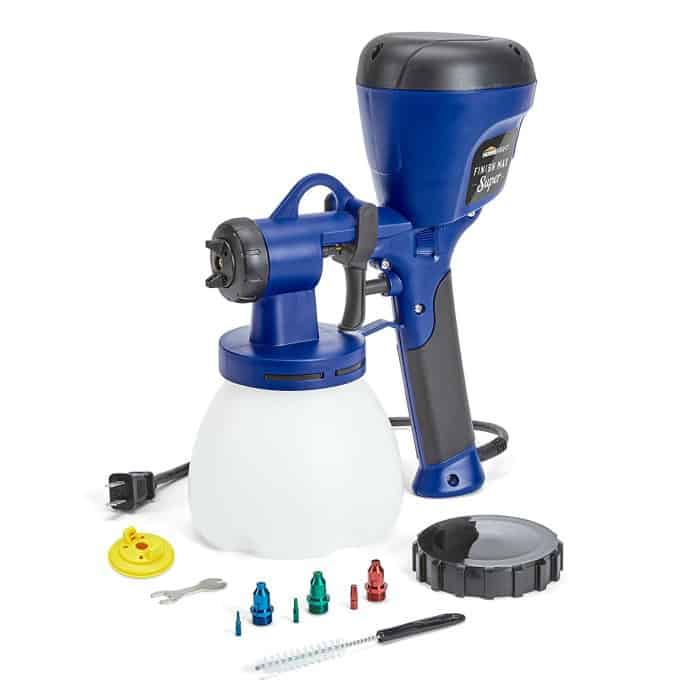 Cleaning your paint sprayer requires you to know a few of the key components and parts. The main parts you need to know about are on the nozzle. But before we get to the nozzle you should first unplug your paint sprayer, remove the canister and clean out your paint.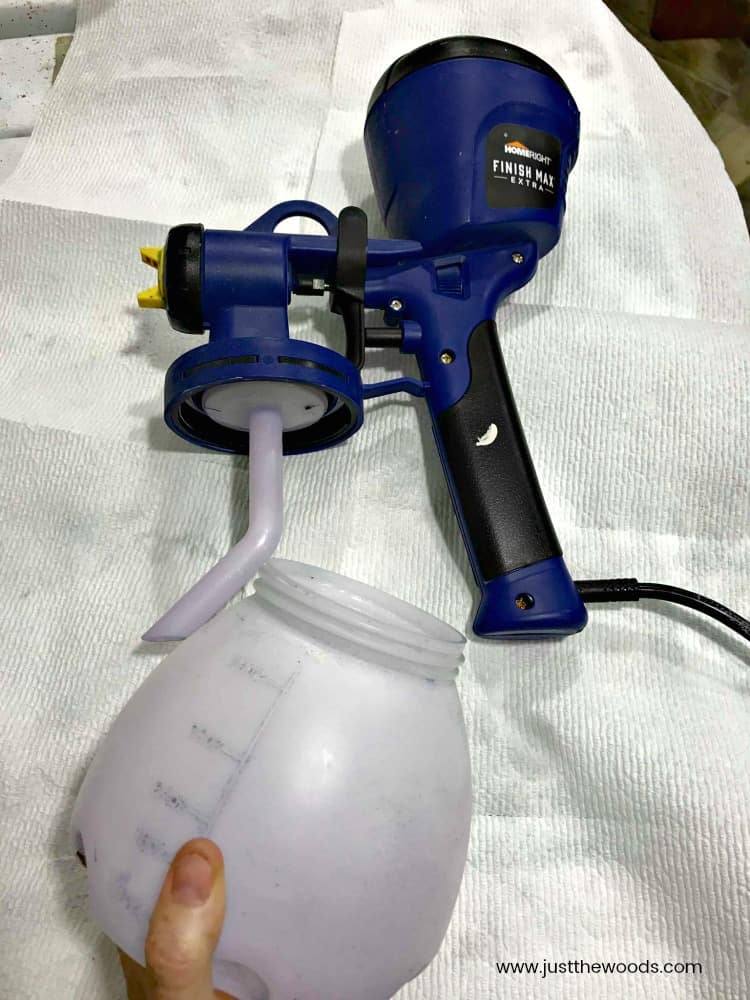 Next, remove the white pick up tube to clean.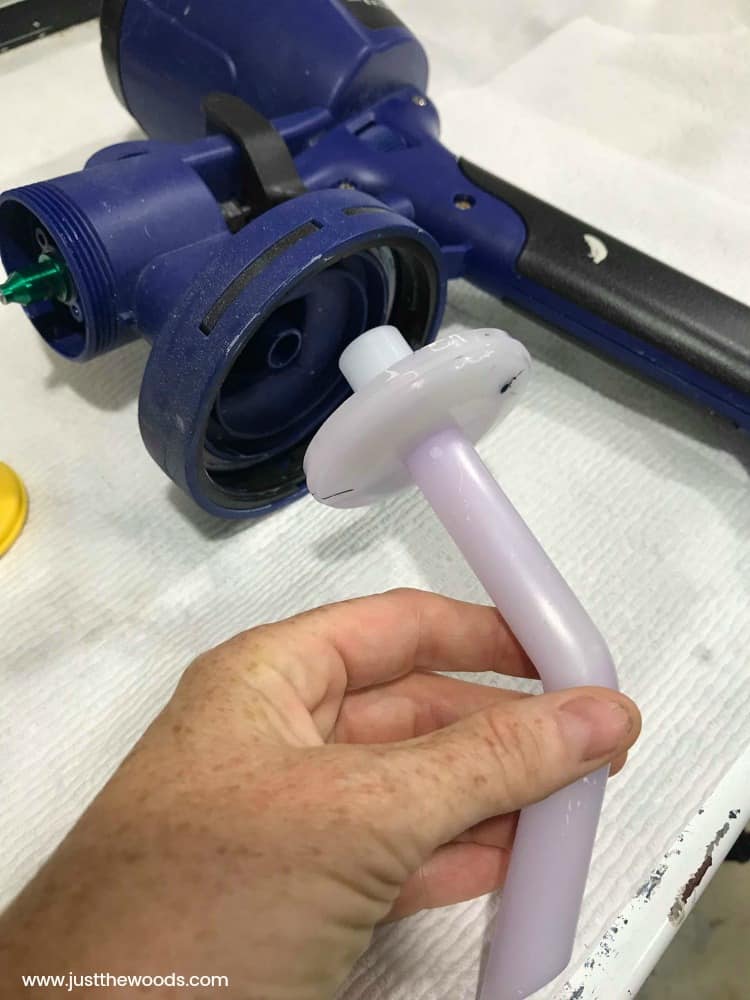 Your HomeRight paint sprayer comes with a handy white brush that works great for cleaning a paint sprayer and getting the hard to reach areas like inside the tube. But as long as you clean the paint sprayer after your project with warm water and a little soap you should be fine.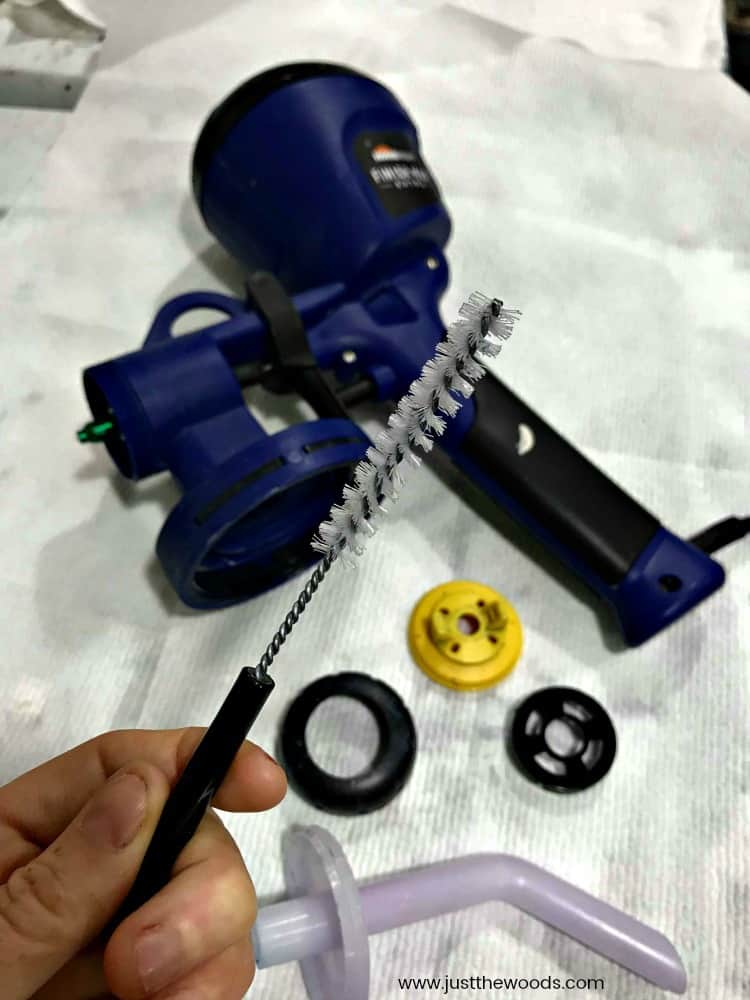 Cleaning the Nozzle of a Paint Sprayer
For the nozzle, you will need to unscrew the black air cap ring and remove the air cap ring, and the yellow-winged spray cap.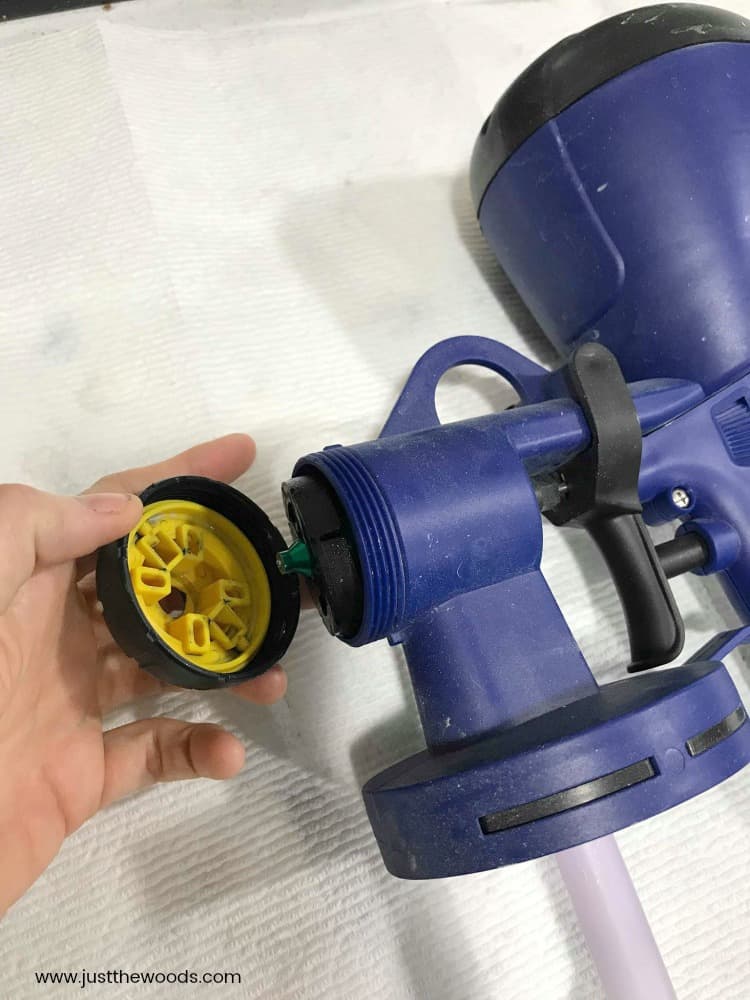 Next, remove the black inner spacer as well.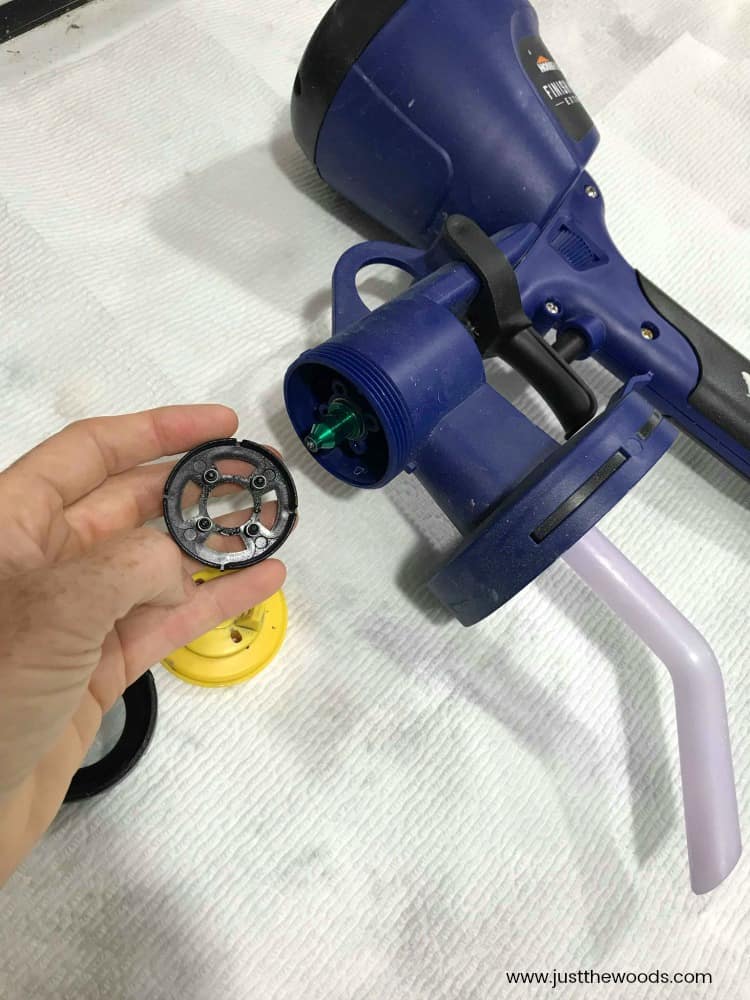 Now you can go ahead and clean the spray gun parts in warm soapy water and lay them to dry.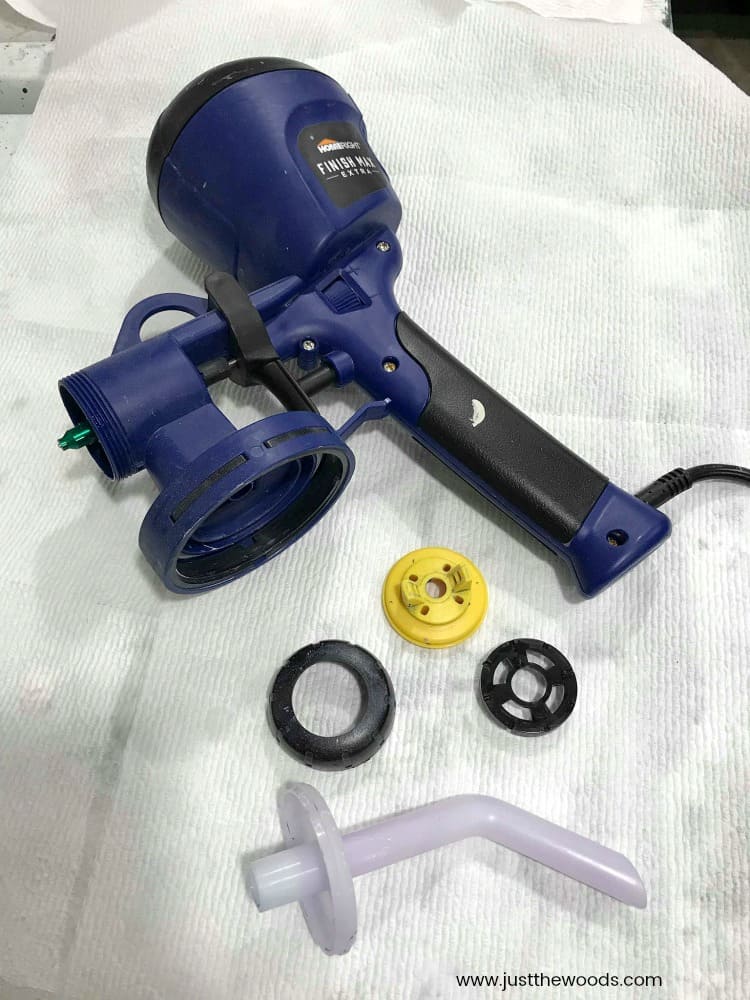 Cleaning the Spray Tip of Paint Sprayer
Your paint sprayer comes with different spray tips. Each color spray tip is ideal for different types of projects.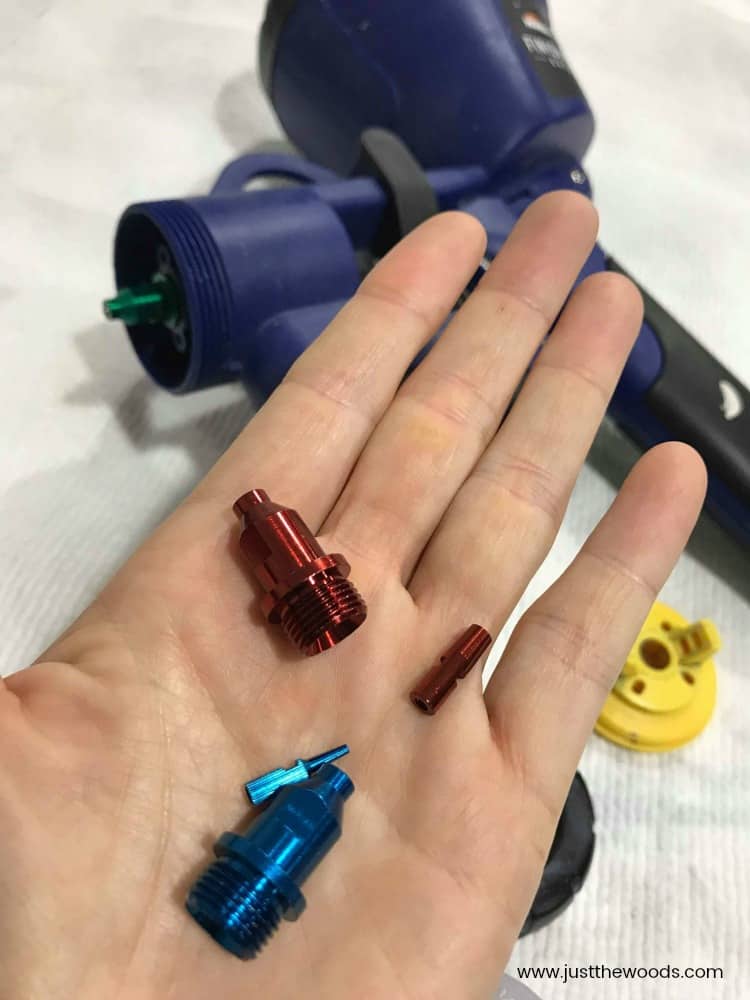 For example, the green tip is best for chalk type paint which is why I have the green tip on my paint sprayer.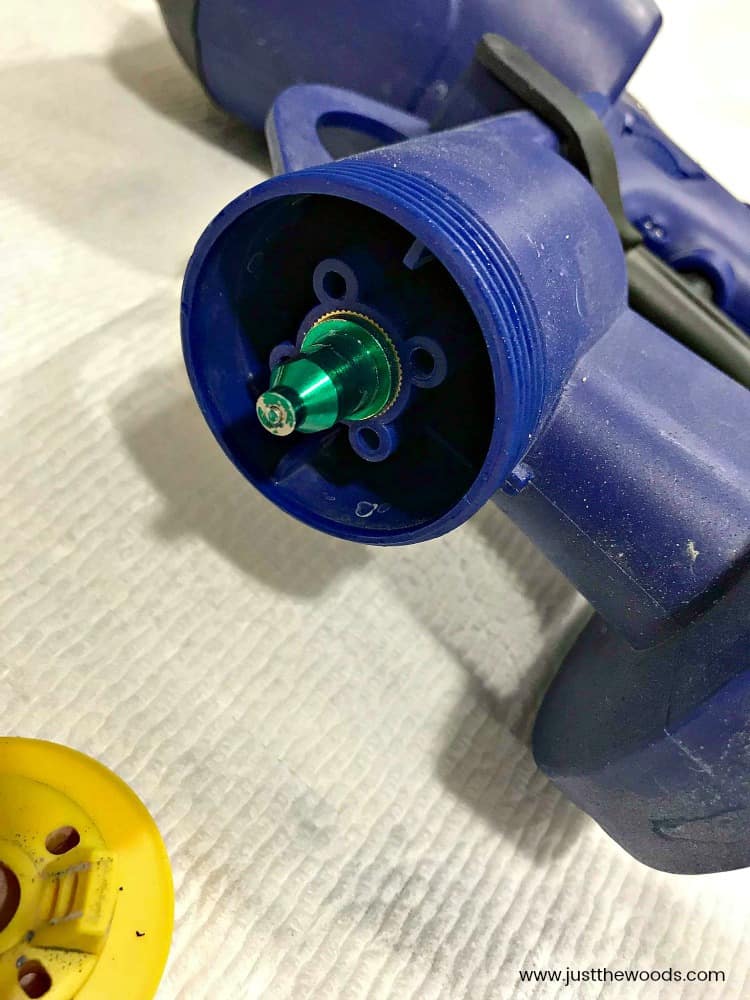 When you want to swap or remove your spray tip you will use the small tool that also comes with your paint sprayer.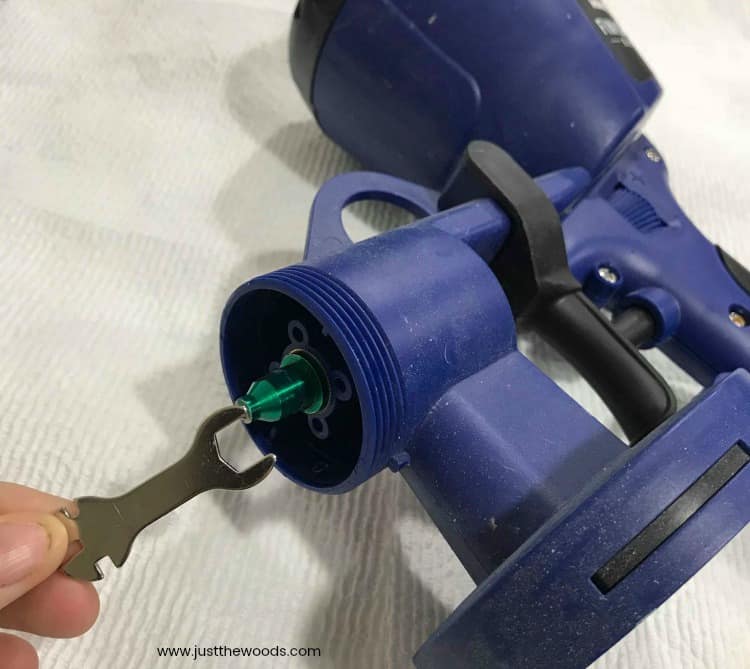 You can use the same small brush to clean your spray tip.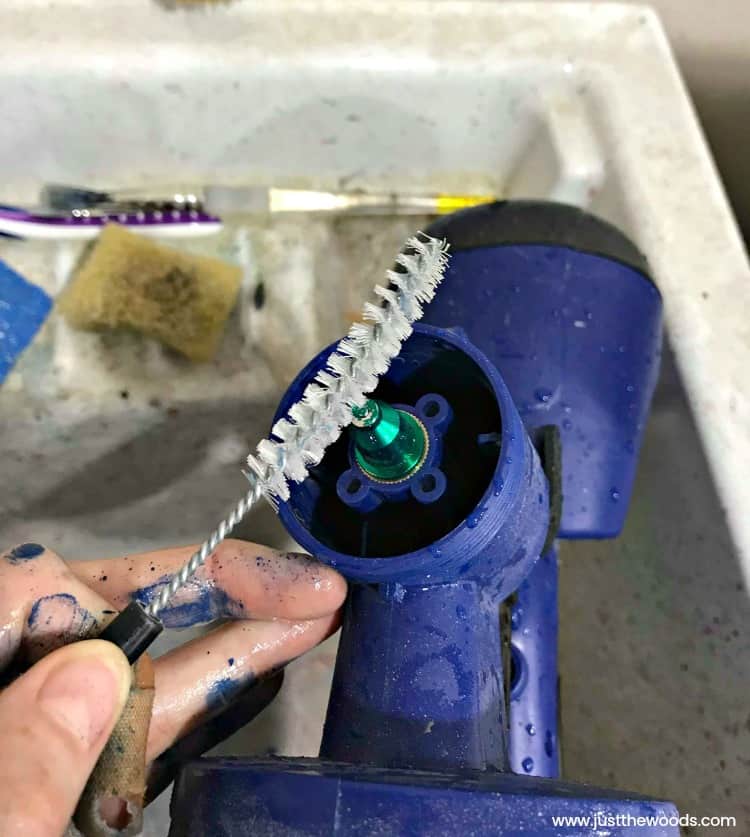 Putting Clean Paint Sprayer Back Together
Now that you have cleaned all of your paint sprayer parts I like to put it back together and give it one more rinse. First, place the black spacer back into the nozzle. 
Next, place your yellow (or the black one if you are using the black one) winged spray cap into the black ring.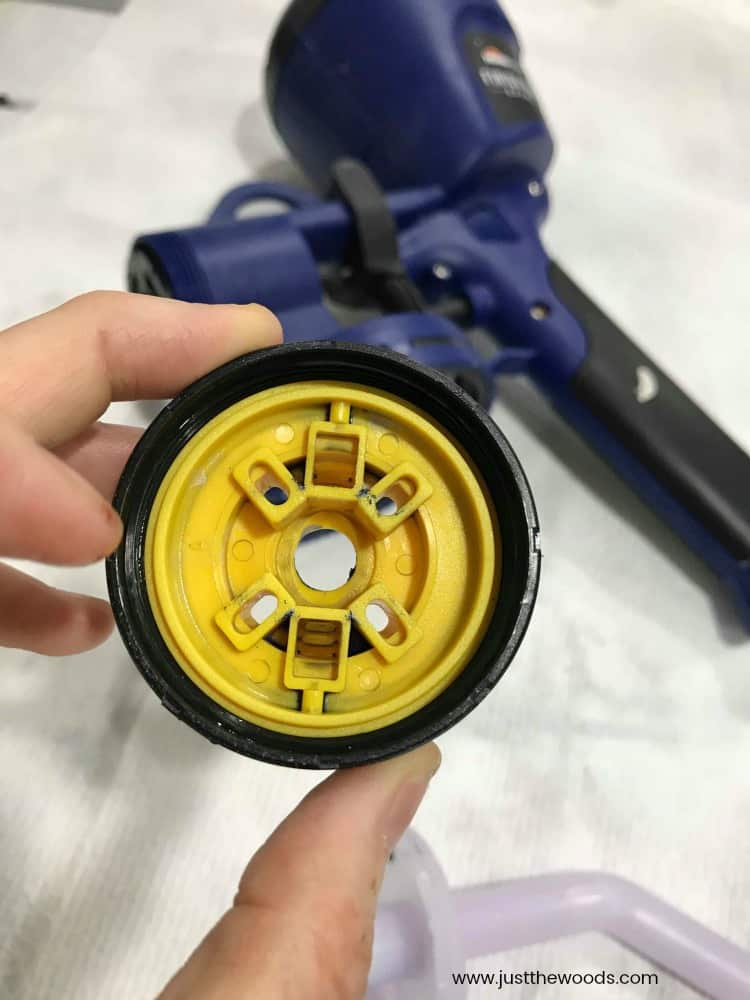 Reattach the black and yellow nozzle pieces to the nozzle of the paint sprayer by screwing the black cap back on.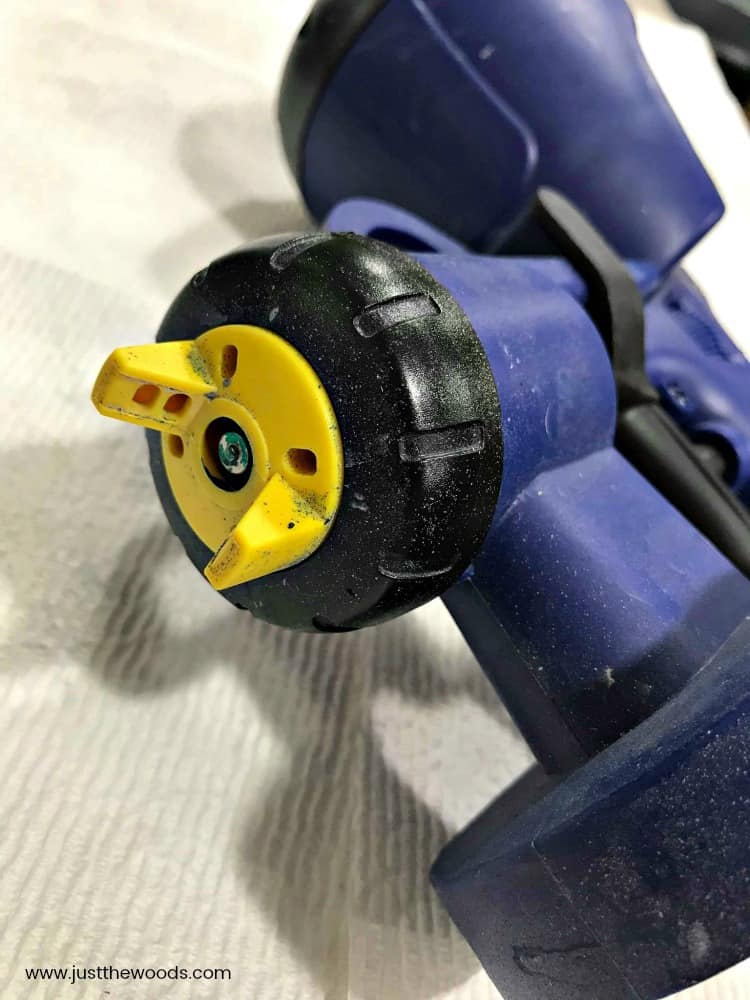 Reattach your suck up tube and fill your paint canister with clean water. Here is a quick video showing how I clean the paint sprayer with a water rinse. You can actually do this before and/or after you clean the smaller parts.
Make sure to remove the water after you do this and let you paint sprayer dry before storing it away.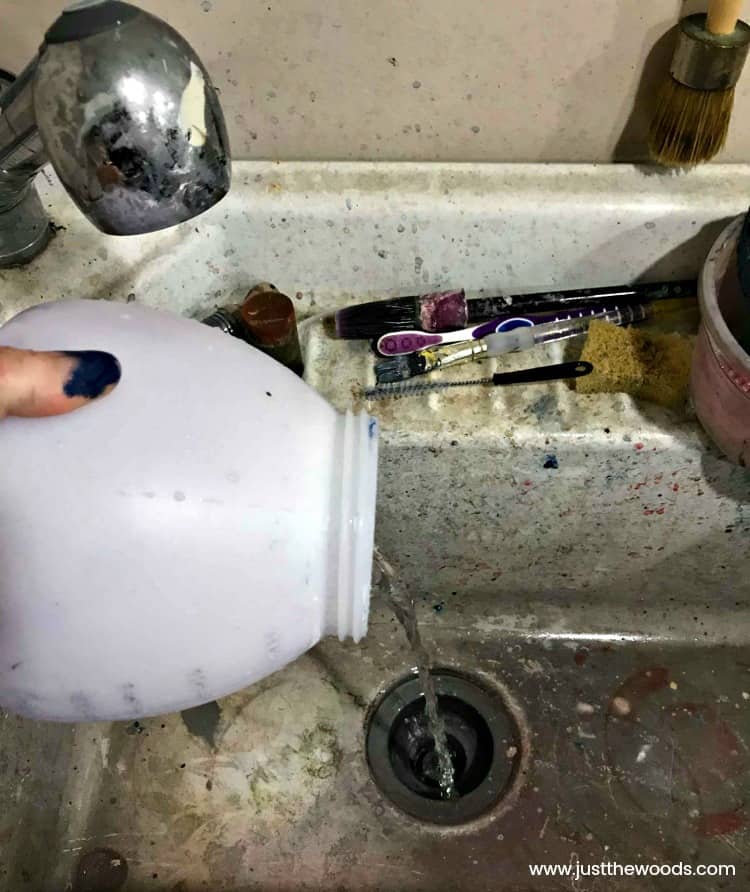 Your HomeRight paint sprayer will last you for many projects to come as long as you take care of it and clean the paint sprayer between uses.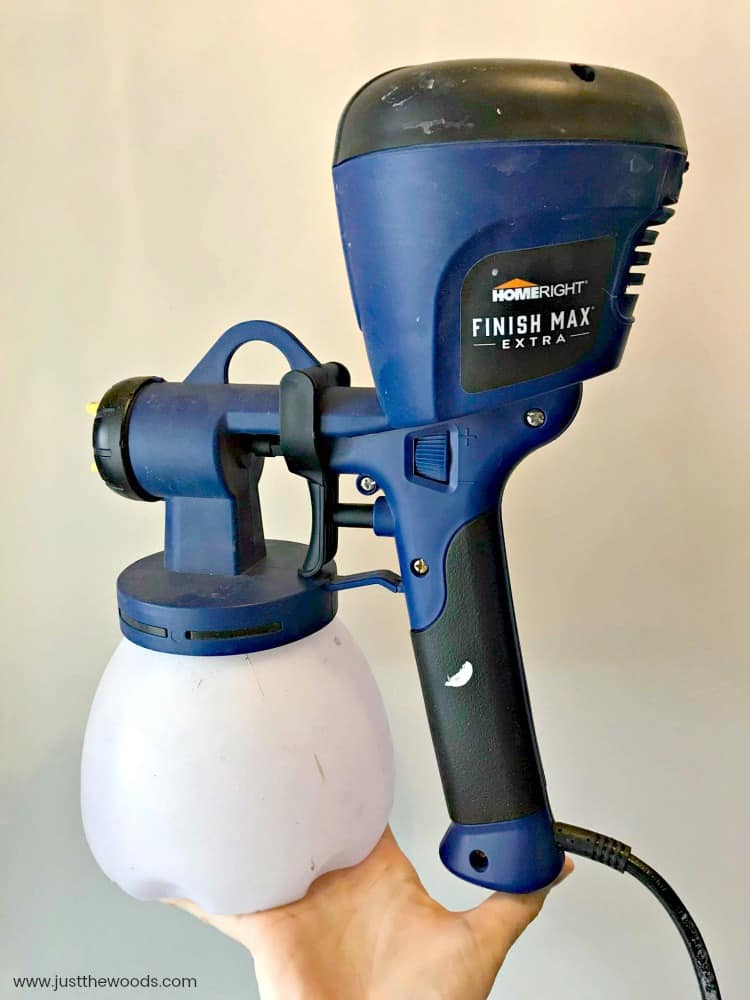 You can get the HomeRight Finish Max paint sprayer HERE.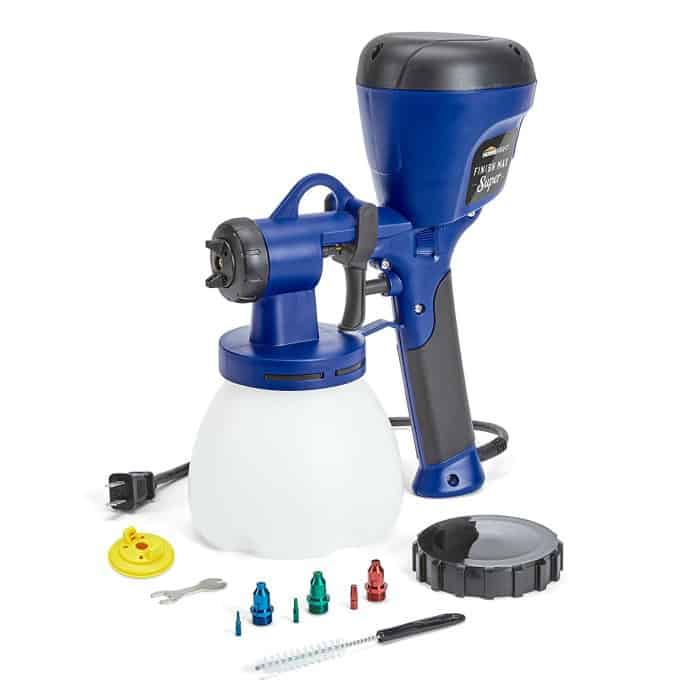 Don't Forget – Follow Just the Woods and Share this post to Inspire others:
FACEBOOK  *  INSTAGRAM  *  PINTEREST
 Stay connected! For more tips and tricks sign up here :