In Love with Lingerie Chests
A Collection of Past Work Painted Lingerie Chests
*Warning – throwback posts don't have the best photography, my apologies in advance.
This collection of lingerie chests is a bit of a throwback post.  I realize when I look at my past work that I've worked on quite a few lingerie chests, and I love them all!  There is something special about a piece of furniture designed to store your unmentionables.  I've learned that traditionally lingerie chests have seven drawers, one for each day of the week and are intended to store lingerie, linens, stockings, etc.
Ombre Lingerie Chests
The very first one that I worked on was finished in a soft blue ombre, it was adorable!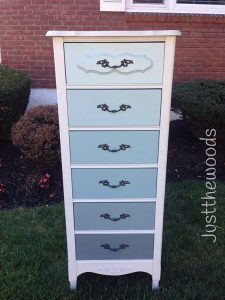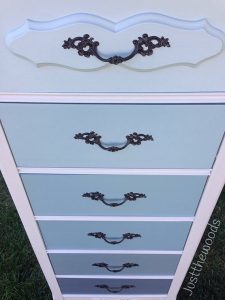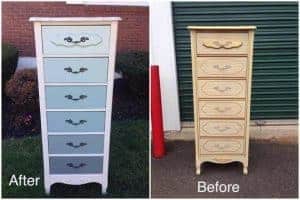 I love ombre on the right piece!  And the small drawers of a lingerie chest often call for it.  Which is why I did another.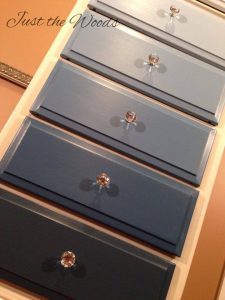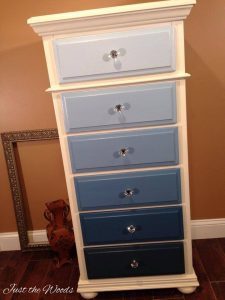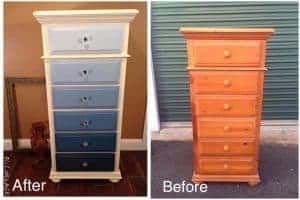 And another…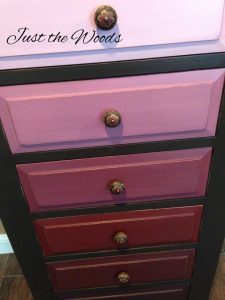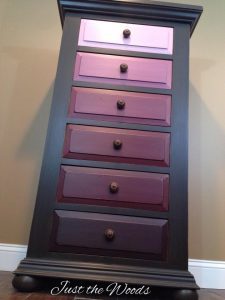 Romantic Striped Lingerie Chest with Decoupaged Drawers
Then I veered away from ombre and went with a romantic Paris feel, with pink and white stripes and decoupaged fabric lined drawers.
Handcrafted Painted Lingerie Chest
I found an awesome hand crafted lingerie chest up in the Catskills and decided to give it a Restoration Hardware inspired look with a dark stained top, and layers of grays and creams.
Coastal Drexel Lingerie Chest
This solid beauty made by Drexel was custom painted with a beachy feel in shades of blues and off whites and new starfish hardware.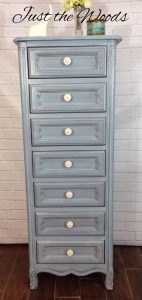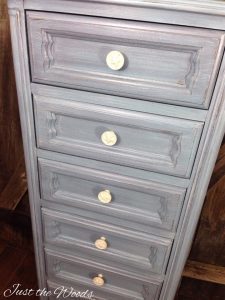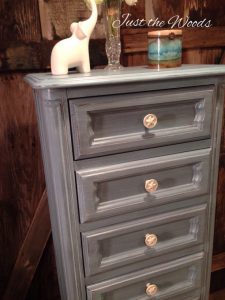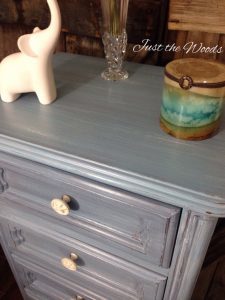 I currently have 2 more lingerie chests scheduled for upcoming custom so make sure to check back to see these boring chests transformed.
*These were both custom painted and their makeovers can be found HERE and HERE.
Lingerie chests are such awesome pieces of furniture that anything is possible.  Who knows what else is in store!
*I have to admit that I wish I had taken better photos of earlier work, but these are the only photos I have available and will work on better photos in the future.
Don't Forget – Follow Just the Woods :
FACEBOOK  *  INSTAGRAM  *  PINTEREST
Subscribe to our mailing list here: