Black and white furniture makeover for your home when you prefer a classic black and white home decor theme. Living room Black and white or black and white bedroom. Black and white room decor can start with accent furniture. | black and white furniture | black and white painted furniture | black and white decor ideas | black and white living room decor | black and white themed room |
All Dressed Up – Hand Painted Accent Table
I was lucky enough to be contacted by someone with a warehouse full of furniture. This person had owned an eight-family apartment building, and when they sold it they stored all of the furniture in a warehouse for the time being. Now it was time for them to empty out the warehouse. Lucky me!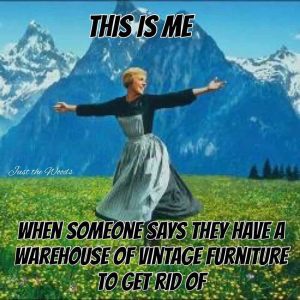 Materials Needed / Source List:
Disclosure: This painted accent table post contains affiliate links for your convenience.
Kristi Kuehl Pure Home Paint:
The Before – Unfinished Wood Side Table
This chunky accent table was another piece that I saved from a warehouse find along with a Charcoal Painted Rocking Chair and Vintage China Cabinet. The table was too cute to pass up, and it seems I am not the only person to think so.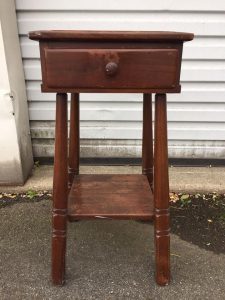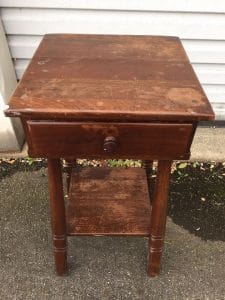 My customer reached out to me because she kept coming back to the table and wanted it customized.  She has a gorgeous piece of furniture in her home that she painted herself and she wanted this table to compliment her piece. She has a black and white furniture theme. This is her piece, isn't it gorgeous?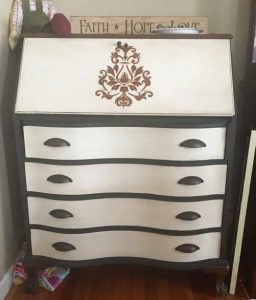 She painted her piece black with off-white drawers and dark wax on the drawers. Since I don't use wax let's see if I can come close.
The Project – Painting Black and White Furniture for your Home
The little table was sanded thoroughly and the hole from the original knob was filled using Kristi Kuehl Pure Home Paint Magic Mud. We are on our way!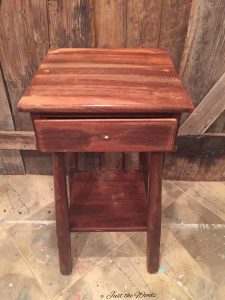 The entire table was painted black using Derby, while the drawer was painted off-white using White Linen. To achieve a similar look to dark wax the drawer was sealed using Matte clear protective finish followed by Sable tinted glaze. The black was sealed with Ebony Protective Glaze. Once this painted accent table was complete, before being sealed I should add, it was also lightly distressed along all the edges. Here it is awaiting new hardware.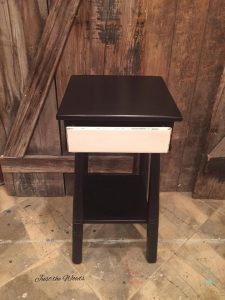 Once the drawer pull arrived I was able to drill new holes and add the cup pull.
The Result – Hand Painted Table
The black and white table now looks quite dapper with it's 'all dressed up' new look. It is the perfect addition to a black and white living room.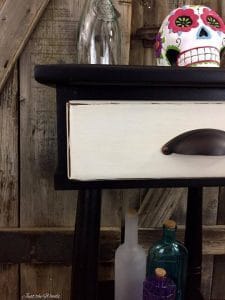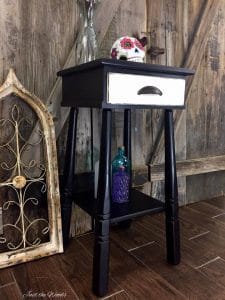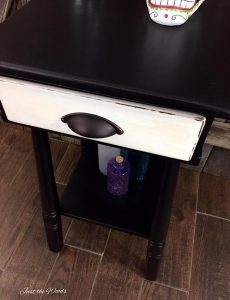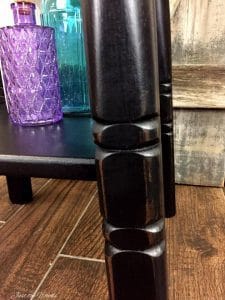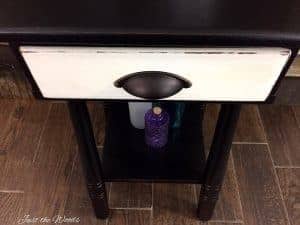 I'll be sharing this post at these fabulous link parties.
Don't Forget – Follow Just the Woods :
FACEBOOK  *  INSTAGRAM  *  PINTEREST
Subscribe to our mailing list here:
PINTEREST PIN READY TO BE SHARED