This media console is part of our living room makeover. Initially, I had plans to replace it with a  painted buffet or dresser from my inventory. I figured I would sell this one and grab an unfinished piece from my stash to paint, but that just seemed wasteful since this media cabinet is barely two years old. Hence the final decision to keep this and jazz it up a bit, besides it has an electric fireplace, so in hindsight, it was a no-brainer to keep it.
Make sure to stick around until wayyyyy at the bottom of the post, there's a special treat down there for you as well! You get to meet some awesome peeps.
Disclosure: This post contains affiliate links for your convenience. Click here for my full disclosure policy.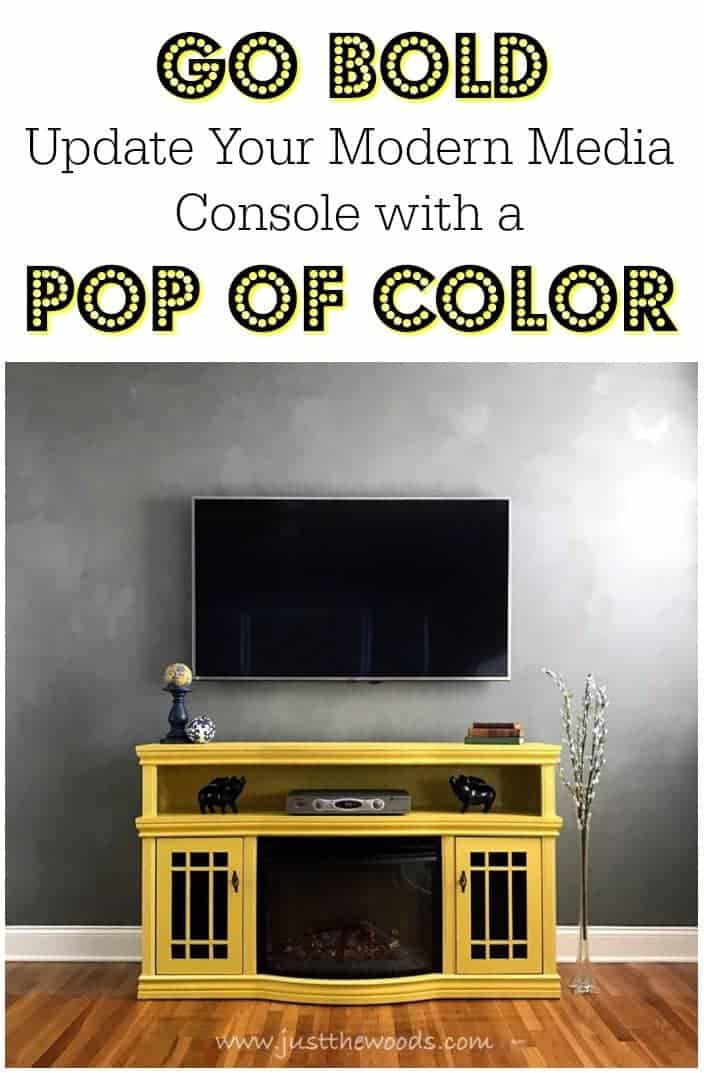 Modern Media Console with Electric Fireplace
I do love this tv stand set up, but hate how dark it is. I ordered it online a couple of years ago and love the electric fireplace inside since we don't have a real fireplace in our home. You can get one (or something similar) HERE if you love it too.

Painted Media Console in Sunshine Yellow
Materials Needed / Source List:
Painting the Media Console
To start, the electric fireplace was removed from the center and the glass was removed from the side doors, as well as the hardware. I was then able to lightly sand the entire piece and get it cleaned before painting. I do confess that I often cut corners when I work on my own projects for my home for a few reasons. For starters, I like to 'test' the product and see how well it holds up if I don't do a thorough prep, I also know that if for some reason it doesn't hold up I can always easily fix it if necessary. I am happy to say, though, of all the finished pieces in my home where I have cut corners, everything has held up beautifully, even with my two wild kids. This is my full process for How to Prep Painted Furniture.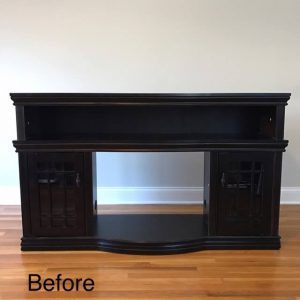 I multi-tasked with this project and worked on both the wall and the media console at the same time. As one waited to dry, I worked on the other, and vice versa. There's nothing like trying to remodel an entire room with two kids in the house. Eeeek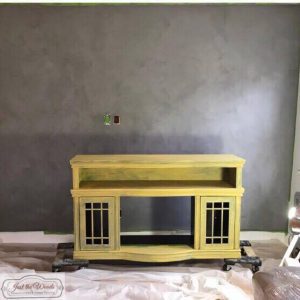 The media console was painted with bold yellow. It really is a happy sunshine yellow! I am not even a yellow loving kind of girl, but this color is amazing. Considering I had to cover such a dark color piece, I pretty much expected the media stand to need three coats, so I was mentally prepared for that 😉  As you can see I also painted in the living room, so wheelies and a drop cloth were a must. You can find great quality furniture paint and stain online HERE. Search for the color 'Daisy' if you want a bright sunshine yellow! An added bonus, when painting furniture, you want to make sure to use quality non-toxic furniture paint.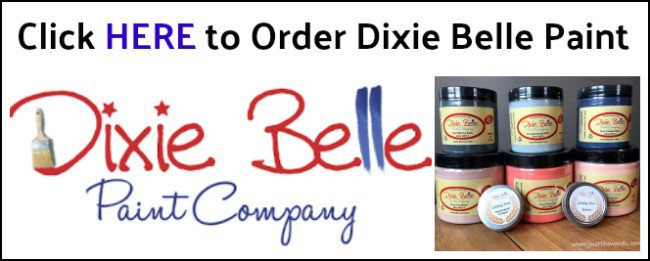 Painting Little Details – White Glaze
Once I was satisfied with my bold yellow paint finish I decided to add a subtle white glaze in the crevices. I chose a pure stark white to paint in the crevices and then wipe away immediately with a rag to leave just a touch of white in the creases. The piece was then lightly distressed along the edges and sealed for protection.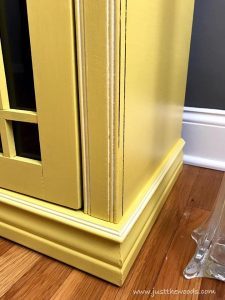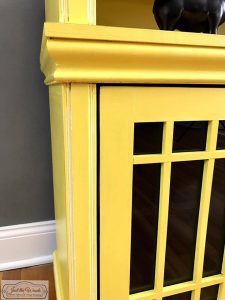 The inside of the side cabinets were also left unpainted because I prefer to keep them dark. Painting inside would allow you to see all the crap things that are kept in there and I prefer those random items be less visible.
The Result – Painted Media Console in Sunshine Yellow
I confess that I am smitten with this color.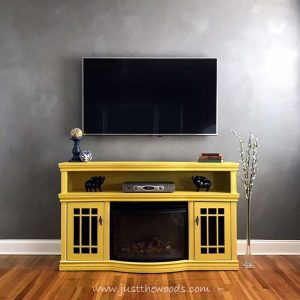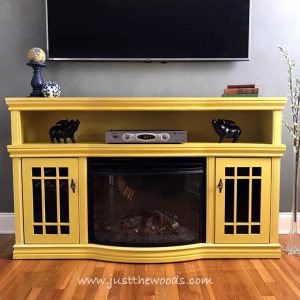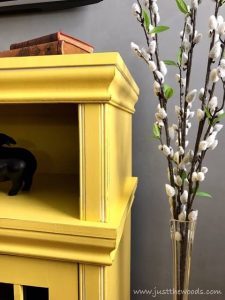 [clickToTweet tweet="Modern media console with electric fireplace has been hand painted sunshine yellow" quote="Everyone could use a bit of sunshine. Go ahead and share this post with your friends. Click to tweet" theme="style5″]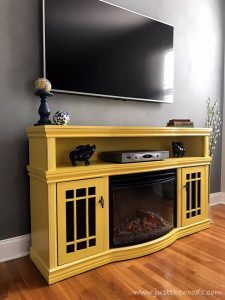 Painting the wall was also part of the room makeover and if you would like to see how I achieved that matte cloudy finish, you can find that post here –  Cloudy Painted Wall with Lime Paint.
Wait Don't Go!! I've teamed up with some amazingly talented furniture fixer uppers and bloggers to share with you what they've been working on too! You don't want to miss this!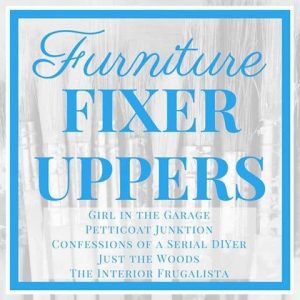 These ladies have some great things to check out so make sure to click the corresponding link under the photo of ugly before's to see the amazing afters!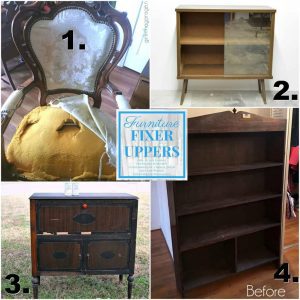 4. Confessions of a Serial DIYer
Care to See the Other Projects of the Room Makeover?
Like I mentioned these tables were part of our entire living room makeover. To see more projects related to this living room makeover, check out these other posts: