A vintage painted dresser is always a favorite. With snow on the way, I put my big girl pants on and managed to get this vintage dresser out of my truck, down a flight of stairs and into my shop ALL BY MYSELF! It wasn't easy, I did it in steps and I managed to not trip and fall while doing it, considering I do have a habit of falling up the stairs. Rewinding to how I came upon this piece in the first place, it was saved from an old barn in the Catskills where it was left alone and underappreciated for its vintage appeal. It was previously used as a buffet to store linens, in this barn turned living space. Until now.
Disclosure: This post contains affiliate links for your convenience. Click here for my full disclosure policy.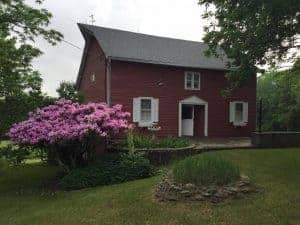 Vintage Painted Dresser with Yellow Drawers
Materials Needed / Source List:
220 Grit Sandpaper
Kristi Kuehl Pure Home Paint:
Before – Unfinished Vintage Dresser
The moment I saw this piece I fell in love with it, I'm not even sure why but I did. It's gorgeous yet simple at the same time. I knew it wouldn't take long for someone to claim it for their own. My customer came by with a piece of fabric from her home and we figured out a design plan for her new to be vintage painted dresser.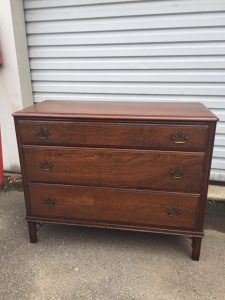 Prep & Paint for Painting Furniture
The vintage hardware was removed and the dresser sanded and cleaned prior to paint. The dust bunnies were vacuumed out with my shop vac and the drawers wiped clean. Here is my entire process for How to Prep Painted Furniture.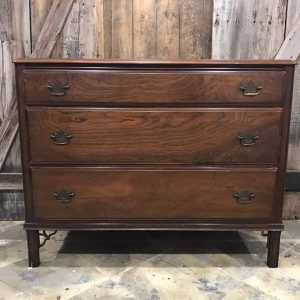 The decorative pieces at the bottom of the dresser had both been damaged beyond repair, so they had to be removed and the area itself repaired.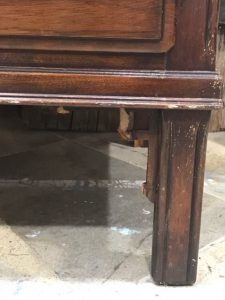 Painting a Vintage Dresser
The dresser was painted Cali Taupe by Kristi Kuehl Pure Home Paint, while the drawers were painted in Mustard for a pop of color. I recently finished a bold yellow media console and I think I've sparked interest in adding bold yellows, you can see that bold and cheery makeover here- Painted Media Console Sunshine Yellow. The painted dresser was lightly sanded in between each coat to achieve a smooth soft finish.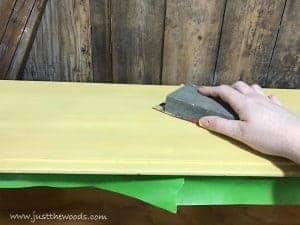 Painting Vintage Hardware
I don't always take photos of each stage of painting hardware, but decided to in the case of these vintage hardware pulls. The original pulls were a dark sort of bronze color. You can see my full process for painting hardware How to Clean, Prep & Paint Hardware.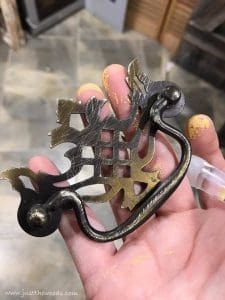 Next, the pulls were painted in Storm, by Kristi Kuehl Pure Home Paint. This is after one very thin coat.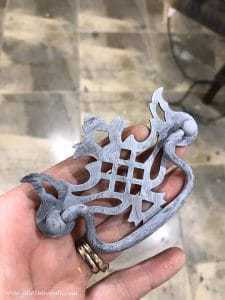 Here is after two coats, the second coat makes a big difference.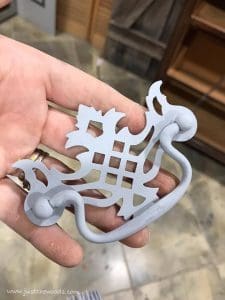 To get the metallic silver look that we are going for, I then added silver hardware opulence.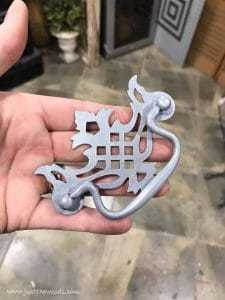 The final result: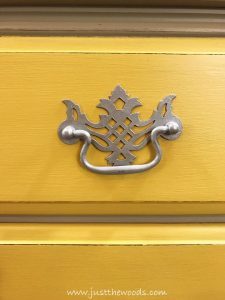 Vintage Dressers = Wooden Drawer Tracks
Vintage dressers often have wooden tracks, which I love. But with wooden tracks, wood can sometimes stick. In the case of this piece, the wood doesn't stick, but I've started to get into the habit of lubricating wooden tracks no matter what. Even though they don't stick, by adding a little lubrication to them they glide so smoothly now!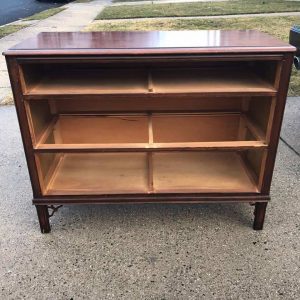 I simply take a clean rag and my Daddy Vans all natural furniture wax and rub along the track of the dresser as well as the track on the bottom of the drawer.  Easy peasy.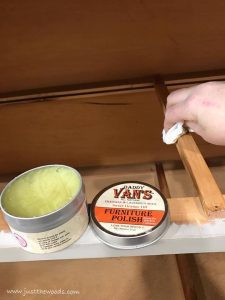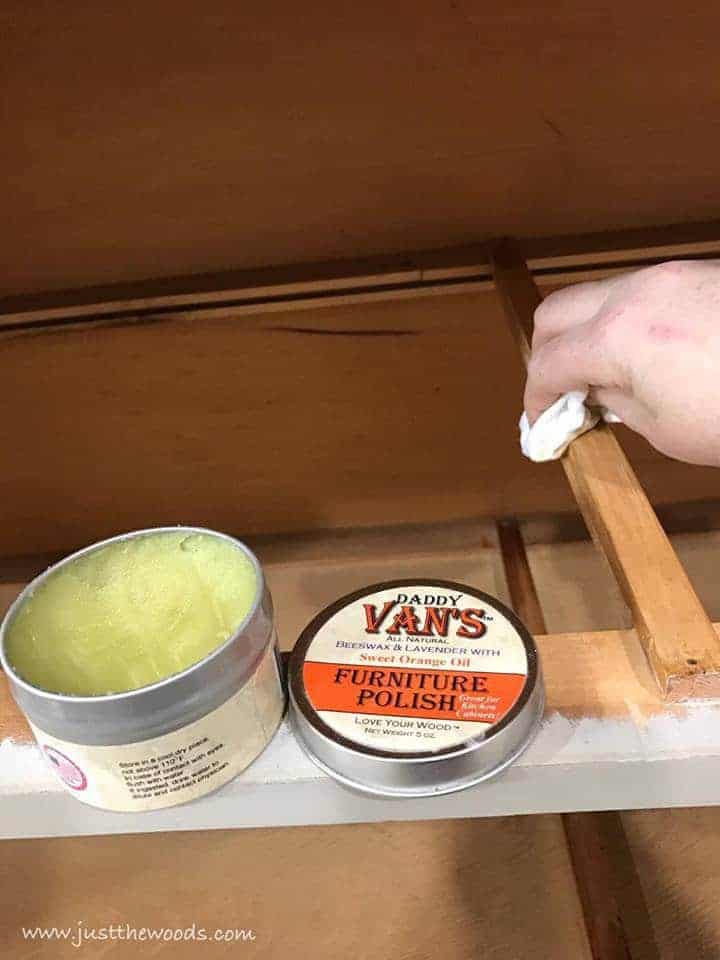 The Result – Vintage Painted Dresser with Yellow Drawers
The snowfall came and dumped a good foot and a half on us and if I had waited to get this inside I may not have finished in time. Good thing for my big girl pants 😉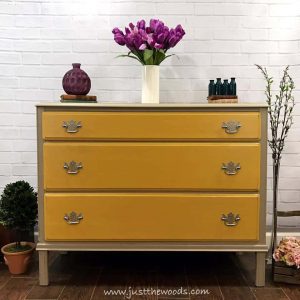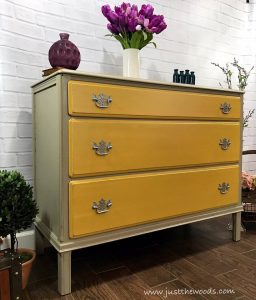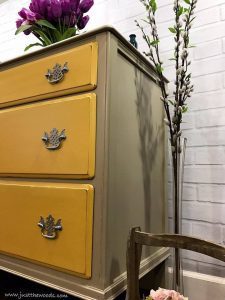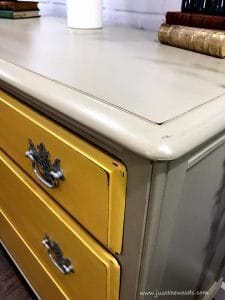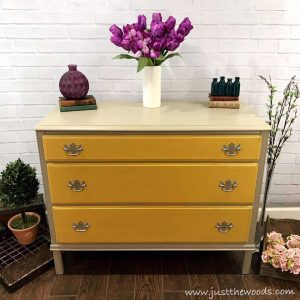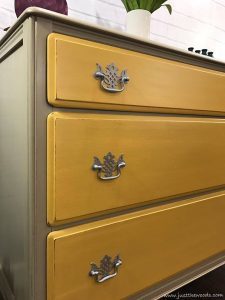 Care to see other furniture makeovers of pieces saved from the same old barn in the Catskills? Click to see this Desk Rescue in Memphis Blue post or this Eggplant Antique Parlor Table post.
Don't Forget – Follow Just the Woods and Share this post to Inspire others:
FACEBOOK  *  INSTAGRAM  *  PINTEREST
Subscribe to our mailing list here:
PINTEREST PIN READY TO SHARE