Vintage China Cabinet Painted Custom Charcoal Gray
Materials Needed / Source List:
Disclosure: This vintage china cabinet post contains affiliate links for your convenience.
The Before – Unfinished China Cabinet
This vintage china cabinet was another piece that I saved from a warehouse find along with a rocking chair and chunky side table. You can see the Charcoal Painted Rocking Chair if you'd like, and the chunky Painted Accent Table if you'd like.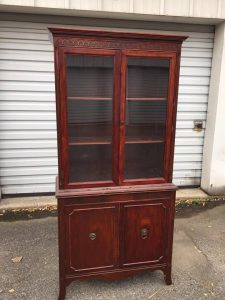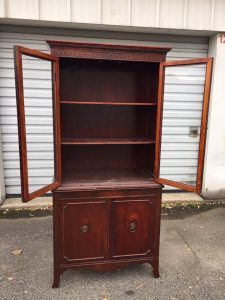 I had actually contemplated keeping this vintage china cabinet for myself and using it as a bookcase. Then someone else had interest in having it painted, that fell through and now it has been claimed for custom. My customer for this painted furniture project decided on a custom mixed charcoal gray. Gray has been a very popular color lately! You can find great quality furniture paint and stain online HERE. An added bonus, when painting furniture, you want to make sure to use a quality non-toxic furniture paint.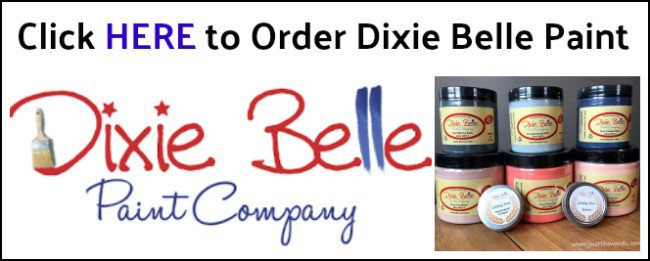 The Process – Prep for Painting Furniture
The piece was thoroughly sanded, cleaned and prepped before anything could be done. The original hardware was removed but to make sure that if the doors closed I could still open them again I inserted a long screw into each hardware hole.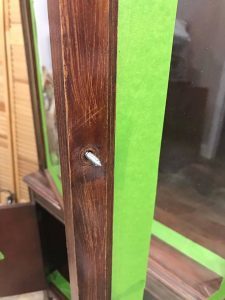 And since we all have to learn from our mistakes, I made sure to tape the other end of the screw so that it won't fall out inside the piece. If the screw falls out on the inside it defeats the purpose altogether. *wink*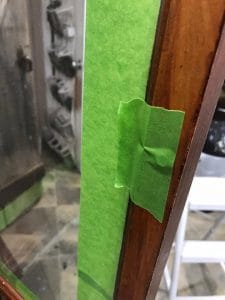 The glass was all taped off for protection. The glass panels in the doors of the cabinet were actually held in with pieces of wood that were nailed to the doors, therefore could not be removed for the project.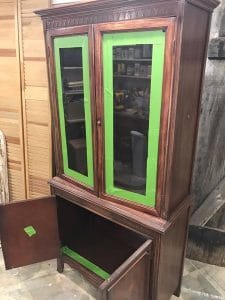 Mixing Paint
To achieve the ideal gray I mixed up a pure black with a dark gray. Since I kept mixing and mixing until the desired shade I have enough left over for a whole new project if needed. I'm sure it will be used soon as well. Once the vintage china cabinet was painted completely, it was then lightly sanded all over to smooth out the finish as well as distressed along all of the details where it would naturally show wear over time.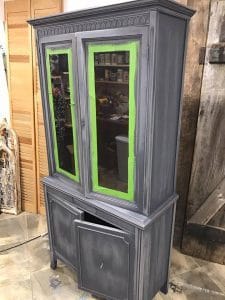 The inside of the piece was left in its original condition of a cherry/ mahogany finish for a subtle contrast with the gray. The inside only shows minor imperfections, so it was freshened up a bit.
Lastly, the painted finish was sealed with a clear matte protective sealer.
A Bit of Humor
I always tell customers to check the height on a piece when they inquire about having their pieces finished. I can almost never work on an armoire or china cabinet that does not separate into two pieces. Here is why. This photo was taken when taking the china cabinet out of my shop to be photographed. You can just about fit a frog's hair in between the top of the piece and the ceiling. Talk about a tight squeeze!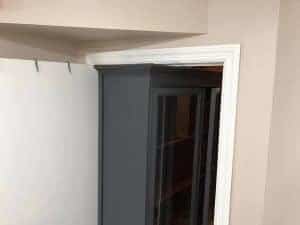 The Result – Custom Painted China Cabinet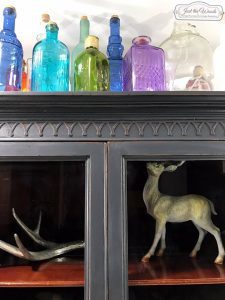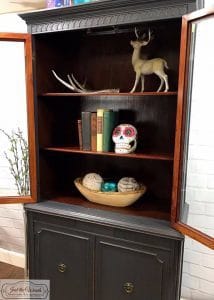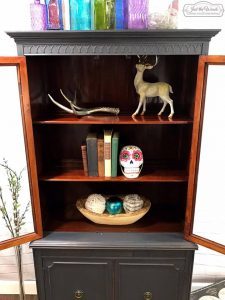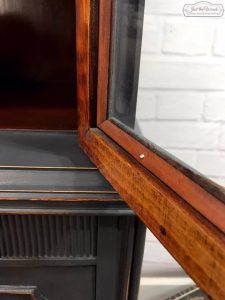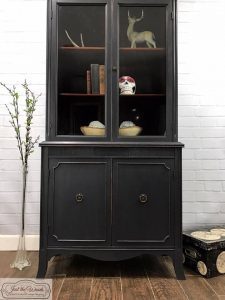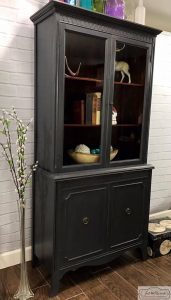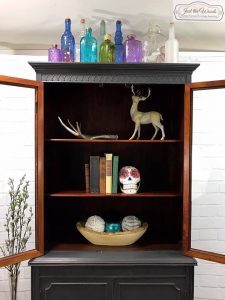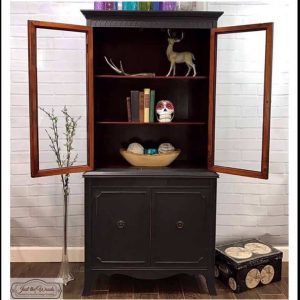 I'll be sharing this post at these fabulous link parties.
Don't Forget – Follow Just the Woods :
FACEBOOK  *  INSTAGRAM  *  PINTEREST
Subscribe to our mailing list here:
PINTEREST PIN READY TO SHARE