Distressed Coffee Table Makeover in Black & Tan
This distressed coffee table makeover is not a new makeover, but an old one that I never wrote about. But looking back, I always wished I had. Every now and then there comes a furniture makeover that I fall in love with. The kind that you think back to and wish "I should've taken more photos" or "I should've kept this one" or "I should've documented more of the makeover itself" This is one of them.
Before – Unfinished Solid Wood Coffee Table
Like many pieces I acquire, it was boring, orange- ish in color and had dated hardware. That was about to change.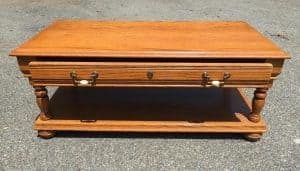 The coffee table is solid wood and has great details if you can see beyond its dated appearance. I grabbed my electric sander and sanded the top down to bare wood to reveal a gorgeous wood grain underneath. The rest of the coffee table is thoroughly prepped. This is my process for How to Prep Painted Furniture.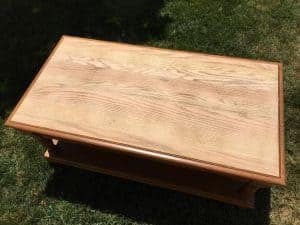 Disclosure: This post contains affiliate links for your convenience. Click here for my full disclosure policy.
Distressed Coffee Table Makeover
When it comes to painted furniture I am personally a huge fan of the paint and stain combo. The top of this coffee table is given a new rich chocolatey stain to bring out that gorgeous grain. While the rest of the piece is painted in distressed black, another personal favorite!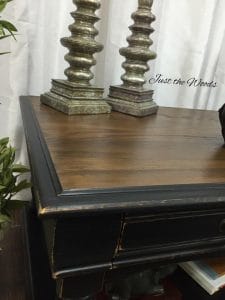 The original dated hardware pulls were replaced with new bail pulls which compliment the drawer beautifully.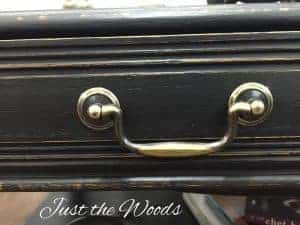 The entire painted coffee table is then distressed and sealed for protection. You can find great paint options online HERE
The Result – Black & Tan Distressed Coffee Table
The result is a classic and timeless finish that always gets me. Sometimes I wish I could paint everything black distressed paint like this classic distressed coffee table, but I can't, so I reminisce about the old ones that I love and feel grateful for the photos that I did take at the time.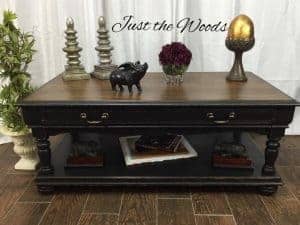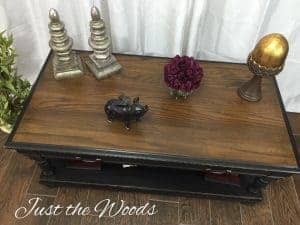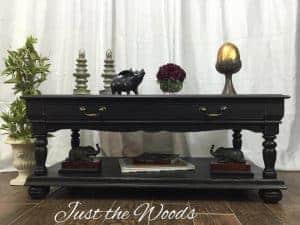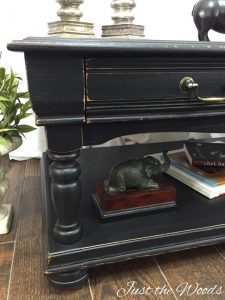 If you like this finish then you will love and need to check out these makeovers as well: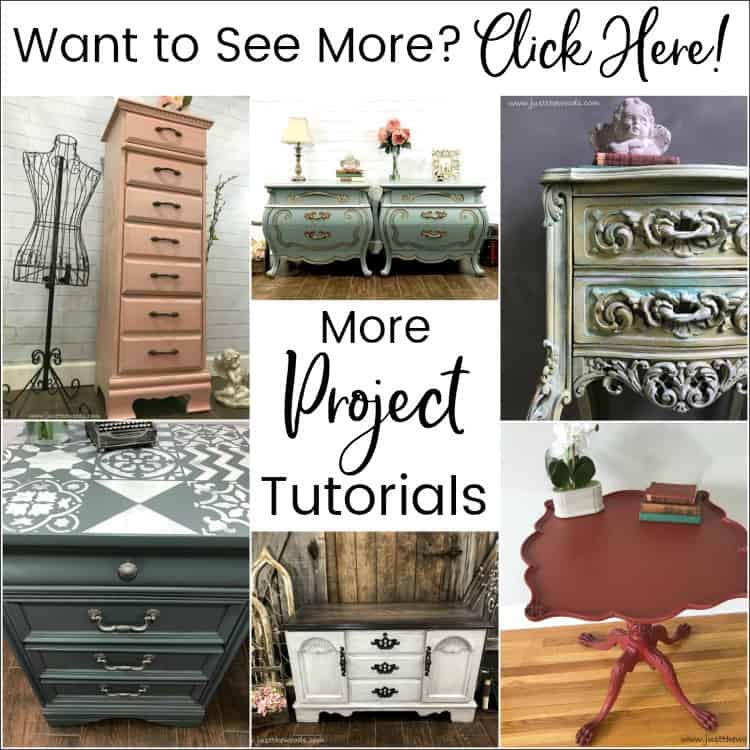 Don't Forget – Follow Just the Woods :
FACEBOOK  *  INSTAGRAM  *  PINTEREST
Let's stay in Touch – Subscribe to our mailing list here:
PINTEREST PIN READY TO SHARE